The sweet and salty crust on this Strawberry Pretzel Pie makes this easy, no bake pie a delicious spring or summer dessert.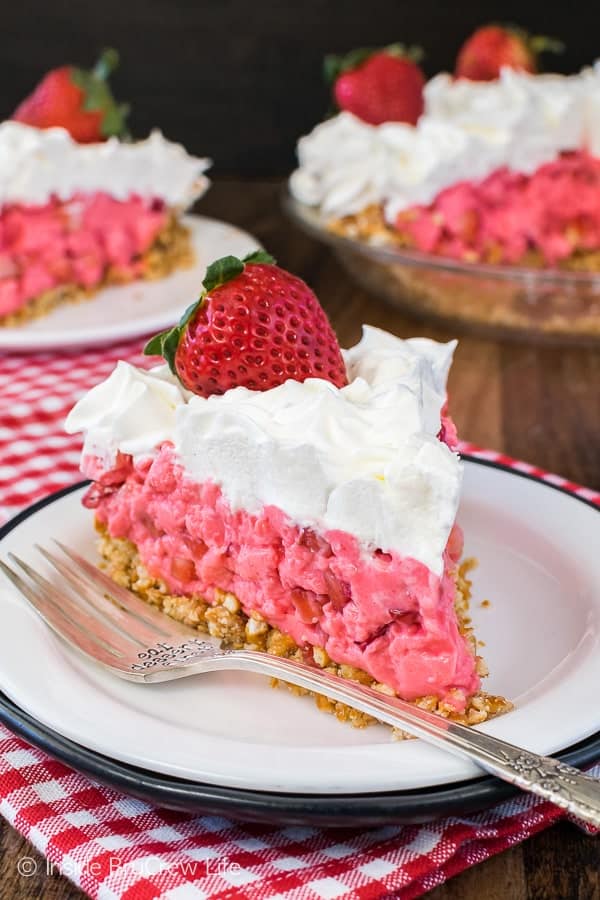 (pictures & post updated April 2017)
CLICK HERE TO PIN THIS RECIPE FOR LATER!
Have you ever gone out to eat and been disappointed by your meal? The other day we took our kids to Chili's. This is one of our favorite places and usually it never disappoints.
But that day our server was extremely slow. It was 10 minutes after we were seated before she came and took our drink order…and there were hardly any customers in the place. We ordered our drinks and some half price appetizers. Finally the queso came out…
It is very important in any recipe to make sure you have all the ingredients. Our queso came out looking like chili. No cheese!!!! We questioned our server about the queso. She claimed it was right, and this was how the queso was now. She even admitted that a number of customers have complained about it in the past few months.
Hhhhmmm. Go figure! It's a two ingredient dip, and you are missing half the recipe. We didn't press the issue with her though. They were half price apps and it came with chips and salsa, which we were going to order anyway.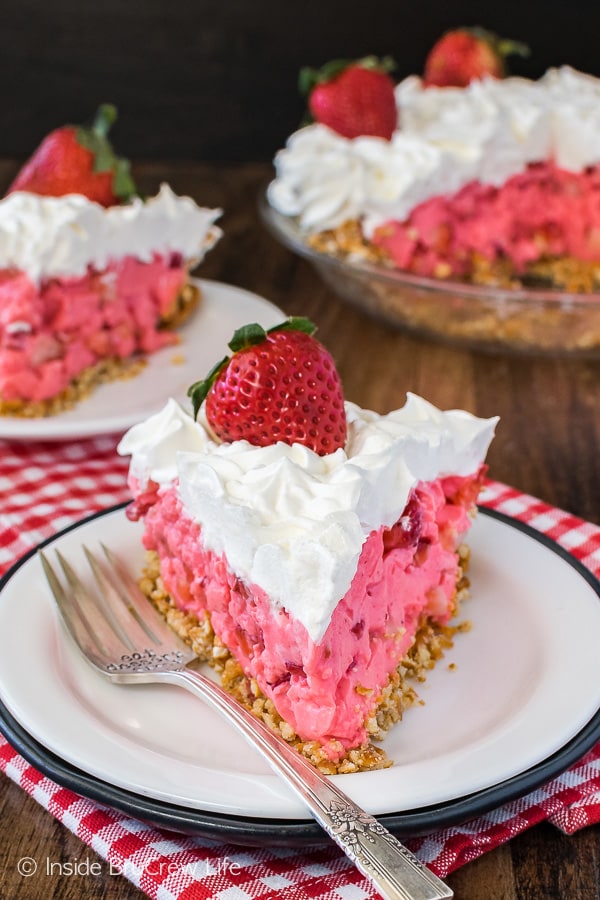 But all dinner long I kept staring at the skillet of chili. I just knew there was no way it was right. Even the card on the table where you sign up for the customer club had a picture of the cheesy queso on it.
Finally I couldn't take it any longer, and I googled it. I was rewarded with a screen full of cheese loaded queso!!!
I knew it! Our dip was definitely wrong. We decided not to make any more complaints for the lady, but let me tell you we joked about that chili queso the whole night.
I'm still debating writing to the restaurant…but seriously, it was only $3. Not really worth it. Especially when you have delicious pie to come home to and drown your queso woes in.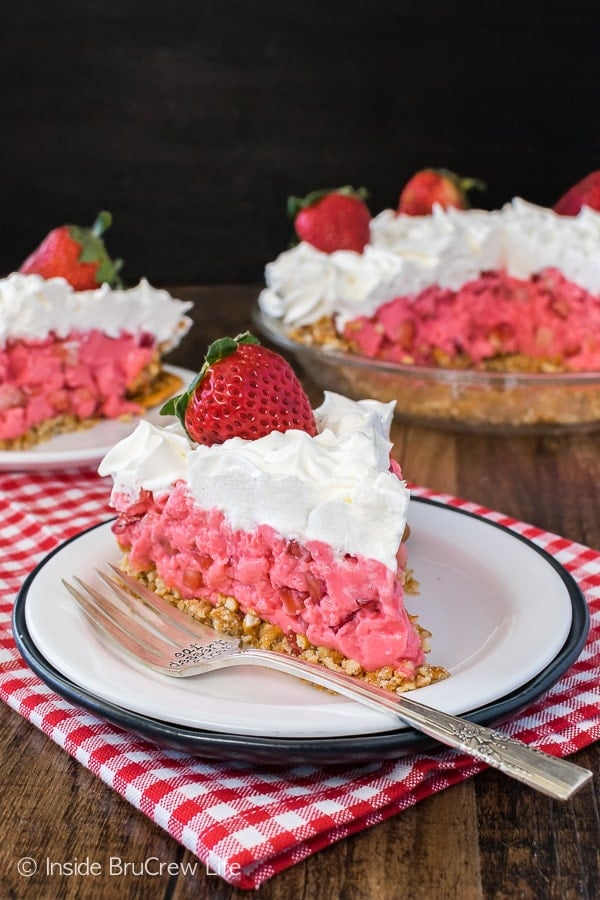 I found this pie recipe in one of the old church cookbooks that I bought at Goodwill. Gotta love an easy no bake strawberry recipe, right? My husband loves these Mini Strawberry Pies, so I couldn't wait to try this new recipe. I followed the directions for the filling but changed up the crust.
Pretzels and strawberry pie just seem like they go together. Sweet and salty for the dessert win every time!
The first time I made this pie, the filling never got thick. I even tried to freeze the pie, but that just made for an icy pie. Not good at all. I really wanted this pie to work. Since I had plenty of the ingredients on hand, I headed back to the kitchen.
As I was getting out the Jell-O from my cupboard, I saw a box of plain gelatine. That was it!!! I knew by adding one packet of this gelatin, the pie would definitely have the consistency I was looking for.
How to make a Strawberry Pretzel Pie:
Crush your pretzels into bits. Make sure they are not too small, but small enough. I put the pretzels in a ziplock bag and smash them with the back of a wooden spoon.
Stir in some sugar and melted butter and then press into the pie plate. Refrigerate it while you make the filling.

Pro Tip:

This crust is more of a crumble crust. It will be crumble apart when you cut out the slice of pie.
Stir the strawberry Jell-O and plain gelatine into some boiling water until it dissolves. Add the ice cream and stir quickly. As the ice cream melts, it will cause the filling to thicken quickly so work fast!
Stir in the sliced strawberries and spoon into the prepared crust immediately.
Add some swirls of Cool Whip and then refrigerate it until it gets firm. Creamy, delicious, sweet and salty all in one pretty pink pie.
It is amazing the difference it makes with just one ingredient missing in a recipe!!! Now how about some queso??? Wink, wink! I put cheese in mine!
Looking for more strawberry recipes? This Strawberry Lime Sorbet sounds like a great dessert for the hot summer months. I'm thinking a pan of this Strawberry Pretzel Salad will be perfect for summer picnics. Or use those berries to make a batch of Fresh Strawberry Frosting for your next cake.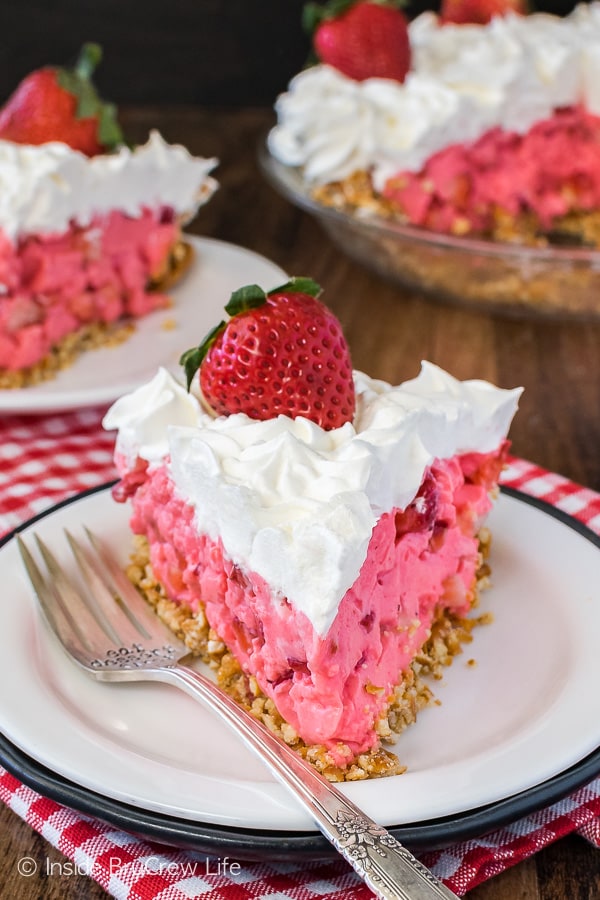 Stay up to date on all the BruCrew baking here:
FACEBOOK | PINTEREST | TWITTER | INSTAGRAM | BLOGLOVIN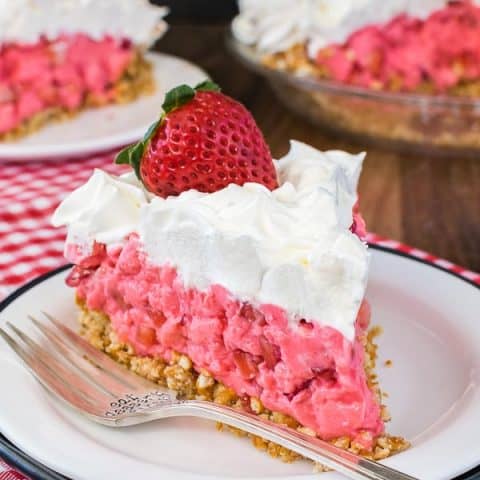 Strawberry Pretzel Pie
The sweet and salty crust on this Strawberry Pretzel Pie makes this easy, no bake pie a delicious spring or summer dessert.
Ingredients
1 1/2 cups crushed pretzels
1/4 cup granulated sugar
1/2 cup unsalted butter, melted
3 ounce box strawberry jello
1 packet plain Knox gelatin
1 cup boiling water
2 cups vanilla ice cream
1 cup diced strawberries
8 ounce container Cool Whip, thawed
Instructions
Combine the pretzels, sugar, and butter and stir until combined. Press into the bottom and sides of a 9 inch pie plate. Refrigerate.
Stir the boiling water and both gelatins together until dissolved. Add the ice cream and stir until melted.
Stir in the ice cream while the water is still very hot. The mixture will start to thicken quickly, so stir quickly.
Stir in the diced strawberries. Spoon the mixture into the pretzel crust.
Use a piping bag and icing tip 1M to cover the top of the pie with Cool Whip.
Refrigerate for at least 1 hour before serving. Best served within 24 hours of making this pie.
Notes
*The crust will be slightly crumbly. If you want to bake the pie crust for 10 minutes at 350 degrees, it will be harder. But that will take away from the NO BAKE part of the pie.
Nutrition Information:
Yield:

10
Serving Size:

1
Amount Per Serving:
Calories:

270
Total Fat:

18g
Saturated Fat:

12g
Trans Fat:

0g
Unsaturated Fat:

5g
Cholesterol:

36mg
Sodium:

131mg
Carbohydrates:

25g
Fiber:

1g
Sugar:

18g
Protein:

3g
Nutrition facts are an estimate and are not guaranteed to be accurate. If you need special diet advice, please see a registered dietician.