This sweet pink Strawberry Fluff Salad has pudding, whipped topping, angel food cake, and fresh strawberries. A fluff salad recipe is the perfect treat to share at picnics or barbecues.
Try this amazing rocky road fluff salad for the chocolate lover's in your life.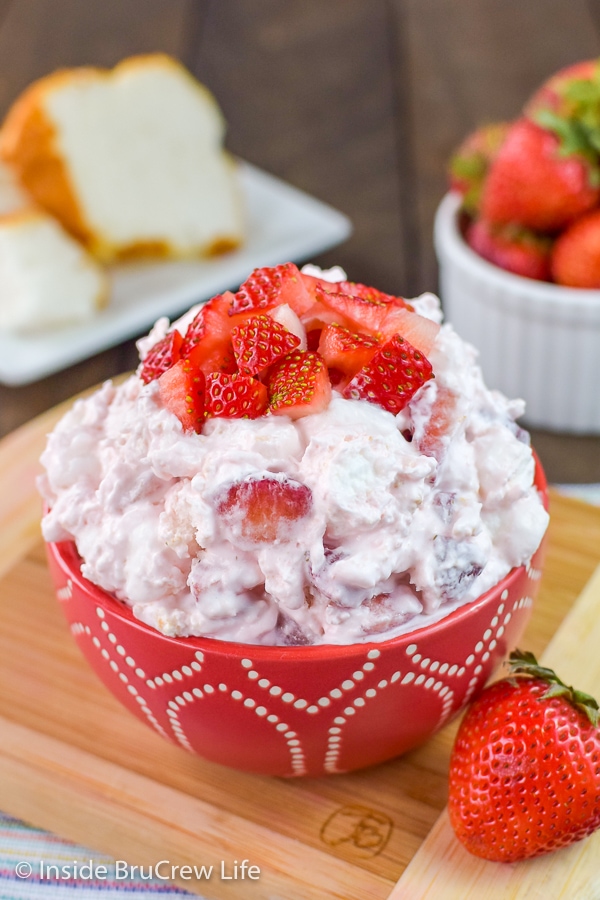 Strawberry Fluff Salad
Going on food tours and seeing how food is grown or packaged has been one of my favorite things that I have done as a food blogger. It is so cool to see the entire process from farm to table each time.
A few years ago I was able to go to a few strawberry farms and hear about their process. I came home from that California trip with strawberries on the brain, and I couldn't wait to add them to an easy no bake dessert for my family to enjoy.
One of the most popular desserts that I have ever made is this fluff salad. It's what started my obsession with these easy creamy fruit salads.
I seriously have so many ideas for ones that I want to make, but I am trying to spare you from my fluff salad obsession by spacing them out over time.
Today we are starting with a sweet strawberry fluff salad made with angel food cake.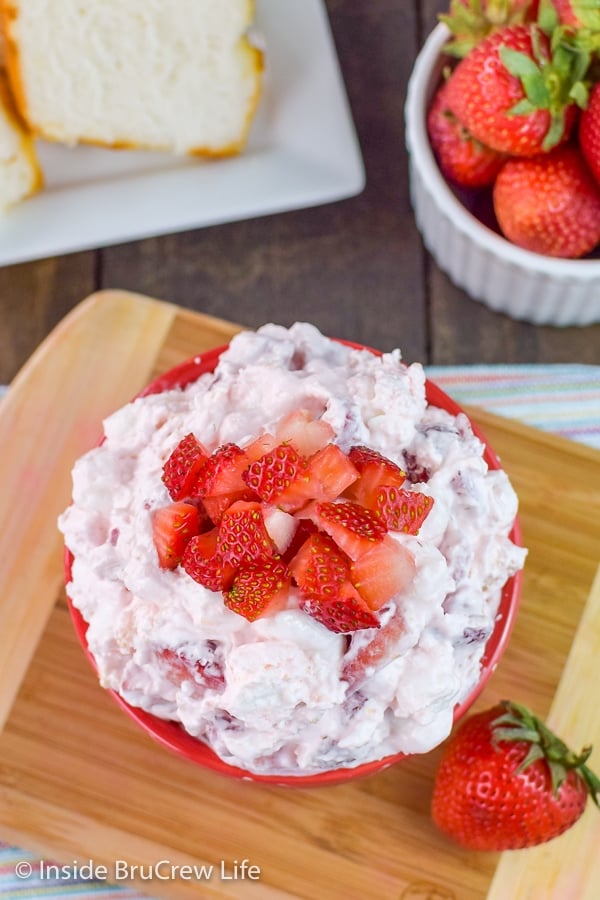 What is a fluff salad?
If you have ever been to a church potluck in the midwest or south, you have probably had a version of this dessert salad.
A mixture of pudding, Cool Whip, and different mix-ins creates this fun dish. Crushed pineapple, nuts, marshmallows, cherries, or chocolate chips are all different ways to change up the dish.
Popular versions are Orange Fluff, Pistachio Fluff, Watergate Salad, or Fruit Ambrosia Salad.
The result is a light, fluffy pudding dessert that can be served as a side dish or a dessert.
Ingredients Needed
Instant Strawberry Pudding Mix - I usually find this pudding mix at Walmart. If you can't find it, use instant white chocolate or vanilla.
Milk - You can use regular milk or 2%. Add more strawberry flavor by adding strawberry Quik to the milk first.
Cool Whip - The creamy whipped topping is what gives this salad the fluffy texture. If you prefer, you can also use whipped cream recipe instead.
Miniature Marshmallows - This sweet ingredient gives a great texture to the chilled salad. They are optional, so you can leave them out if you like.
Strawberries - Feel free to use more fresh strawberries to the dessert. It's delicious with twice the fruit too.
Angel Food Cake - Cut the cake into small bite-sized cubes before adding it to the mixture. You will only need about ½ a cake to get 3 cups of cubes. Use the leftovers to make these peach cheesecake pie Parfaits too.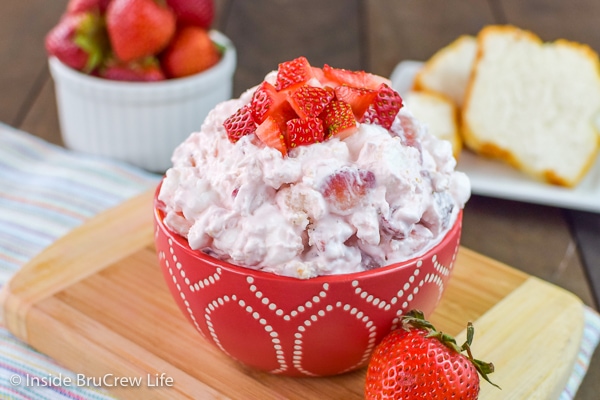 How to make Strawberry Shortcake Fluff Salad
A strawberry fluff salad is very easy to put together in minutes. This dessert salad is great served as a side dish or dessert.
Cut fresh strawberries and half an angel food cake into chunks. Set these aside.
Whisk together the instant strawberry pudding mix and milk.
Fold in a container of thawed Cool Whip.
Add marshmallows, strawberries, and cake cubes and stir gently.
Refrigerate the bowl of fluff salad for 1-2 hours for best flavor and texture.
Frequently Asked Questions
What can you use if you can't find the strawberry pudding?
You can use an instant white chocolate or vanilla pudding mix and strawberry milk to get the strawberry flavor.
Another thing you can do is to add a few teaspoons of dry strawberry Jello to the pudding mix before stirring in the milk.
Can you make fluff salad ahead of time?
Yes. This fluff salad can be made a day ahead of time and chilled in the fridge. Just make sure to give it a stir before serving.
This dessert salad really is best served within a day of making it though. The berries start to add extra moisture to the dessert salad if it sits too long.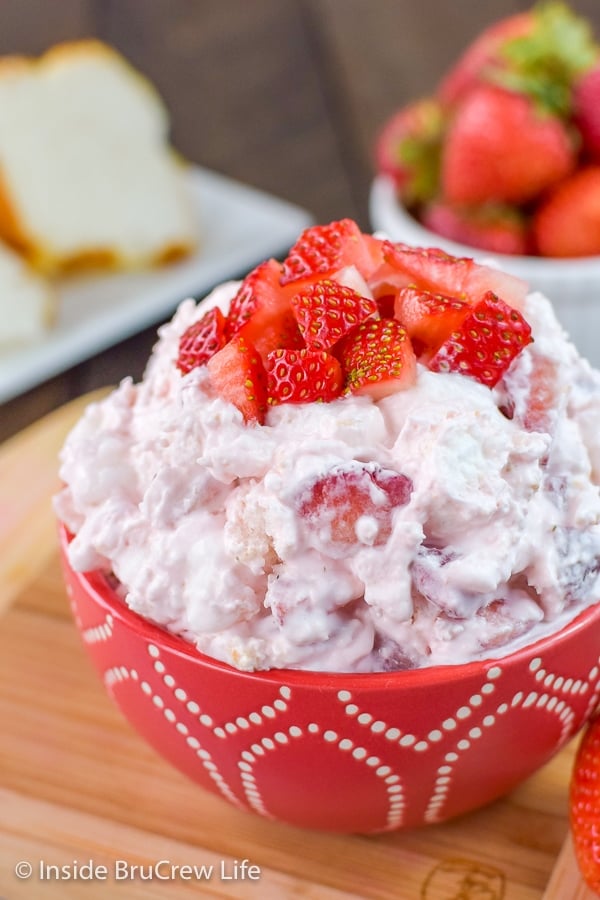 More dessert salads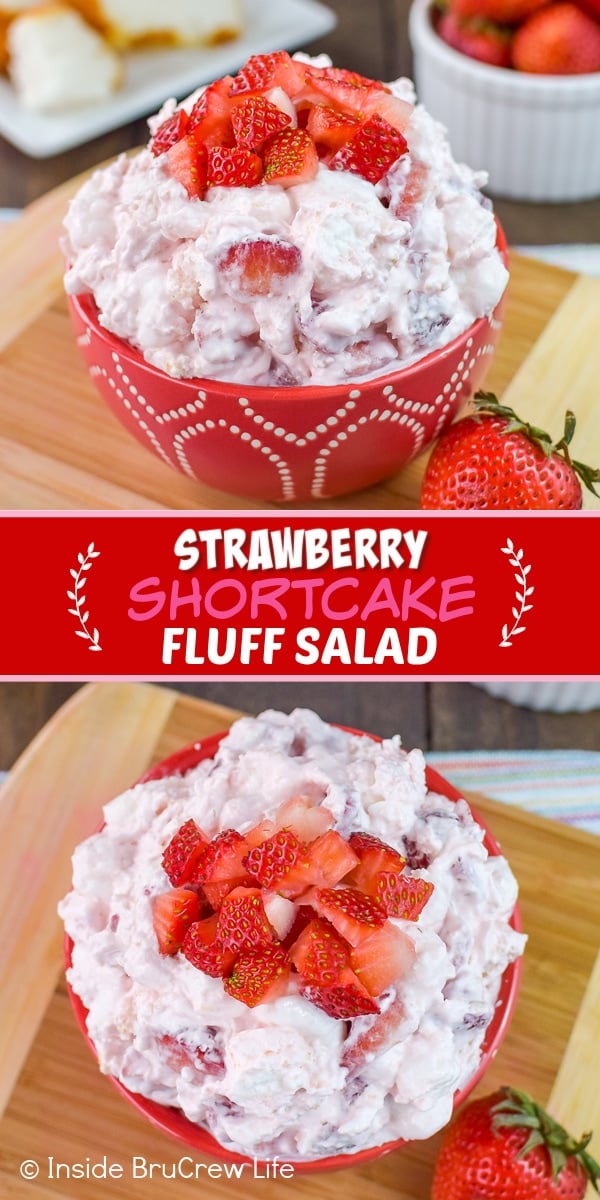 *The post for Strawberry Shortcake Fluff Salad was first published July 10, 2015. The photos and post were updated and republished January 27, 2021.