Did you know that most baking problems come from not measuring flour correctly? Learning How to Measure Flour the right way can make the difference in your recipes turning out accurately every time.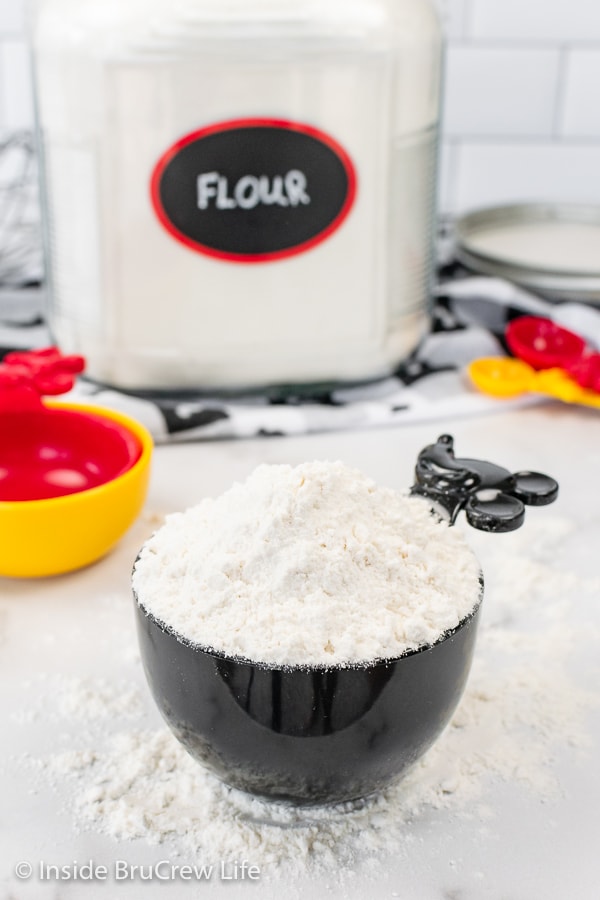 Have you followed a recipe exactly but ended up with dense cake, crumbly cookies, or bread that never rises the way you want?
If any of these problems sound familiar, then there's a good chance that you are measuring flour the wrong way.
Don't worry, you're not alone! It's easy to underestimate how much damage too much or too little flour can affect your recipes. Baking is a science and requires accurate measurements for baked goods.
There are two basic ways to measure flour: by weight or by volume. Here is everything you need to know on how to measure flour the right way, so your recipes turn out every time.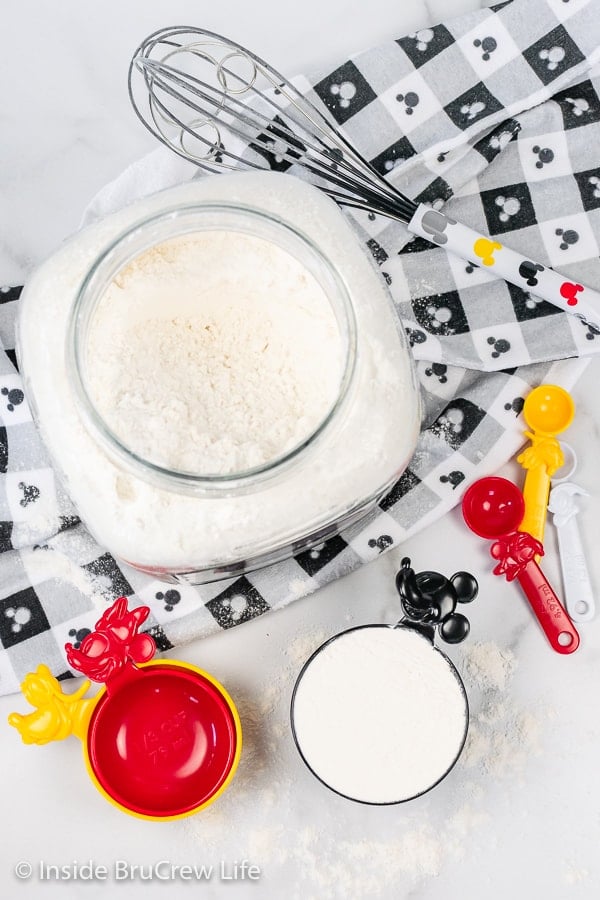 How to Store Flour
Flour should be kept in an airtight container in a cool, dark place. Air exposure can cause flour to go stale and decline in quality.
Storing flour improperly can result in moldy, rancid, or bug infested flour. Flour will keep for about 6 months at room temperature. You can keep it in the fridge or freezer for longer, if you have extra flour.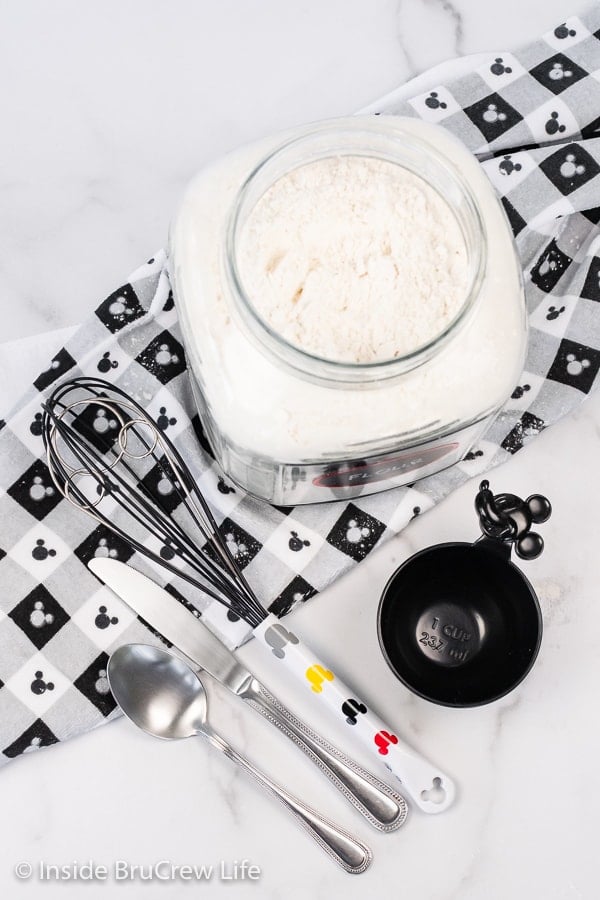 Use the Right Tools
To learn how to properly measure flour, you need to start with the right equipment. When you measure flour, make sure that the tools used are designed for dry ingredients.
Using a liquid measuring cup for flour will throw off your entire recipe. Most dry ingredient measuring cups come in plastic or metal, while liquid measuring cups are often made of glass. Always know which one you are using before you start measuring!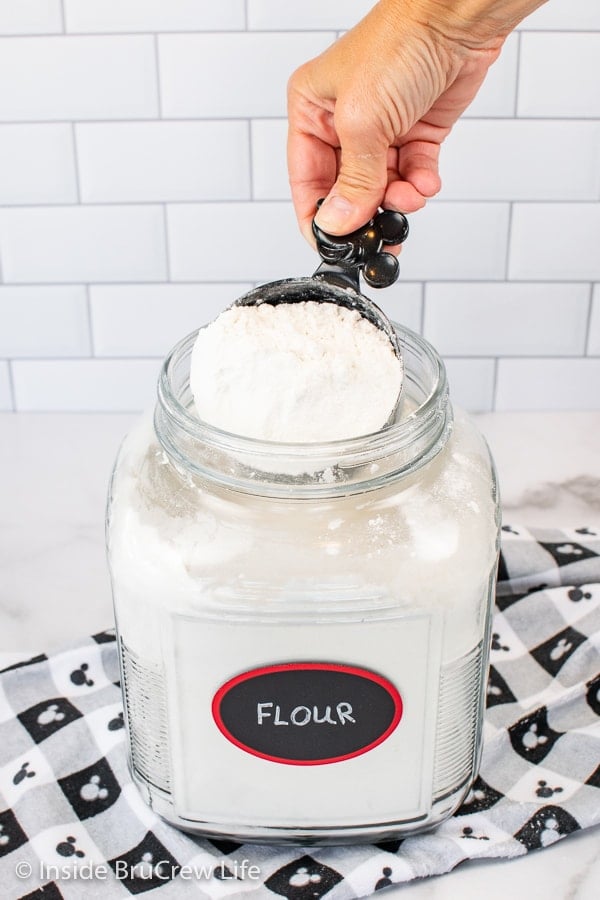 The Wrong Way to Measure Flour
When you measure flour, do you dip your measuring cup straight into the bag? This is a common way of measuring flour, but it is NOT the right way.
Scooping flour out of the container compacts it into the measuring cup, which can result in up to 30% more flour. That much extra flour will definitely affect the recipe.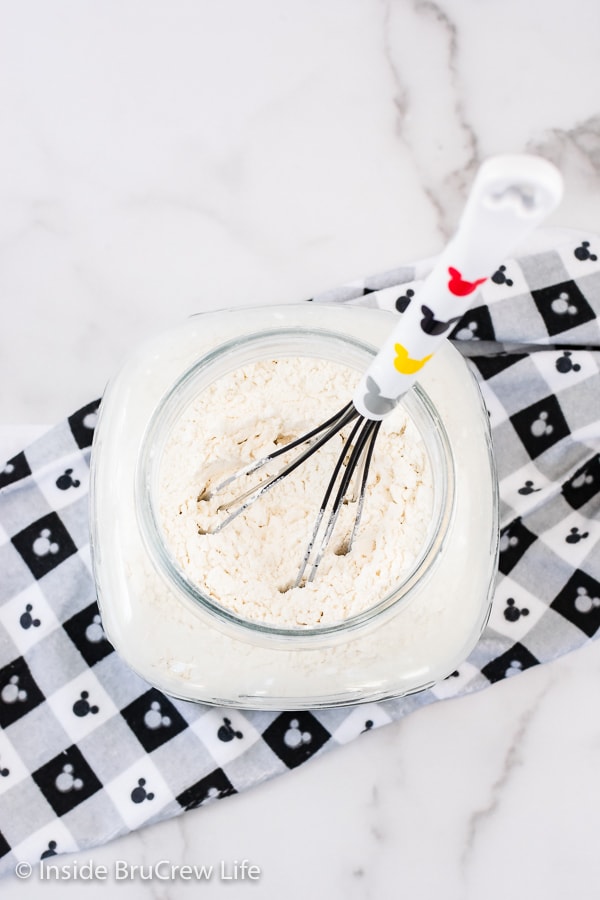 The Right Way to Measure Flour
The first step to measuring flour is stirring or fluffing your container of flour. Flour sinks and compacts as it sits.
Stir the Flour
Give your flour a good fluff with a fork, spoon, or whisk before you begin measuring it. This allows the flour to get fluffy and airy again, which provides an accurate measurement.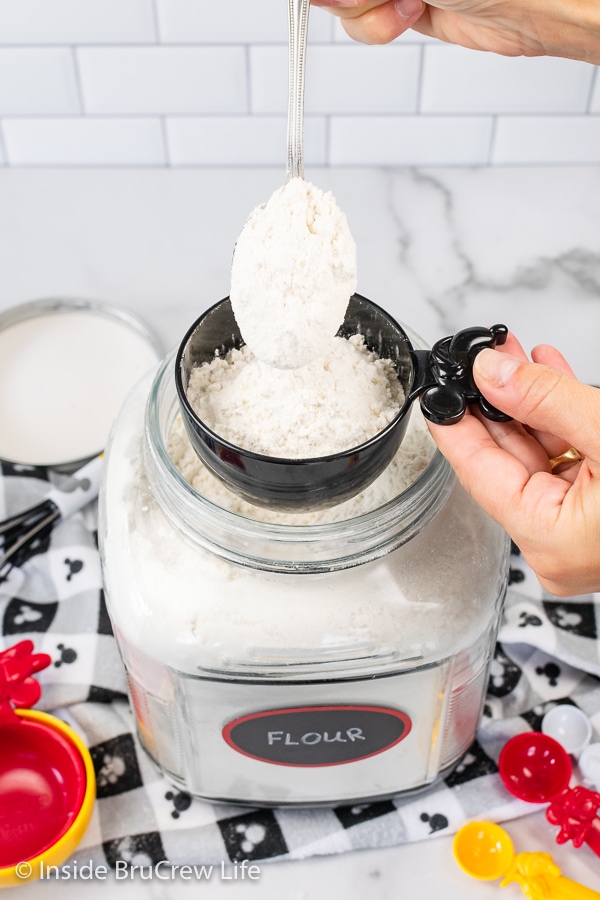 Spoon Flour into a Measuring Cup
Use a small spoon to transfer fluffed flour from the container to the measuring cup. This allows the flour to fall into the cup without being compacted and keeps air between the powder particles.
When spooning flour into the measuring cup, overfill it and create a hill on the top. This makes certain that the cup is completely filled.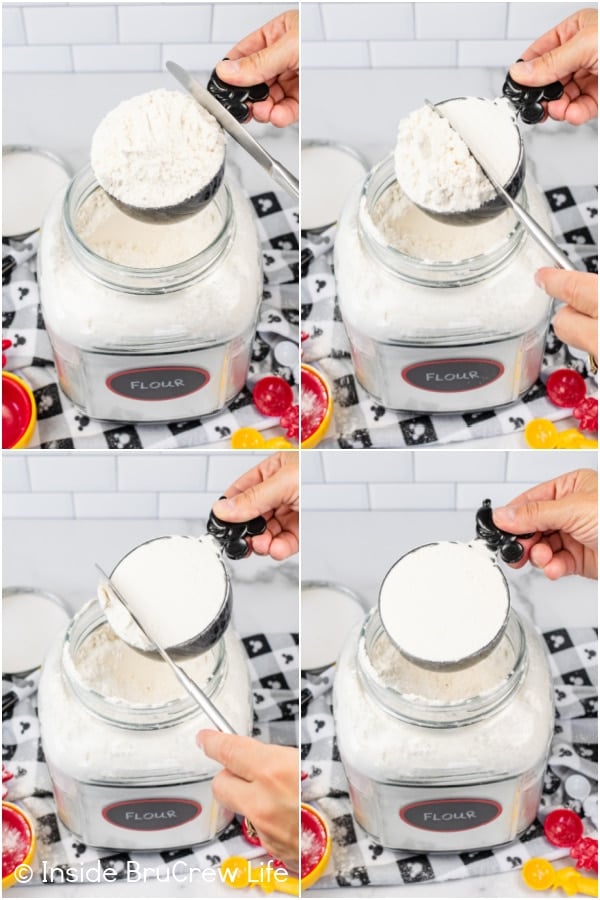 Level the Top
Use something with a straight edge to sweep off the excess flour. This gives you the perfect measurement of non-compacted flour.
The back of the butter knife is a great tool for this part of the job, but anything with a straight edge works.
Avoid Common Mistakes
Don't shake the measuring cup or tap it against the counter.
Don't pack the flour to fit more into the cup.
Don't directly scoop the flour with the measuring cup.
Sift the flour when the recipe calls for it. An ingredient listed as "1 cup sifted flour" means you sift flour before measuring. An ingredient listed as "1 cup of flour, sifted" means you sift flour after you measure.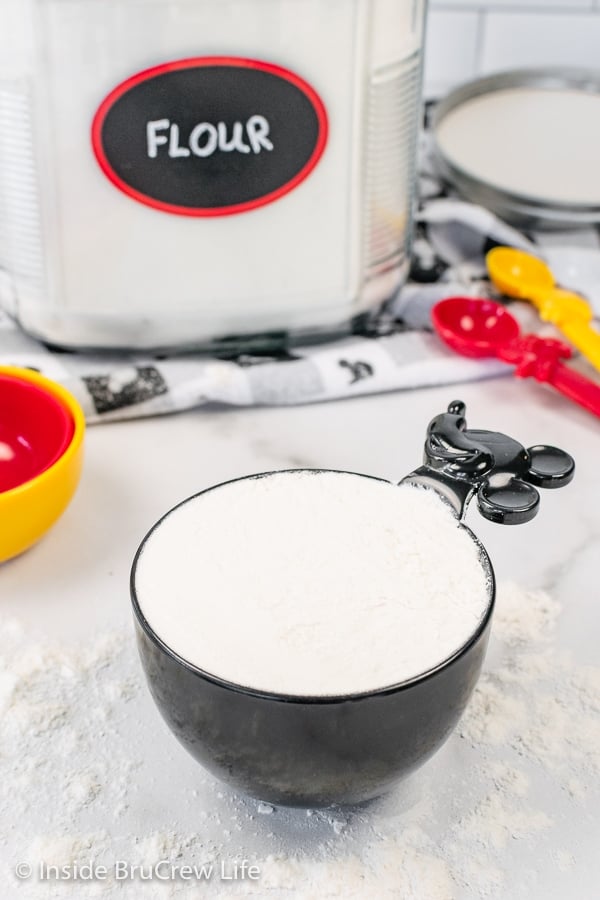 Measuring Flour with a Scale
The most accurate way to measure flour is with a kitchen scale. The benefit to using a scale is that your measurements will be the same every single time, and you will have consistent results every time.
One cup of regular all-purpose flour should be approximately 125 grams. Keep in mind that other types of flour and brands can weigh differently.
Place the scale on a flat, level surface.
Add an empty bowl to the scale.
Press the "Tare" button to zero out the scale. (deducting the weight of the bowl)
Spoon the flour into the bowl until you reach 125 grams.
Now that you know how to measure flour without any flaws, it's time to dive back into your favorite recipes. That recipe that never seems to turn out right is waiting for you!
Give it another try with the right flour measurements and see how much better it turns out.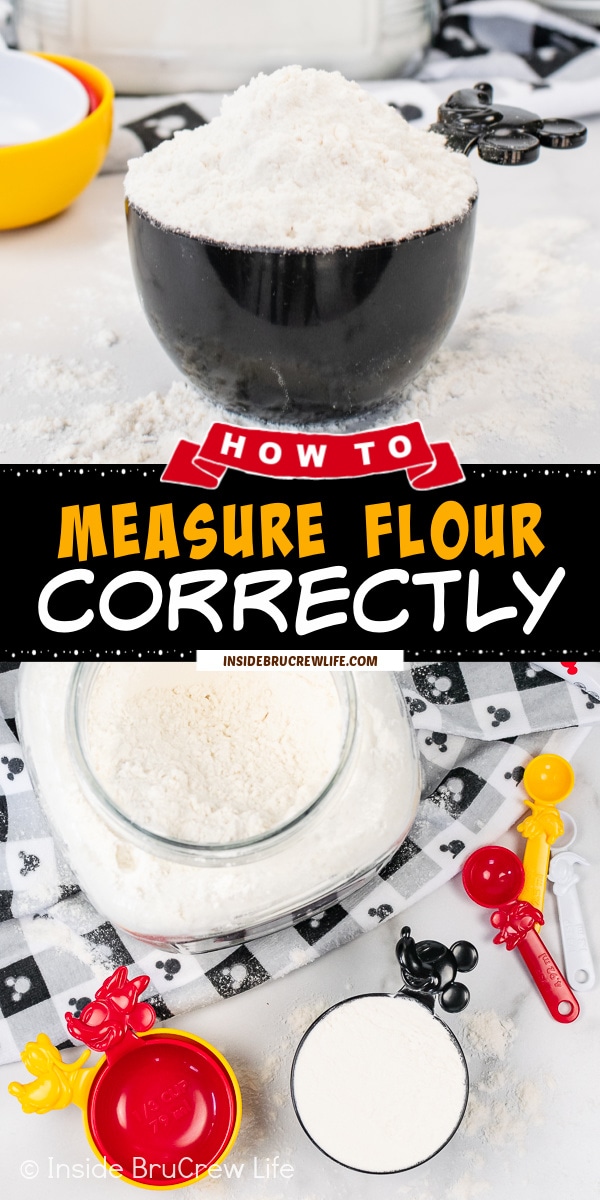 More Baking Basics