Learn How to Make Toasted Coconut using three simple methods - oven, stove top, and microwave. It adds a delicious flavor and texture to any recipe or dish.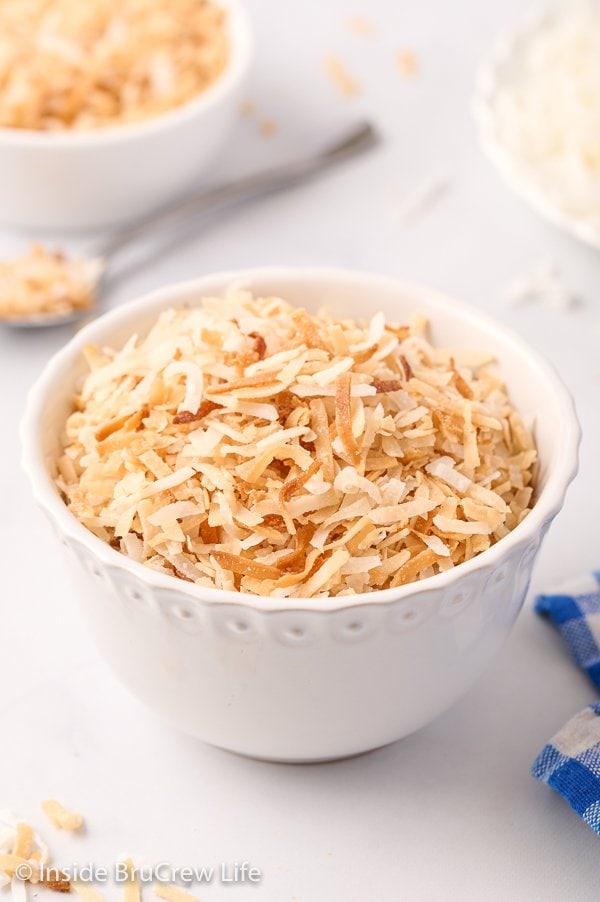 One of my favorite ingredients to use during the spring and summer months is sweetened shredded coconut. I enjoy adding it to coconut cake, Nutella no bake cookies, and coconut scones because it adds such a delicious tropical flavor.
But what I really love is making toasted coconut. Toasted coconut gives baked goods and desserts an even better flavor. Not to mention the awesome crunch and texture it adds to the tops of cakes and trifles.
Why This Recipe Works
Love the flavor of toasted coconut, but don't know how to do it yourself? We've got you covered.
We'll show you how to toast coconut using 3 easy methods. You can use shredded, flaked, or chips - whichever suits your recipe or dish best.
Toasting coconut is very similar to toasting nuts. It adds more flavor and gives shredded coconut a nutty crunch. This flavor and texture gives new life to your recipes.
Once you try our methods, you will never go back to store-bought toasted coconut again. It tastes so much better when you toast it yourself at home. Plus, it makes your kitchen smell like the tropics!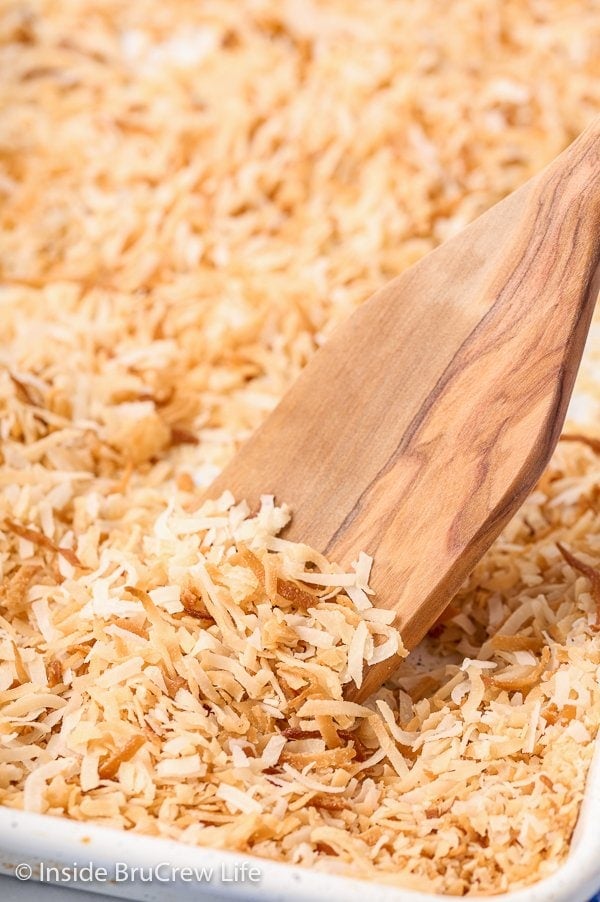 How To Toast Coconut
There are three easy ways to toast coconut. You can toast it in the oven, on the stove top, or in the microwave. Each method works quickly to give you a delicious batch of toasted coconut in minutes.
How to Toast Coconut in the Oven
My favorite way to make toasted coconut is in the oven. I find that the flakes toast evenly this way. Plus, you can toast more shredded coconut on a sheet pan at a time.
Place shredded coconut in a thin layer on a sheet pan. Parchment paper or a Silpat will keep it from sticking.
Bake in a preheated oven for 5-6 minutes. The flakes will brown quickly, so do not walk away.
Stir and move the flakes around after 2 minutes. Continue stirring every minute to make sure the coconut browns evenly.
Remove the pan from the oven once the coconut has come to a lightly brown or golden color.
Place the toasted coconut on a room temperature plate or dish to stop the toasting.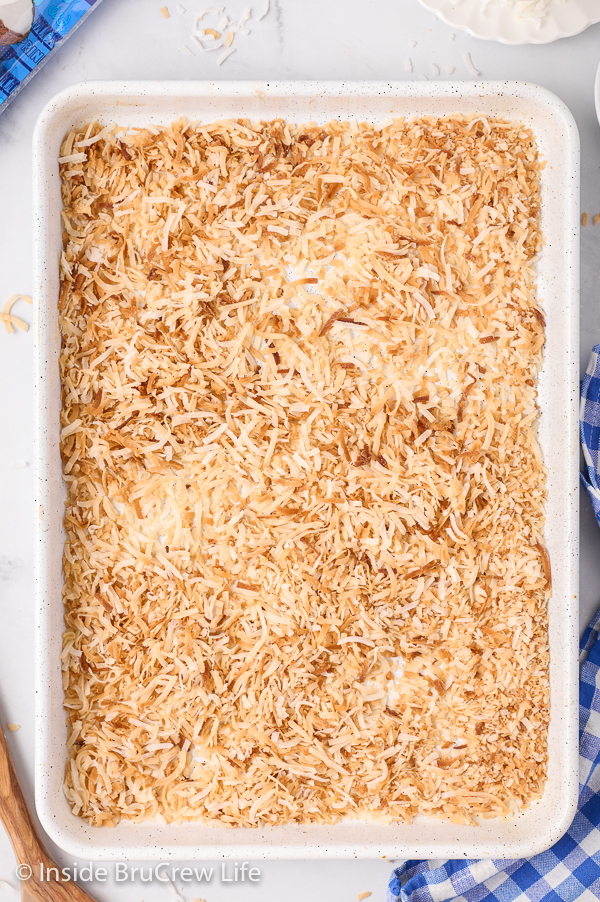 How to Toast Coconut on the Stove
This method was easy and faster than the oven, but I found that my coconut flakes didn't toast as evenly as I would like.
Place 1-2 cups of shredded coconut in a large skillet over low-medium heat.
Stir the coconut frequently until flakes begin to turn golden brown.
Spoon it onto another plate or bowl to cool.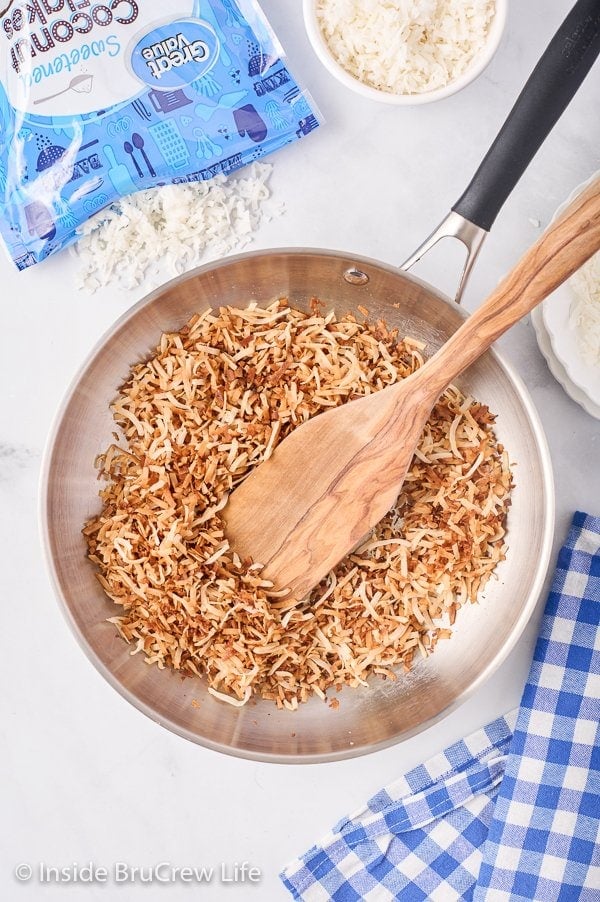 How to Toast Coconut in the Microwave
This ended up being the fastest way to toast coconut, but it was my least favorite. The coconut toasted fairly easily, but had a few places where it burned more than others. Plus, it still had a slight chew along with the crunch.
Place ½ cup shredded coconut on a microwave safe plate.
Microwave in 30 second increments, stirring after each time to disperse hot pockets.
Continue cooking and stirring until you reach your desired color and texture. The amount of time it takes will vary depending on your microwave.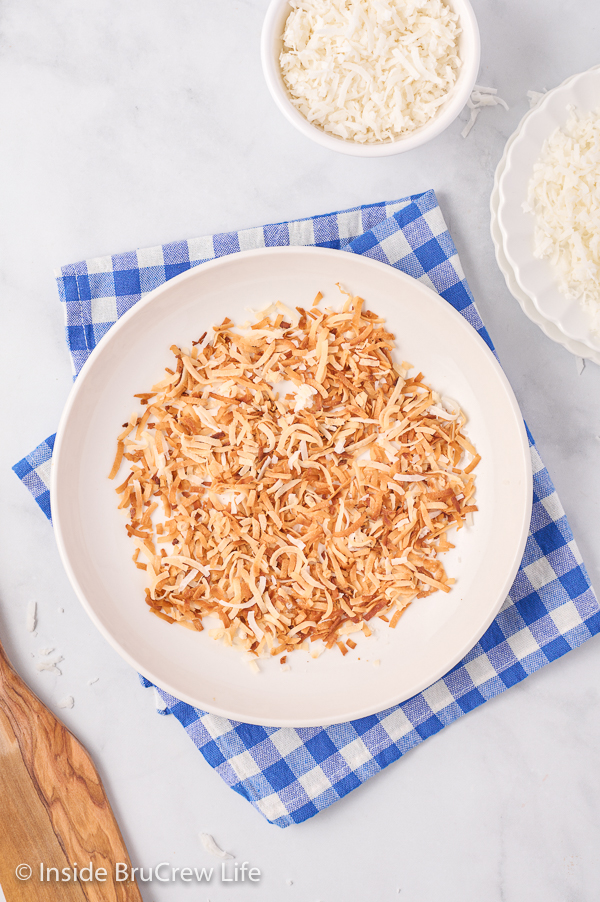 Toasting Tips
Sweetened coconut will toast much faster than unsweetened coconut because of the sugar coating.
For best results use dried coconut. Frozen or refrigerated coconut has a higher moisture content which doesn't allow it to toast properly.
Do NOT walk away from the stove or oven while you are making toasted coconut. Coconut burns very easily and can go from golden brown to burnt in seconds.
Remove the toasted coconut from the hot pan or skillet because the heat from the pan will continue to toast the coconut more.
FAQ'S
What is toasted coconut?
It is shredded or flaked coconut that has been heated until it turns golden brown and has a slight crispy texture. It has a sweet and nutty flavor that works in many recipes.
Can you toasted sweetened coconut?
Yes. It will brown faster than unsweetened because of the sugar on it. Do not leave the coconut unattended while in the oven or on the stove top.
How long will toasted coconut last?
Make sure to let the light golden coconut cool completely before placing in an airtight bag or container. It will keep at room temperature for 1-2 weeks if kept in a cool dark place.
Refrigerated or frozen toasted coconut tends to get chewy after thawing. Place it back in the oven for 1-2 minutes to crisp it back up.
Should you toast coconut before using it in baked goods?
That is completely up to you. Toasting the coconut improves the flavor and gives it a better texture. But it really depends on the recipe and the desired outcome you are wanting.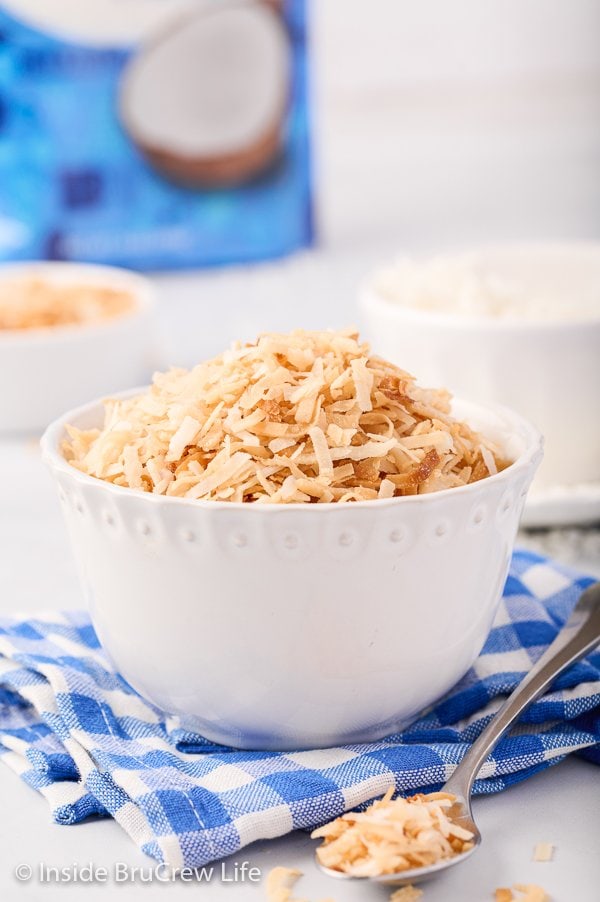 Ways to Use Toasted Coconut
There is absolutely no wrong way to enjoy toasted coconut. The most common way is to use it as a topping on coconut bundt cake or pineapple trifle. It's also great on parfaits or ice cream! Here are a few of our favorite recipes that we use it in.
Do you love a recipe you tried from Inside BruCrew Life?
Please leave a 5-star ⭐️ rating and a review in the comments section below.