Craving banana bread, but don't have any brown bananas on your counter? Learn How to Quickly Ripen Bananas with these 4 easy kitchen tips.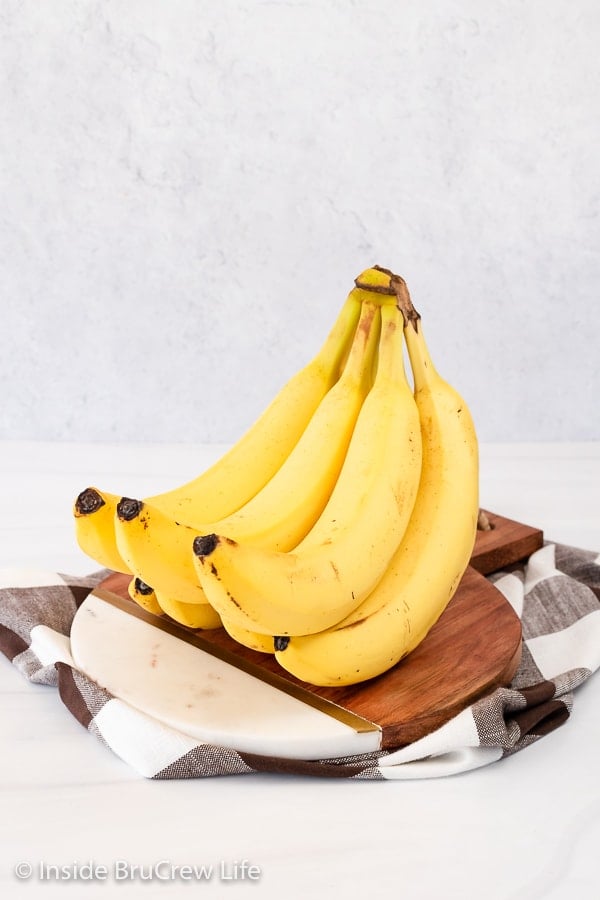 Baking with Bananas
Bananas are one of the most popular fruits in the world for snacking on and baking with. Of course, the best bananas to bake with are overripe ones.
So, it can be frustrating when you want to bake a banana recipe, and the bananas at the store or on your counter are not ripe enough.
There have been so many times when I wanted to make a loaf of sour cream banana bread or chocolate banana muffins, but the bananas we had were not ready for baking yet.
Did you know that you can help your bananas ripen faster and taste better? You won't believe how simple it is!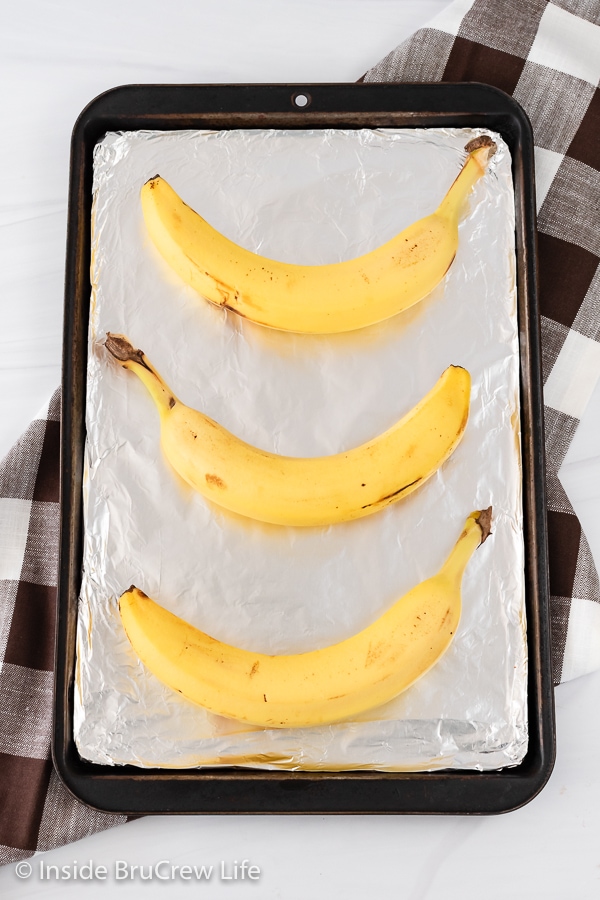 How to Quickly Ripen Bananas
Here are four easy ways to ripen bananas faster, so you can bake with them. You do not need any special equipment or tricks for speeding up the ripening process. Just follow these simple steps and they will be ready in no time!
Ripen Bananas On the Counter
Green bananas will naturally ripen if left alone. Bananas produce ethylene gas that works to process the sugars in the fruit making it soften and change colors.
Place the bunch in a warm spot in your home. Near a vent, the top of the refrigerator, or a sunny window are a few good places to put them.
Make sure to leave them together as a bunch because they will ripen faster this way.
It can take anywhere from 24 hours to 5 days to fully ripen the bananas for eating or baking. It all depends on how green they were to start with and how ripe you are trying to get them.
Ripen Bananas In a Paper Bag
To speed up the natural ripening process, you can use a brown paper bag.
Place the bananas in a paper bag with an apple or an already ripe banana.
Loosely fold the top of the bag down and place it on the counter or in a closet.
The bananas should ripen in 1-2 days.
BRUCREW TIP: Do not use a plastic bag because this does not let enough oxygen in for the ripening process to happen.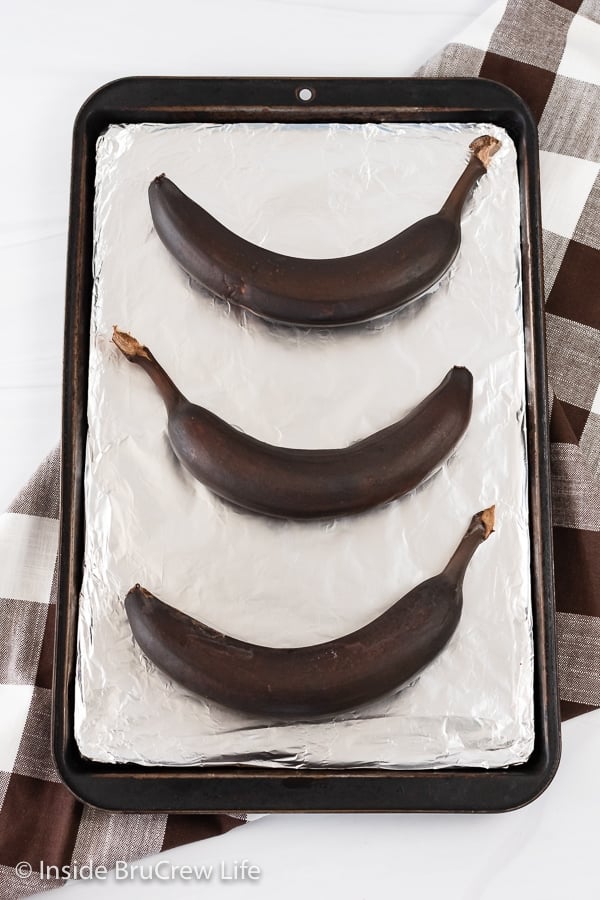 Ripen Bananas In the Oven
When you are craving banana bread and need brown bananas ASAP, the quickest way to ripen bananas is in your oven. They will come out with the texture and taste of overripe bananas which is perfect for baking with.
Pull the partially ripe yellow bananas apart and place the unpeeled bananas on a foil lined sheet pan. Keeping the peels on traps the moisture inside as they roast.
Bake at 300 degrees for 20-30 minutes or until the fruit reaches your desired softness. I usually bake them until the peels are black and shiny. The time it takes really depends on how ripe the bananas were to start with.
Cool until you can easily handle the fruit. Scoop out the softened banana pulp and let it cool before using. These bananas are not good for eating or slicing. They are only best for baking.
Mash the roasted bananas and drain off some of the excess liquid before using it in baked goods.
Ripen Bananas In the Microwave
You can also soften bananas in the microwave, but this method will NOT improve the flavor or sweetness of the bananas. It just works to soften partially ripened fruit. Do not try this with green bananas!
Poke the banana peels all over with a fork and place on a microwave safe plate.
Microwave for 30-60 seconds. Check the softness of the banana. If needed, microwave an additional 30-60 seconds.
Let them cool before peeling and mashing.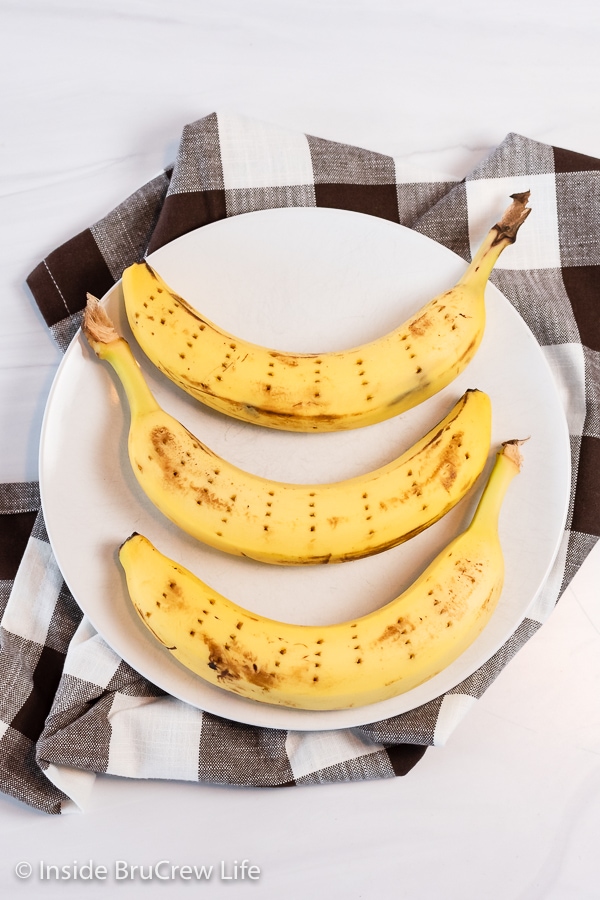 How to Use Ripe Bananas
Recipe Questions
Will bananas ripen in the refrigerator?
Green bananas will not ripen in the refrigerator at all. They will also not ripen if you remove the cold green bananas from the fridge.
You can keep overripe bananas in the refrigerator to keep them from going bad if you are not ready to bake yet.
How ripe should bananas be for baking?
The best bananas for baking have brown spots and are mostly dark brown. In fact, the darker the better because it means the bananas are sweet and have a great flavor to bake with. As long as there is no mold growing on the fruit, you can use it.
How do you store ripe bananas?
Peel the ripe fruit and place it in a small Ziplock bag. Place the bag in a larger freezer bag in the freezer where they will keep for 6-7 months.
Thaw the bananas before using in baked goods. Make sure to drain some of the excess liquid off after thawing.
BRUCREW TIP: Frozen bananas are also great for a cherry banana smoothie or banana frozen yogurt. Do not thaw the bananas, just chop them up and throw them in the blender with your other ingredients.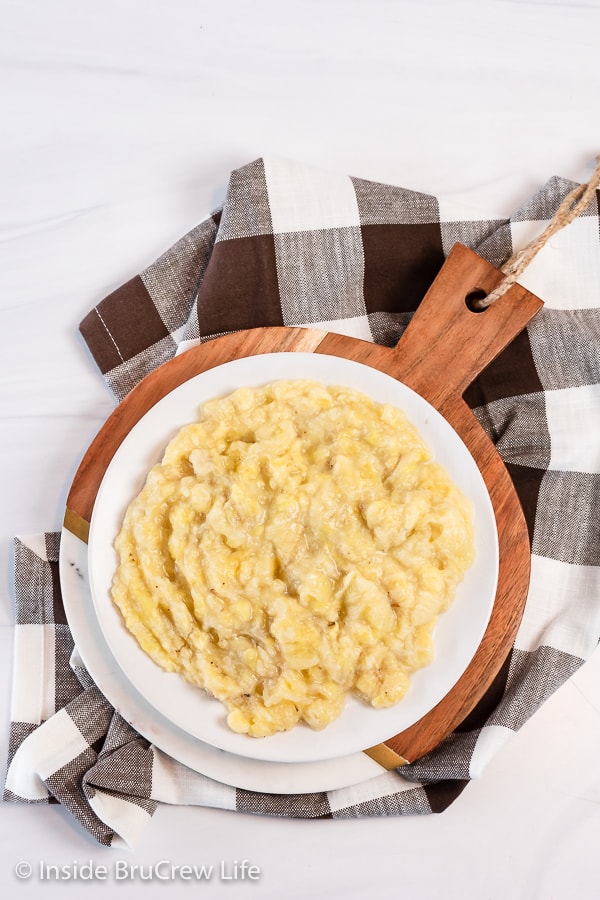 More Baking Basics
Do you love a recipe you tried from Inside BruCrew Life?
Please leave a 5-star ⭐️ rating and a review in the comments section below.