Don't settle for a store-bought crust. You can make your own Homemade Graham Cracker Crust in minutes with 3 ingredients. Get ready to feel like a pie pro. This pie crust recipe is perfect for no bake pies, baked pies, and cheesecakes.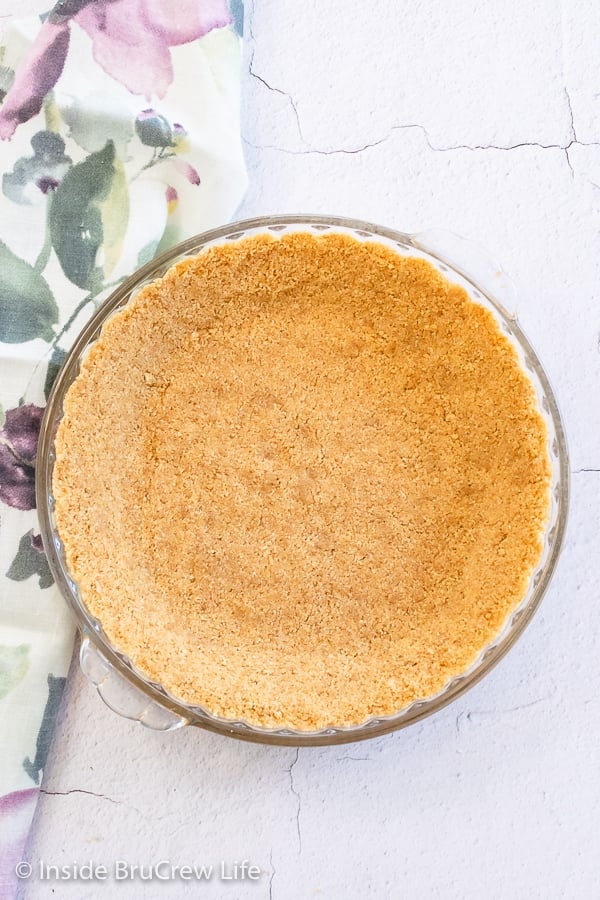 While store-bought pie shells are convenient, they just don't taste as good as homemade. Plus, most of them end up crumbled or cracked by the time you get it home from the store.
Making your own homemade graham cracker crust is so easy! And it tastes way better than those store-bought versions that have been sitting on the shelf for months.
I have been using this recipe for years for no bake pies and cheesecake pies.
Why You Will Love This Pie Crust
Easy to make in minutes with 3 ingredients.
Costs much less to make your own.
Tastes delicious in baked or no bake desserts.
Use different crackers or cookies to change up the flavor.
This recipe is so simple, you'll wonder why you ever bothered buying pre-made shells in the first place. The homemade graham cracker crust tastes amazing and only takes 10 minutes from start to finish.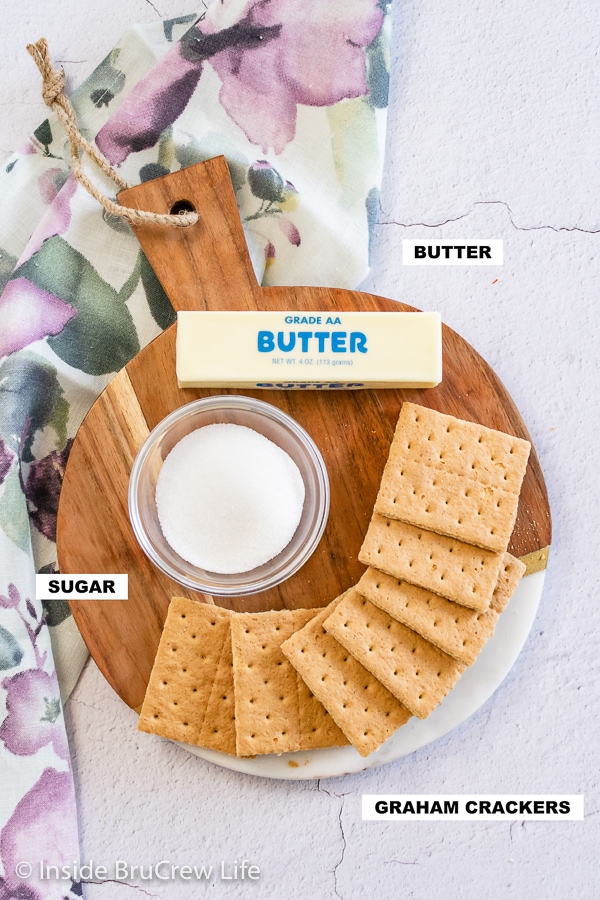 Ingredients Needed
The best part about this homemade graham cracker pie crust is that it is super easy to make with just 3 ingredients, and it comes together in minutes. Once you try it, you will never go back to store-bought crusts again!
Graham Cracker Crumbs - Use a food processor to pulse the crackers into crumbs. If you do not have a food processor, place the crackers in a plastic bag. Roll a rolling pin back and forth over the bag to crush the crackers into fine crumbs. You can also skip both of these steps and use store-bought graham cracker crumbs to make it easier.
Granulated Sugar - Sweetens the crust a little bit more, and it also binds with the butter and crumbs to hold the crust together better when you cut into it.
Butter - Melted butter is the "glue" that holds the crumbs and sugar together.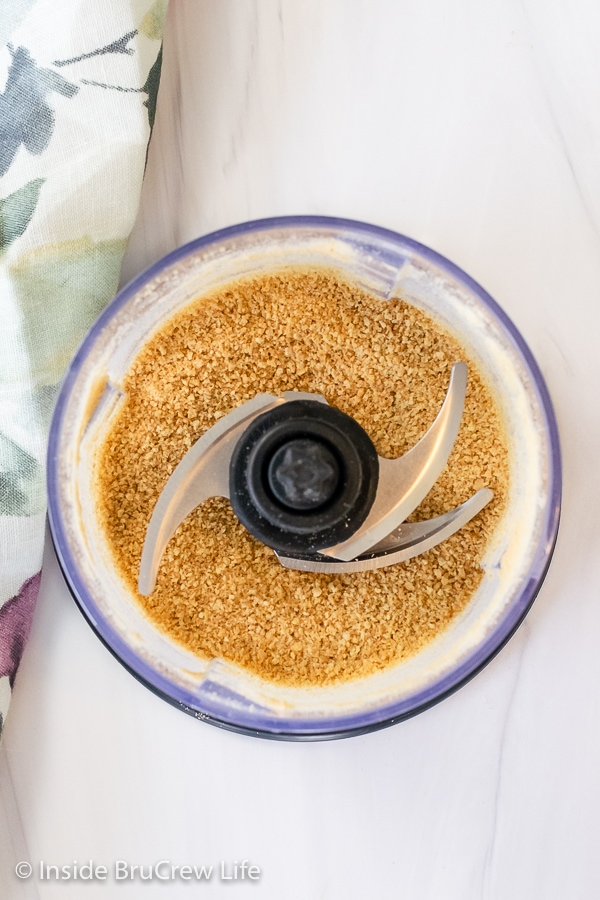 How to make Graham Cracker Pie Crust
You won't believe how easy it is to make an amazing graham cracker pie crust at home! Just follow these simple steps, then fill it with whatever filling you want. It doesn't get much easier than this.
Grind the crackers into fine crumbs using a food processor.
Stir together the graham cracker crumbs, sugar, and melted butter in a large bowl until everything is coated.
Spray a pie plate lightly with non-stick baking spray.
Spread the crumb mixture evenly on the bottom and sides of the pie pan.
Use your fingers, the back of a spoon, or the flat bottom of a measuring cup to firmly press the crumbs on the bottom and sides.
Bake or chill the homemade graham cracker pie crust according to the recipe you are using.
Recipe Tips
This recipe will make enough crumbs to line an 8 or 9 inch pie plate. You can also use it with an 8 or 9 inch square pan or 8 or 9 inch springform pan.
Use flavored graham crackers to change up the taste and look of the pie crust. Honey, cinnamon, and chocolate graham crackers are all great options.
Don't have graham crackers? Use any other crushed cookies (without filling) in place of the crumbs. Some good options are vanilla wafers, gingersnaps, pretzels, Biscoff, digestive biscuits, chocolate wafers, or sugar cones.
Use brown sugar to give the crust a more molasses flavor.
Add different spices to the crumbs to add a fun flavor profile to the crust. Just make sure it complements the filling.
Need to make this dairy free or vegan? Use coconut oil instead of butter.
Even though the graham cracker crust is made with plenty of butter, it may stick to the pie plate. Spraying the pan with a little bit of non-stick baking spray will help you get the pie out easier.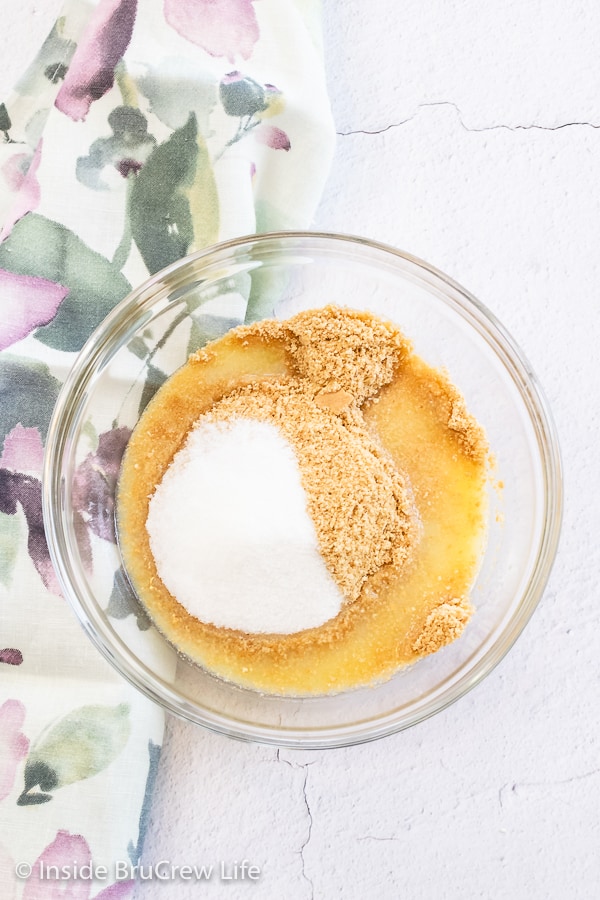 No Bake VS Baked
This pie crust recipe will work with whatever type of pie you are making.
No Bake Graham Cracker Crust - Follow the directions for the pie crust, then refrigerate for 20-30 minutes before using. The longer you let it chill, the better the crust will hold together. The pie crust will soften as the pie sits out, so keep that in mind when serving it.
Baked Graham Cracker Crust - Bake the crust at 350° for 8 minutes. Remove and let cool before filling it.
Storage Recommendation
Refrigerator - Cover the pie crust tightly and place it in the refrigerator for 3-4 days.
Freezer - Wrap the unbaked graham cracker crust tightly and freeze for 2-3 months. Thaw in the fridge before using.
FAQ'S
How many graham crackers are in a cup?
10 graham crackers (the full sheets) crushed into fine crumbs equals 1 ½ cups.
Do you have to bake a graham cracker crust?
It's totally up to you. It really depends on what you are filling it with and how much time you have. An unbaked pie crust will be softer and crumble easier. A baked crust will be firmer and have more of a "crunch".
Can I use this recipe in a 9x13 pan?
Yes, you can. Although, I recommend doubling the ingredients so you have enough crumbs to make a good layer.
Why is my graham cracker crust falling apart?
Make sure you really mix the melted butter into the crumbs and sugar. I like to use a little bit of extra butter when using this recipe for a no bake pie. The extra butter helps hold it together a little better.
You also need to press the crumb mixture very firmly into the pie plate and chill or bake it before filling it.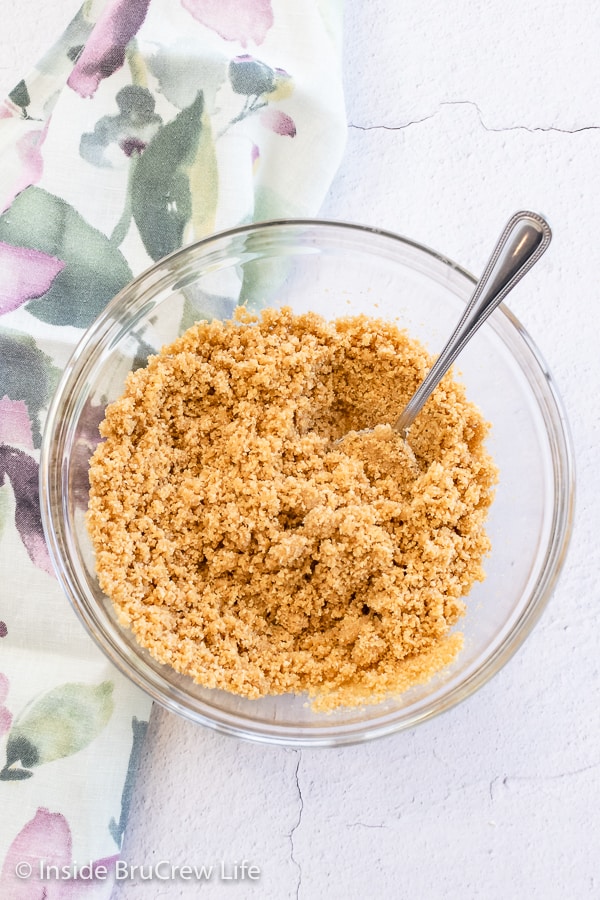 Recipes with a Graham Cracker Crust
There really is no limit to what you can fill this pie crust with. It tastes delicious with pudding pies, cheesecake, or Jello pies. Here are a few of our favorite ways to fill it.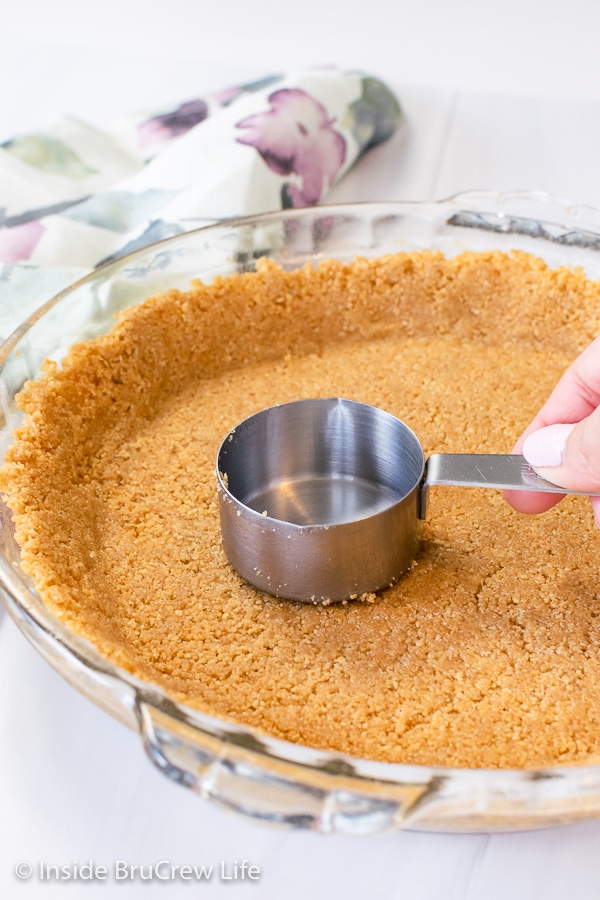 Love a recipe you tried from Inside BruCrew Life?
Please consider leaving a 5 star ⭐️ rating in the recipe card below and/or a review in the comments section further below.