Iced Gingerbread Oatmeal Bars will make the your whole crew cheer. Say hello to holiday breakfast done right!
The other day I had a dentist visit for a routine cleaning. The nice lady taking care of me let me know that I was slacking a little bit in my flossing duties.
It's something that I always mean to do each night, but then I don't. I know, I know. Brush, floss, repeat. It's not like it's that hard.
To soothe my ego and my mouth, I headed over to Target for a few items. Hahaha! Did anyone else just laugh at that?
A few items always turns into a cartful. This day was no different. It is Christmas shopping season, and Target has the cutest things to stuff stockings with. Plus, I had to get more candy canes for another batch of peppermint brownie truffles.
Yeah, we'll go with that and not mention that half the items in my cart may or may not have been for me.
Some of the items were actually for the house, but my hubby always says those purchases are for me. I guess no one else cares about pillows and tree collars.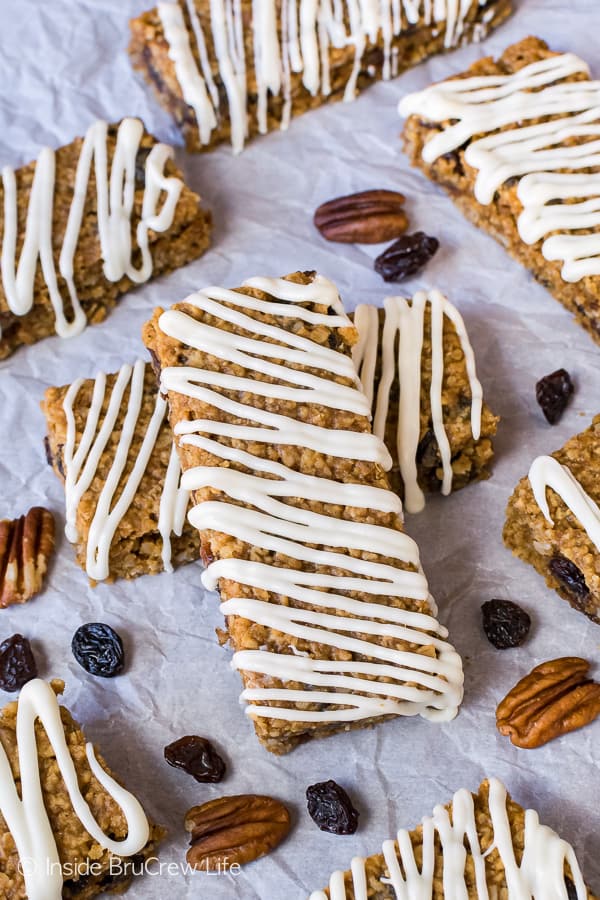 I honestly only meant to spend about an hour in the store, but then I wandered into the men's and women's clothing departments.
After another hour I emerged with a few new long sleeve shirts, some clearance swimwear, and a few shirts and a jacket for my hubby for Christmas.
By this time, I was starving. I could have gone into the grocery department, but that move would have cost me another hour. So, I grabbed a gingerbread Cliff bar from the check out line.
Gingerbread isn't a flavor that I normally go for, but by this point I would have eaten anything. Ok, that's a lie. I would rather starve than eat brussel sprouts.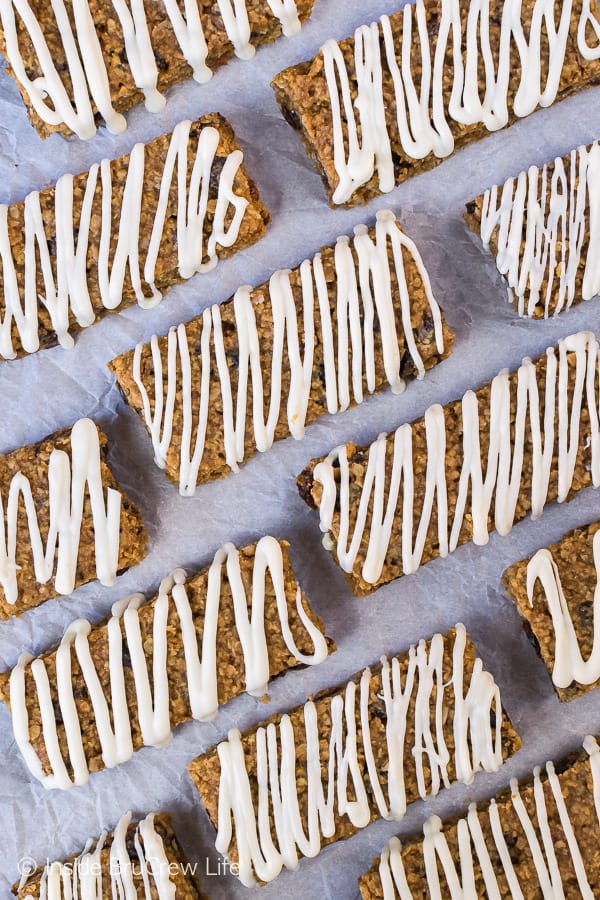 Gingerbread Oatmeal Bars
The gingerbread bar was so much better than I expected. It had a mild molasses and spice flavor and had raisins and nuts in every bite.
It was so good that I immediately decided to try to recreate it in my kitchen for an afternoon snack.
Over the years, I have used the recipe for these Caramel Oatmeal Bars to make all kinds of homemade granola bars, so I knew it would work for this new flavor I had in mind.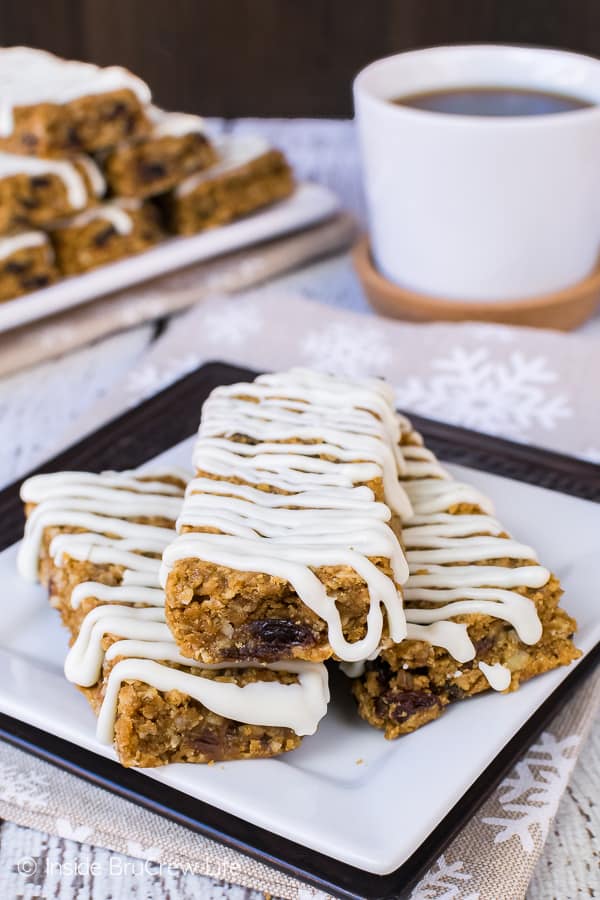 Molasses, spices, raisins, and nuts transform these gingerbread bars into a fun holiday breakfast.
I realize that raisins might be a touchy subject for some of you. It's ok, we can still be friends even if you don't like raisins in your treats. Feel free to leave them out, or use dried cranberries if you like those better.
After the bars cool, drizzle them with some white chocolate. I thought about adding some white snowflake sprinkles to make the bars prettier, but I really wanted to keep them simple.
Plus, I didn't want crunchy sprinkles in my chewy breakfast bars.
Actually now that I think about it, some white sanding sugar would have added a fun sparkle to the drizzles. I'm definitely going to add that to the next batch of bars.
Make sure to head over to Food Fanatic where I am a breakfast contributor to print this iced gingerbread oatmeal bars recipe.

More delicious gingerbread recipes:
Gingerbread Oreo Truffle Bark