Enjoy this homemade Salted Caramel Mocha Creamer in your morning cup of coffee. Homemade coffee creamer is easy to make and and easy to customize.
I am partnering with the J.M. Smucker Company to bring you this recipe.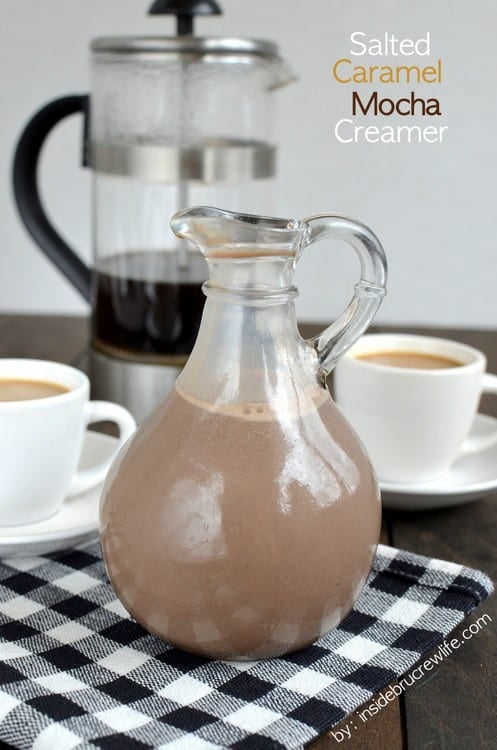 Like it or not, technology has become a way of life. Unfortunately it is easy to become too attached to your phone or screen device.
As a full time mom and blogger, I am guilty of spending plenty of time with my face buried in my phone checking emails or social media during the day. Some days I am just mindlessly scrolling through Facebook or Pinterest.
My husband likes to flip the phone out of my hands whenever he catches me zoning out. It is so easy to become disconnected from the ones around you when you have a digital device easily accessible.
Everyone in our house has a phone or digital device. If we aren't careful, those devices come on way too many times throughout the day. Limiting screen time has become necessary and needed so we can catch up with each other.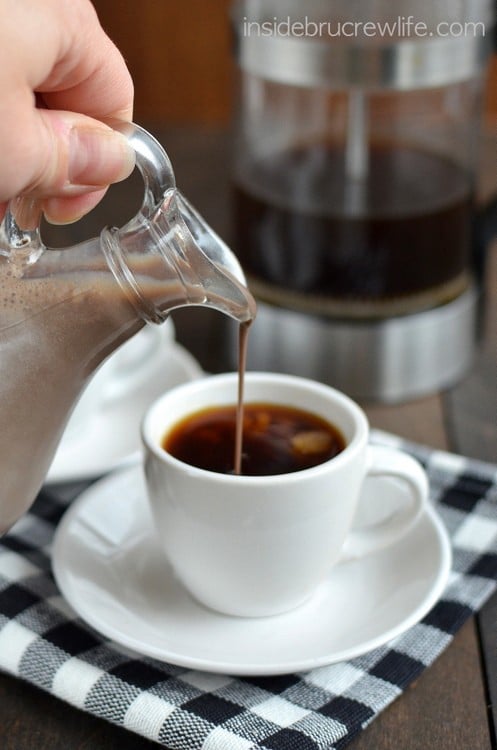 One rule that we have put into practice in our house is no screens at the dinner table. We sit down as the whole family at least 4 or 5 nights a week for dinner together.
This is our time to find out what is going in school and what activities are coming up. We also like to ask what one good thing happened during the day and what one hard thing happened during the day.
Phones and digital devices are not allowed to be at the table. By keeping screens off during this time, we are able to focus on each other better.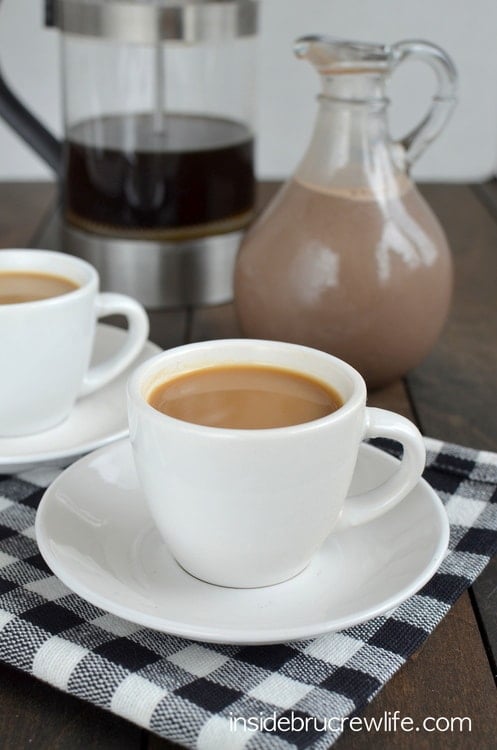 For many years, Smuckers has promoted the Power of Family Meals. This is a drive to focus on the benefits of eating together as a family. Recently they launched their Disconnect to Reconnect campaign.
Disconnect to Reconnect is a movement to get families to unplug at the dinner table at least one meal a week, or more often. This is definitely something that is close to my heart. So we are excited to participate in this campaign, and our family will be taking this Disconnect to Reconnect pledge for every meal.
Will you join us by shutting down your devices during dinner? Your family is more important than that text or email.
One meal that we enjoy every so often is breakfast for dinner. No one in our family is a morning person, so we enjoy pancakes, eggs, and coffee for dinner instead. My husband likes his coffee black, but everyone else likes a little bit of sugar in theirs.
Salted Caramel Mocha is one of my all time favorites, but I cannot always find it in the grocery store. So I decided to create a homemade version that we can enjoy any time.
Tips for making Salted Carmel Mocha Creamer:
Whisk the ingredients together over low heat to help dissolve the dry ingredients.
Let it cool before pouring into a jar and refrigerating.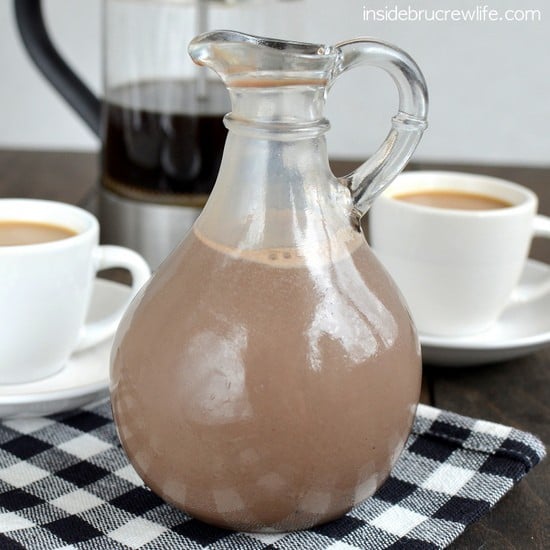 More homemade coffee drinks you may enjoy:
Yield: 1 large jar of coffee creamer
Salted Caramel Mocha Creamer
Chocolate and salted caramel flavors give this homemade coffee Salted Caramel Mocha Creamer a delicious taste.
Ingredients
1 1/2 cups half and half
2 teaspoons instant coffee
2 Tablespoons dark cocoa powder
1/4 cup caramel ice cream topping
1 teaspoon coarse ground sea salt
1 - 14 ounce can sweetened condensed milk
Instructions
Over low heat, whisk together the half and half, instant coffee, and cocoa powder until dissolved.
Stir in the caramel topping, sea salt, and sweetened condensed milk. Remove from the heat and let cool.
Store in a mason jar in the refrigerator. Go by the expiration date on the half and half container.
Stir or shake well before using in your coffee.
Nutrition Information:
Yield:
20
Serving Size:
2 Tablespoons
Amount Per Serving:
Calories:

119
Total Fat:

4g
Saturated Fat:

3g
Trans Fat:

0g
Unsaturated Fat:

1g
Cholesterol:

15mg
Sodium:

165mg
Carbohydrates:

18g
Fiber:

0g
Sugar:

18g
Protein:

3g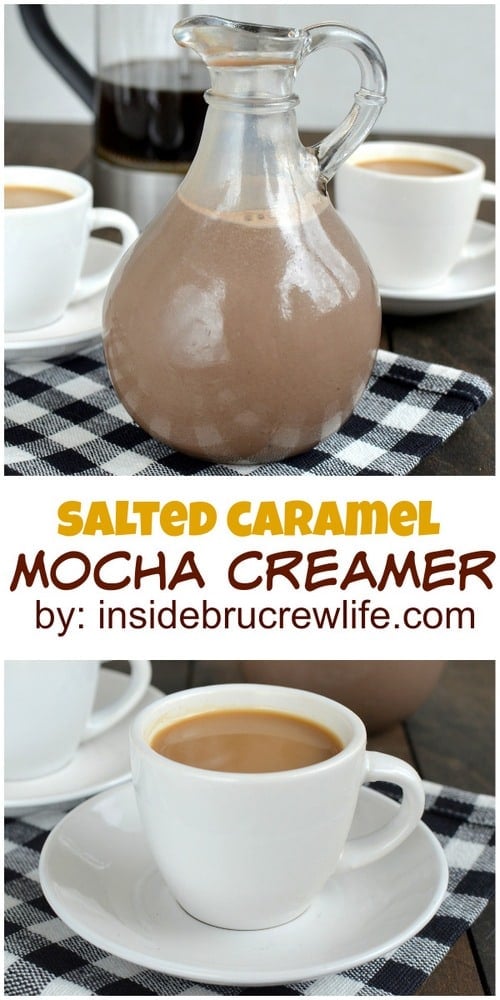 *I have been compensated to promote the Power of Family Meals campaign by the J.M. Smucker company. All opinions expressed in this post are 100% my own.