Oatmeal cookies get a fun twist by baking them in a pan and melting chocolate chips and marshmallows on top. These Oatmeal S'mores Bars are a quick and easy way to enjoy cookies and s'mores without a lot of work.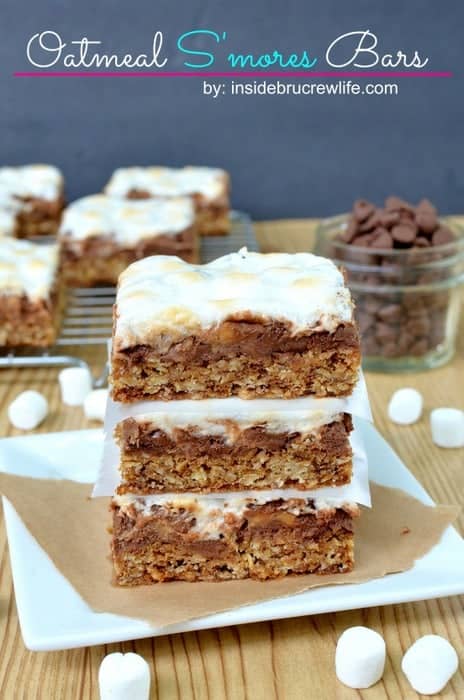 Earlier this week we were invited to some friend's house for a cookout and fireworks. Yes, we were those people shooting off fireworks 4 days after the 4th 🙂 Everyone was supposed to bring a side dish. All I heard was bring a dessert. Doesn't a dessert count as a side dish? In my head dessert counts as a side dish, main course, or appetizer. My brain is always on dessert mode. I just can't help it.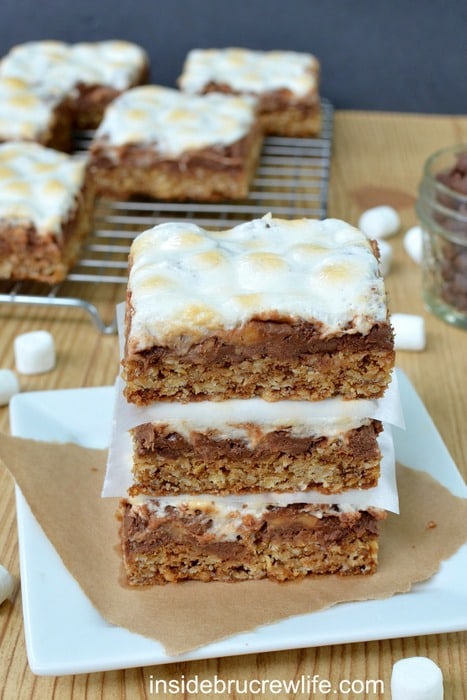 One of the things on my list of desserts to make is an Oatmeal Creme Pie with a s'mores twist. I bought all the ingredients for these, plus chocolate and marshmallows, to sandwich them together. I made the cookie dough...and then I got lazy.
It could have been because it was 10 p.m., but I had no desire to make cookies anymore. But I had already made the dough, so I spread it in a pan and baked it up as a bar cookie.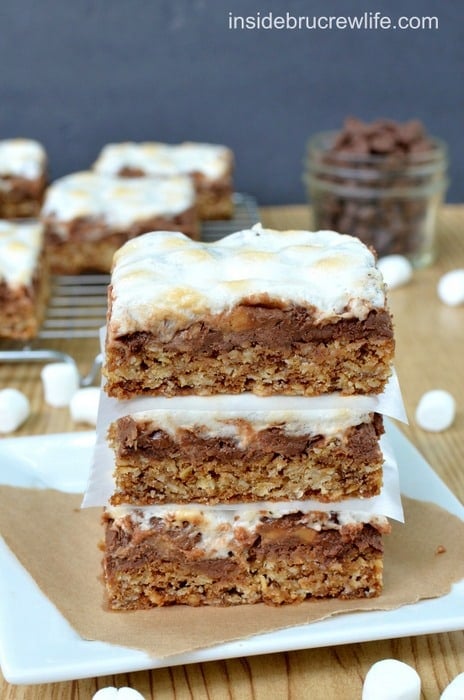 In order to keep with the s'mores twist that I had in my head, I dug through the cupboard and found mini marshmallows and Hershey's chocolate chips to melt on top. Whiledigging in my cupboard, I found another bag of Reese's peanut butter cups. You know what that meant, right? I mean, peanut butter cup s'mores are pretty much the bomb! Of course, I had to add those to the top too.
Best snap decision ever!!!
You will love how the spicy oatmeal cookie stays soft from the melted chocolate chips and gooey marshmallows on top. These are the perfect s'mores treat without all the work and smoke from a campfire.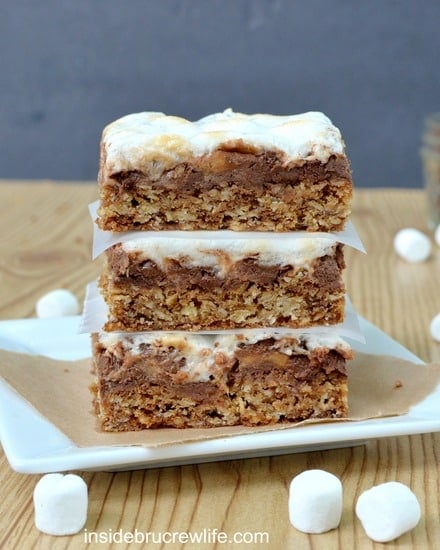 Want more fun S'mores recipes without a campfire?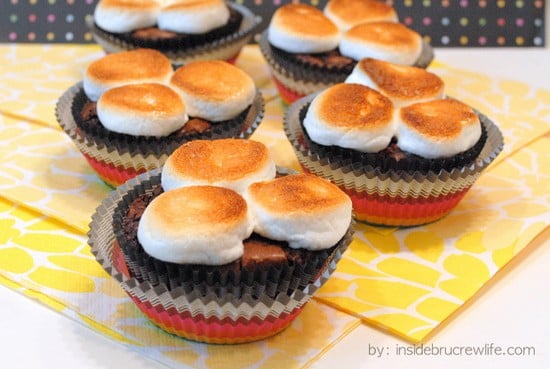 Oreo Brownie S'mores Cups - brownie cups made with Oreo chunks and topped with a roasted marshmallow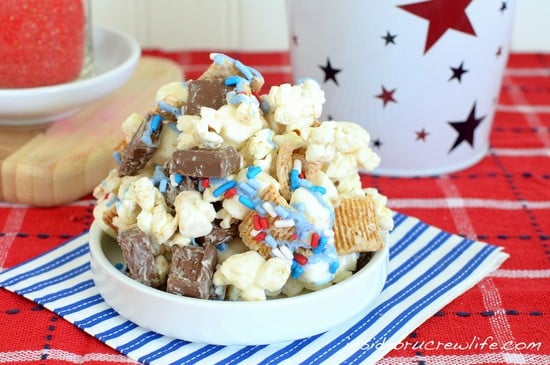 S'mores Popcorn - chocolate covered popcorn mixed with Golden Grahams, mini marshmallows, and Hershey bar chunks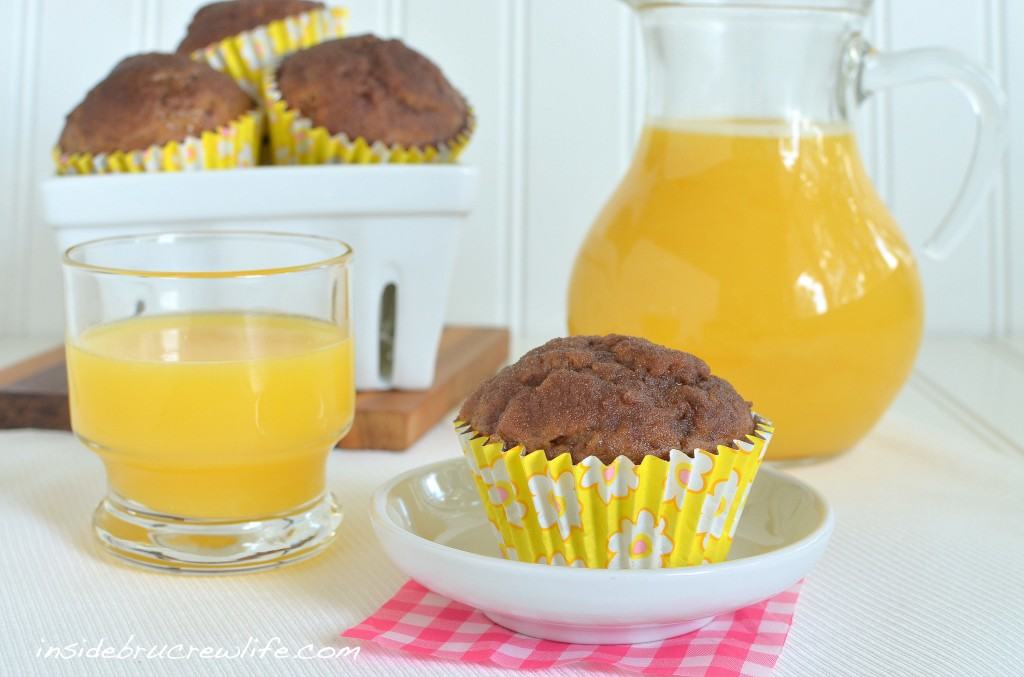 Banana S'mores Muffins - banana muffins filled with graham cracker crumbs, mini chocolate chips, mini marshmallow bits and topped with a chocolate marshmallow sugar topping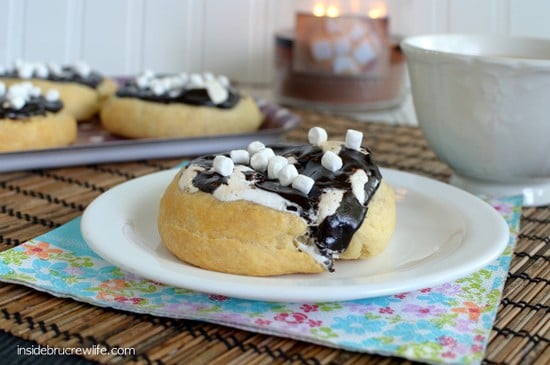 Cheesecake S'mores Danish - crescent rolls filled with a graham cracker filling and topped with marshmallow cream and chocolate cream cheese