This crescent braid is full of 4 kinds of meats and 3 kinds of cheese…definitely a Meat Lover's dream come true.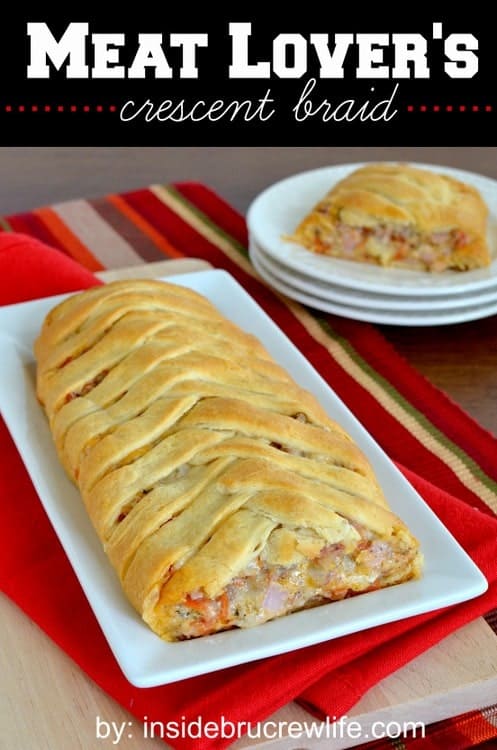 Let's talk meat today. I know everyone else is going pumpkin crazy out there…who am I kidding? I have totally gone pumpkin crazy already too. I have 4 pumpkin recipes done and ready to share with you, and about 10 more I can't wait to bake up. Crazy for the orange stuff? Yup, I'm plain bonkers for it.
But today I have an easy after school snack to share with you. Here is the funny thing about this. I do not really like meat. You know how you usually have to bribe or convince your children to eat 3 bites of veggies before they can be finished? That was me when I was younger,but with meat. I remember eating all my veggies no problem, but then having to sit there forever with the meat staring back at me. To this day, I still don't like to eat meat. Give me a bowl of veggies…or a chocolate cupcake. I'll get my protein another way.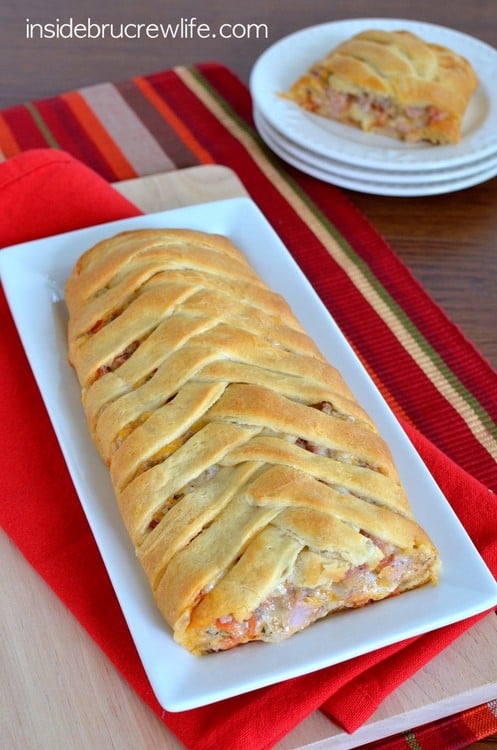 But I have a family that loves their meat. Well, except for one small boy. Can you believe that it is my mini me that doesn't like meat either? I think that is just plain funny.
With different sports practices going on throughout the week, we tend to eat dinner later those days. Now my kids are "starving" when school ends, so I try to have something they can eat that won't fill them up completely. This Meat Lover's Braid can be a snack if you only eat a small piece, or you could make it an entire meal just by making more to serve the whole family. I usually cut my braids into 8 slices. 1 or 2 of those keeps the hungry children from attacking my kitchen while I make dinner.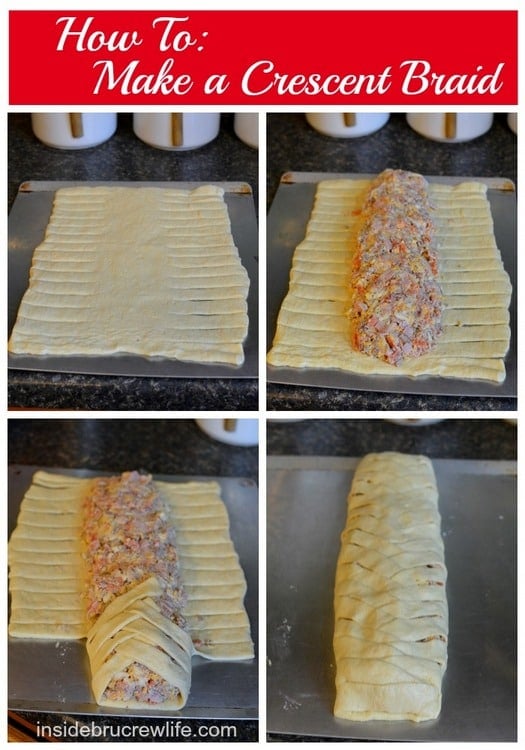 I'm sure most of you know how to make a crescent braid, but I thought I would include a few step by step pictures.
1. Lay out the dough on the baking sheet you will be baking it one. Press all the seams together to form a rectangle. (or use the crescent roll sheet if you can find it)
2. Use a sharp knife to cut 1 inch cuts along both sides. Leave about 3 inches uncut in the middle.
3. Spread your filling down the middle of the crescent dough.
4. Cross the strips alternately across the filling, making sure to cross each strip.
5. Press the ends together to keep the filling inside while baking.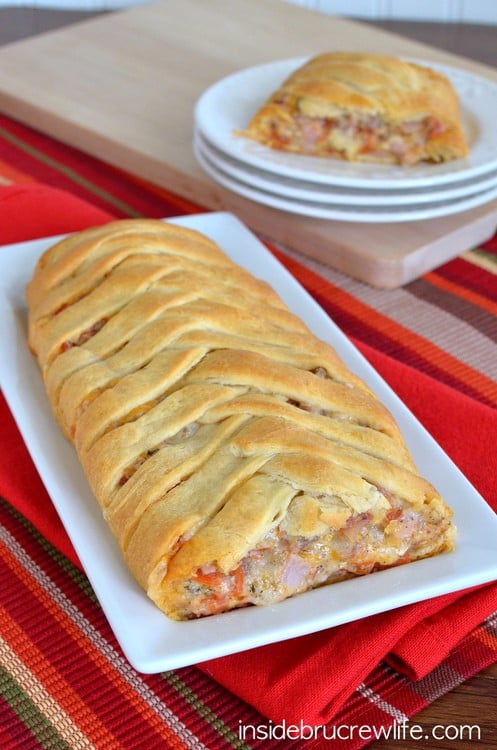 I actually did try a small piece of this braid because how could I share a recipe with you if I didn't even taste test it. Haha! I am my own best taste tester. Usually I can't keep out of the things I make, which is why I send them off to the church or to friend's houses.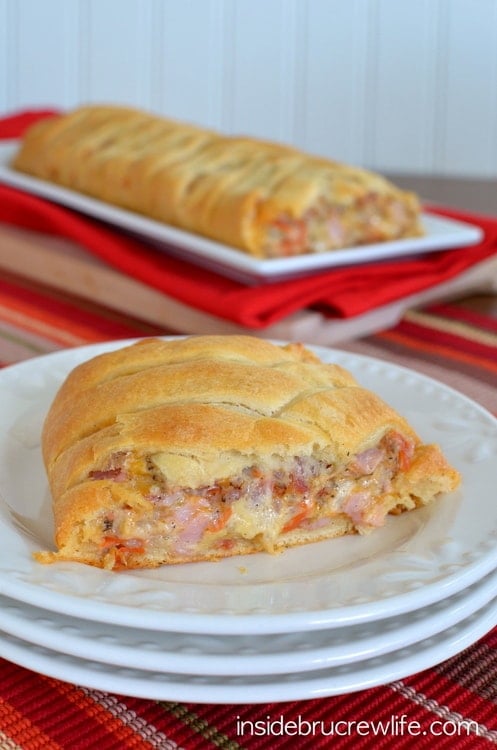 This braid was pretty delicious…but most anything wrapped in crescent dough is delicious. Can I get an amen to that?
My kids and husband devoured this braid in no time at all. Maybe I should have just made two and had it for dinner? They definitely gave it a two thumbs up.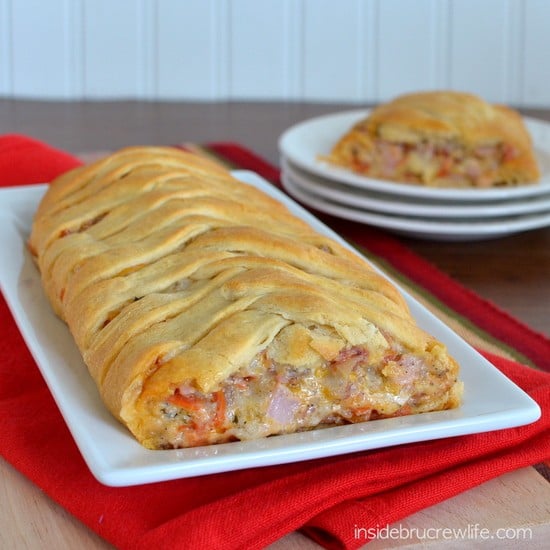 Stay up to date on all the BruCrew baking here:
FACEBOOK | PINTEREST | GOOGLE+ | TWITTER | INSTAGRAM | BLOGLOVIN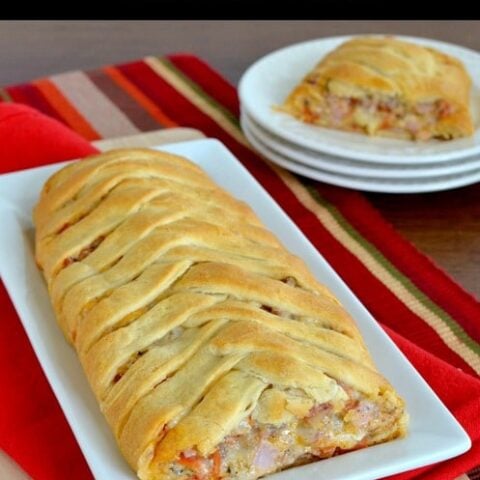 Meat Lover's Crescent Braid
Crescent rolls filled with a cheese and meat mixture.
Ingredients
1 roll refrigerated crescent rolls (I use Pillsbury)
4 ounces cream cheese, softened
1/2 cup cooked, crumbled sausage
3/4 cup shredded mozzarella cheese
3/4 cup shredded cheddar cheese
3/4 cup crumbled bacon
1/2 cup chopped ham
1/2 cup diced pepperoni
1 teaspoon pepper
1 teaspoon dried oregano
1 cup pizza sauce
Instructions
Preheat oven to 375 degrees.
Combine the cream cheese, shredded cheese, all the meats, pepper, and oregano in a bowl and stir until creamy. Set aside.
Open the crescent rolls onto a baking sheet. Press all the seams together to form a large rectangle. On either side cut strips about 1 inch apart. Leave a large section in the middle. Spoon the filling down the middle. Cross the strips over the top of the filling one at a time, crossing each other to form a braid.
Bake the crescent braid at 375* for 20 minutes. Let cool slightly before serving with pizza sauce. Cut into 8 slices. Serves 3-4.
Nutrition Information:
Yield:

4
Serving Size:

1
Amount Per Serving:
Calories:

586
Total Fat:

45g
Saturated Fat:

21g
Trans Fat:

1g
Unsaturated Fat:

20g
Cholesterol:

123mg
Sodium:

1574mg
Carbohydrates:

17g
Fiber:

2g
Sugar:

5g
Protein:

28g
Nutrition facts are an estimate and are not guaranteed to be accurate. If you need special diet advice, please see a registered dietician.
Other easy, kid friendly meal ideas: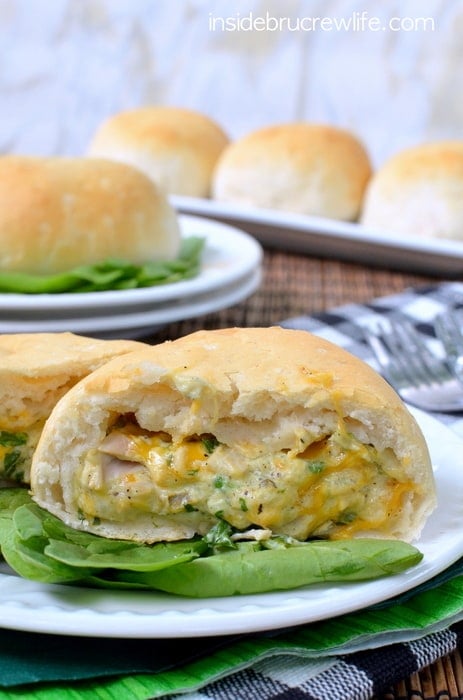 Spinach Artichoke Chicken Biscuits