Bring these fun bite-sized Mini Lemon Cheesecake Pies to your dinner parties this spring. Lemon pie filling and cheesecake is such a great combo. You should try it.
*I am partnering with Lucky Leaf this year as a blog ambassador bringing you delicious recipes using pie filling.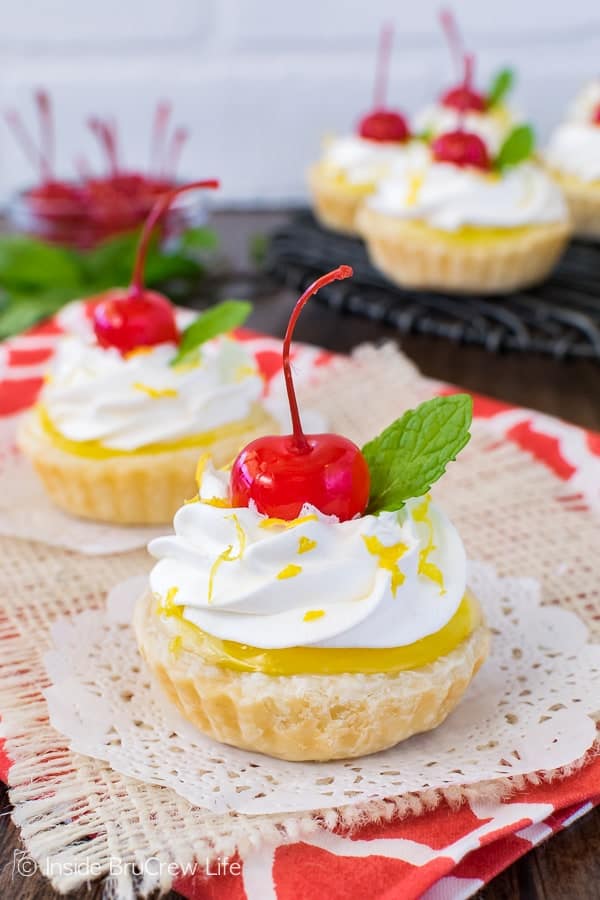 This past weekend I realized that I am the only one in our household that likes thing neat and organized all of the time.
If you take a walk through our bedroom, there are piles of clothes on my husband's side of the bed. Then if you go into our bathroom and open both doors to our closets, you will find one neat and orderly and one covered in clothes and shoes. Any guesses who owns the neat closet?
Our three children are following in their father's footsteps too. All three bedrooms have piles of clothes, water bottles, and makeup. Ok, ok so the piles of make up are only in our daughter's room. The boys have piles of video games and dirty plates.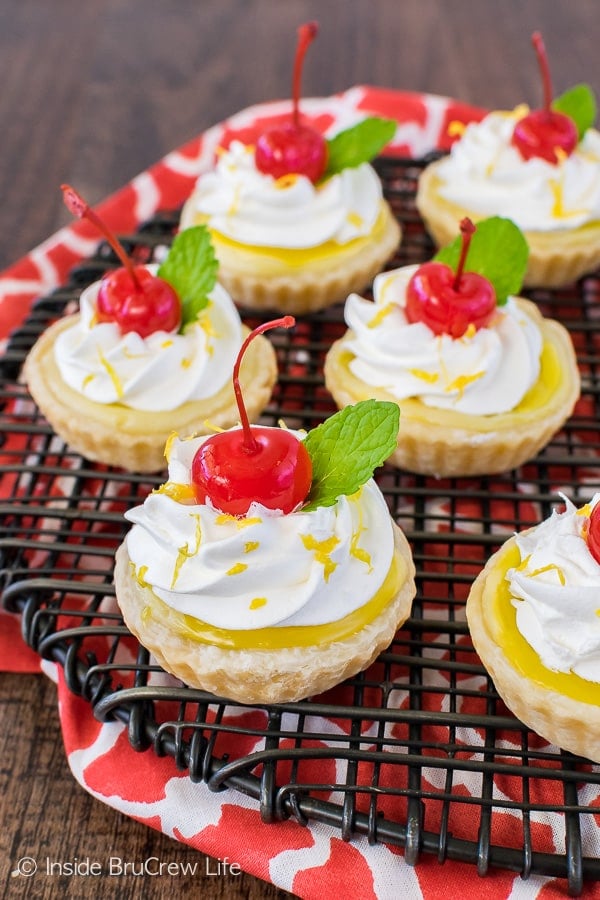 Don't think I am completely and totally organized though. I have my own places of chaos. The pantry happens to be one of them. Although, I have been trying to move things around a little and empty out a few of the shelves. So far, I have used used up a few ingredients, but I'm not making big progress yet. I get side tracked when I find cookies, and I have to make things like these gooey Oreo brownie bars instead of cleaning more.
One thing that I am also trying out this month is writing an entire month of recipes to make for the blog. I wrote down the dates that I wanted to share a recipe, and then filled in those spaces with the actual recipe that I am planning on making. My goal is to eliminate the extra sweets from our counter...any my belly.
The first recipe up on the list is for these awesome little mini pies. One of my absolute favorite brands to work with is Lucky Leaf®. I have had the awesome opportunity to work with them for a few years now, and I always look forward to creating a new recipe for them. Their pie filling is amazing. And no, I'm not saying that because I work for them. I would totally say that even if I didn't have this awesome gig.
I can honestly say that I can't wait to dig into each can. Each can is loaded with fruit, so I can't resist snagging a spoonful before I start to bake.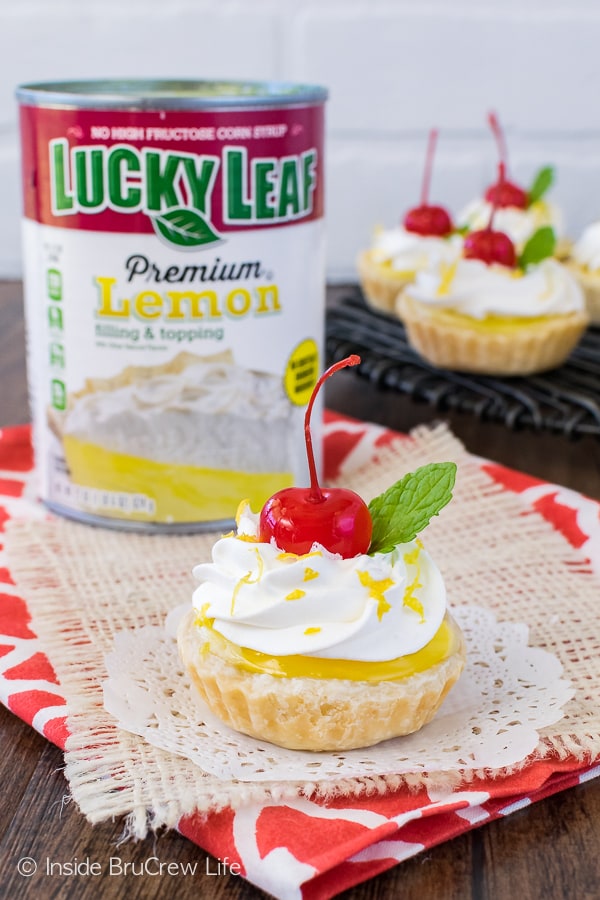 Lemon is one of those flavors that I had to slowly come around to. As a child and young adult, I usually would pass over the lemon and head for the chocolate desserts. Of course, I'm still not a big fan of tart desserts, so I think that had something to do with it.
I have found that if I lace my lemon desserts with lots of sugary goodness, I actually really like lemon. One of my favorite things to make and eat are the best lemon bars you will ever have. In fact, there is a pan in the fridge right now.
There are also a few of these little mini lemon cheesecake pies behind the broccoli that are calling my name. Let's talk about these little guys because you need some in your life too!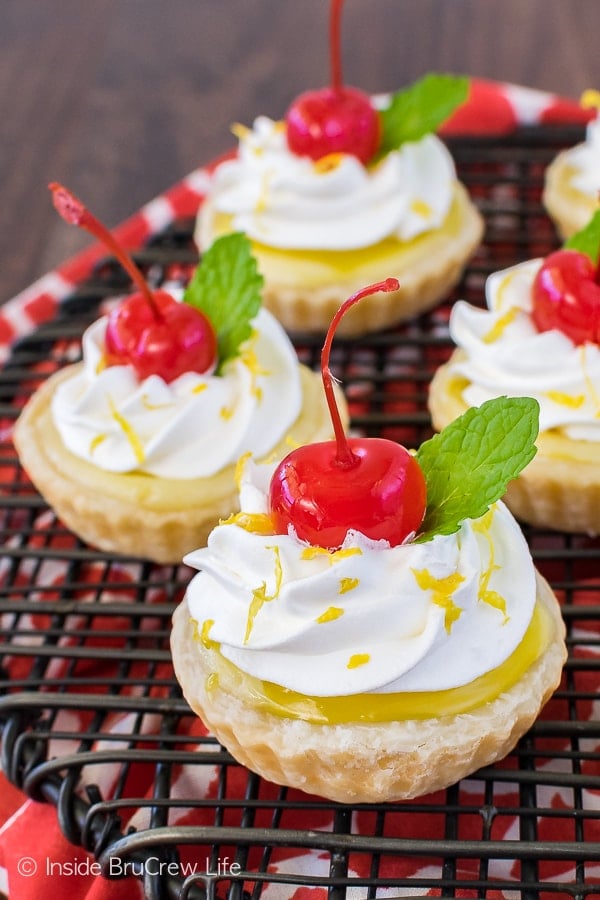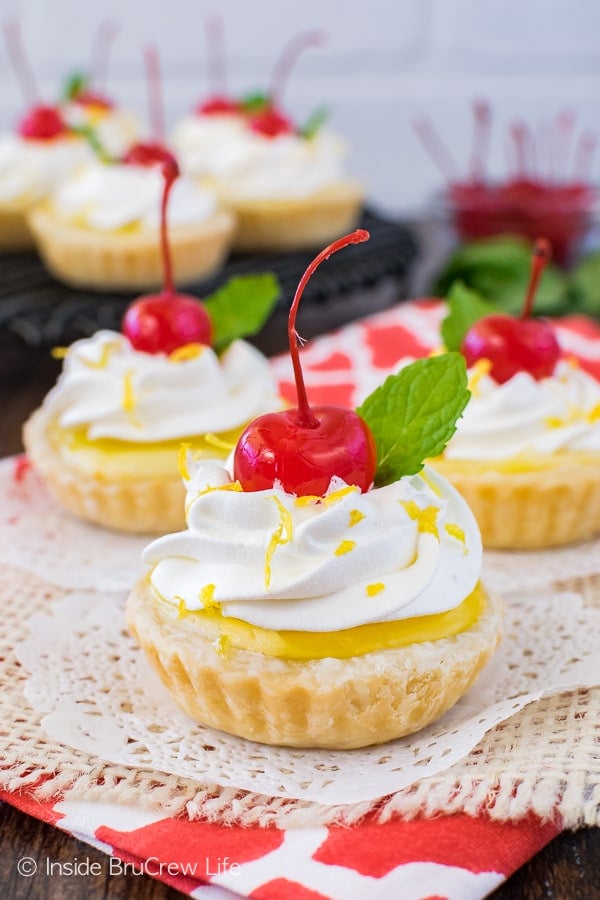 Here are a few tips so that you can have mini pies in your fridge too.
Unroll the pie crusts and use a 3 inch round cookie cutter to create 24 circles. You will need to re-roll the dough scraps in order to get that many.
Spray a mini tart pan or a cupcake pan with nonstick spray and then press the circles into the bottom.
Mix together the cheesecake mixture and spoon evenly into the crusts.
Place a spoonful of pie filling in the center of each pie and use a toothpick to swirl it together. There should only be 1-2 small spoonfuls of pie filling left in the can when you are done. Go ahead and eat it!
Bake and chill, then decorate with Cool Whip, cherries, mint leaves, and lemon zest. Easy peasy lemon squeezy!!
Looking for more lemon treats? Try these cute and easy Lemon Hand Pies from Aimee. I love that glazed crust! This dreamy Lemon Cream Pie from Deborah looks like spring on a plate. And I am absolutely dying over this crazy over the top Lemon Meringue Pie Monster Milkshake from Karyn. All the sprinkles and cookies on top add so much fun!!!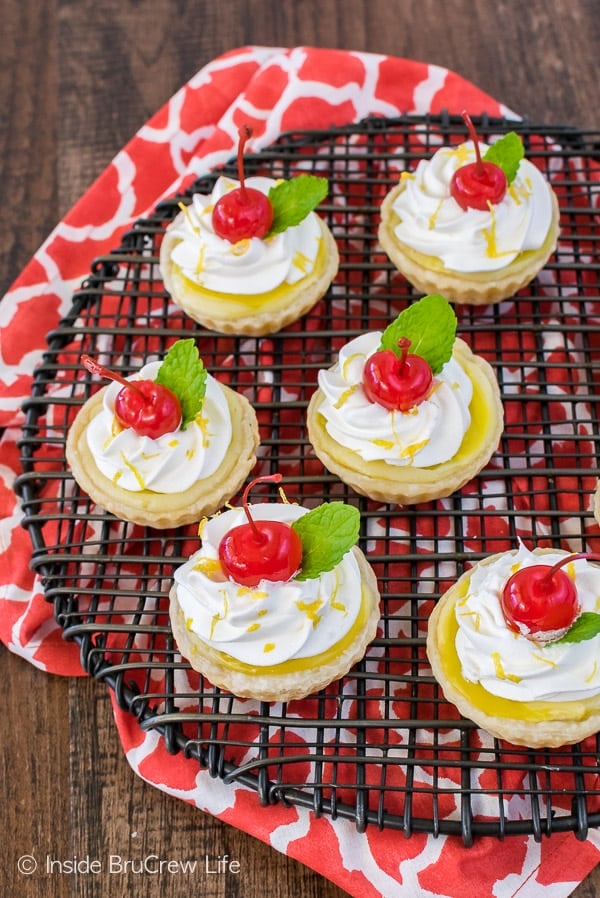 CLICK HERE TO PIN THIS RECIPE FOR LATER!
Do you love a recipe you tried from Inside BruCrew Life?
Please leave a 5-star ⭐️ rating and a review in the comments section below.

*This recipe was sponsored by Lucky Leaf. All opinions expressed are 100% my own. Thank you for letting me share products and brands we use and love. See my disclosure policy for more information.*