These easy Mini Chocolate Cheesecake Pie Bites are a fun little treat to end any meal with. Also, adding cherries with stems makes any dessert a little bit fancier. Even the mini ones.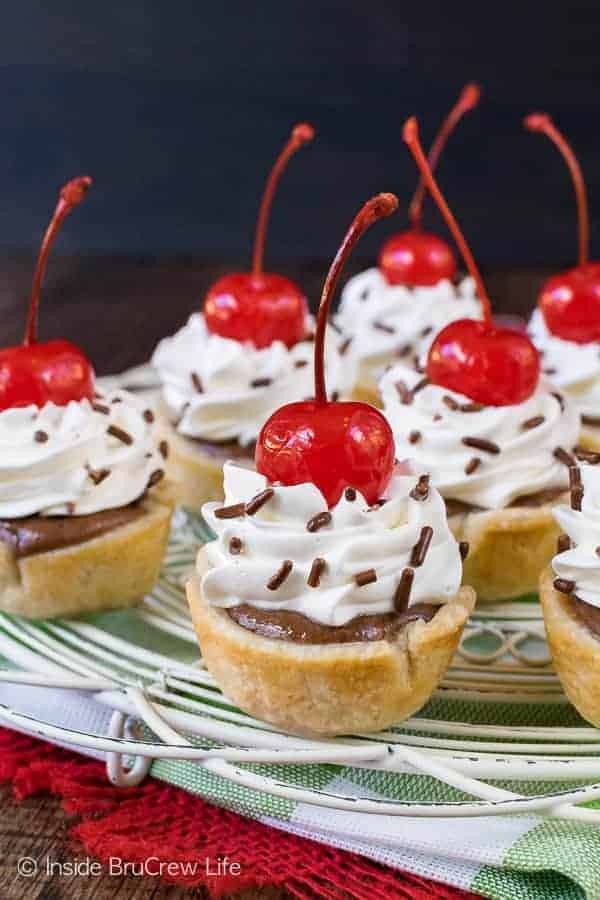 CLICK HERE TO PIN THIS RECIPE FOR LATER!
Did you know that I wrote a cheesecake cookbook and that it came out last fall? I'm assuming that if you have been reading our blog for a while that you already knew that. I'm sure you are thinking this is old news so why is she even talking about it.
Well, when I started brainstorming all things cheesecake for the book, I wrote down lists and lists and lists of ideas. The hard part was narrowing it down into a manageable size list that would actually make the book.
So, here I am two years after turning in the manuscript, and I still have all those cheesecake ideas on those lists and in my brain. It's time to start making those lists a reality because we all need more cheesecake in our life. Am I right?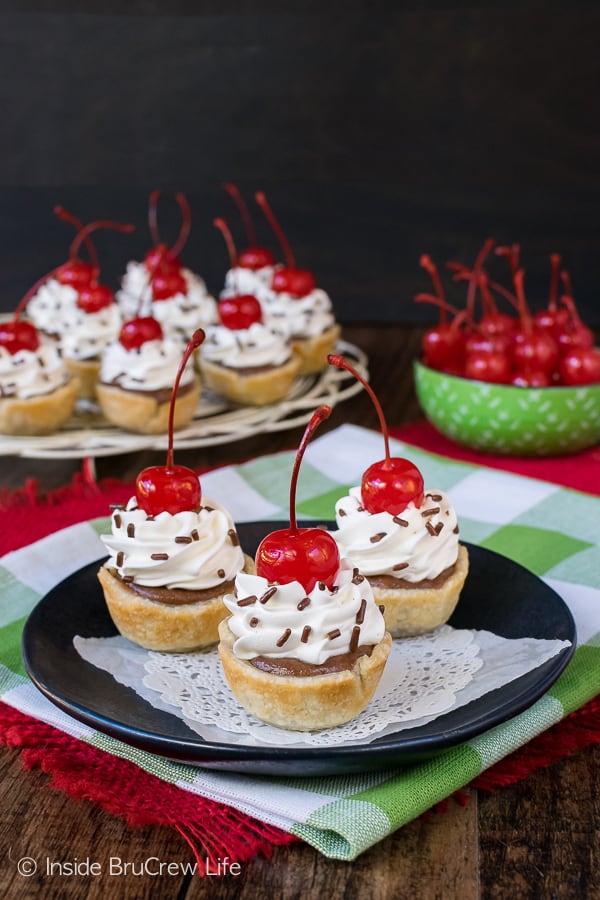 Today I'm sharing a super easy mini cheesecake. Or is it pie? Actually it's technically both because any time I can combine two desserts into one, I'm going to go for it.
This Snickers Cheesecake Brownie Cake is one of those times when brownies collided with no bake cheesecake. And now I'm totally craving a big slice of that cheesecake again…
Goodness, I'm easily distracted today. I get the same distracted feelings when I'm cleaning up around the house. If I have to put things away before dusting, it usually ends up in me totally forgetting why I was moving them in the first place.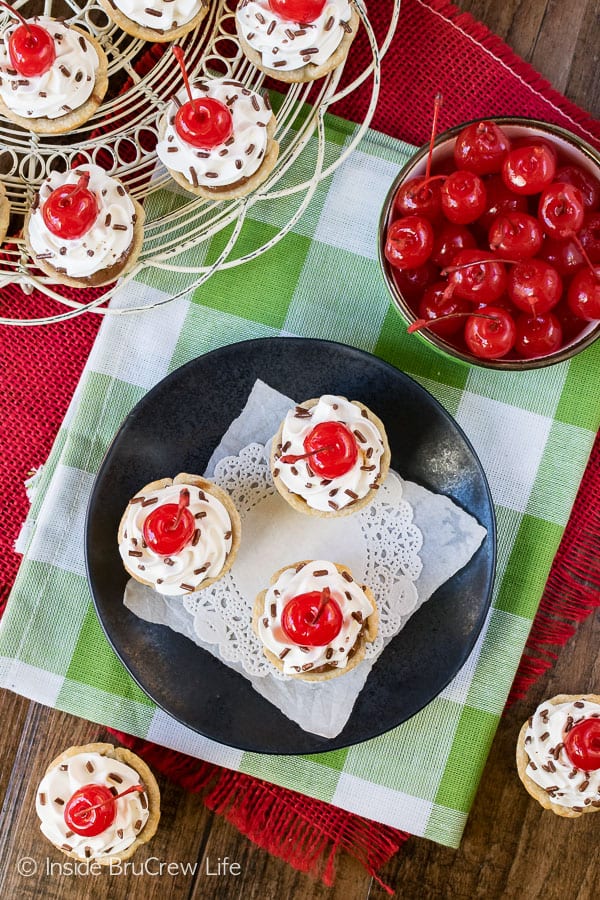 This month I have been trying to use up some of the extra ingredients in our fridge and pantry before shopping for more. Otherwise the house is going to be overrun with dessert supplies pretty soon.
A box of pie crusts has been hiding in the back of one of the drawers in the fridge, so I decided to use that up before it went bad. I remembered how good these little Coconut Cream Cheesecake Pie Bites were, so I wanted to make a chocolate cheesecake version.
I was able to use up some of the chocolate chips and cherries in the pantry, and some of the cream cheese and Cool Whip in the fridge. It's a good feeling when ingredients can be used up and not thrown out.
We won't talk about the vegetable drawer in the fridge. Unfortunately those items have a much shorter life span, so we waste more than I care to admit. Although, lately we have been eating quite a few more veggies for dinner, so we doing better in this area.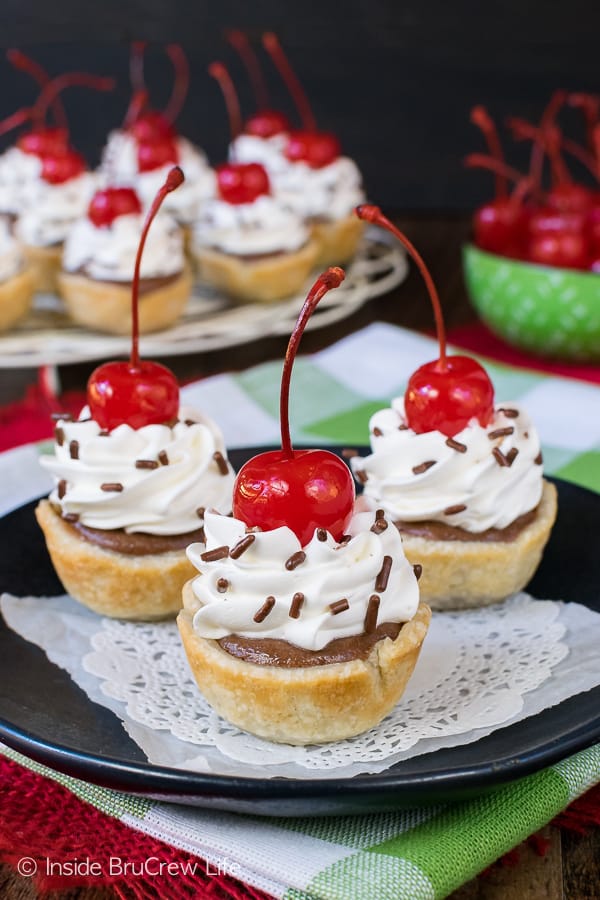 These little chocolate cheesecake pie bites are a delicious and fun way to end any meal.
How to make Mini Chocolate Cheesecake Pie Bites:
Set out the cream cheese ahead of time. If you forget, just pop it in the microwave for a few seconds at a time.
Beat the cream cheese and sugar together first. The sugar actually helps to break down the cream cheese. This is important to do before adding any other ingredients.
Melt the chocolate chips in the microwave for about 30 seconds. If you need to go longer, do small short increments and stir after each one. We do not want to burn the chocolate.
Beat this into the mixture making sure to scrape the bowl often to get the chocolate off the sides of the bowl.
Add the egg and beat again. Do not over beat the mixture. Over beating at this point will add air to the mixture which causes cheesecakes to crack.
Fill the 24 mini pie crusts to the top. It's ok. They will not overflow on you.
Remove the pans and place on wire racks when the timer goes off. Leave the cheesecake in the tins for about 20 minutes. Then gently remove them to cool more.
Refrigerate until chilled before adding the toppings.
Eating little tiny desserts is also a great way to enjoy dessert without going overboard. Well, as long as you stick to only eating one. Mini desserts are usually my downfall because I feel like I can eat more because they are so small.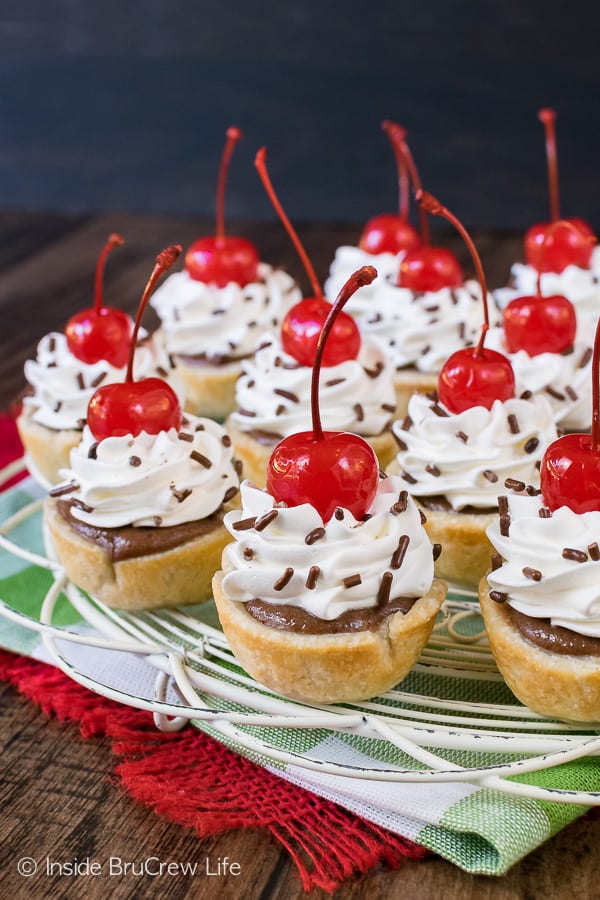 More easy mini cheesecakes recipes:
Connect with Inside BruCrew Life! Follow us on social media, so you never miss a post.
Email Subscription | Facebook | Pinterest | Twitter | Instagram | Bloglovin
I also have a fun Facebook group, and I would love for you to join. It's a group where you can share your favorite recipes, ask questions, share photos, and see what's new with the BruCrew. If you would like to check it out, you can request to join HERE.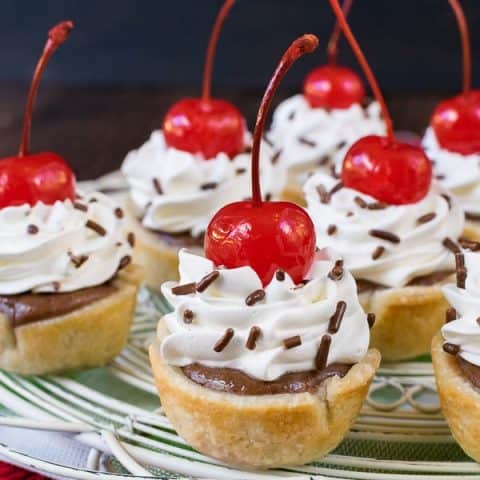 Chocolate Cheesecake Pie Bites
Yield:
24 mini cheesecake pie bites
These little Chocolate Cheesecake Pie Bites are a sweet little treat to end any meal with. Adding cherries with stems makes any dessert seem fancy.
Ingredients
1 box refrigerated pie crusts
1 - 8 ounce package cream cheese, softened
1/4 cup sugar
1 teaspoon almond extract
1 Tablespoon flour
1/2 cup dark chocolate chips
1 egg
1 - 8 ounce container Cool Whip, thawed
24 maraschino cherries with stems, patted dry
chocolate sprinkles
Instructions
Preheat the oven to 350 degrees. Spray 2 - 12 count mini muffin tins with nonstick spray.
Unroll the 2 pie crusts from the box according to the package directions. Use a 2 1/2 inch round cookie cutter to cut 12 circles from each crust.
Press each circle into the mini muffin tins. Refrigerate the pan while you make the cheesecake batter.
Beat the cream cheese and sugar until creamy. Add the extract and flour and beat again.
Place the chocolate chips in a microwave safe bowl and heat 30 seconds. Stir until melted and creamy. Heat an additional 15 seconds and stir again. Pour into the cheesecake mixture and beat.
Add the egg and beat until mixed in.
Spoon the cheesecake mixture evenly into the 24 mini pie crusts. Bake 14-15 minutes.
Remove and place the pans on a wire rack. Let cool for 15-20 minutes in the pan before gently removing the mini cheesecakes. Let cool for another 30-40 minutes, then refrigerate until chilled.
Use a piping bag and icing tip 1M to swirl Cool Whip on top of each cheesecake bite. Top with a cherry and sprinkles. Store in a tightly sealed container in the refrigerator.
Recommended Products
As an Amazon Associate and member of other affiliate programs, I earn from qualifying purchases.
Nutrition Information:
Yield:

24
Serving Size:

1
Amount Per Serving:
Calories:

137
Total Fat:

9g
Saturated Fat:

5g
Trans Fat:

0g
Unsaturated Fat:

3g
Cholesterol:

18mg
Sodium:

66mg
Carbohydrates:

13g
Fiber:

1g
Sugar:

9g
Protein:

2g