Learn how to make a simple Oreo Cookie Crust in minutes. This two ingredient crust is the perfect base for pies and cheesecakes and can be used for baked or no bake recipes.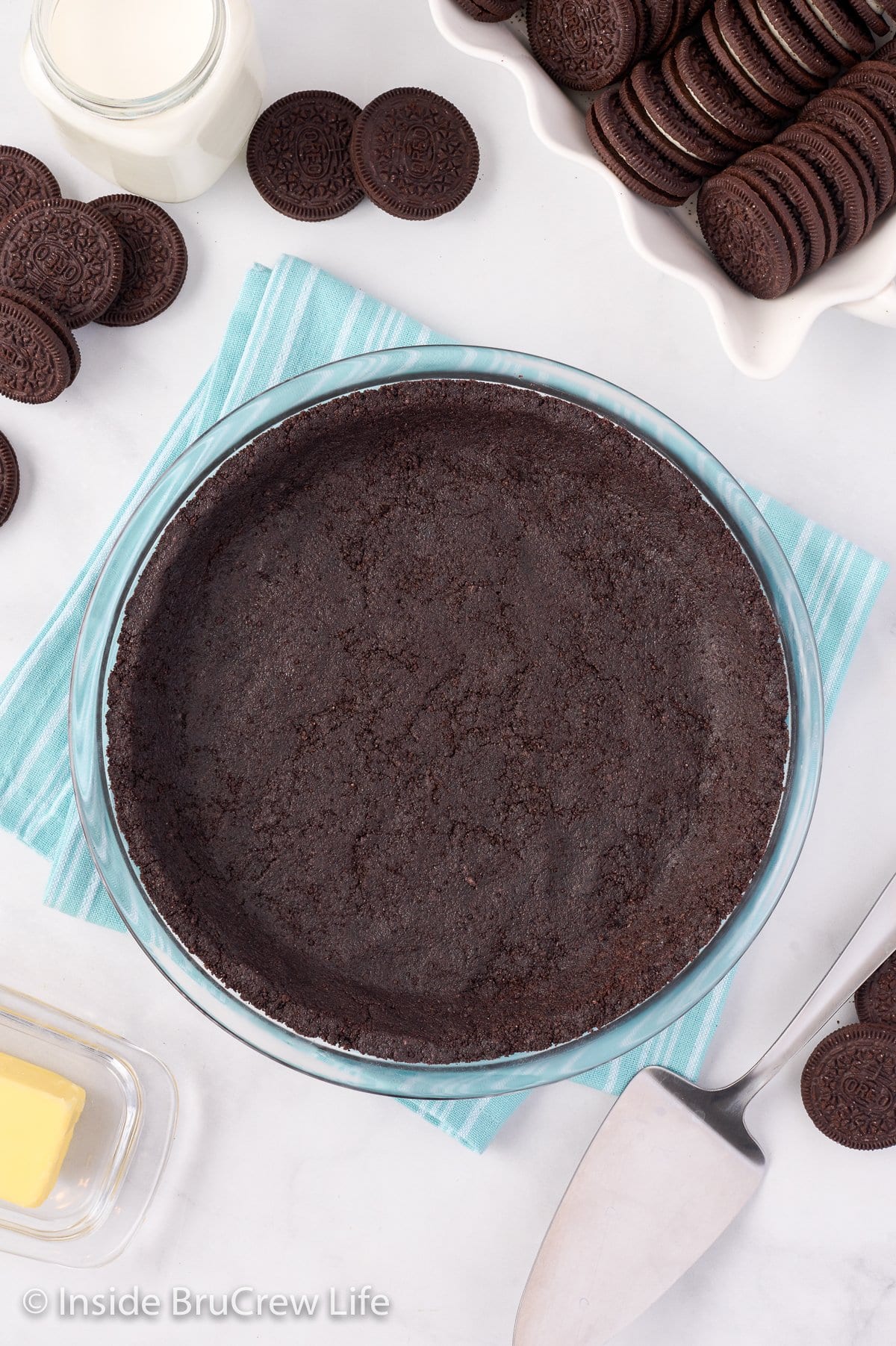 One of my favorite desserts is pie - especially pies made with a homemade Oreo crust. This cookies and cream pie and this peanut butter chocolate pie are two of our family's favorites.
Sure, you could use a pre-made chocolate cookie crust from the store, but they are usually dry and fall apart easily. Not to mention that the pan they come in isn't the prettiest, and they don't hold much filling.
Did you know that you can make your own Oreo pie crust in minutes? It really is as easy as pie using just two ingredients.
Why It Works
Making your own cookie crust is easy to do and works in so many recipes. It's the perfect base for different flavors - chocolate, peanut butter, and even strawberry.
Melted butter holds the crushed cookie crumbs together in whatever pan you use. It's so easy that anyone can make this Oreo crust.
Change up the flavor of the crust by using flavored Oreo cookies. Then use your imagination to create a delicious filling that will have your guests wanting another slice of pie.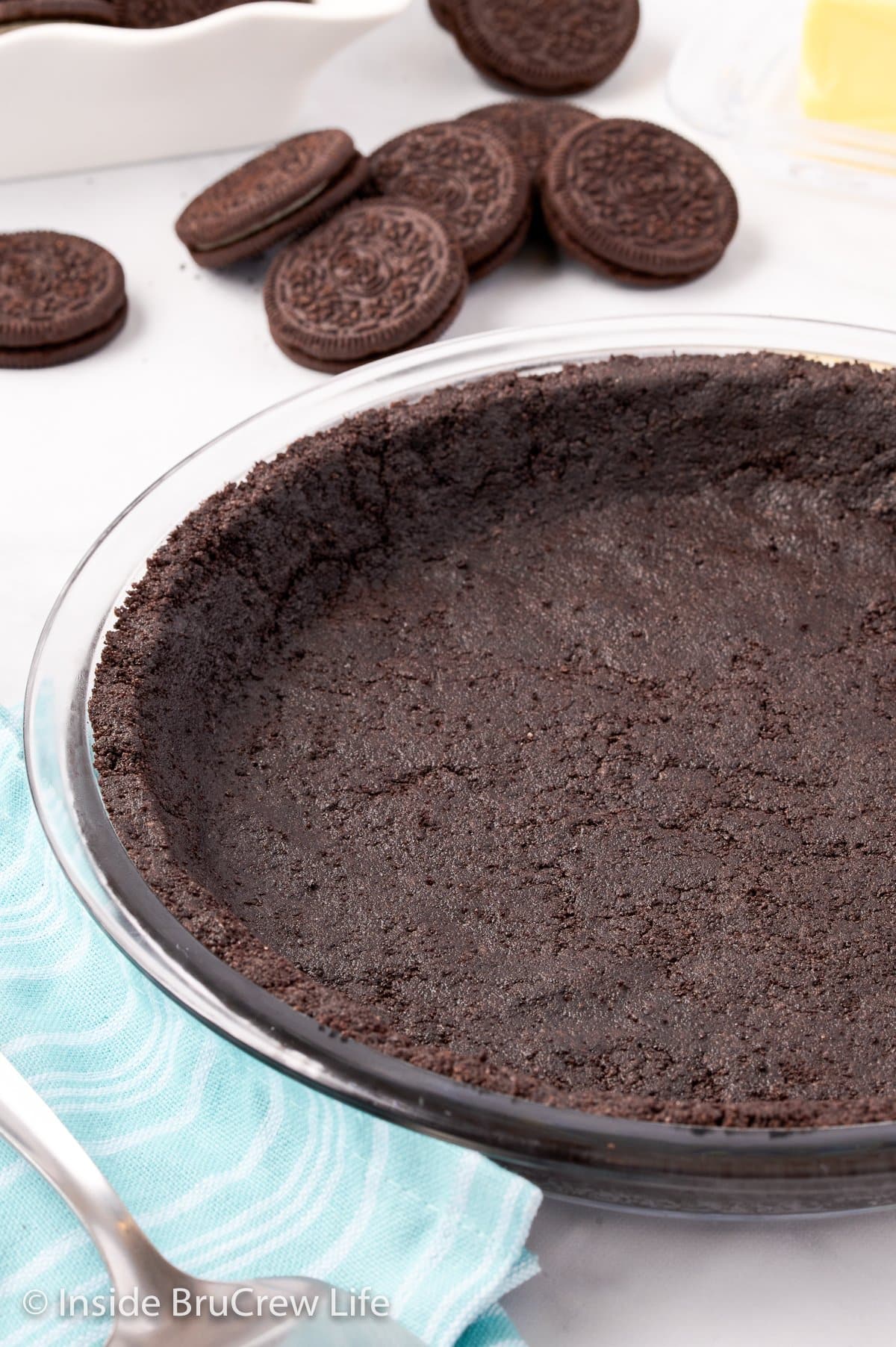 Ingredients
You really only need to buy two ingredients in order to make this homemade Oreo pie crust recipe.
Oreo Cookies - Go ahead and leave the filling in the cookies when you crush them. It helps to hold the crumbs together and makes it taste better. You can use the classic Oreos or any flavored Oreos. Just make sure you do not buy double stuffed because they add too much moisture to the crust.
Butter - Salted or unsalted is fine to use. Make sure it is completely melted before stirring it into the crumbs. The amount of butter used is a little different depending on what you are making. I like to use a little more butter in a pie crust, so it comes out of the pie plate easily.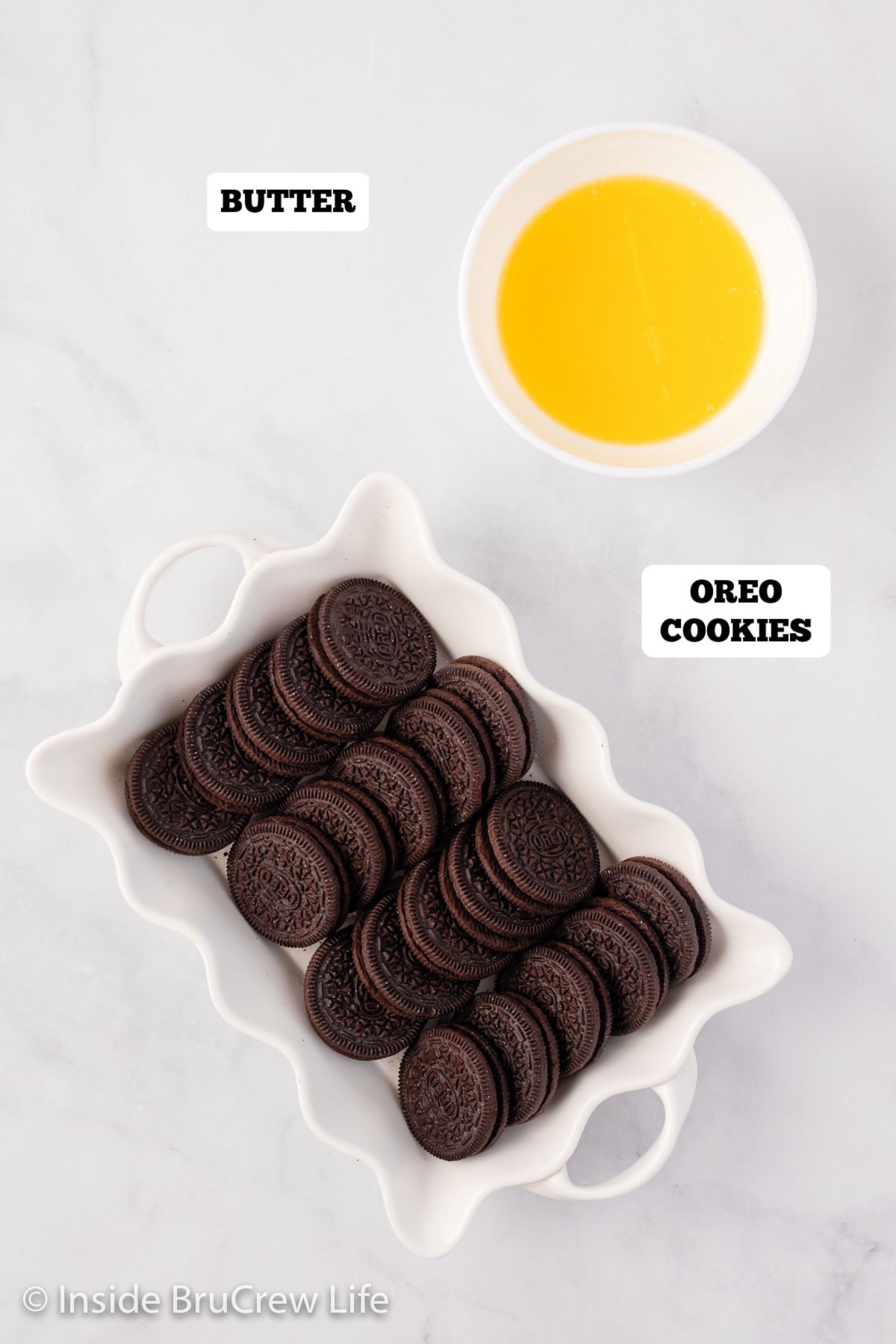 How to Make
Making a homemade Oreo cookie crust only takes 10 minutes from start to finish. You can bake it briefly if you want a crunchier crust or chill it for a no bake pie.
Place the cookies in a food processor. Do not remove the cream filling! Pulse gently until the cookies become fine crumbs.
Melt the butter in the microwave. Stir often to break up hot spots, so it does not explode all over the inside of the microwave. (been there, done that)
Stir together the cookie crumbs and melted butter in a bowl. Make sure everything is moistened.
Spoon the crumb mixture into a pie plate. Use your hands and fingers to press firmly and to form the sides of the pie crust first.
Press the remaining crumbs into the bottom of the pan using the flat bottom of a glass or measuring cup. This is the easiest way to get an even crust all over.
If you are using this in a springform pan or square pan, press the crumbs evenly in the bottom of the pan.
Refrigerate the no bake pie crust 30 minutes before adding any filling.
Ways to Use
This pie crust is so versatile. You can use it in any pie or cheesecake recipe.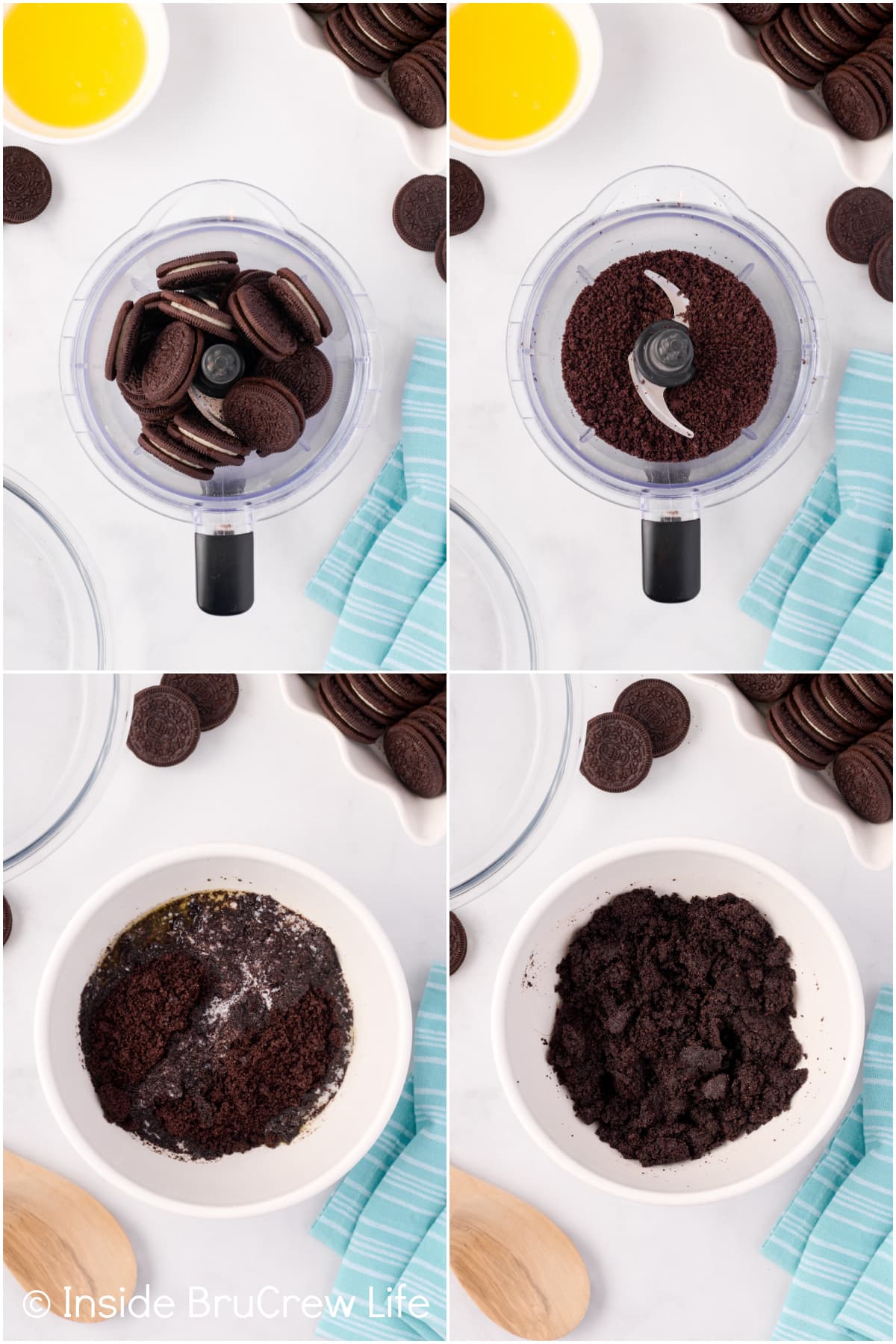 Tips
Try using mint, peanut butter, or chocolate filled cookies for a delicious flavor. You can also use Golden Oreos to make a vanilla crust.
Do not remove the filling from the cookies. This helps to hold the crumbs together and to give the crust a great flavor.
Spray your pie plate with a little bit of nonstick baking spray to make sure your crust does not stick to the pan when you go to remove the first piece.
Press the crumbs firmly and evenly into your pan, so that it holds its shape.
Use your hands or the bottom of a flat glass or measuring cup to press the crumbs down evenly.
The easy Oreo crust does not need to be baked first if using in a baked cheesecake.
Double the crust if you want to use a crust on the bottom AND sides of a springform pan.
FAQ'S
How do you make Oreo crumbs without a food processor?
Place the cookies in a plastic bag and crush the cookies with a rolling pin. This is harder to get the cookies into crumbs, but will work in a pinch. A blender is another good option.
Do you bake an Oreo crust?
It is not necessary to bake this particular recipe. But if you want a crunchier texture, bake the crust in the oven at 350° for 8-10 minutes, then cool completely.
Can you freeze a cookie crust?
Yes, you can freeze this crust if you want to make it ahead of time. Make sure to wrap the pie crust tightly in foil and plastic wrap, then place in a freezer safe bag. Freeze for 1-2 months. Thaw overnight in the fridge before adding your choice of filling.
What pans will this crust work in?
This recipe makes enough crust for the bottom and sides of a 9" and 10" pie plate, the bottom of an 8" or 9" springform pan, or an 8" or 9" square baking dish.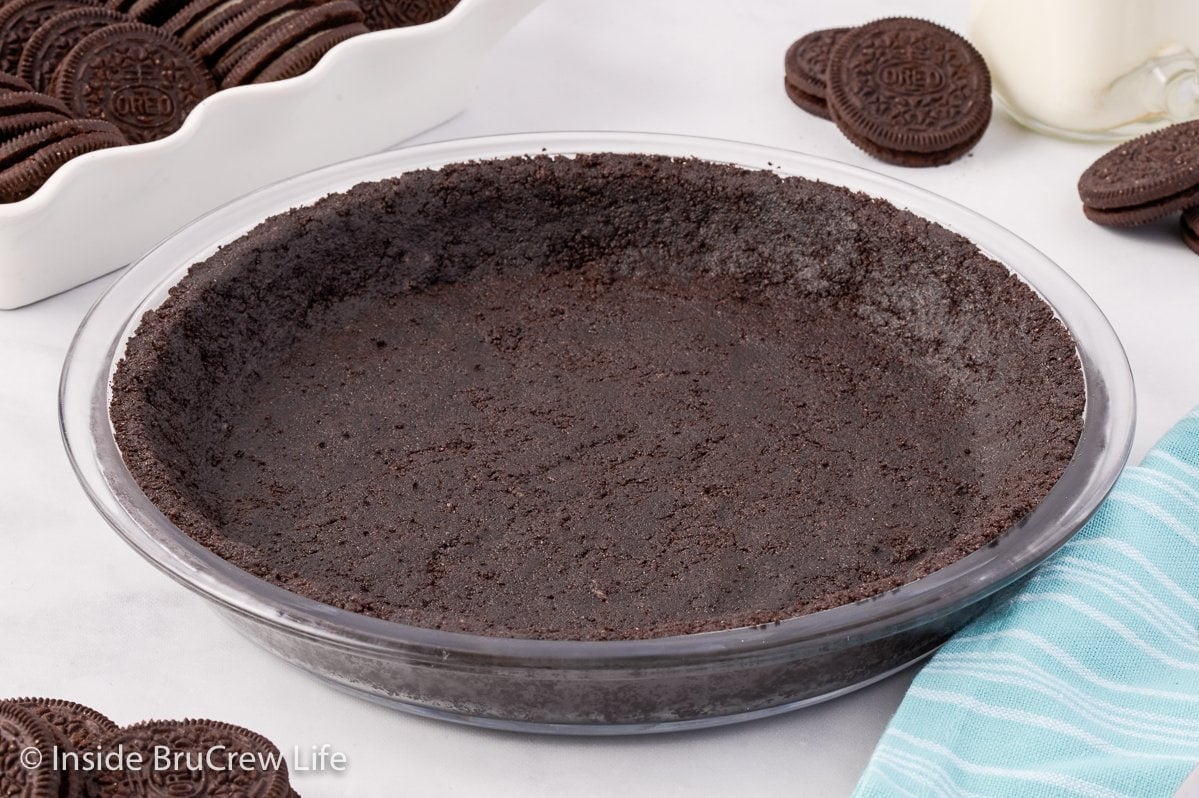 More Baking Basics
Do you love a recipe you tried from Inside BruCrew Life?
Please leave a 5-star ⭐️ rating and a review in the comments section below.