Looking for a decadent and delicious dessert to serve at any meal? These Triple Chocolate Cheesecake Bars have chocolate goodness in every single bite.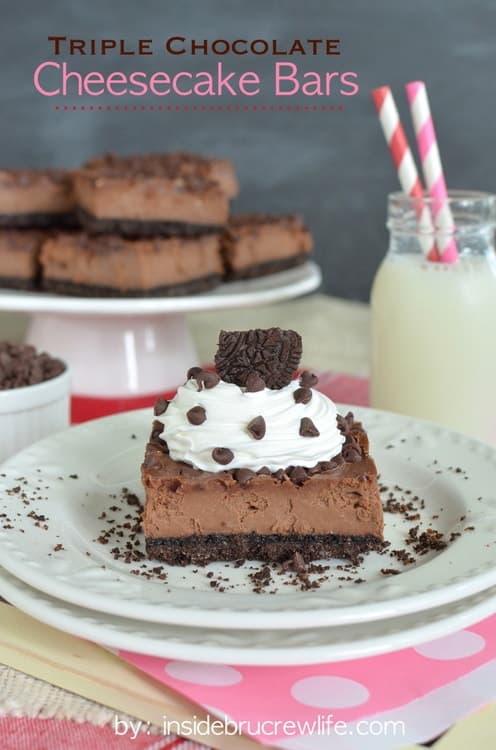 I have come to the realization that I am not as smart as I once thought I was. Helping kids with homework is definitely helping me to see that light now. My kids know that if they have math homework that they need to wait for daddy to get home because mommy will probably get them the wrong answer.
You would think that using measurements and fractions in baking would keep my mind sharp in math, but alas I have lost all the math information that was once there.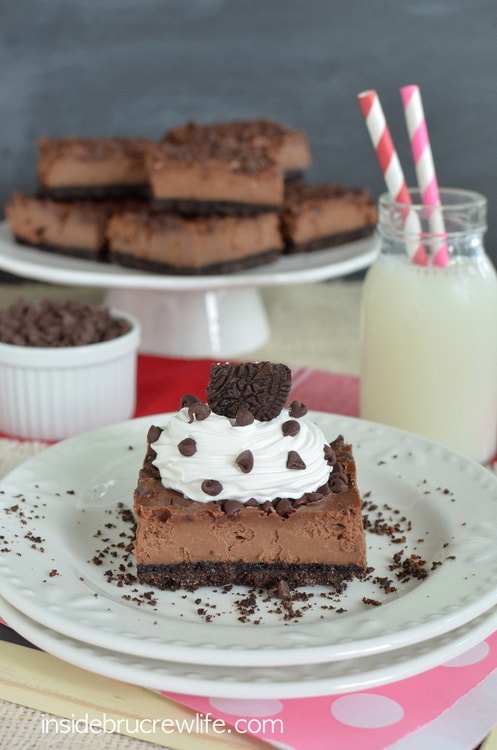 The other day my daughter was working on her math and had a question. I tried to warn her that I wasn't the person to ask, but she insisted that it had to be done now. So, I looked at it and thought I knew what it was asking.
Let's just say that it was a good thing she had her dad take a look at it when he got home.
Turns out I was right...she didn't want my help with anything math related...I got the answers wrong. I did warn her! Now history, english, and science I can do. Most of that is just memorization and looking up answers in the book. I can do those. But math just doesn't work for me.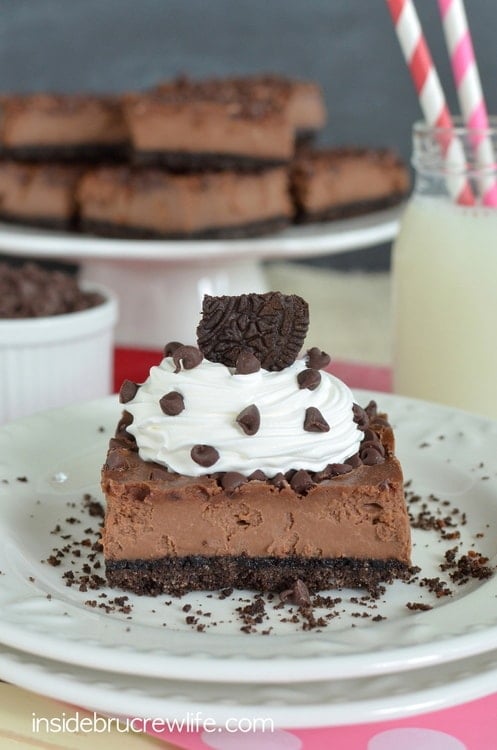 I think I will stick to the math that I use when baking. That makes sense to me. Well, until I try to half a recipe that has odd measurements. Sometimes I just wing it then. It works for me most of the time...although I don't recommend that as a good math lesson.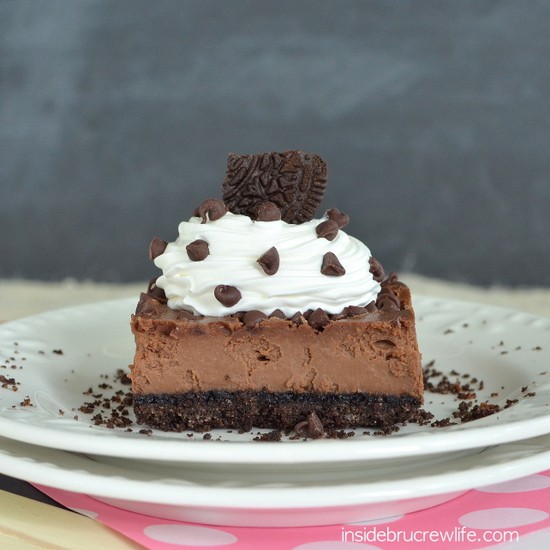 These cheesecake bars are an example of me taking these Mini Triple Chocolate Cheesecakes and changing the measurements to make them into bars. Bars are so much easier to make and to serve, so I did my math ninja skills and worked it out. It really wasn't near as hard as the 6th grade math.
I like to think these bars are slightly good for you. Why? I didn't use any butter in the crust. I use a food processor to turn Oreo cookies into crumbs. Just leave the filling in the cookies. That filling is what helps the crust stay together. And then I used dark chocolate for the cheesecake filling. We all know the health benefits of dark chocolate right? Wink, wink!
Oh, fine! There is absolutely nothing good for you in these bars. It's cheesecake...to be good it has to be full of yummy things. All things in moderation is the key.
Just eat a smaller piece every time you walk past the kitchen!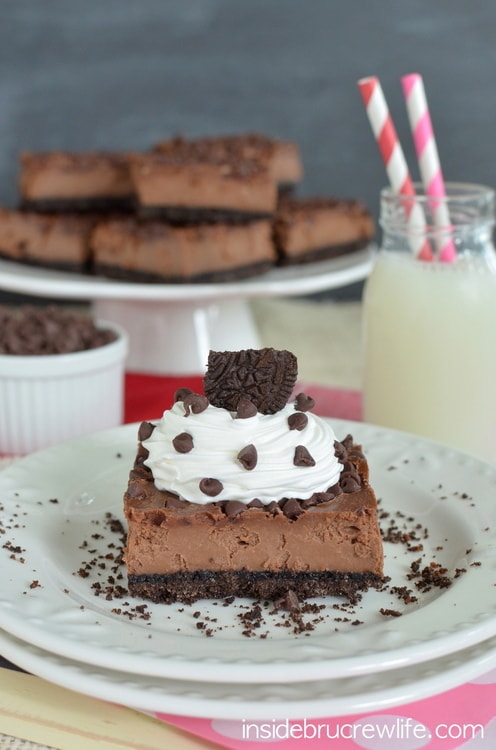 Stay up to date on all the BruCrew baking here:
FACEBOOK | PINTEREST | GOOGLE+ | TWITTER | INSTAGRAM | BLOGLOVIN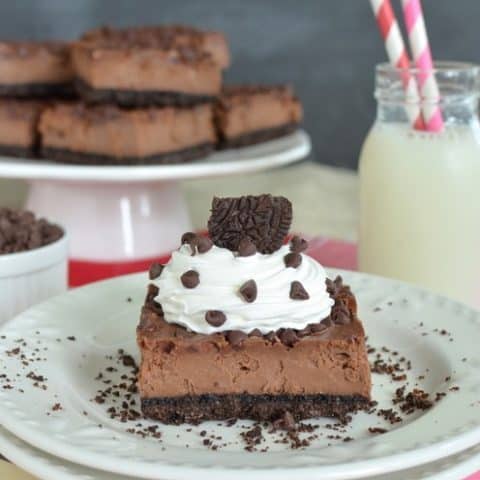 Triple Chocolate Cheesecake Bars
Yield:
24 cheesecake bars
Triple the chocolate makes these cheesecake bars an extra special treat after any meal.
Ingredients
For the Crust
30 Oreo cookies
4 tablespoons unsalted butter, melted
For the Cheesecake
3 - 8 ounce packages cream cheese, softened
½ cup granulated sugar
3 large eggs
3 tablespoons sour cream
1 ½ teaspoons vanilla extract
1 ¼ cups dark chocolate chips
1 teaspoon shortening
1 cup mini chocolate chips + extra
1 - 8 ounce container Cool Whip, thawed
Instructions
Preheat the oven to 325 degrees. Spray a 9x13 pan with nonstick spray.
Pulse the cookies with cream filling included in a food processor until they are crumbs. Mix the cookie crumbs and butter together. Press the cookie crumbs into the bottom of the pan.
In a large mixing bowl, beat the cream cheese and sugar until creamy.
Add the eggs, sour cream, and vanilla and beat again.
Place the dark chocolate chips and the shortening in a microwave safe bowl. Heat for 30 seconds at 50% power. Stir and repeat. Stir until creamy.
Add the melted chocolate to the cream cheese mixture and beat until creamy.
Pour the cheesecake batter gently on top of the crust. Sprinkle with the mini chocolate chips. Bake for 45-50 minutes.
Remove and let cool on a wire rack for one hour. Refrigerate for 3-4 hours or until chilled and set.
Cut into 24 squares and serve with Cool Whip swirls. Add Oreo cookies, mini chocolate chips, or strawberries as garnish.
Nutrition Information:
Yield:

24
Serving Size:

1
Amount Per Serving:
Calories:

326
Total Fat:

23g
Saturated Fat:

13g
Trans Fat:

0g
Unsaturated Fat:

6g
Cholesterol:

59mg
Sodium:

160mg
Carbohydrates:

28g
Fiber:

1g
Sugar:

22g
Protein:

4g
Nutrition facts are an estimate and are not guaranteed to be accurate. If you need special diet advice, please see a registered dietician.
More delicious cheesecake ideas: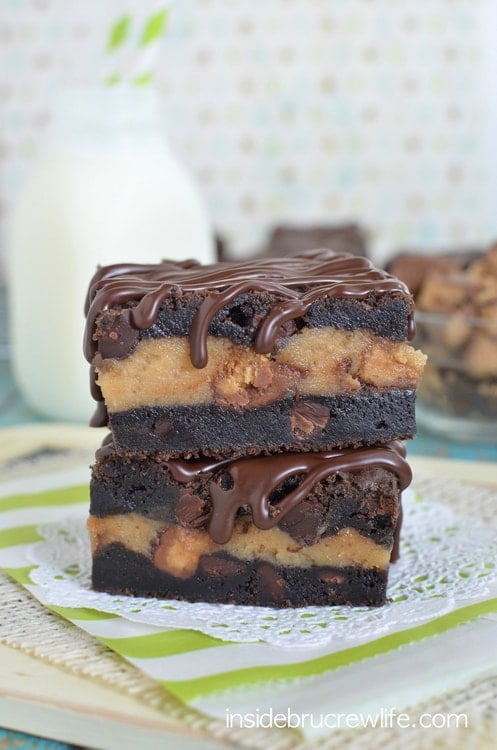 Chocolate Peanut Butter Cheesecake Cookie Bars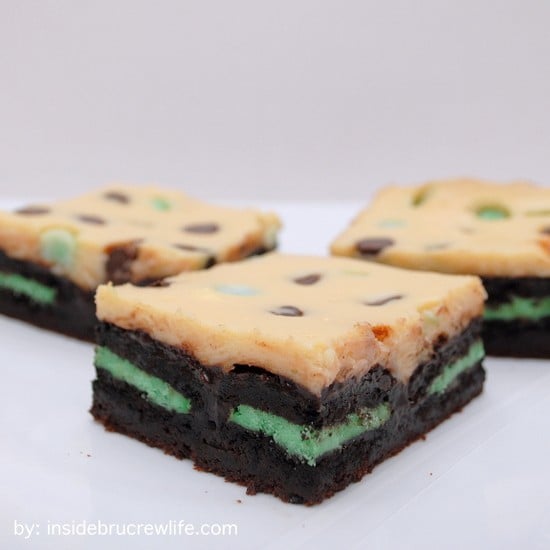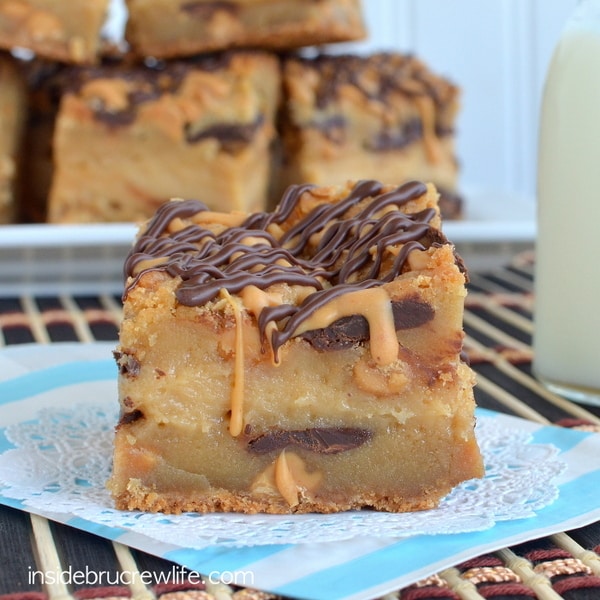 Peanut Butter Cheesecake Cookie Bars