These fun Mocha Hot Chocolate Cookie Bars have a coffee, chocolate, and marshmallow twist to the classic sugar cookie bar.  They are easy to make and frost, and even easier to eat.
*Love these recipes?  Sign up for the BruCrew email to have them sent to your inbox.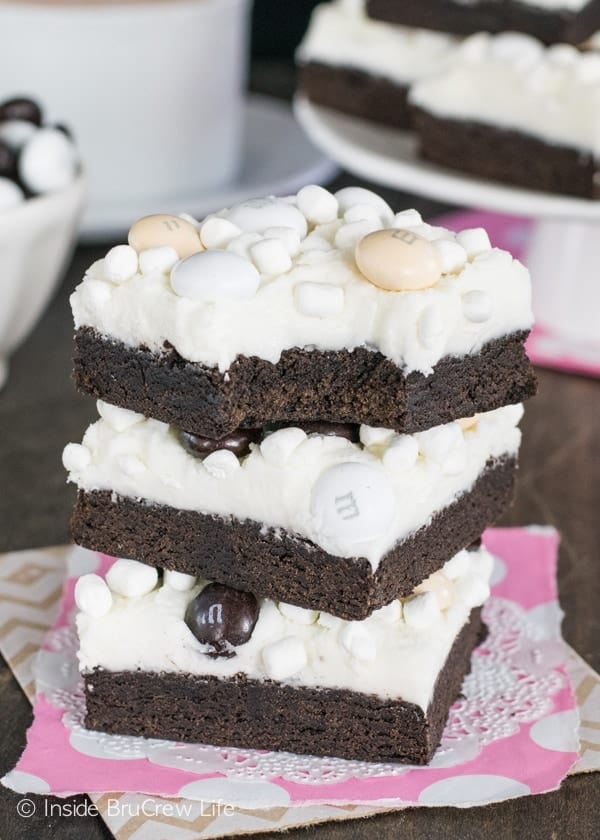 So, remember I said that we were all about healthy eating and working out now that the new year had started?  Oh, that's still going strong…it's the getting up and being happy about it that needs some work.
Yesterday morning was our first morning setting the alarms for 5:30 AM.  That's a rude awakening after a few weeks of sleeping in.  Let's just say that I wasn't a cheery, happy person for about an hour or so.  Complaining and whining may have occurred out in the cold garage as we jump roped and rowed.
One thing my hubby and I have discovered in those early morning minutes is that we can't talk to each other until both of us have woken up and have made it past those grouchy minutes.  Ok, so mostly that's just me.  Yes, I'm a bear! Early mornings and I just do not like each other.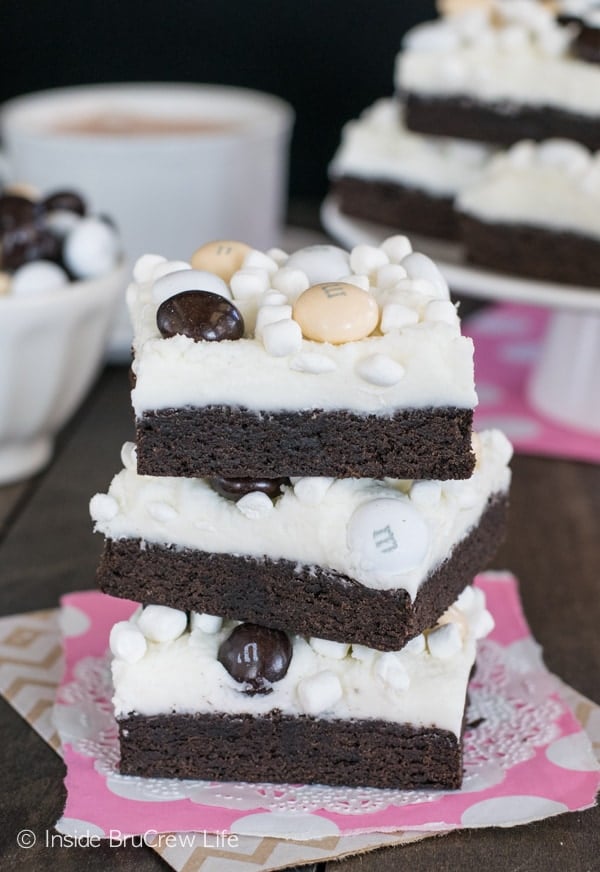 But put a chocolate cookie bar topped with marshmallow frosting in front of me, and I'll cheer up in a hurry.  Maybe one of these mocha hot chocolate cookie bars dangling from a rope in front of the rower each morning would help me lose the morning crankies!
I used to make cut out cinnabon sugar cookies. That stopped abruptly when I realized you can make the same cookie in a pan.  Easy, breezy, lemon squeezy!!! My poor cookie cutters have been ignored for the past year now.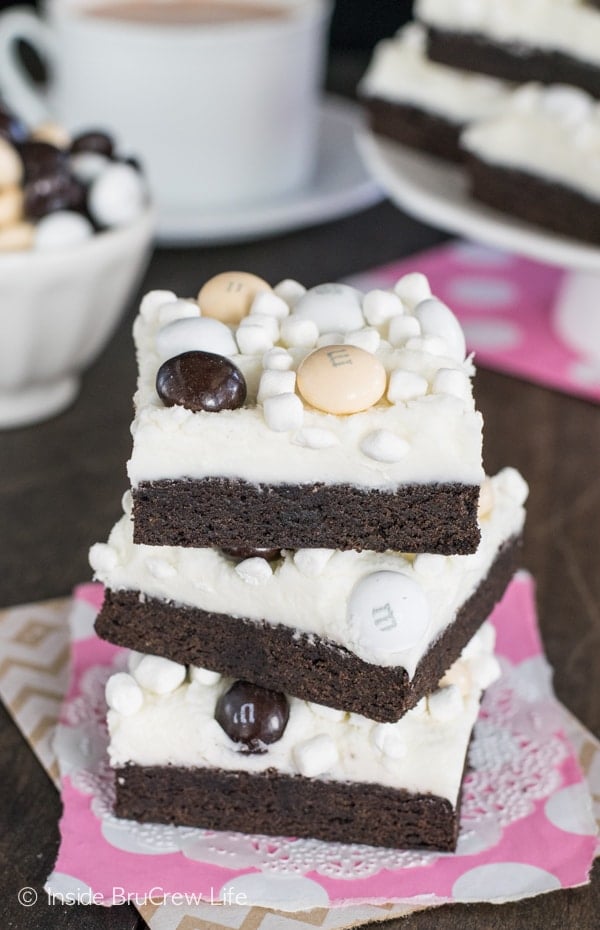 We have made lemon sugar cookie bars and funfetti sugar cookie bars over the past year.  It's easy to change out the flavor slightly with an easy base.
By switching out a little flour for cocoa powder, and adding some coffee extract to the bars, I was able to create a mocha flavored cookie bar.  I have a thing for chocolate and coffee together!
If you do not like coffee, do not be scared of these bars.  Coffee just enhances chocolate making it even better!!!  And if that still scares you, go ahead and use vanilla extract instead.  That works too!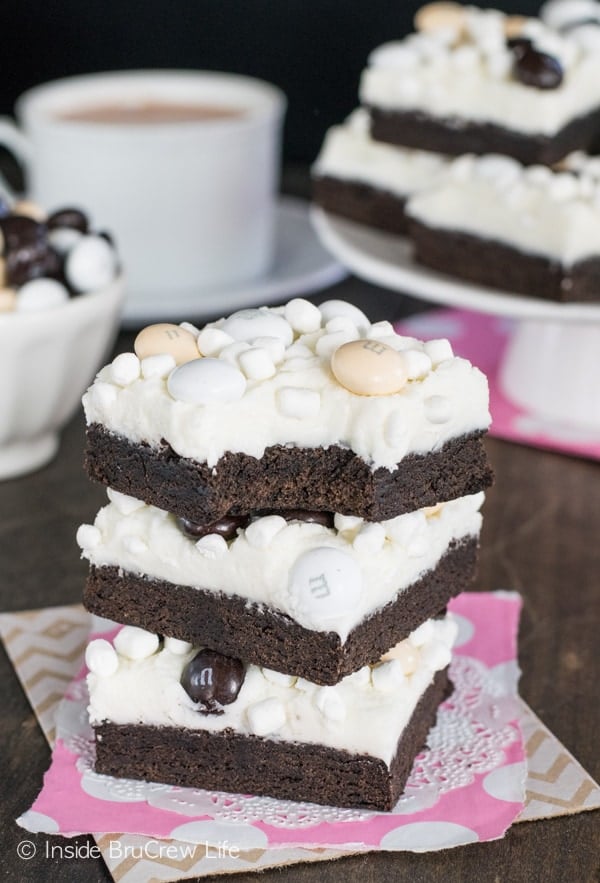 Last month I found a bag of hot chocolate M&M's
 at Walmart.  (I'm not sure if they are still available.)  I stocked up and bought a few bags when I spotted them.  Any M&M's candy will work on these bars though!!!
For the frosting, I wanted to continue with the mocha hot chocolate theme. A creamy marshmallow frosting seemed like the best way to finish these off!  Add those M&M's and some mini marshmallow bits and you are ready to devour a bar or two!
Just make sure to save a few of these mocha hot chocolate cookie bars to keep you motivated for early morning workouts.  A bite of these cookie bars will scare the crankies away!!!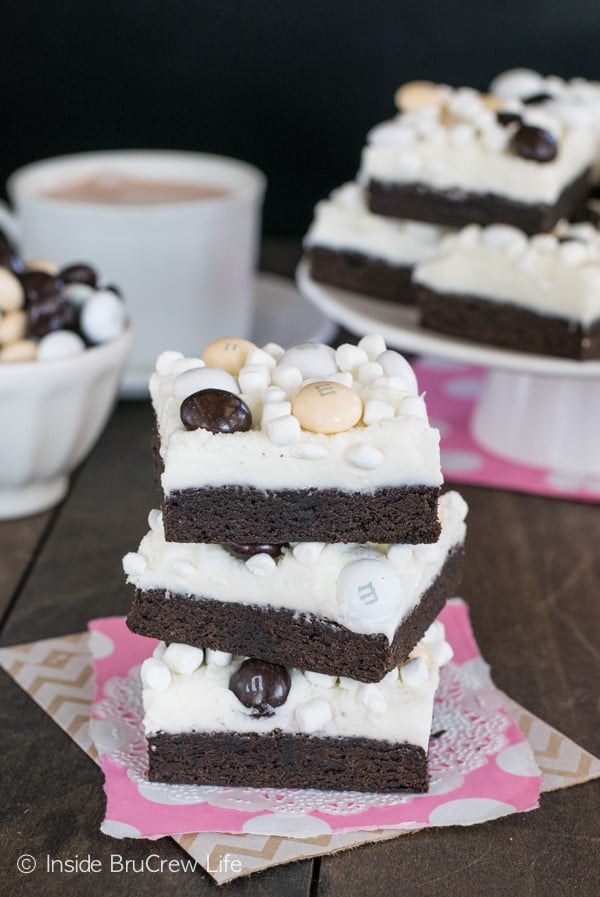 Stay up to date on all the BruCrew baking here:
FACEBOOK | PINTEREST | GOOGLE+ | TWITTER | INSTAGRAM | BLOGLOVIN
 Sign up to receive an email in your inbox for each new recipe:
EMAIL SUBSCRIPTION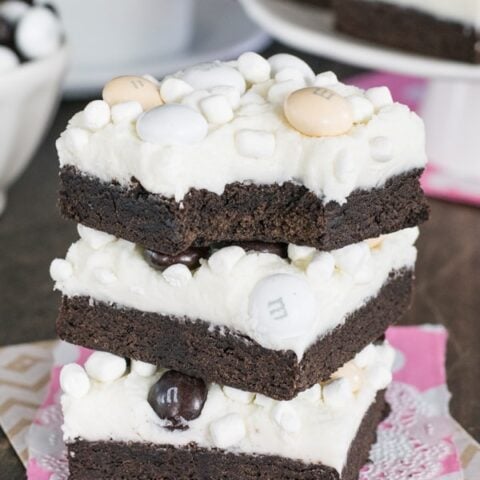 Mocha Hot Chocolate Cookie Bars
These mocha cookie bars are topped with a fluffy marshmallow frosting, M&M's candies, and mini marshmallows. Such an easy way to enjoy sugar cookie bars without all the work.
Ingredients
1/2 cup butter, softened
1/2 cup brown sugar
1/2 cup sugar
1 egg
1 teaspoon almond extract
1 teaspoon coffee extract
2 Tablespoons milk
2 cups flour
1/2 cup dark cocoa powder
1 teaspoon baking powder
1/2 teaspoon salt
For the Frosting
1/2 cup butter, softened
1 cup marshmallow cream
1 teaspoon vanilla
1/4 teaspoon salt
4 cups powdered sugar
2 Tablespoons vanilla coffee creamer
1 cup Hot Chocolate M&M's candies
3/4 cup mini marshmallow bits
Instructions
Beat the butter and sugars until creamy. Add the almond, coffee extract, and milk and beat again.
Sift together the flour, cocoa powder, baking powder, and salt. Slowly beat into the butter mixture.
Press the mixture into a greased 9x13 baking dish. Bake at 375 degrees for 15 minutes. Remove and cool completely.
Beat the butter until creamy. Add the marshmallow cream, vanilla, and salt and beat again.
Slowly beat in the powdered sugar and coffee creamer until light and fluffy. Spread over the top of the cooled cookie bars. Top with M&M's and mini marshmallows. Cut into 24 bars. Store in a sealed container.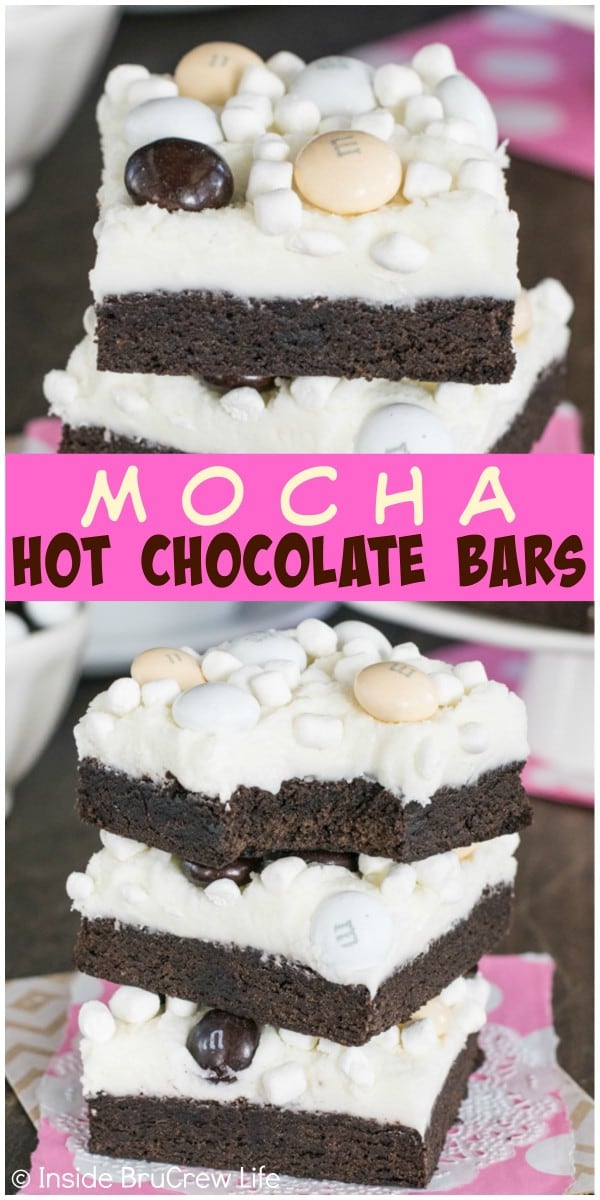 More cookie bars that we enjoy making: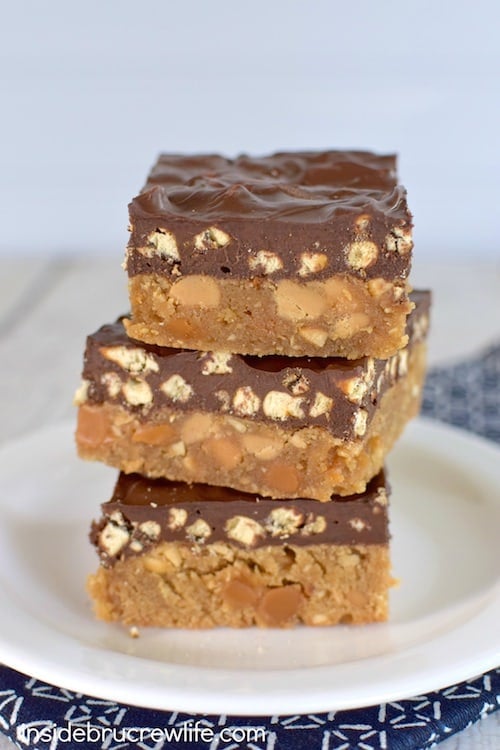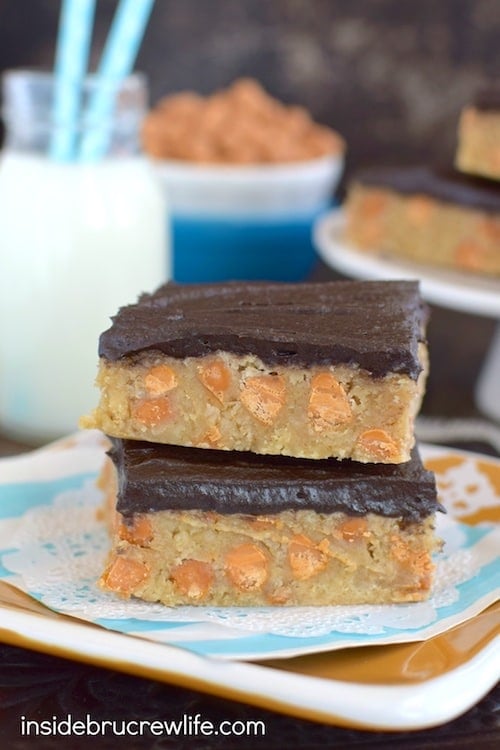 Chocolate Butterscotch Oat Bars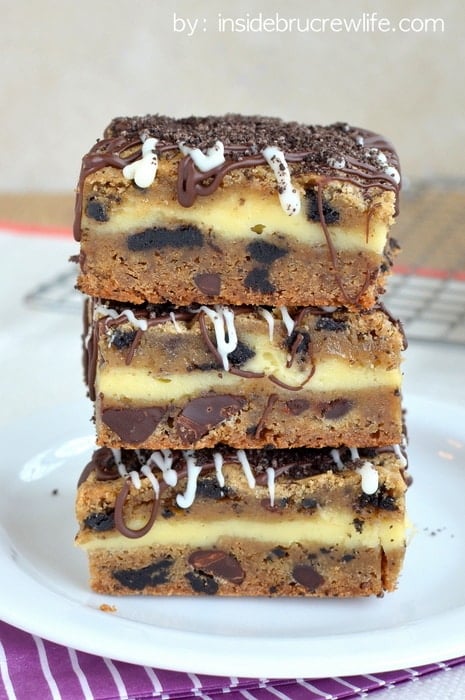 Oreo Chocolate Chip Cheesecake Cookie Bars
More cookie bars you might enjoy: