Making over the top and decadent desserts like these Oreo Chocolate Chip Cheesecake Cookie Bars is definitely the best part of my job.  Wait, I'm pretty sure sharing and eating them with my family is the best part.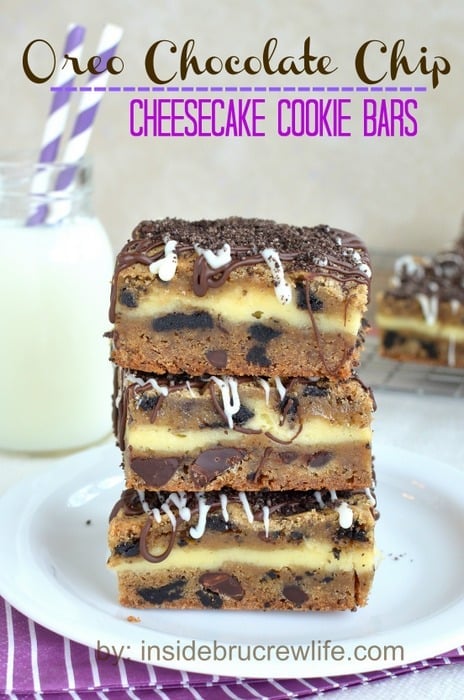 15 years ago today I woke up nervous, anxious, and very excited.  That night I married my best friend.    God knew that I needed someone strong and patient to deal with my crazy and stressed out attitude.  My husband is definitely patient with me when I get strung out and crazy over deadlines and just life in general.  Oh, he has his moments too…he is just better at hiding them than I am.
I do love him very much for loving me and staying with me through thick and thin.   Who would have thought that 15 years later, we would have 3 kids, have lived in 2 states, moved 6 times, and changed jobs 10 times before getting to the place God wanted us to be.  Happy anniversary babe!  I can't wait to see what happens in the next 15 years.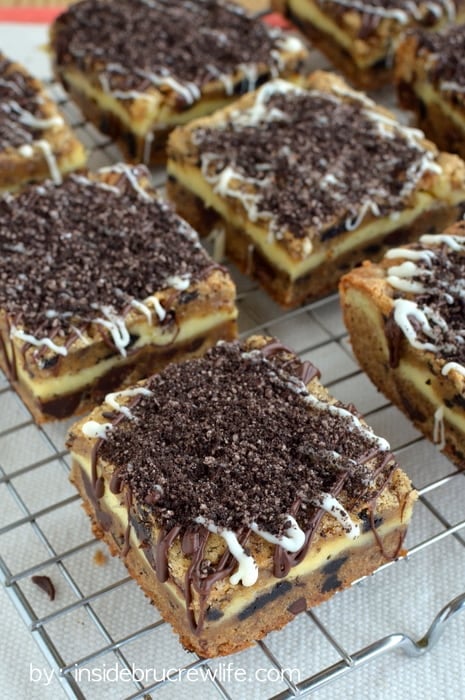 Cheesecake is definitely the one dessert that my husband and I agree on.  He usually doesn't care that much for dessert…I know, it's hard being him in this house with what I bake up 🙂  He is definitely the cheese to my cake!  LOL!  Corny yes, but hey, that's why you read my blog right?
Cheesecake cookie bars are some of my favorite dessert to make.  If you haven't seen this Caramel Apple Milky Way Cheesecake Cookie Bar, you need to take a peak.    It was the inspiration for this bad boy that is staring you down right now.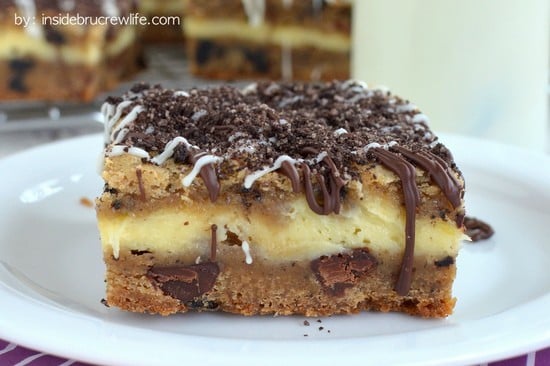 To give this bar some more fun and crunch, you are going to add some Oreo cookie chunks into the the cookie dough.  Put some cheesecake between the layers and then bake it up.  Now you could go ahead and eat it as is (after is chills), but we need to pretty it up some.  A drizzle of white and dark chocolate and a sprinkling of Oreo cookie crumbs makes it totally done.
These are the perfect dessert for any celebration you might be facing…birthday, barbecue, ANNIVERSARY!!!  I better go bake another batch 🙂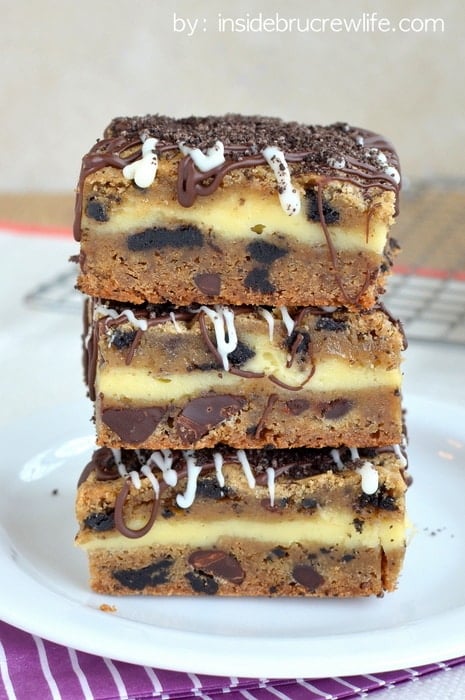 Make sure you don't miss any of the crazy baking
by following the BruCrew here:
FACEBOOK | PINTEREST | GOOGLE+ | TWITTER | INSTAGRAM | BLOGLOVIN
Yield: 24 bars
Oreo Chocolate Chip Cheesecake Cookie Bars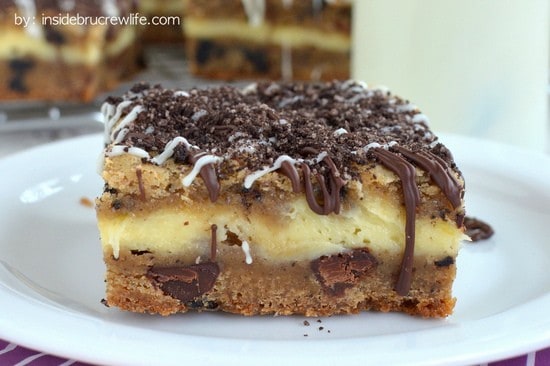 Oreo chocolate chip cookie dough layered with cheesecake and drizzled with chocolate and cookie crumbs
Ingredients
For the Cookie Dough
1 cup butter
1/2 cup sugar
1 cup brown sugar
2 eggs
2 teaspoons vanilla extract
1/2 teaspoon baking soda
1/2 teaspoon salt
2 3/4 cups flour
1 1/2 cups Oreo cookie chunks
1 cup dark chocolate chips
For the Cheesecake
1 - 8 ounce package cream cheese, softened
1/2 cup sugar
1 egg
1 teaspoon vanilla
For the Topping
1/4 cup white chocolate chips
1/4 cup dark chocolate chips
1 teaspoon shortening, divided
1/4 cup Oreo cookie crumbs
Instructions
Preheat oven to 350 degrees. Spray a 9x 13 pan with nonstick spray.
In a mixing bowl, beat together the butter and sugars until creamy. Add the eggs and vanilla and beat again.
Stir together the baking soda, salt, and flour. Slowly add to the creamed mixture.
Stir in the cookie chunks and chocolate chips by hand. Press half the dough into the prepared pan. Set aside.
In another mixing bowl, beat the cream cheese and sugar until creamy.
Add the egg and vanilla and beat again. Pour on top of the dough in the pan.
Crumble the remaining dough over the top of the cheesecake gently. Bake for 30 minutes.
Remove and place on a wire rack to cool. Refrigerate until completely chilled. Cut into 24 bars.
Place the white chips in a microwaveable bowl with 1/2 teaspoon shortening. Heat for 30 seconds. Stir. Heat for 15 seconds more if needed Stir until creamy.
Repeat with the dark chips. Place each chocolate into two plastic bags with one tip cut off each.
Drizzle over the bars and top with cookie crumbs immediately. Keep refrigerated.
Nutrition Information:
Yield:
24
Serving Size:
1
Amount Per Serving:
Calories:

353
Total Fat:

18g
Saturated Fat:

10g
Trans Fat:

0g
Unsaturated Fat:

7g
Cholesterol:

54mg
Sodium:

234mg
Carbohydrates:

44g
Fiber:

1g
Sugar:

28g
Protein:

4g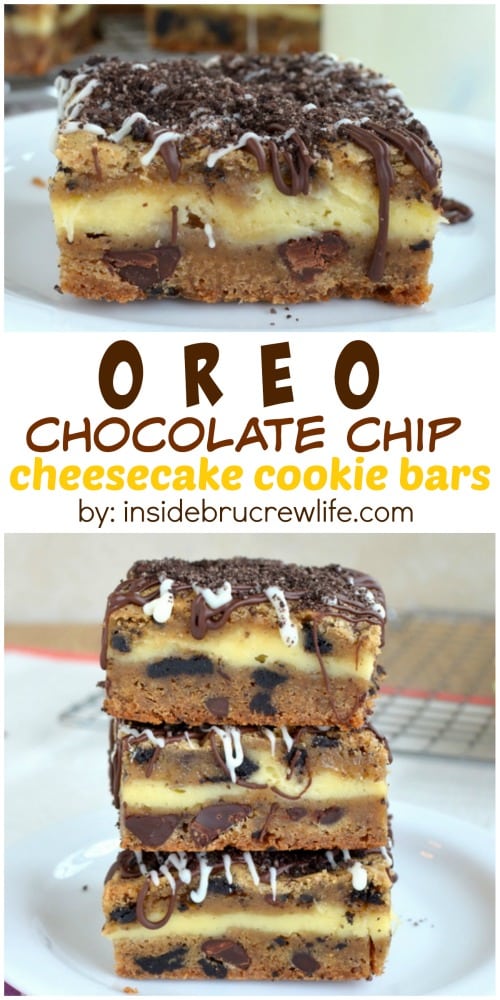 Other bar desserts that are worthy of a celebration: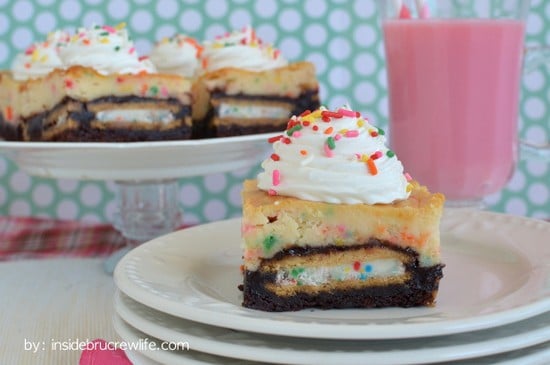 Cake Batter Cheesecake Brownies