These Take 5 Bars have peanuts, caramel, chocolate, and pretzels and have the taste of the candy bar.  They are delicious and perfect for sharing with all your friends.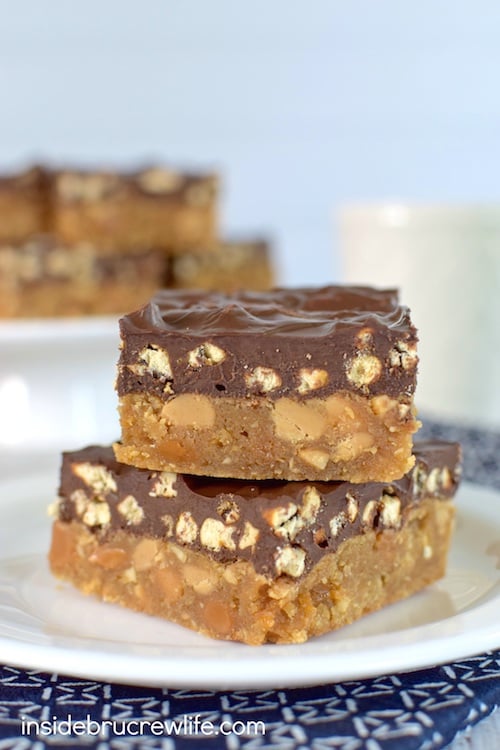 (pictures updated June 2015)
Do you want to know something really funny?
I am kind of a girly girl.  That's not the funny part, just so you know. Not over the top/pink/glitter/drama girly…but mostly girly.
I'm all about crafts, yummy treats, parties, shopping, and fashion. Give me scarves, bags, shoes because I'm all about accessories, people.
And digging in the dirt, no thank you. I would rather stay inside and stay clean.
My idea of getting dirty is rolling cookies with my bare hands. (Honest we are getting to the funny part!)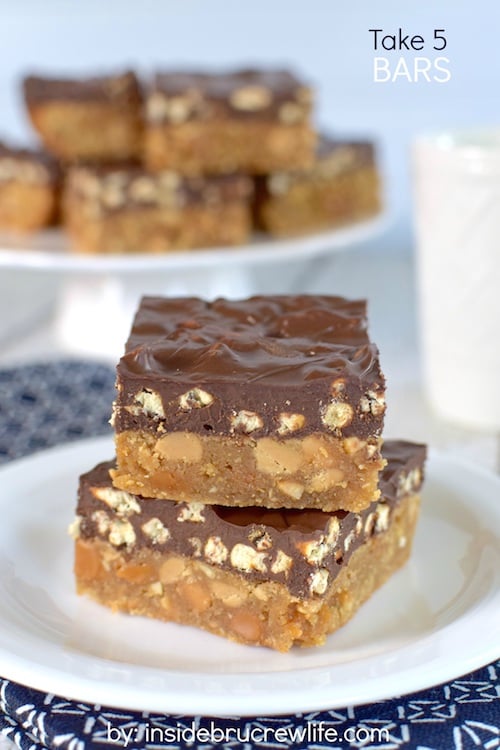 A couple months ago my husband came home from work and said he was signing up to run a race with a couple guys.
It's called The Tough Mudder. Please click on the link and check it out, then come back for the rest of the story…believe me…you want to hear the rest.
Well he did it…he signed up. A few days later he came home and said the other guy's wives are now running too, and they want you to join them.
Seriously????
Did you click on the link? Did you see how dirty they are? Not exactly what a girly girl wants to do.
BUT…
a small part of me wanted to do something completely different. Because it is completely out of my element. Because it isn't expected! 
Because no one would ever think of me and mud in the same sentence. Because I want to say I am one Tough Mudder.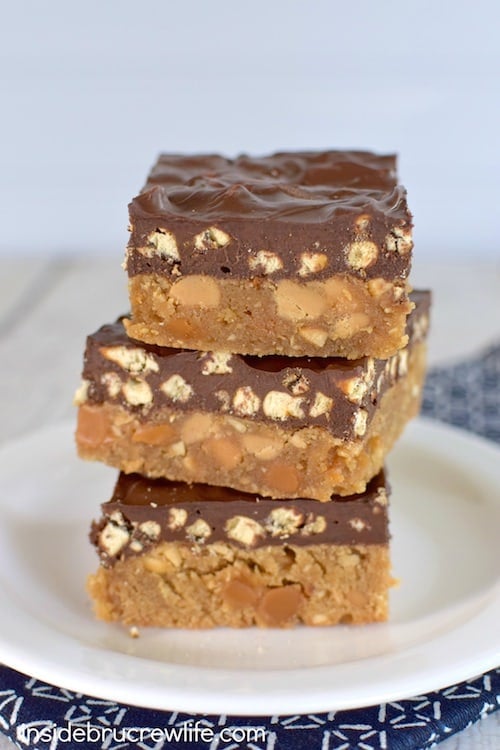 Ok, cue the laughing!!!!
This curly blonde haired baking chick is going to be covered in MUD…in the end of NOVEMBER!
I must be completely nuts because I signed up to run 12 miles with 20 obstacles in winter. Yup! I've lost it!
Now because I just might die while trying to prove that I can do mud…I had to leave you with this recipe. Every time you make it just think of how I became a Tough Mudder!
Bbbbbwwwwhhhhaaaa! Ok that is just too hilarious!
I have even been "training". Go run 3 1/2 miles…come home & bake something yummy, then lift some weights by moving the yummy treat to my mouth.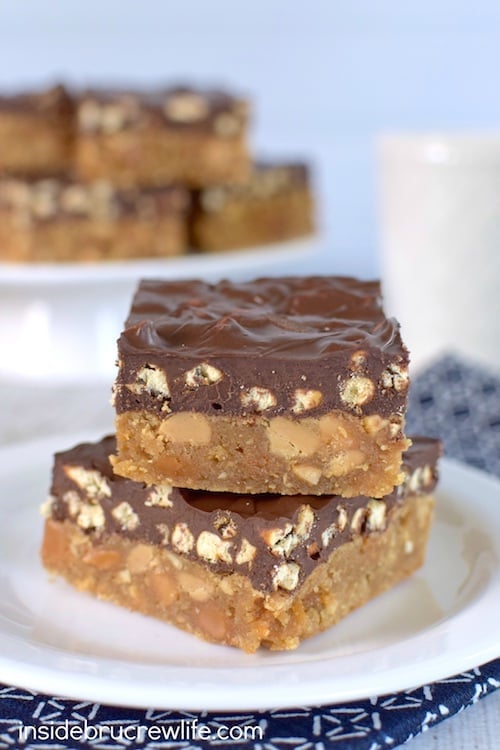 Something tells me I should probably lose the yummy part in the training!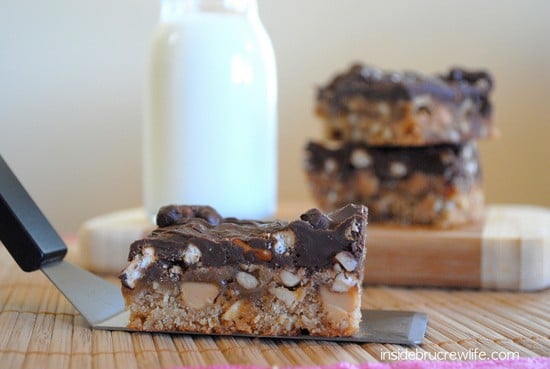 (original picture Sept. 2011)
Stay up to date on all the BruCrew baking
by following here:

BLOGLOVIN | FACEBOOK | PINTEREST | GOOGLE+ | TWITTER | INSTAGRAM
Yield: 24 bars
Take 5 Bars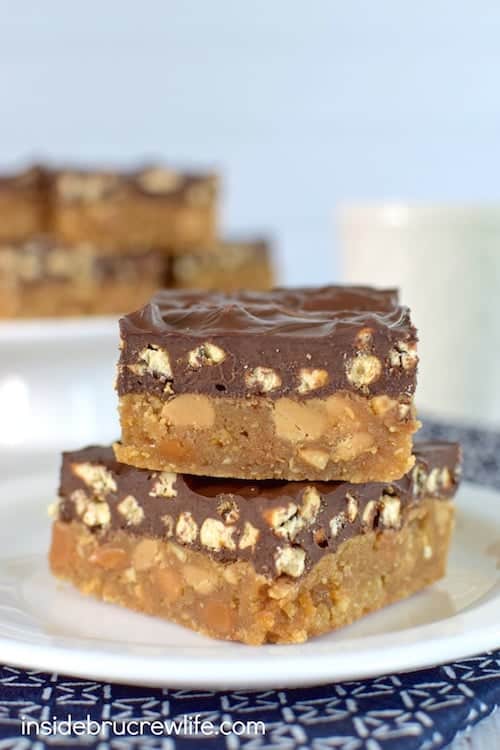 Peanut butter blonde brownies with peanuts, caramel, and chocolate covered pretzels for a fun twist on the Take 5 candy bars.
Ingredients
1/2 cup butter
1 cup brown sugar
1/2 cup peanut butter
2 eggs
1 teaspoon vanilla
2 teaspoons baking powder
1/2 teaspoon salt
1 1/2 cups flour
1 cup chopped peanuts
1/2 cup peanut butter baking chips
3/4 cup caramel baking bits
2 cups chopped pretzels
3 cups chocolate chips
1 Tablespoon shortening or coconut oil
Instructions
Preheat oven to 350 degrees. Spray a 9x13 pan with nonstick spray.
Cream the butter and brown sugar until fluffy. Add the eggs, vanilla, and peanut butter and beat again. Slowly add the dry ingredients until it is all mixed in.
Stir in the peanuts, peanut butter chips, and caramel bits by hand. Spread the dough in the prepared pan. Bake for 24-25 minutes. Cool on a wire rack.
When the bars are completely cool, melt the chocolate chips and shortening in a microwave safe bowl. Stir every 30 seconds, so it doesn't burn.
Lay the chopped pretzels on top of the cooled bars and spread the melted chocolate on top. Let set before cutting into 24 bars.
Nutrition Information:
Yield:
24
Serving Size:
1
Amount Per Serving:
Calories:

356
Total Fat:

21g
Saturated Fat:

9g
Trans Fat:

0g
Unsaturated Fat:

10g
Cholesterol:

26mg
Sodium:

295mg
Carbohydrates:

41g
Fiber:

3g
Sugar:

26g
Protein:

7g