This easy Neapolitan Popcorn is loaded with strawberry, chocolate, and vanilla chocolate and candies. Great no bake snack mix to enjoy for movie nights.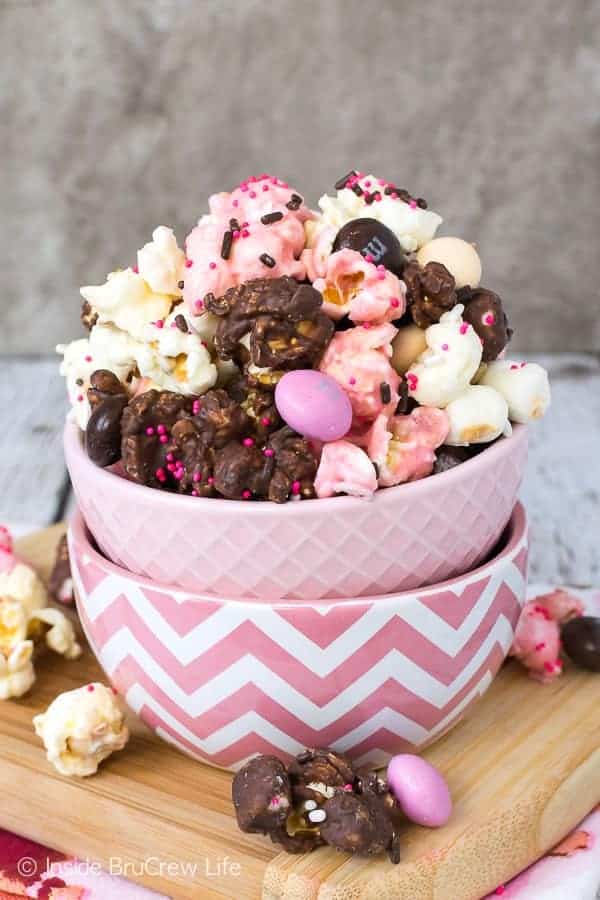 This past week my sister and her family came to visit us. Unfortunately Florida was broken because most of the week it was cold and rainy. That didn't stop us from having fun though. We went to a few different parks, walked around the marina, fed flamingos, and then headed to the beach on the first warm day.
At night we played card games and just chatted and caught up on life while the kids played and ate popcorn. Our big stand popcorn maker fascinated our niece and nephews. They loved helping my husband make a batch each night. I even raided my blog prop stash and found some fun popcorn boxes for them to eat out of.
One night I added some chocolate and candies to one of the batches of popcorn. I think the adults actually ate most of that one though. The kids still just wanted the plain popcorn with some cheese powder. Fine by me...that just left more of the Neapolitan popcorn for me.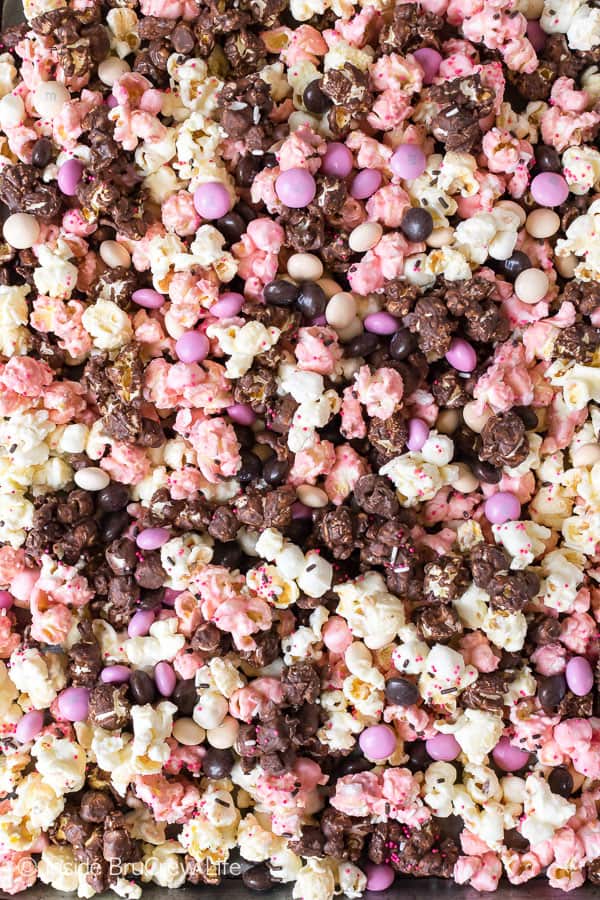 Chocolate covered popcorn is one of my favorite things to munch on. Once I start on it, I just can't stop. A few years ago I made this Banana Split Popcorn, and I just loved how the three flavors mixed together to make one awesome treat.
I decided to make another no bake snack mix with three flavors in one bowl. Since I had an extra bag of M&M's leftover after making these Neapolitan Sugar Cookie Bars, a batch of Neapolitan popcorn seemed like the most logical answer.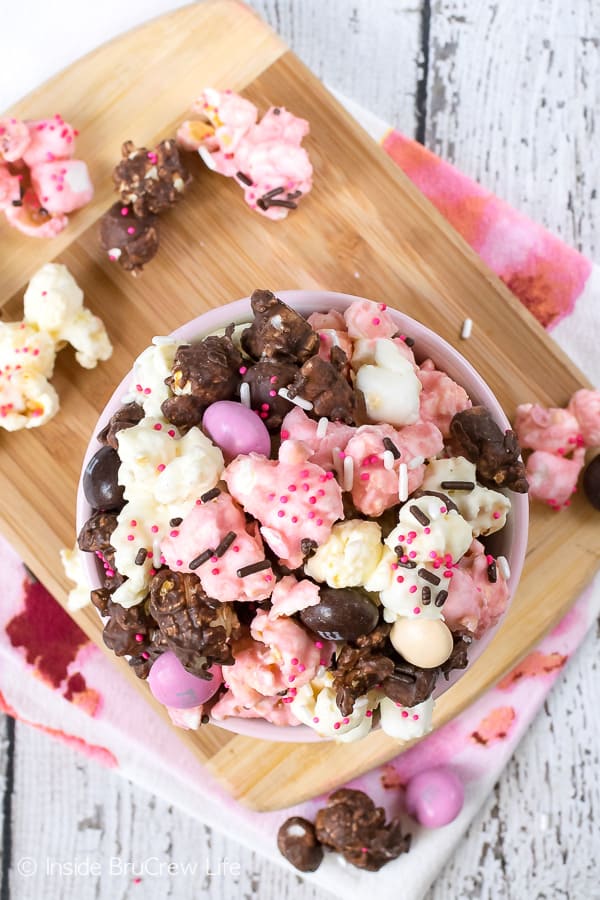 Easy tips for making a batch of Neapolitan Popcorn:
Line one large sheet pan with some wax or parchment paper. This keeps the popcorn from sticking to the pan, and it makes clean up a breeze.
Divide your popcorn into three bowls. Make sure you take out any seeds that didn't pop out because they hurt your teeth if you bite into one.
Melt half the white chocolate according to the package directions. Stir in strawberry Jell-O powder to give it flavor and color. Pour it into a bowl of popcorn and stir until it is coated completely.
Spread the popcorn on the prepared pan and add sprinkles while the chocolate is still wet. Refrigerate it for about 5 minutes to set. Break apart and place in a bowl.
Do the same thing with the remaining chocolate and popcorn.
Mix the three flavors of popcorn and a bag of M&M's in one large bowl.
Share it with friends and family before you devour the entire batch in one sitting. What? It could happen.
Items used to make this Neapolitan Popcorn:
More easy no bake snack mixes you might enjoy:

*This post contains affiliate links. Inside BruCrew Life may receive a small percentage from sales made through these free links. As always, these links do not cost you any extra. Thank you for letting us share products we use and love this way.