Chocolate covered popcorn gets a fun twist when it gets mixed with Banana Split flavors.  Strawberry, banana, and chocolate will make this Banana Split Popcorn your new favorite way to eat popcorn.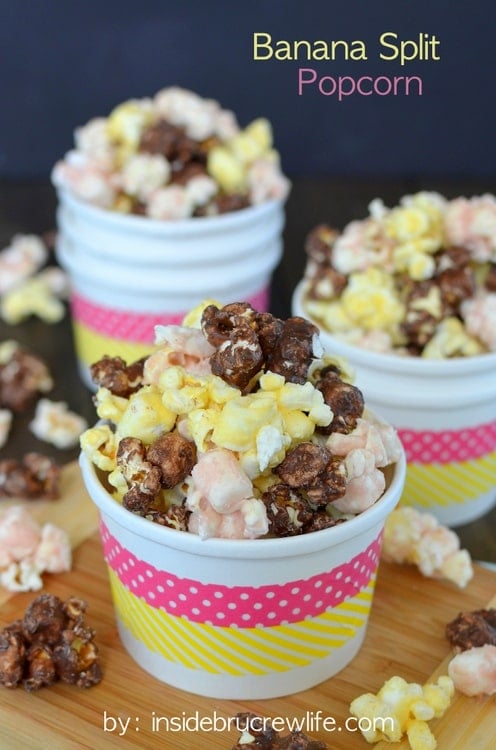 Do you know what day it is?
Besides the first day of July…holy cow!  It's July first!!!  Does anyone know where June even went?  Me either.  Good thing I take lots of phone pics to remember what happened.  I barely can remember what I ate for breakfast each day.
Anyway, back to seeing if you knew what today was.  It is the first day of Banana Split Week!  Raaaawwwwrrrr! And the crowd goes wild with excitement!
Ok fine, so I have over active imagination when I try to picture your excitement over such a fun week!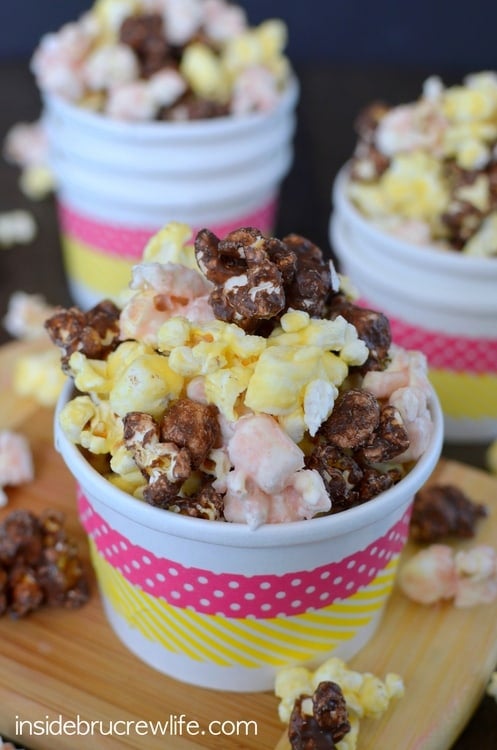 I am teaming up with Aimee from Shugary Sweets to bring you all Banana Split inspired desserts all week long.  I sure hope you are ready because we have an impressive line up of goodies!
Want to know something?  I am like the worst procrastinator ever.  You see, Aimee asked me oh, let's say maybe 2 months ago if I wanted to do this Banana Split week with her.
Plenty of time to make and photograph these recipes you would think.  Except that this is me you are talking to.
Want to know when I started making these goodies?  Oh, the list started right away.  Then a month later I made one treat.  Then last week I decided I should really finish up because Banana Split week was almost here.  And by last week, I really mean Friday.
Procrastinate much?  Yeah…welcome to my world!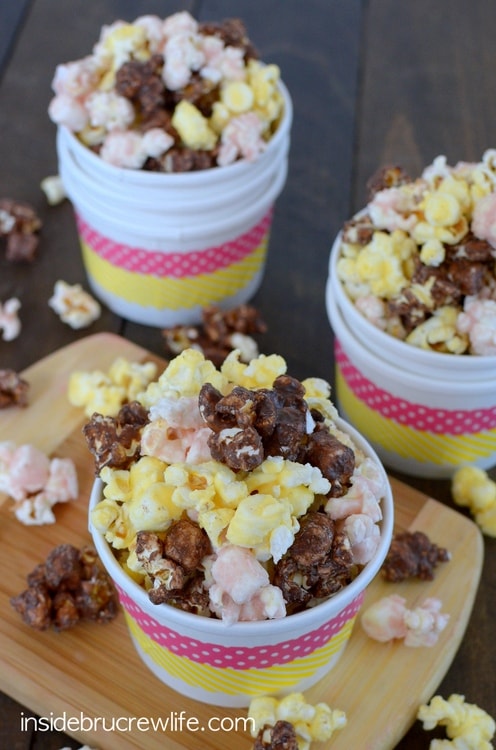 Oh, and this popcorn?  Nope didn't happen last week.  This was yesterday's project.  Thank goodness it was an easy one to throw together and photograph in under an hour.  I like to live dangerously close to the edge.  One of these days it will probably end badly for me.  Yikes!  Knock on wood!  I don't want that to really come true!
Let's talk about the popcorn instead of the impending doom of my procrastination.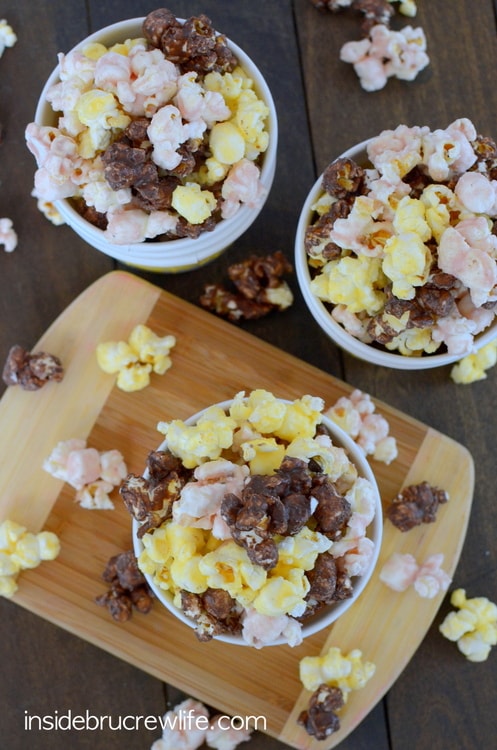 You probably have all the ingredients on hand to make a batch of this delicious popcorn.  I used white and chocolate CandiQuik to coat my popcorn with.  You can also use chocolate chips or Almond Bark, if that's what you have or can find.  
Use a few spoonfuls of dry banana pudding mix and dry strawberry Jello powder to flavor 2 bowls of melted white chocolate.  Now in case you were wondering, no it does not dissolve all the way.  The chocolate will have a slight grainy texture, but when it dries on the popcorn you will not even notice it.  I promise!
You can also add some yellow gel food coloring to make your banana chocolate more banana colored if you like.  Make sure you only use GEL food color though.  If you use liquid food coloring it will make your chocolate seize and harden.  It's not a pretty picture and believe me, you don't want to waste ingredients.
Give each bowl of popcorn a stir with the melted chocolate, lay it out on a wax paper lined tray, and refrigerate it for 5 minutes.  Go ahead and wash some dishes while you wait.  Or leave them all over the counter and sink like I did.  They will be there later when you decide to finally clean up 🙂
Break apart the popcorn and toss it all together in a bowl.  It's ready for gift giving or munching on at all hours of the day.  It makes a delicious midnight snack when you are editing pictures.  Not that I would ever procrastinate and do that.  Wink, wink!!!
And make sure you stop by Aimee's to get the recipe for her Banana Split Fudge.  It looks amazing!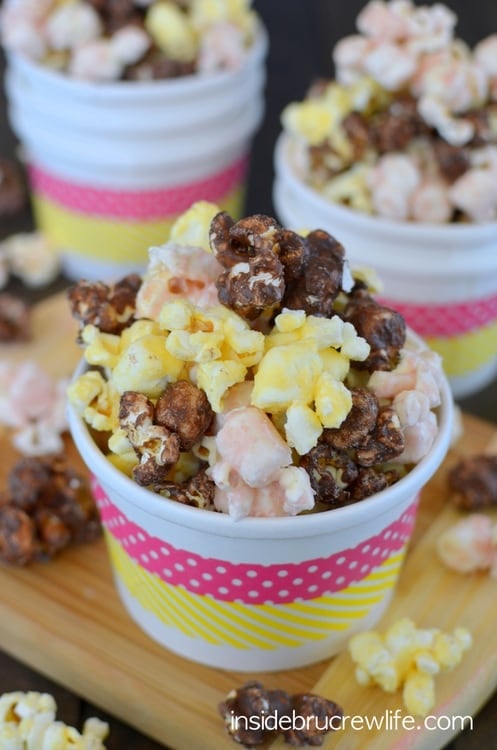 Stay up to date on all the BruCrew baking here:
FACEBOOK | PINTEREST | GOOGLE+ | TWITTER | INSTAGRAM | BLOGLOVIN
 Sign up to receive an email in your inbox for each new recipe:
EMAIL SUBSCRIPTION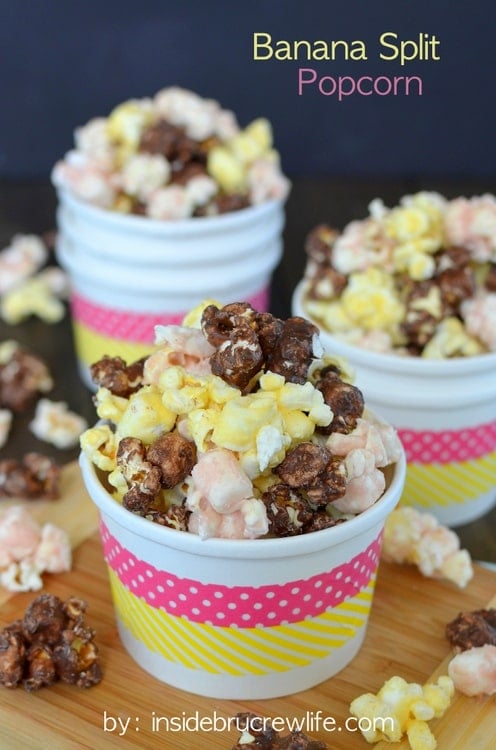 Chocolate, strawberry, and banana chocolate covered popcorn in one delicious snack mix.
Ingredients
12 cups fresh popped popcorn, divided and seeds removed
1 1/2 cups miniature marshmallows, divided
8 ounces white CandiQuik, divided
1 1/2 Tablespoons instant banana pudding mix (the dry mix)
yellow gel food coloring, optional
1 1/2 Tablespoons dry strawberry Jello mix
4 ounces chocolate CandiQuik
Instructions
Add 4 cups of popcorn and 1/2 cup marshmallows to 3 bowls.
Place 4 ounces white CandiQuik in a microwave safe bowl. Heat for 1 minute. Stir and heat for 20 seconds more. Stir until creamy. Add the dry banana pudding mix and stir until completely mixed in. Use a toothpick to add a small bit of yellow food coloring, if desired. Stir in. Pour over the popcorn in one bowl. Stir until the popcorn is coated. Pour onto a pan that has been lined with wax paper. Let set.
Repeat with the remaining white CandiQuik and strawberry Jello mix. Pour over popcorn in another bowl. Stir until coated and pour onto another wax paper lined tray. Let set.
Place the chocolate CandiQuik in a bowl and heat until melted and smooth. Pour over the last popcorn bowl. Stir until coated, then pour onto a wax paper lined tray. Let set.
Break apart all three flavors into chunks, then place in a large bowl and stir together. Store tightly covered on the counter.
https://insidebrucrewlife.com/banana-split-popcorn/
Copyright Inside BruCrew Life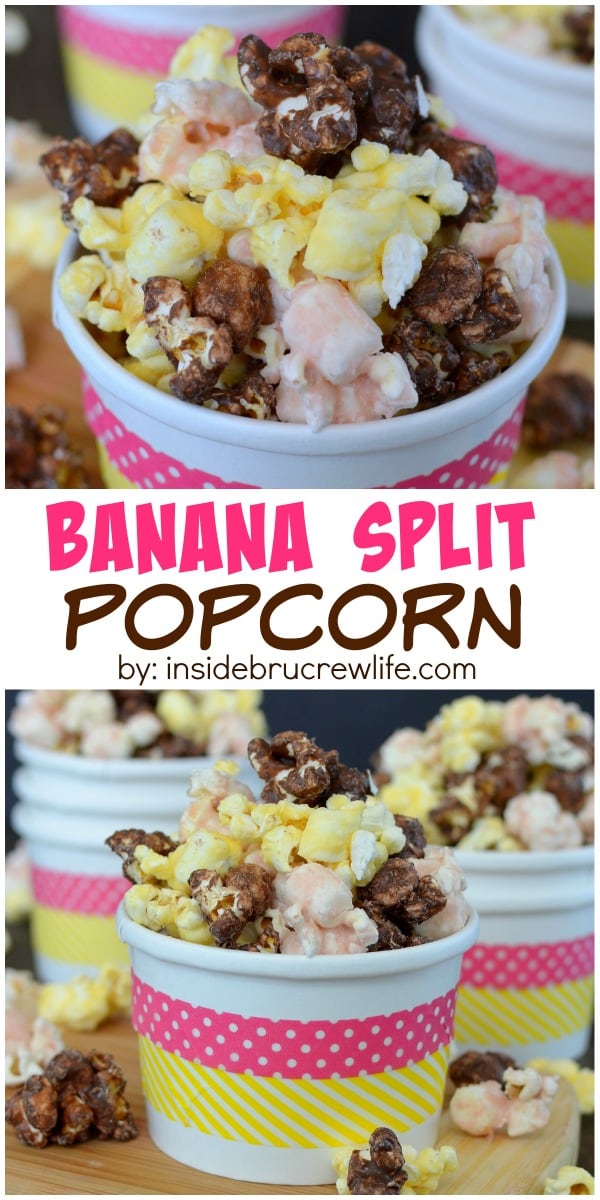 More fun ways to make chocolate covered popcorn more fun: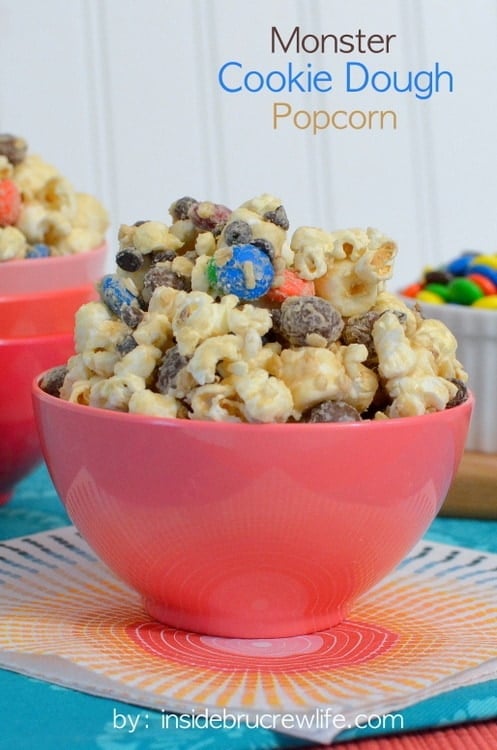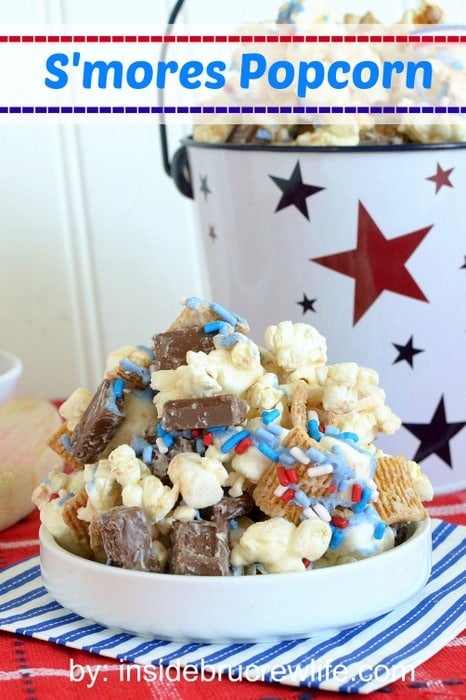 S'mores Popcorn