Strawberry, banana, and chocolate will make this Banana Split Popcorn your new favorite way to eat chocolate covered popcorn. Great snack mix to make and eat for movie or game nights.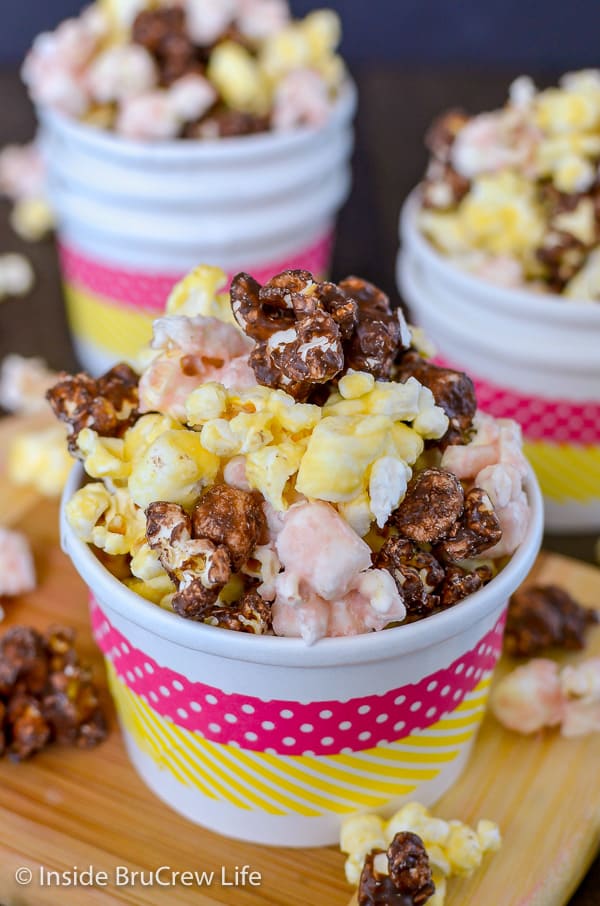 CLICK HERE TO PIN THIS RECIPE FOR LATER!
Now that summer is upon us, all I can think about are banana splits. That's normal, right? Hot summer days and ice cream go together just like peanut butter and jelly.
Since my shorts really don't want me eating bowls of ice cream every day this summer, I started thinking of some new ways to incorporate the banana split flavors into dessert.
This Banana Split Bundt Cake and these Banana Split Cheesecake Rolls were the first two things I made. Then it got really hot, and I decided a few no bake desserts would be fun to make too.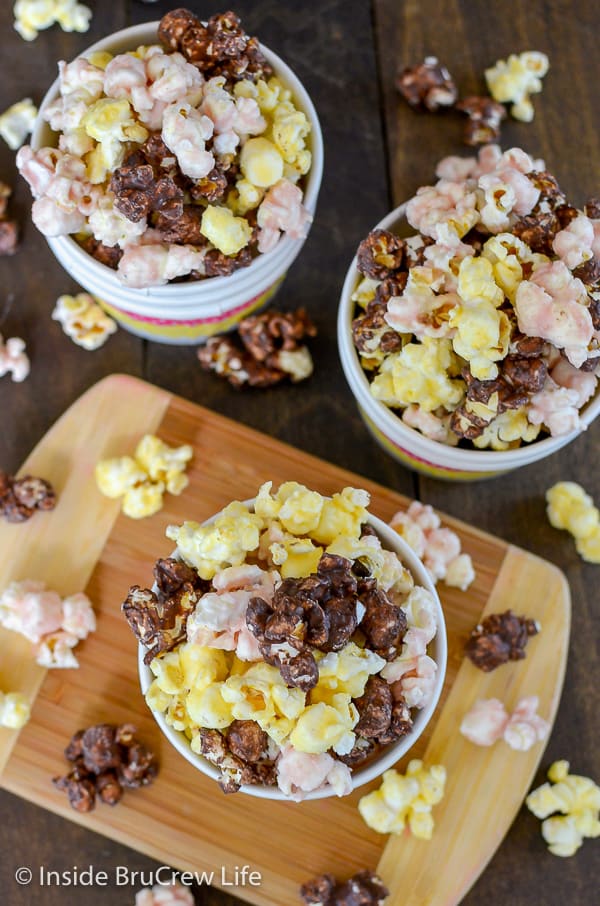 This chocolate covered popcorn and this No Bake Banana Split Oreo Dessert are so easy to make. Both are the perfect summer dessert when it is too hot outside to bake.
The best part about this sweet and salty snack mix is that you probably have most of the ingredients in your pantry, and it can be made in about 15 minutes.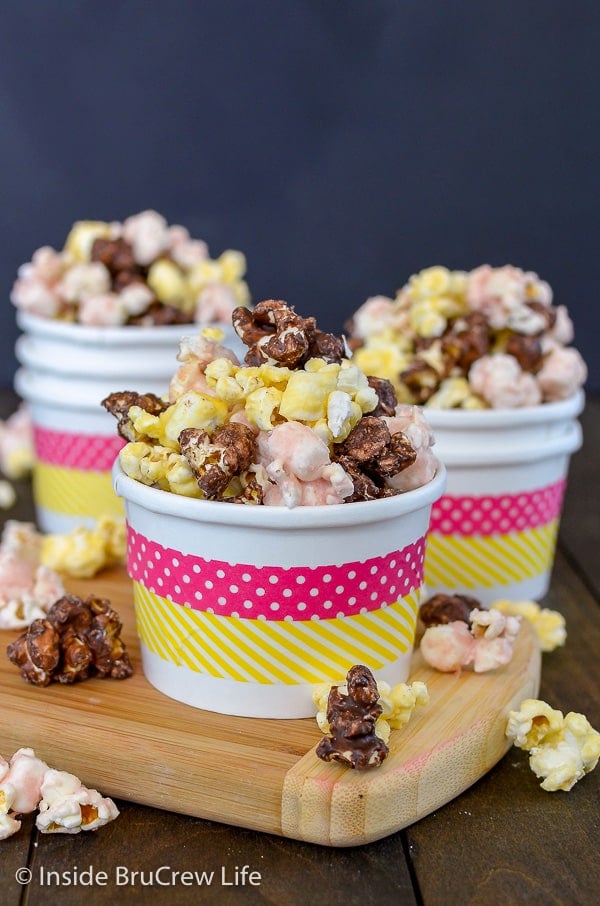 I like to use the Ghirardelli white and chocolate melts when I make chocolate covered popcorn because I think they taste the best.
You can also use chocolate chips or Almond Bark, if that's what you have on hand, or if it is all you can find.
How to make Banana Split Popcorn:
Divide the popped popcorn and marshmallows evenly in three bowls. (full recipe at bottom of post)
Melt the white chocolate melts and stir in the dry banana pudding mix.
Pour the melted chocolate into one bowl of popcorn and stir until coated. Spread out on a wax paper lined tray and let set.
Melt more white chocolate and stir in the dry strawberry Jello mix. Pour over one bowl of popcorn and stir until coated. Spread on another wax paper lined tray.
Melt the chocolate melts and pour over the last bowl of popcorn. Stir until coated and spread on a tray.
Once all three chocolate covered popcorns are set, break apart into chunks and mix together in a big bowl.
Recipe Tips:
The pudding mix and Jello does not dissolve all the way into the melted chocolate. The chocolate will have a slight grainy texture, but when it dries on the popcorn you will not even notice it. I promise!
You can also add some yellow gel food coloring to make your banana flavored white chocolate more banana colored if you like. Make sure you only use GEL food color though. If you use liquid food coloring it will make your chocolate seize and harden.
Store the popcorn in a tightly sealed container or bag for a few days. It really is best the day you make it, as it will start to get softer the longer it sits.
This Banana Split Popcorn is great for gift giving or munching on at all hours of the day. It also makes a delicious midnight snack when you are editing pictures. Not that I would ever do that. Wink, wink!!!

More chocolate covered popcorn recipes you may like:
Other banana split desserts: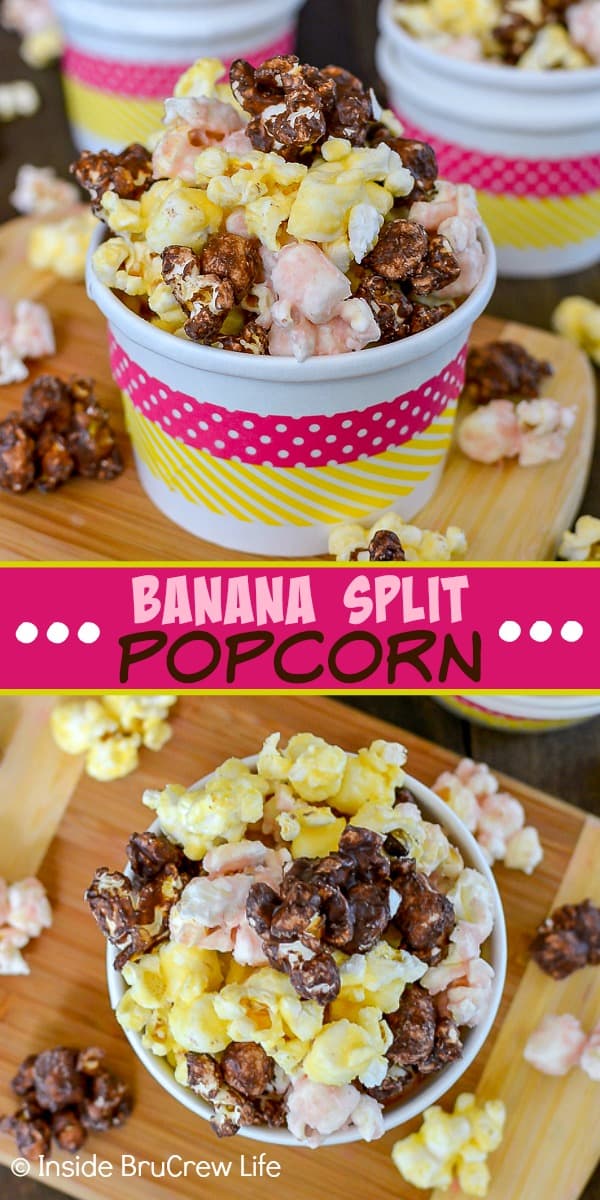 *The post for Banana Split Popcorn was first published July 1, 2013. The photos and post were updated and republished June 23, 2020.