Layers of ice cream, cookies, and fudge make this Vanilla Mint Chip Ice Cream Cake a fun treat to share on a hot summer day.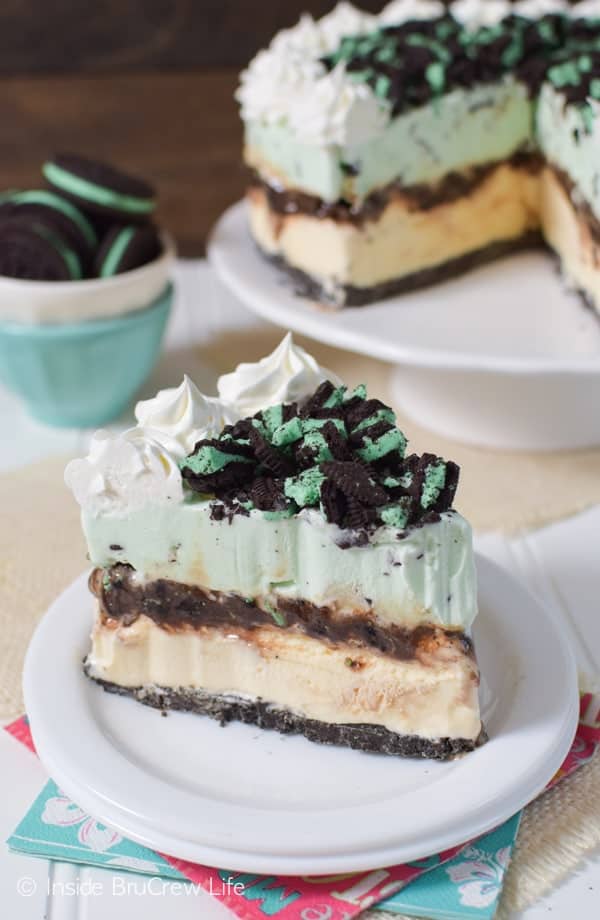 Summer finally found us this weekend. We went from 60 degrees and wearing pants to 80 degrees and wearing shorts.
A friend invited us over to do some swimming and chatting, and we got a little sun burn from just a few hours in sun and clouds. Woo hoo! It finally feels like summer! We even had some humidity on Sunday. That I can do without. Curly hair and humidity are not friends.
One thing that we go through a lot of in hot weather is ice cream. I try to keep a few different flavors hidden in our freezer for those hot days, 0r for when I want to create a fun frozen treat or milkshake for dessert.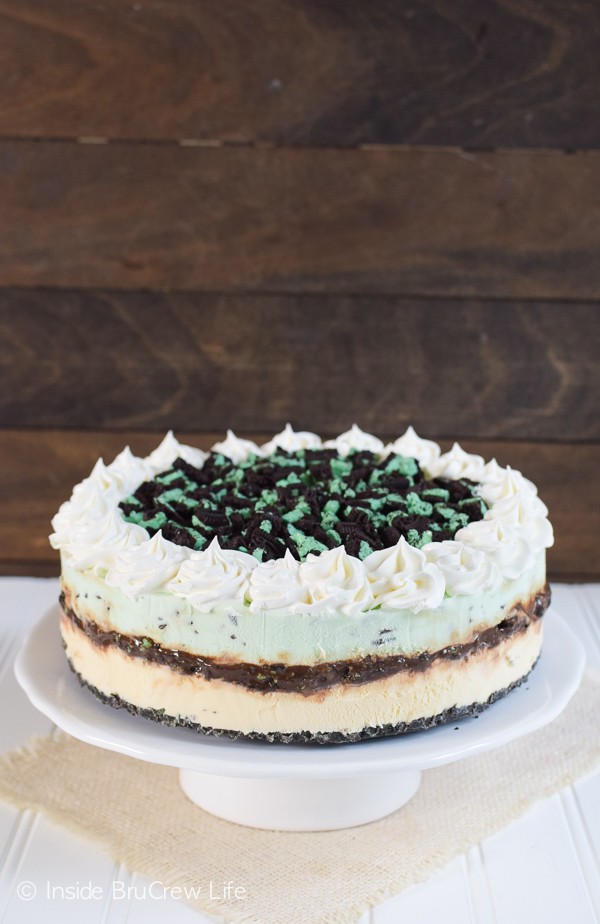 The other day I was talking with friends about hiding food from our kids, so they don't devour everything in sight. We all said that the kids have figured out our hiding spots, so it is time to find some new spots.
One of my friends suggested hiding treats inside other containers. Just think about it!
You know those big bag of green beans at Sam's Club? Save that giant plastic bag for ice cream containers that you want to stay hidden a little bit longer. The kids will just think you bought more green beans. Sneaky, sneaky!
Or save the boxes that garbage bags come in for those cookies and candies in the cupboards! This is going to be a whole new game changer for my baking cupboard! Mwhahahaha!
I can't wait to hide all the sweets! Except that I will probably forget where I hid everything and end up buying more.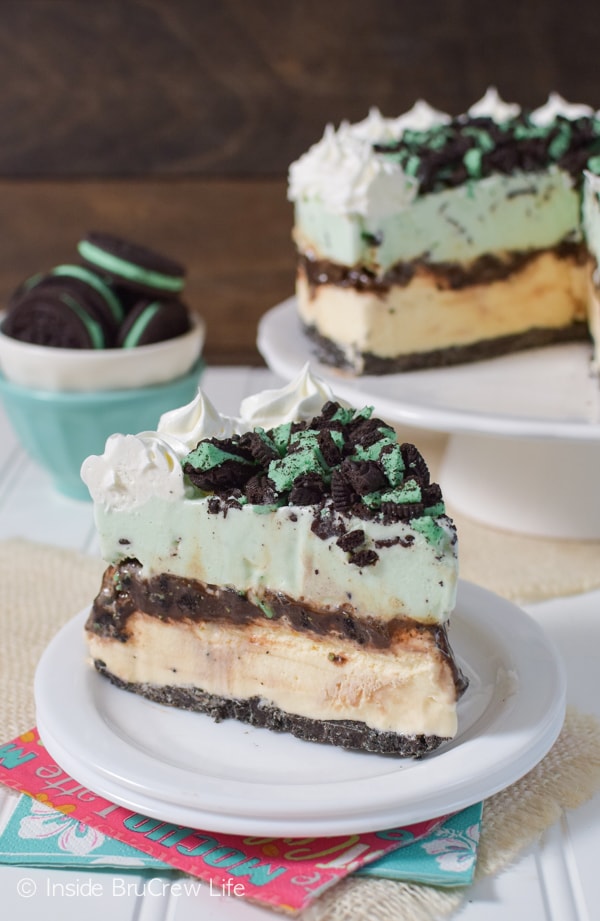 Thankfully, our kids are really good about not taking food without asking first. They know that their mom is a psycho baker who likes to sugar coat sugar.
When I bought the ice cream for this homemade ice cream cake, I made sure all three of them knew I had plans for it. Our daughter always asks for mint treats on her birthday, and this year was no exception. She wanted mint chip ice cream and mint cookies in her ice cream birthday cake.
How to make an Ice Cream Cake:
Combine cookie crumbs and melted butter. Press into bottom of wax paper lined springform pan. (full recipe at bottom of post)
Set the vanilla ice cream out on the counter for 20 minutes. Stir until smooth but still frozen.
Spread on top of crust and freeze for 30 minutes.
Stir together cookie chunks and hot fudge. Spread on top of vanilla ice cream and freeze for another 30 minutes.
Repeat with the mint ice cream and freeze the ice cream cake for 8 hours or overnight.
Top with whipped cream and mint Oreo cookie chunks before serving.
How to store a Vanilla Mint Chip Ice Cream Cake:
Make sure you have enough freezer space for the springform pan before you start putting it together.
Cover the top tightly with tin foil and freeze 8 hours or overnight.
Once it is completely frozen, cut into slices and place in a freezer safe container that is tall enough to hold the cake.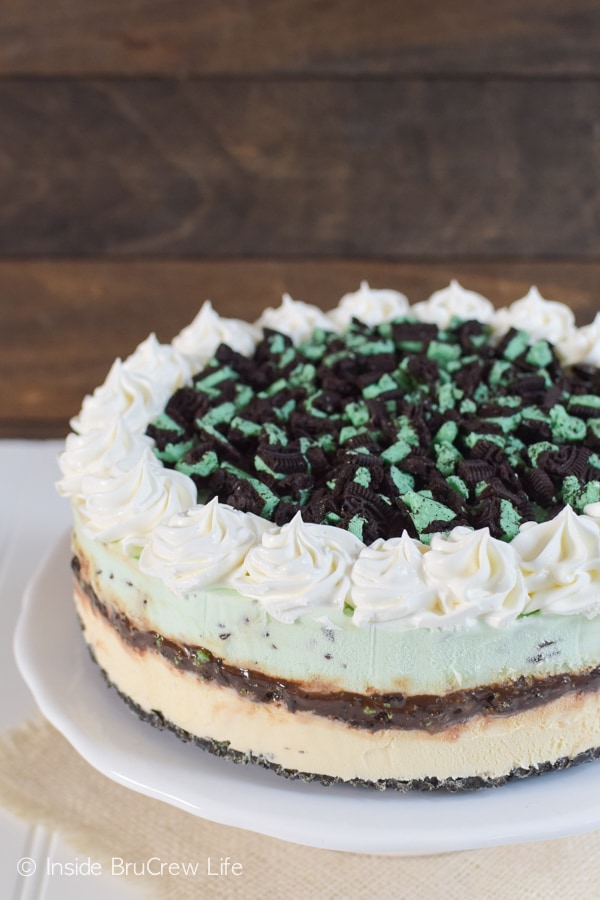 More fun ice cream recipes: