Layers of creamy mint cheesecake and a soft chewy brownie will make this Thin Mint Cheesecake Brownie Cake your new favorite dessert to share with friends. If you can…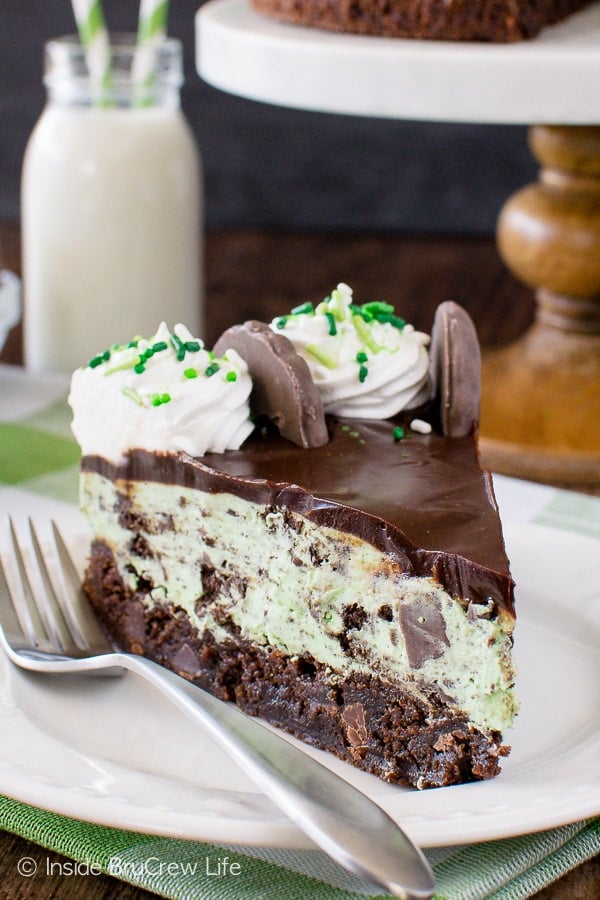 It is officially cookie season. Yes, I realize that we just technically left cookie season behind. I'm not talking about holiday cookies though.
It's that time of year when those cute girls come up to you with those big eyes and ask you to spend all your hard earned cash on tiny little boxes of cookies. You know what I'm talking about, right?
Those sweet smiles and big eyes get me. I mean, how do you say no to that?
Yesterday, I had a few girls ask at church. Not gonna lie. It was easy to say no because I had already purchased a few boxes earlier that week. The table of girls at the grocery store was easy to avoid too. Just keep your head down and bolt for the open grocery store door. Check and check.
There is one other family at church with a little brown haired girl that is selling cookies. I'm telling you, if she asks, I'm going to be a goner because she is such a cutie.
Lucky for me (and my wallet) I got through another Sunday without seeing her cute little eyes. I guess that is one of the benefits about helping in one of the nursery classes. By the time I get out of there, everyone has already left the building. Hooray! My wallet is safe for one more day…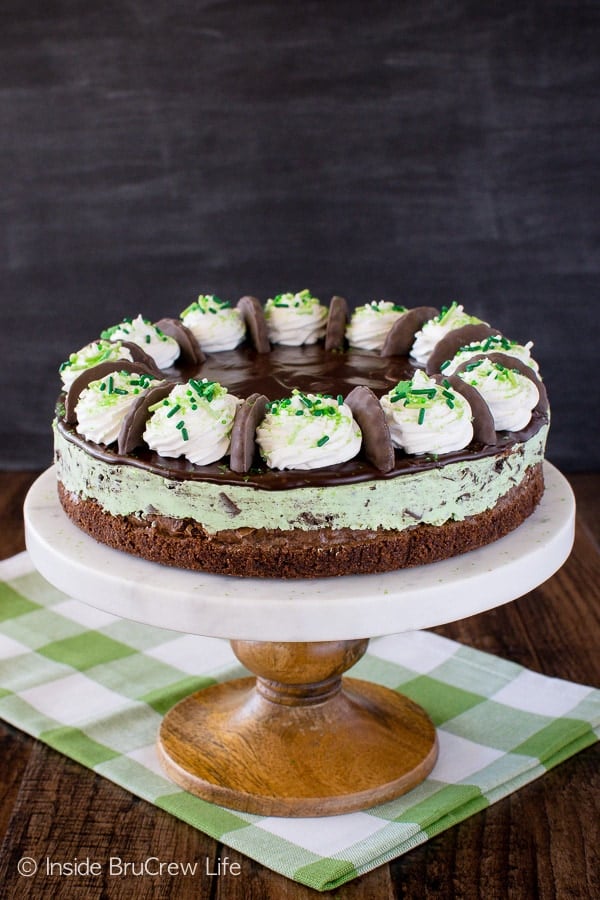 Do you have a favorite girl scout cookie? Over the years of trying them, I have to say the mint and caramel are still my top two favorites.
The peanut butter is a very close second because chocolate and peanut butter will just always be a favorite. Thank goodness they are only sold for a few weeks out of the year.
Although, now most cookie companies have capitalized on these flavors and sell knock-offs all year long. That's not good for my wallet…or my thighs.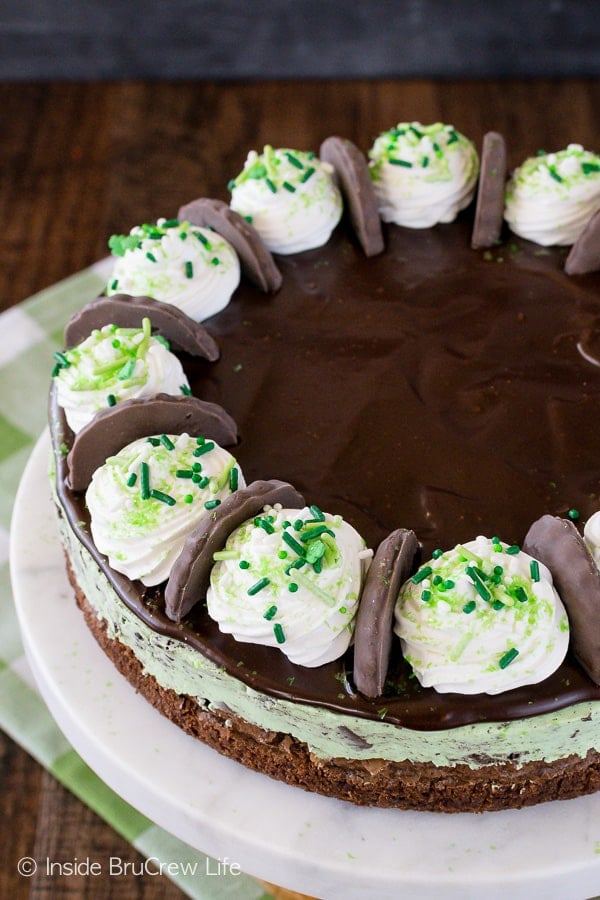 One year I even made these Homemade Samoa Bars. It's even harder to avoid the cookie temptations when you have a big pan of goodness on your own counter.
A few years ago I made this Andes Mint Cheesecake Brownie Pie, so I decided to make another version. This time around I went with a pretty layered cake that would show off the layers of homemade brownies and creamy no bake thin mint cheesecake.
Do mint desserts taste like toothpaste?
They really do NOT taste like toothpaste if you limit the amount of mint extract in a recipe. Mixing it with vanilla also helps.
Although, let's talk about mint extract for just a minute. Some people are much more aware of the flavor, so they think mint desserts tastes like toothpaste. Then there are others of us who can handle our mint consumption, so we do not think that way.
It's the same issue with cilantro. I know people who think it tastes like soap, so they cannot eat it.
What it actually comes down to is a genetic issue. Basically the olfactory gene in some people makes them perceive tastes differently. So, unfortunately if you have this gene, yes, any mint dessert will taste like toothpaste. If you have a good gene, mint desserts will taste amazing to you!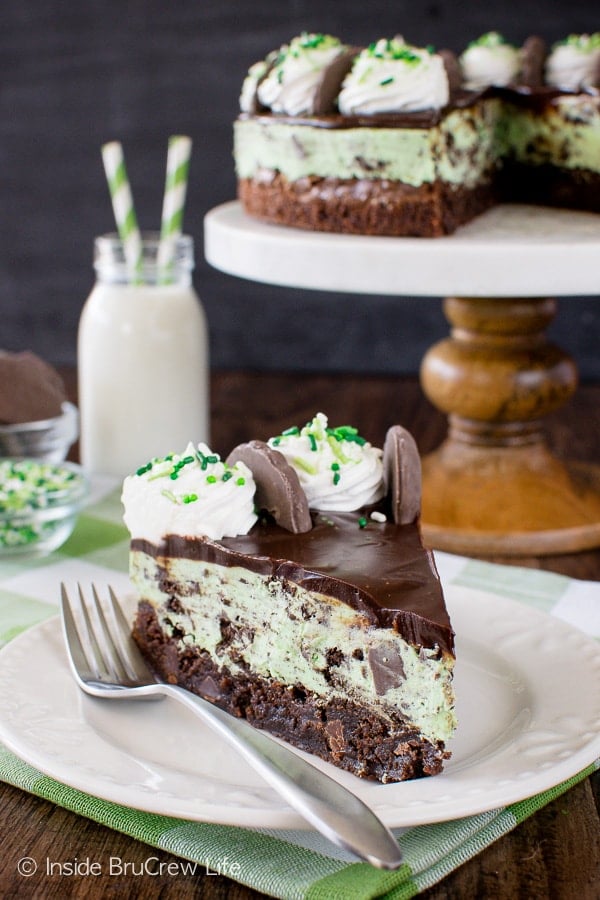 How to make a Thin Mint Cheesecake Brownie Cake:
Line a 9-inch springform pan with parchment paper because this will make it easier to remove it later. Make sure to spray the sides of the pan with nonstick baking spray before you spread the brownie batter in it.
Bake the brownie for 25 minutes. Do not over bake it because you want it to be soft and chewy. Let it cool completely.
Unlatch the sides of the pan. You may need to use a knife to gently loosen the brownie from the sides. Lift it out and flip it over on a plate, so you can remove the parchment paper. Place it back on the bottom of the springform pan and put the sides back on.
Beat the cream cheese, sugar, and extracts until creamy. Add some Cool Whip and mix it again.
Use some green gel food coloring to tint the cheesecake a pretty mint green. Chop up 15 mint cookies and stir them into the cheesecake.
Spread the no bake cheesecake on top of the cooled brownie. Refrigerate the cake for at least an hour to let it set up.
Run a knife under hot water and dry it off. Use it to run around the edge of the pan and cheesecake, so it comes out easier. Unlatch the pan and lift it out.
Stir together chocolate chips and warm heavy whipping cream to make the chocolate topping. Let it cool slightly before spreading it on top.
Use an angled spatula to spread the chocolate out. Feel free to push over the edges if you want drips of chocolate going down the sides.
Add your cookie decorations before the chocolate sets up completely. Fill in around them with Cool Whip and sprinkles.
Now find some mint loving friends to share this Thin Mint Cheesecake Brownie Cake with before you eat all of it. Believe me, it's a real struggle.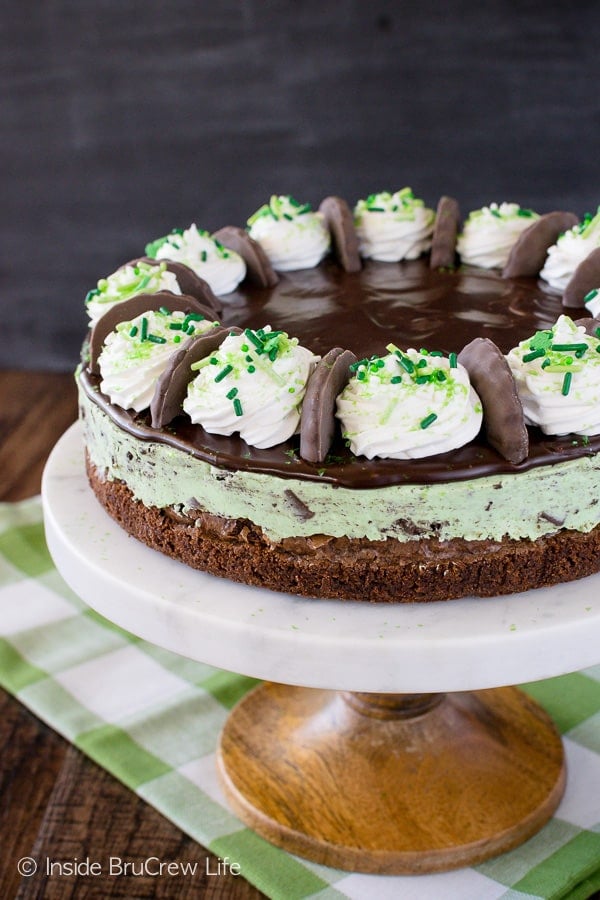 Can I use whipped cream instead of Cool Whip?
Yes, you can use a homemade stabilized whipped cream in this recipe. It needs to be stabilized in order for it to hold up though. I recommend beating 2 cups heavy whipping cream plus 1/2 cup powdered sugar to make enough whipped cream for this recipe.
What if I do not have a springform pan?
Bake the brownie in an 8×8 pan and add the rest of the layers on top of that. The baking time will be 25-28 minutes for that size pan.
You can also bake this in an 8-inch springform pan. Baking time would be 30 minutes.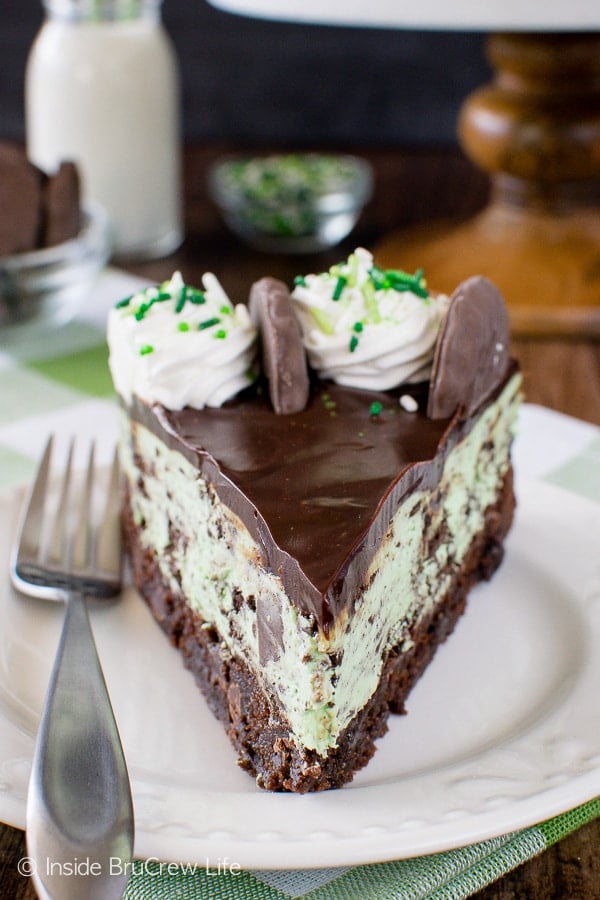 Other mint desserts you may like:
Connect more with Inside BruCrew Life! Follow us on social media, so you never miss a post.
Email Subscription | Facebook | Pinterest | Twitter | Bloglovin
I also created a fun new Facebook group, and I would love for you to join. It's a group where you can share your favorite recipes, ask questions, share photos, and see what's new with the BruCrew. If you would like to check it out, you can request to join HERE.
Be sure to follow me on Instagram and tag #brucrewlifebaking, so I can see all the Inside BruCrew Life recipes you are making.
CLICK HERE TO SAVE THIS RECIPE FOR LATER!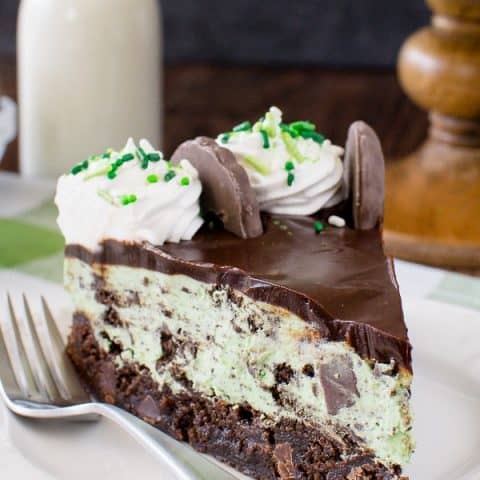 Thin Mint Cheesecake Brownie Cake
Yield:
1 - 9 inch brownie cake/14 slices
Layers of creamy cheesecake and a soft chewy brownie make this Thin Mint Cheesecake Brownie Cake your new favorite dessert to share with friends.
Ingredients
For the Brownie Layer
1/2 cup melted unsalted butter
1/4 cup dark cocoa powder
2 large eggs
1 cup granulated sugar
1 teaspoon vanilla extract
1/2 teaspoon salt
3/4 cup all purpose flour
1/4 teaspoon baking powder
3/4 cup chocolate chunks
For the Cheesecake Layer
1 (8 ounce) cream cheese, softened
1/2 cup powdered sugar
1/2 teaspoon mint extract
1/2 teaspoon vanilla extract
1 (8 ounce) container Cool Whip, thawed & divided
green gel food coloring
21 chocolate mint cookies, divided
For the Topping
1/2 cup chocolate chips
1/4 cup heavy whipping cream
green sprinkles
Instructions
Preheat the oven to 350 degrees. Line an 9-inch springform pan with parchment paper. Spray the sides with nonstick baking spray.
Stir together the melted butter and cocoa powder. Set aside.
Beat the sugar, eggs, and vanilla. Mix in the butter mixture.
Add the flour, salt, and baking powder and mix until just mixed in. Stir in the chocolate chunks gently.
Spread the brownie batter iin the bottom of the prepared pan. Bake for 25 minutes. Remove from the oven and let cool completely.
Unlatch the pan and run a knife around the edges. Flip the brownie over and pull the parchment paper off.
Place the brownie back on the bottom of the springform pan and latch the sides on again.
Beat the cream cheese and sugar until creamy. Add the mint and vanilla extract and beat again.
Fold in 2 cups of Cool Whip gently. Add green gel color and mix in until you get your desired green color.
Chop up 15 of the mint cookies and gently stir them into the cheesecake mixture. Spread the cheesecake on top of the cooled brownie. Refrigerate for at least one hour before removing the sides of the springform pan.
Place the chocolate chips and heavy whipping cream in a microwave safe bowl. Heat for 30 seconds. Stir until melted and creamy. Let cool for a few minutes before spreading it evenly on top of the cheesecake.
Cut the remaining cookies in half and place them evenly around the top of the cheesecake edge.
Use a piping bag and icing tip #18 to pipe the remaining Cool Whip in between the cookies. Top with sprinkles.
Notes
*You can use a stabilized whipped cream in place of the Cool Whip, if you prefer. I recommend beating 2 cups heavy cream with 1/2 cup powdered sugar to make enough for this recipe.
Recommended Products
As an Amazon Associate and member of other affiliate programs, I earn from qualifying purchases.
Nutrition Information:
Yield:

14
Serving Size:

1
Amount Per Serving:
Calories:

326
Total Fat:

17g
Saturated Fat:

10g
Trans Fat:

0g
Unsaturated Fat:

6g
Cholesterol:

54mg
Sodium:

131mg
Carbohydrates:

40g
Fiber:

1g
Sugar:

32g
Protein:

4g
Nutrition facts are an estimate and are not guaranteed to be accurate. If you need special diet advice, please see a registered dietician.