Thin mint lovers! Be prepared to be amazed at this dessert. Layers of creamy mint cheesecake and a chewy brownie crust makes this Thin Mint Cheesecake a delicious and fancy dessert for any occasion.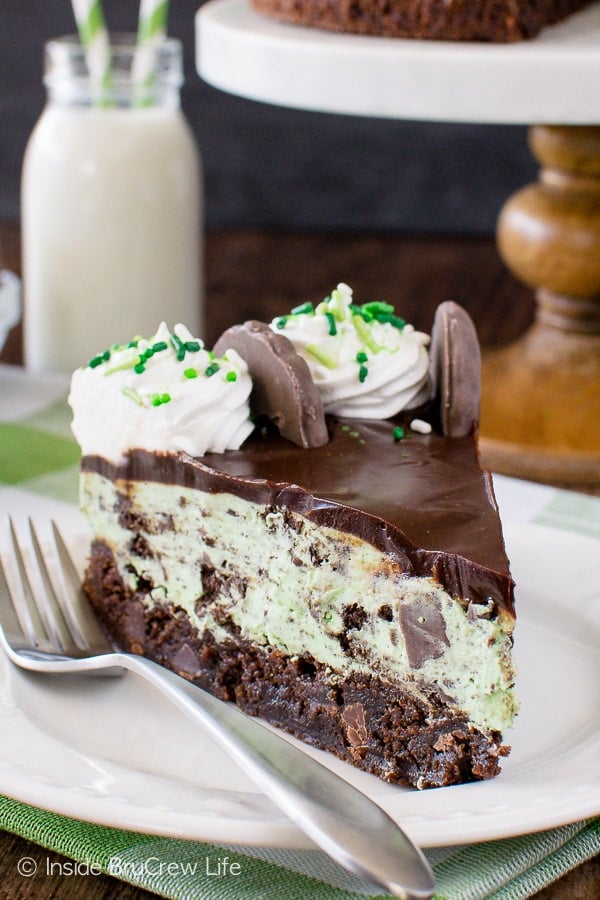 Do you have a favorite girl scout cookie? Thin mints and caramel delights are two of my favorites. Thank goodness they are only sold for a few weeks out of the year.
Thin Mints are one of the most popular Girl Scout cookies, so I wanted to make a dessert that would do them justice.
This cake has layers of creamy mint cheesecake loaded with mint cookies on a brownie crust. It is the perfect combination of two classic desserts.
Why This Recipe Works
Making a brownie cake from scratch can be intimidating, but it's actually easier than you think. Plus, you can change up the cookies and flavoring in the cheesecake layer based on your mood or the event.
Our thin mint cheesecake is the perfect dessert. It's easy to make and includes layers of mint cheesecake and a chewy brownie crust.
Serve this cheesecake brownie recipe at your next party and watch it disappear in minutes. Not only is it delicious, but it is fancy enough for any occasion. Your guests will be amazed at your baking skills.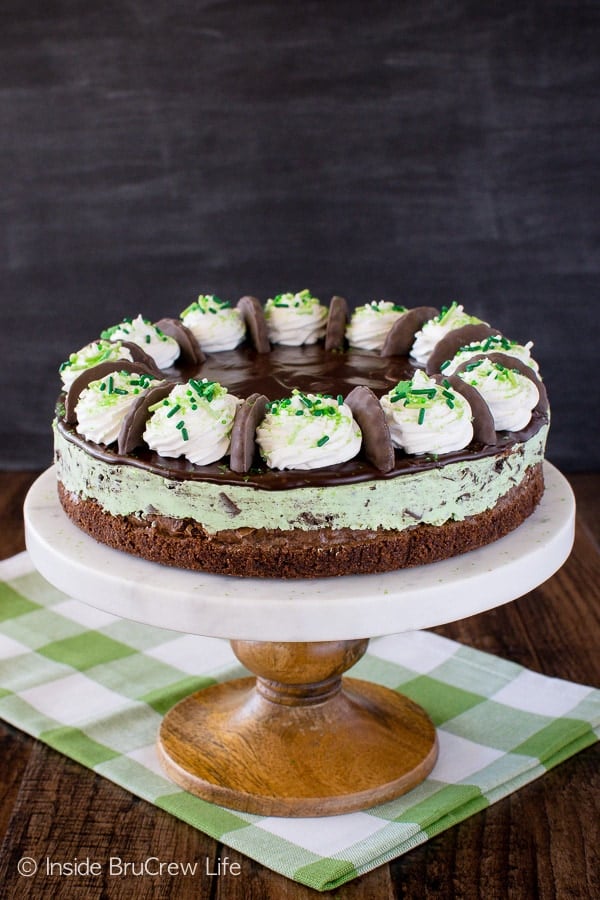 What You Need
You can make this fancy Girl Scout cookie cheesecake using just a few simple pantry ingredients. The recipe can be made in an 8x8 pan or 9 inch springform pan.
Brownies - We love using this homemade chocolate chip brownie recipe for all our desserts, but you can also use a 8x8 box brownie mix if you want to save time.
Cream Cheese - You will need one block of full fat cream cheese. Set it out ahead of time, so it mixes together easier.
Powdered Sugar - Sweetens the no bake cheesecake filling.
Extract - The combination of mint extract and vanilla extract gives you the perfect mint flavor without tasting like toothpaste.
Cool Whip - You will use one thawed container of the whipped topping. You can also make a double batch of this homemade whipped topping, if you prefer that instead.
Mint Cookies - Any chocolate mint cookie will work. Feel free to use Thin Mints, Keebler Grasshoppers, or Mint Oreos.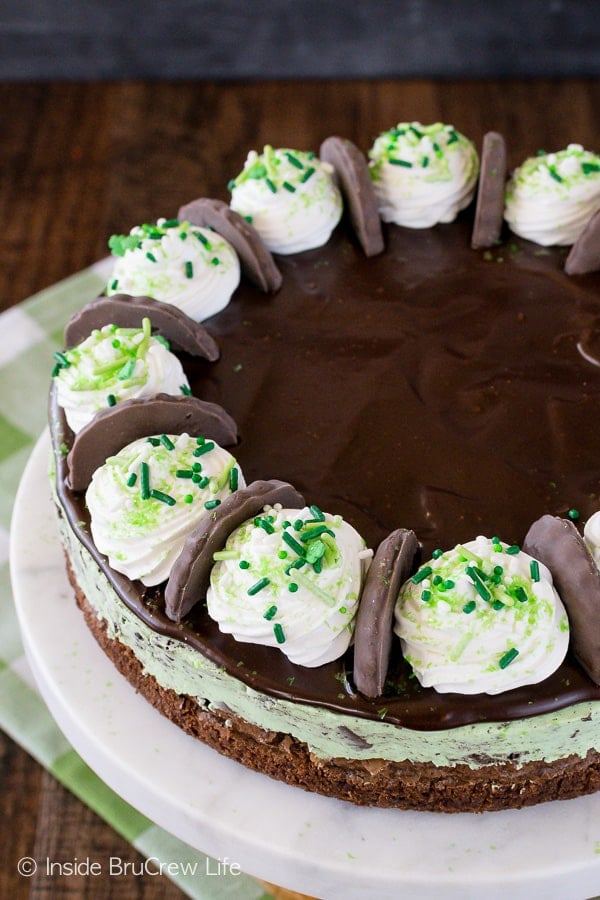 How to make a Thin Mint Cheesecake
Follow our simple recipe and in just a few steps you will have this amazing thin mint cheesecake brownie cake ready to enjoy.
Prep the pan. Line a 9-inch springform pan with parchment paper. Make sure to spray the sides of the pan with nonstick baking spray before you spread the brownie batter in it.
Make the brownie crust. Mix the brownie batter in a large bowl and spread in prepared pan. Bake for 25 minutes. Let it cool completely.
Unlatch the sides of the pan. Use a knife to gently loosen the brownie from the sides. Lift it out and remove the parchment paper. Place it back on the bottom of the springform pan and put the sides back on.
Make no bake cheesecake filling. Beat the room temperature cream cheese, sugar, and extracts until creamy. Stir in Cool Whip gently. Add green gel food coloring to tint the cheesecake a mint green.
Add the cookies. Chop up 15 mint cookies and stir them into the filling.
Chill the no bake thin mint cheesecake. Spread the cheesecake on top of the cooled brownie. Refrigerate the cake for 1-2 hours to let it set up.
Remove from the pan. Use a knife to loosen the pan and cheesecake, so it comes out easier. Unlatch the pan and lift it out carefully.
Add the chocolate ganache. Stir together chocolate chips and warm heavy whipping cream until it is melted and creamy. Let it cool slightly before spreading it on top. Use an angled spatula to spread the chocolate out.
Decorate and serve. Add cookie pieces before the chocolate sets up completely. Fill in around them with Cool Whip swirls and top with sprinkles.
Storage Recommendations
Keep this brownie cake in an airtight container in the fridge for 3-4 days.
You can also freeze the undecorated cake for up to 1 month. Thaw overnight in the fridge, then add the chocolate ganache and toppings before serving.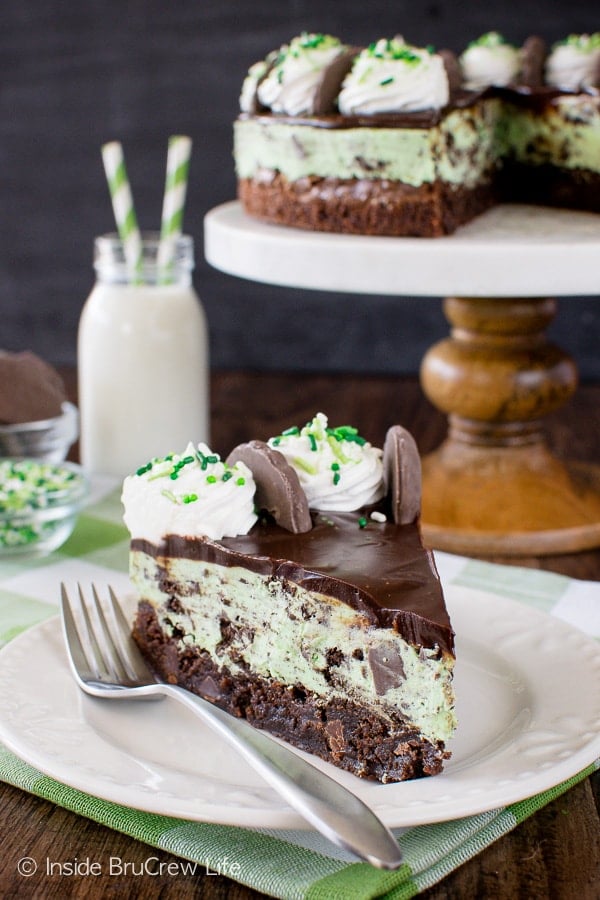 FAQ'S
Can I use whipped cream instead of Cool Whip?
Yes, you can use a homemade stabilized whipped cream in this recipe.
What if I do not have a springform pan?
Bake the brownie in an 8x8 pan and add the rest of the layers on top of that. The baking time will be 25-28 minutes for that size pan.
You can also bake this in an 8-inch springform pan. Baking time would be 30 minutes.
Do mint desserts taste like toothpaste?
Not if you limit the amount of mint extract in a recipe. Mixing it with vanilla also helps to soften the flavor.
Some people are much more aware of the flavor, so they think mint desserts tastes like toothpaste. What it actually comes down to is a genetic issue.
The olfactory gene in some people makes them perceive tastes differently. Unfortunately if you have this gene, mint dessert will taste like toothpaste no matter what. If you have a good gene, mint desserts will taste amazing to you!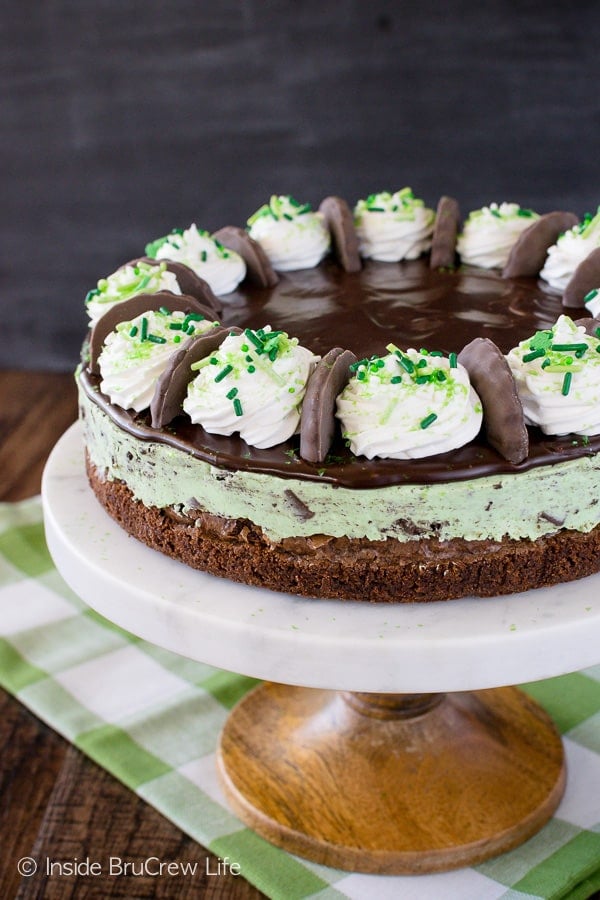 Other Mint Desserts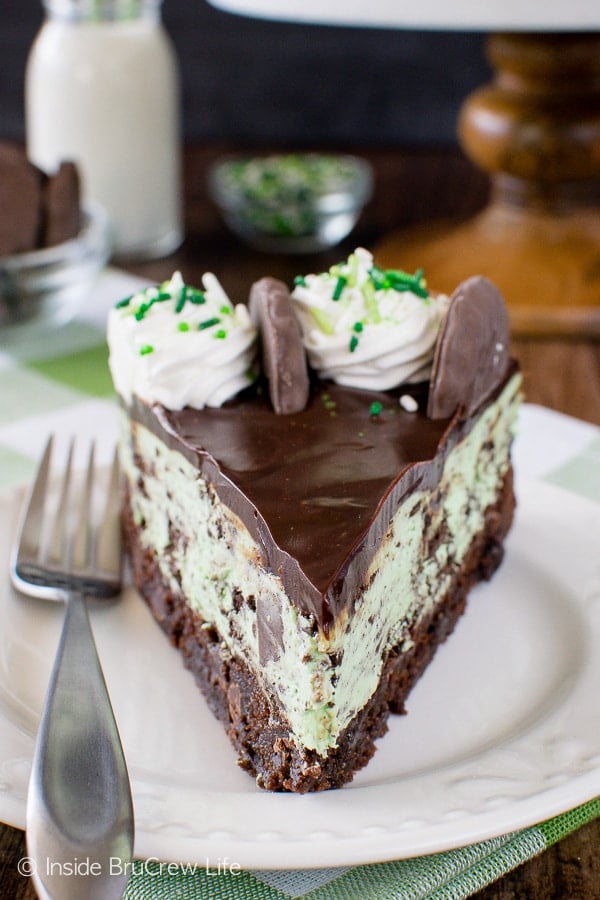 Do you love a recipe you tried from Inside BruCrew Life?
Please leave a 5-star ⭐️ rating and a review in the comments section below.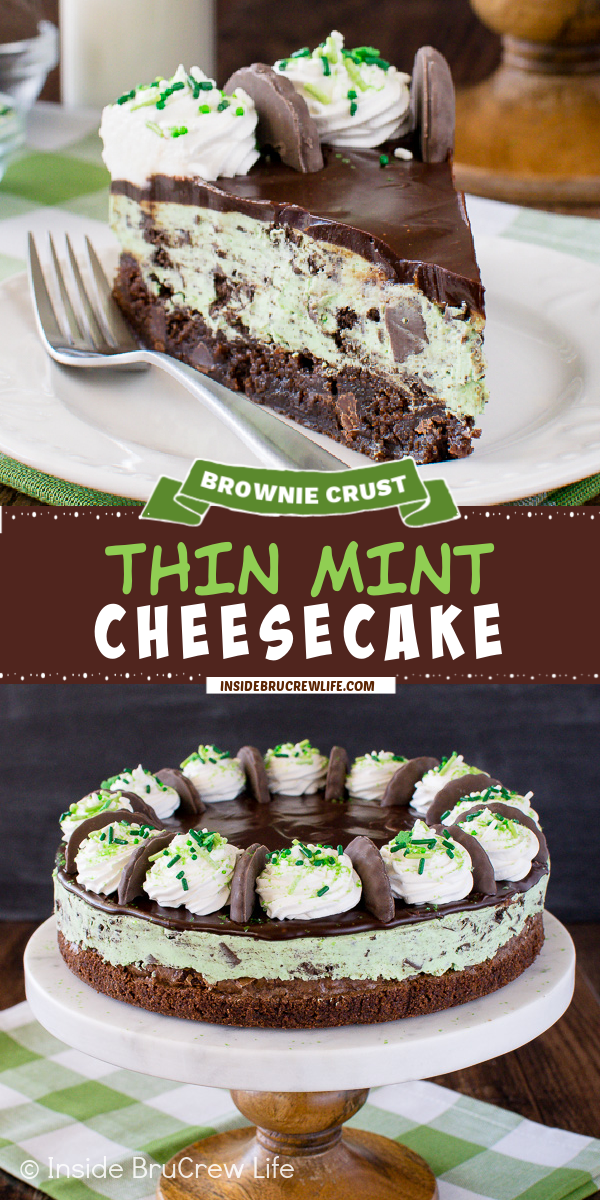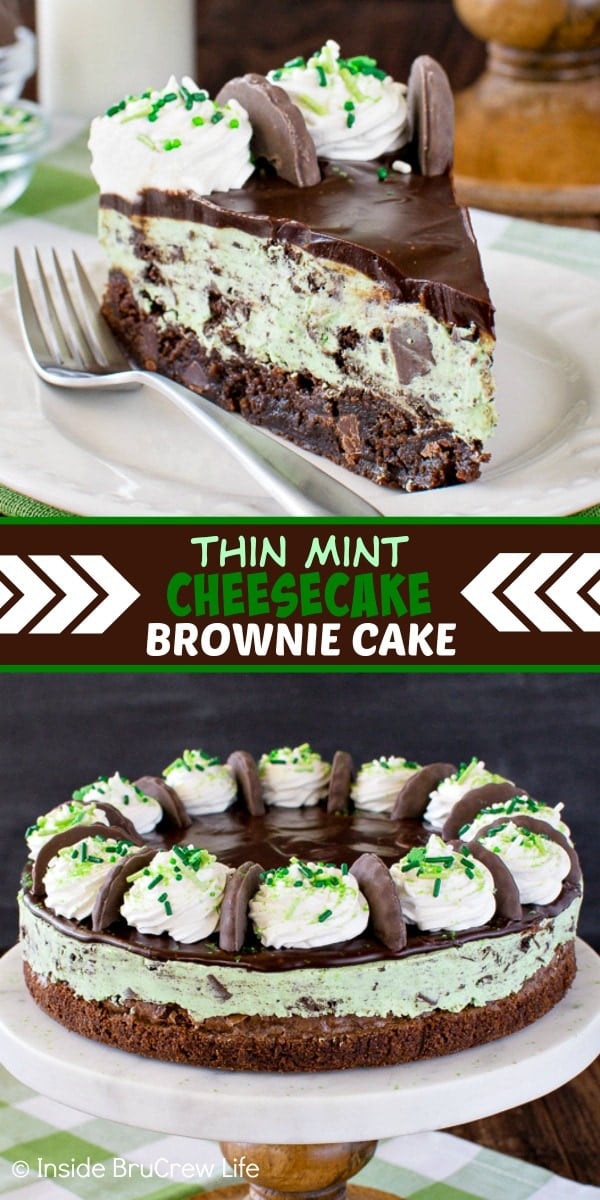 *The post for Thin Mint Cheesecake Brownie Cake was first published January 2017. The post was updated February 2022.