These easy Chocolate Mint Cookies are loaded with three kinds of mint goodness. Such a great treat to fill the cookie jar with this weekend.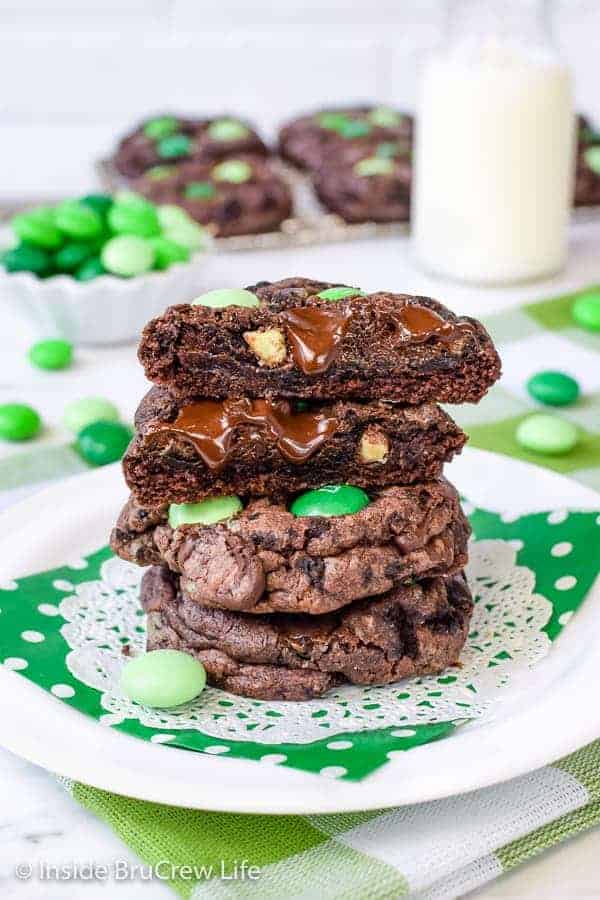 Jump to:
Recently we cleaned out some of the shelves in our pantry. I organized the baking liners, cake baking supplies, and food coloring boxes. Then I pulled out some extra plates and cups we never use while my husband looked through my baking supplies.
It turns out I am a baking supply hoarder because we found boxes and bags of food from 2009, 2012, and 2016 hiding in the bottom of some of the baskets. Yikes!!!
I stopped looking through one of the baskets in the pantry after counting 15 bags of different baking chips. It was easier just to shove it all back in and close the door.
That basket is scheduled for clean out on another day because I don't think I really want to know how many bags of chocolate chips, marshmallows, and candies I have stashed in there.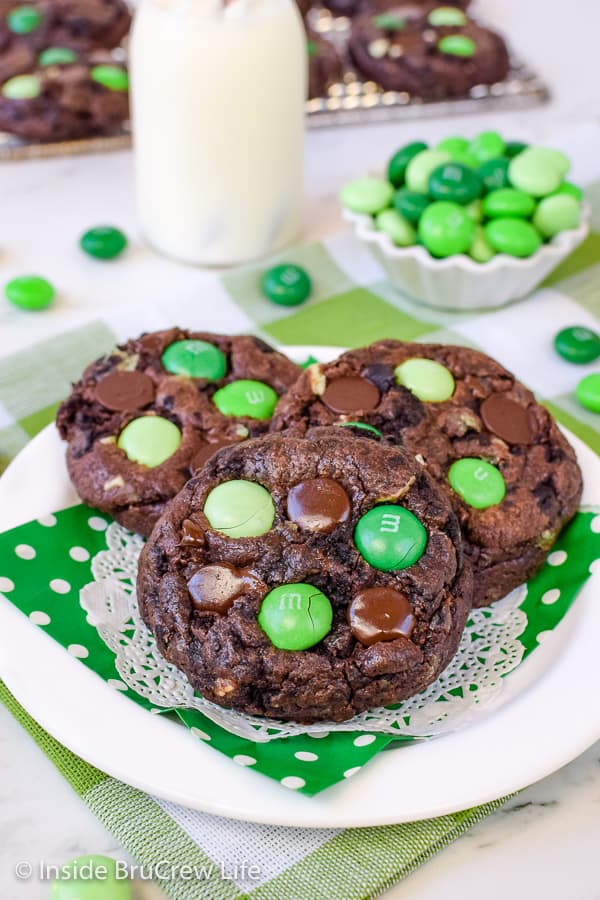 Cake Mix Cookies
These Chocolate Mint Cookies are kind of a cheater because they start with a cake mix. When the doctored up cake mix comes out of the oven, you will not recognize the cake anymore.
This chocolate mint cookie recipe kind of tastes like a deep-fried Oreo when you eat them warm from the oven. They were so super chocolate-y and divine that I was glad I had someone else to give them too.
Cake cookies are prefect for when you need a quick and easy cookie. They bake up very soft and pudgy. You can use any flavor of cake mix to make this easy cake mix cookie recipe.
There is no limit to the mix-ins that you can add to the different cookies. Here are some of my favorite things to add to a cake mix cookie recipe:
Chocolate Chips
Oreos
Peanut Butter Cups
M&M's
Reese's Pieces
Maraschino Cherries
Rolos
Andes Mint Chips
Sprinkles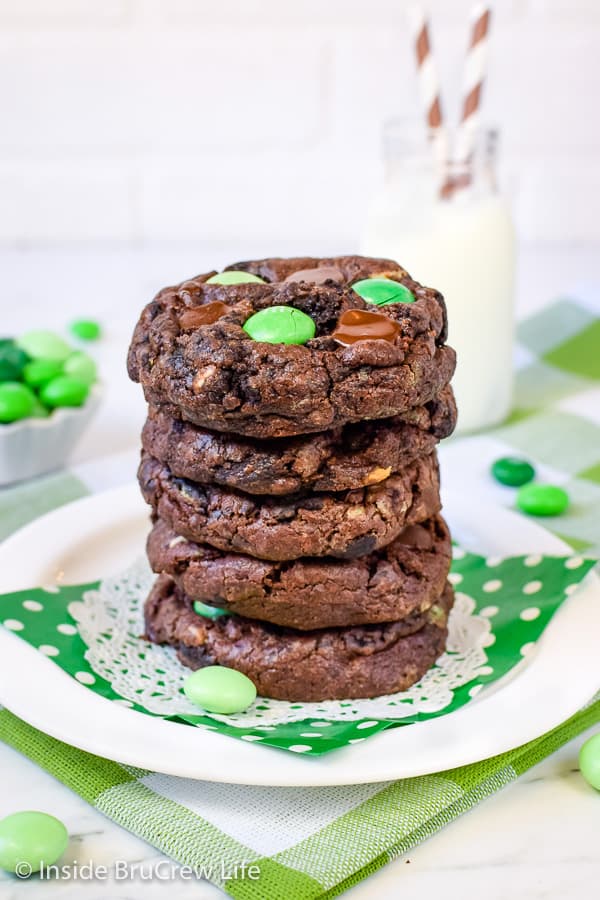 Now I am really hoping that some of you crazy bakers have the same problem as me because you need these Chocolate Mint Cookies in your life. And maybe these Chocolate Candy Cookies and some of these Salted Caramel Brownie Cookies too...
And I am talking like now...as in right this very minute. Don't do another thing today until you have some chocolate cake mix cookies in your oven.
You will thank me later, or you might curse me when you can't button your pants. Either way, you're welcome.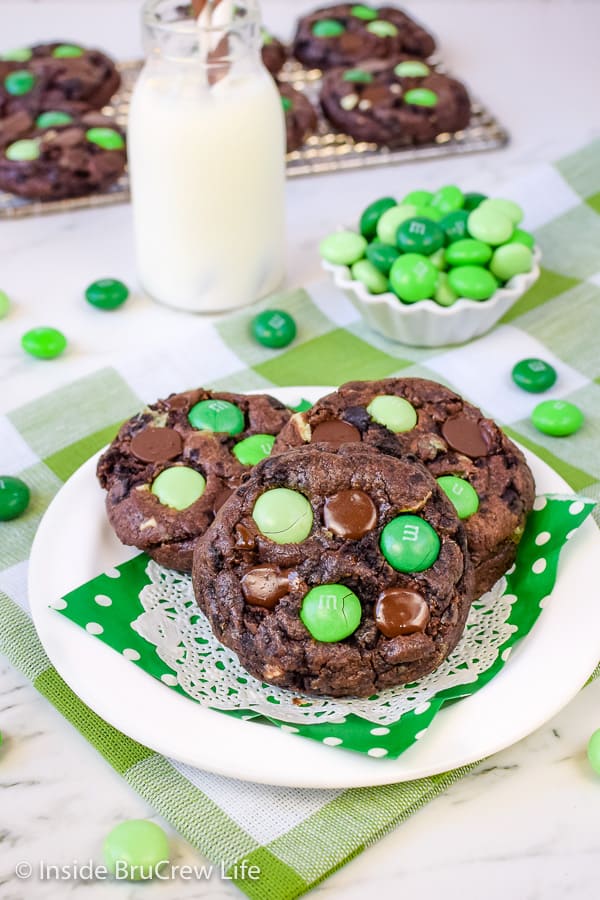 The thought crossed my mind that I should just hide these chocolate mint chip cookies from everyone. But then I remembered that summer and beach weather is headed at us at an alarming rate, and I decided the cookies had to leave immediately.
Thank goodness our son was getting together with some friends and needed a snack to take.
If you make these chocolate cookies, (AND you definitely should) I want you to know that I hold no responsibility for the tight pants that will come from eating way too many Andes mint cookies.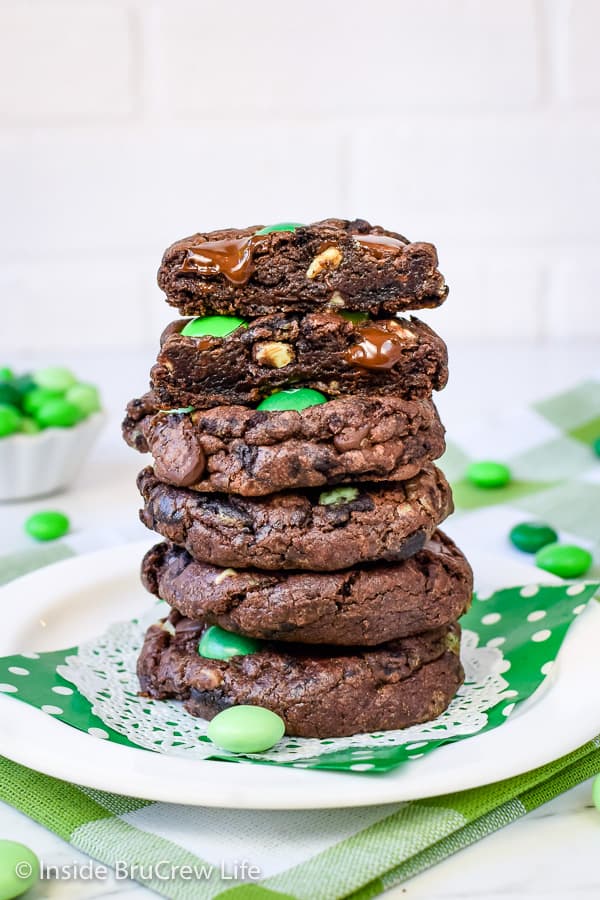 How to make Chocolate Mint Cookies
Mix together the cake mix, butter, egg, vanilla, and cream cheese in a bowl until a soft dough forms.
Stir in Andes mint chips, dark chocolate chips, and chopped up mint Oreos gently.
Refrigerate the dough for at least an hour. I usually make the dough the night before, so it is ready to go the next morning.
Use a cookie scoop or large spoon to divide the dough into 24 even scoops. Roll each one into a ball.
Place the cookie dough balls on a baking sheet and press a few mint M&M's into the top of the cookie. Bake for 10 minutes.
Remove the tray from the oven and let the cookies rest for 2 minutes on the hot cookie tray. Gently remove them from the pan and place on a sheet of parchment or wax paper.
Press a few extra chocolate chips into the top of the warm cookie. Let the cookies cool completely before placing in a tightly sealed container.
Freezing Cake Mix Cookies
Freezing Dough Balls - Place the dough balls on a tray in the freezer. Once they are frozen solid, place them in a freezer bag. Thaw and bake as normal.
Freezing Cookies - You can wrap the cooled baked cookies in plastic wrap or a ziplock bag and place them a larger freezer bag. The cookies should last for at least 3 months.
Remove the cookies from the freezer and let thaw on the counter overnight. Or place each individual cookie in the microwave for 10-20 seconds.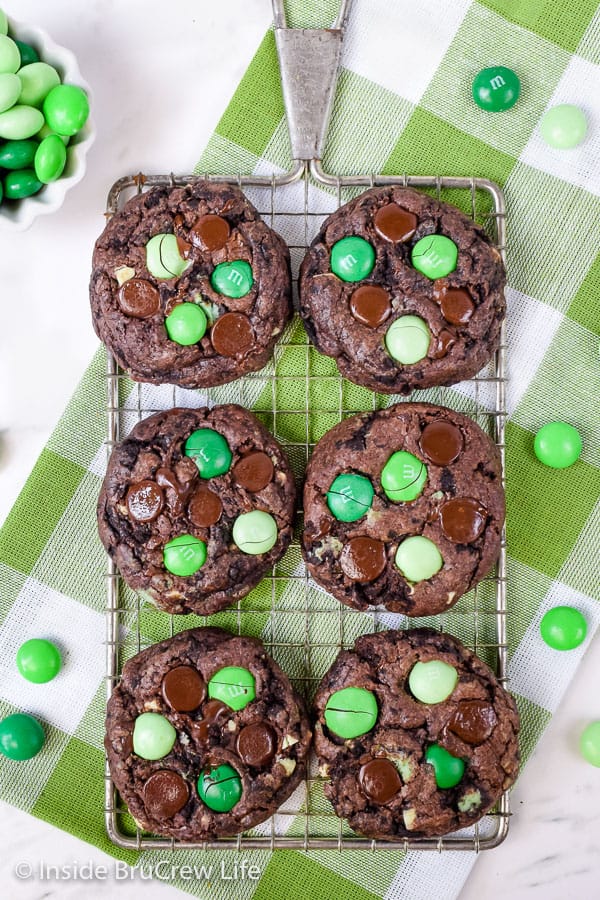 Other easy cake mix cookie recipes
The hidden candy center in these Cinnamon Caramel Cookies will make everyone smile when they find it. Fill your cookie jar with a batch today!
A batch of these Chocolate Reese's Cookies are loaded with Reese's candies and chocolate chips. They never last long in our house.
Sprinkles and M&M's add a fun flair to these Funfetti Birthday Cake M&M Cookies. Perfect treat for birthday parties or picnics.
Chocolate and cherries make these easy Chocolate Cherry Chunk Cookies so rich and decadent. It is hard to only eat just one.
Enjoy the burst of lemon flavor from these light and soft baked cookies. Lemon Burst Cake Mix Cookies taste just like spring in a cookie!
This easy cookie is perfect for filling your cookie jar this week. Strawberry Truffle Kiss Cookies are pink, sparkly, and taste amazing.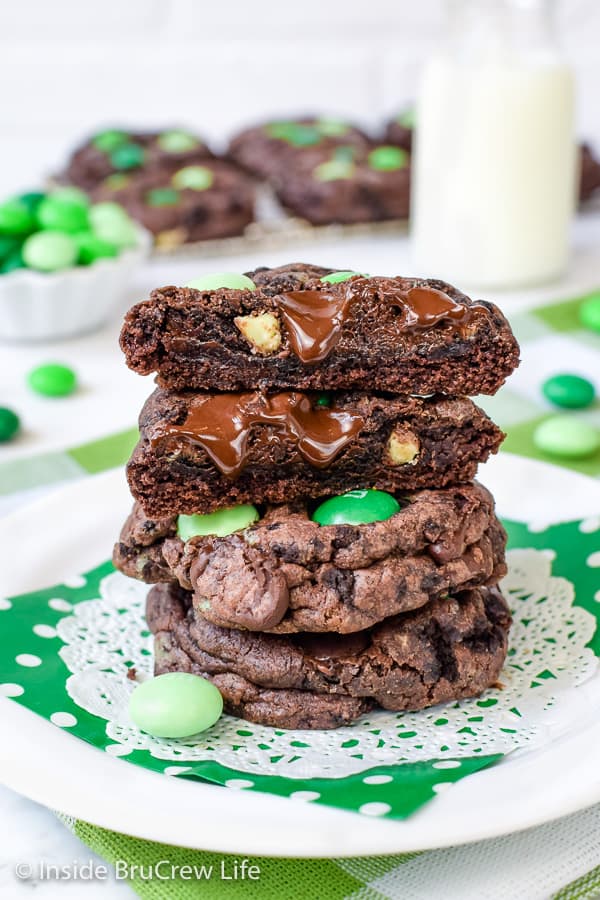 Do you love a recipe you tried from Inside BruCrew Life?
Please leave a 5-star ⭐️ rating and a review in the comments section below.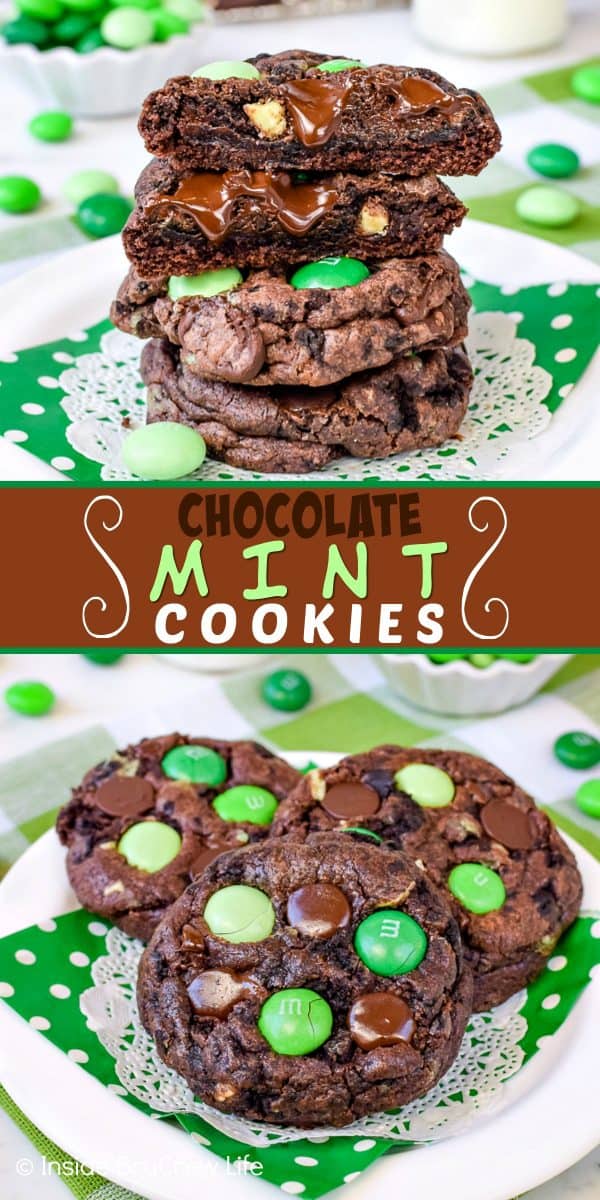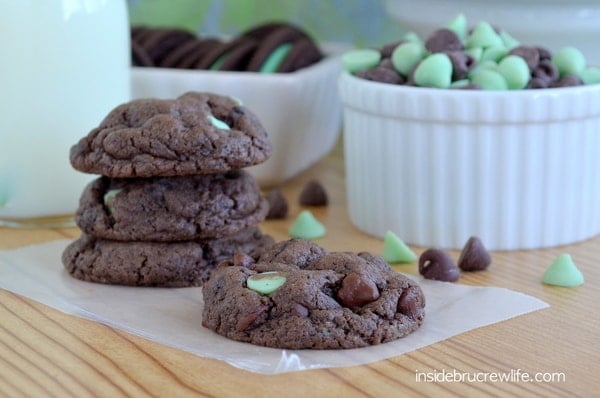 (Original picture from January 2013)
*The post and recipe for these Chocolate Mint Cookies was first published on January 13, 2013. The pictures and post have been updated and republished on February 28, 2019.