The layers of chocolate, marshmallow, and Oreo cookies make this S'mores Oreo Icebox Cake a dessert worth splurging on. This is a delicious cake to bring to summer picnics or barbecues.
It's also no-bake, so it's perfect for those days when it is too hot to even think about baking.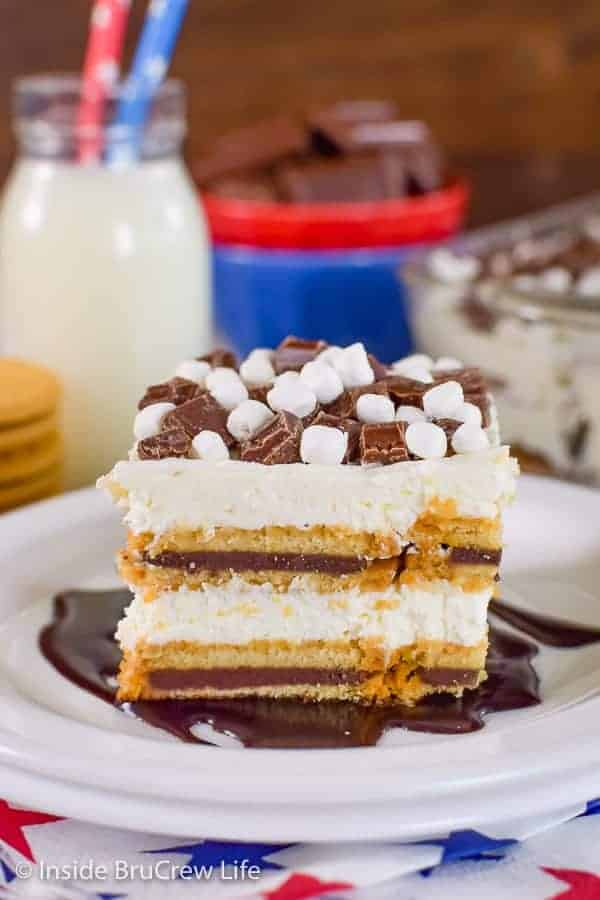 So, I have realized lately that most stores know just how to get consumers to make those extra little purchases. You know the ones, right? The little purchases that you throw into your cart at the very last second.
Magazines are usually the main one that get me every time. I will be standing in the check out line just minding my own business (or scrolling through Instagram), and then I look up and see a new issue with some tantalizing recipe on the front. And before you know it, that magazine and probably 2 others are in my cart.
Target has gotten wise to this little tactic because they also put the newest Oreo cookies at the beginning of the checkout aisles. I'm a sucker for new Oreo flavors, so I always end up buying those too.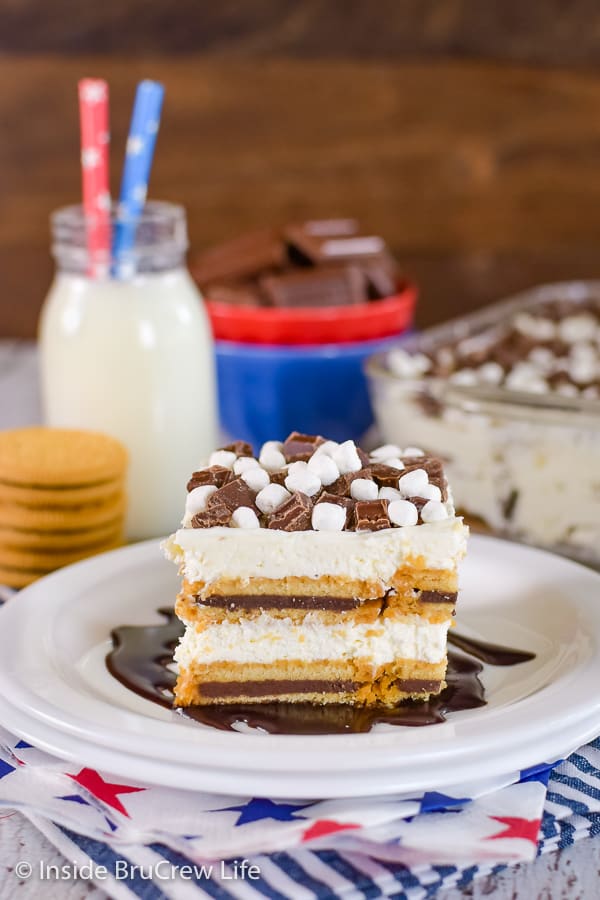 The other day I was shopping for some new summer clothes, and I saw that S'mores Oreos are back in the stores. Yay! I love when the Oreo company decides to bring back popular flavors from previous years.
Of course, I'm not surprised they decided to make them again because s'mores anything is super popular in the summer time!
Seeing those made me think of how much I love s'mores. And how I love to turn s'mores into things like Chocolate S'mores Pudding Cake and S'mores Cookie Cups.
Oreo cookies also make me think about icebox cakes. They are one of my favorite things to make with the different flavors of Oreo cookies. This Cherry Oreo Icebox Cake was my most recent creation with the new dark chocolate Oreos.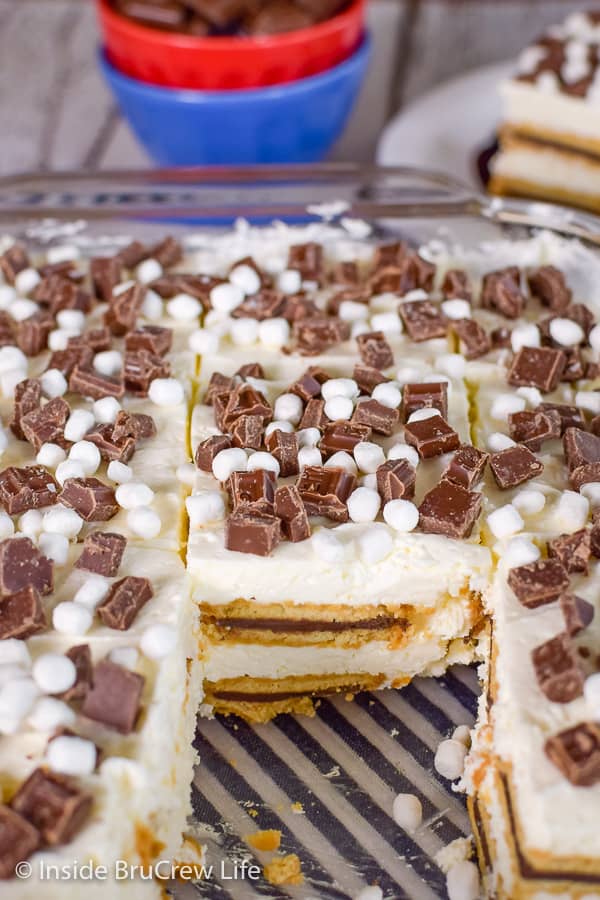 I actually made this particular Oreo icebox cake a few years ago using the golden Oreos with chocolate cream filling. Those particular Oreos are not available anymore, but the s'mores Oreos look and work just the same.
Ice box cakes are seriously one of the easiest cakes to put together. All you need is some type of cookie and a creamy filling to make the layers of this delicious no bake dessert.
There are so many cookie and filling possibilities for making an icebox cake. These fun desserts also go by the name of dessert lasagna, lush dessert, or dream dessert.
What you need for this Oreo S'mores Icebox Cake:
S'mores Oreos - you will need 2 packages in order to have enough for the layers
Cream Cheese
Marshmallow Cream
Cool Whip
Milk
Hershey's Chocolate Candy Bars
Marshmallow Bits
The layers of Oreos and marshmallow cheesecake topped with chocolate chunks and mini marshmallows take this cake over the top! This dessert rocked my socks off! I love it when a dessert comes together and is even better than what I imagined.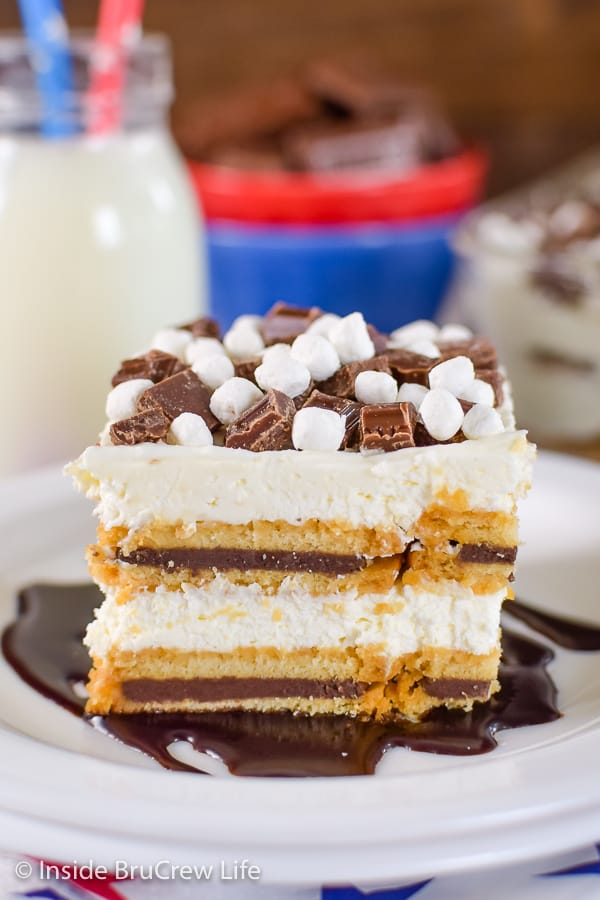 Tips for making a S'mores Oreo Icebox Cake:
Make sure your cream cheese is softened before you beat it. This just makes it easier to mix it with the marshmallow cream. Also, make sure you are using a spatula to push the mixture down from the sides of the bowl as it mixes.
Fold in the container of Cool Whip gently with a spatula. If you prefer homemade whipped cream, this will work too. Beat 1 ½ cups of heavy whipping cream and 6 Tablespoons powdered sugar until light and fluffy. Use this in place of the Cool Whip.
Spread 2 Tablespoons of the filling in the bottom of an 8 inch pan. This will keep the cookies from sticking to the bottom later.
Dip the cookies in milk one at a time and place them in the pan. Spread half of the cheesecake filling on top of the cookies. Repeat the layers and refrigerate the cake.
Pro Tip: Make sure to refrigerate the Oreo icebox cake for at least 4 hours. This gives the cookies time to soften up and become like a cake layer.
Add chopped candy bars and mini marshmallows to the top right before serving.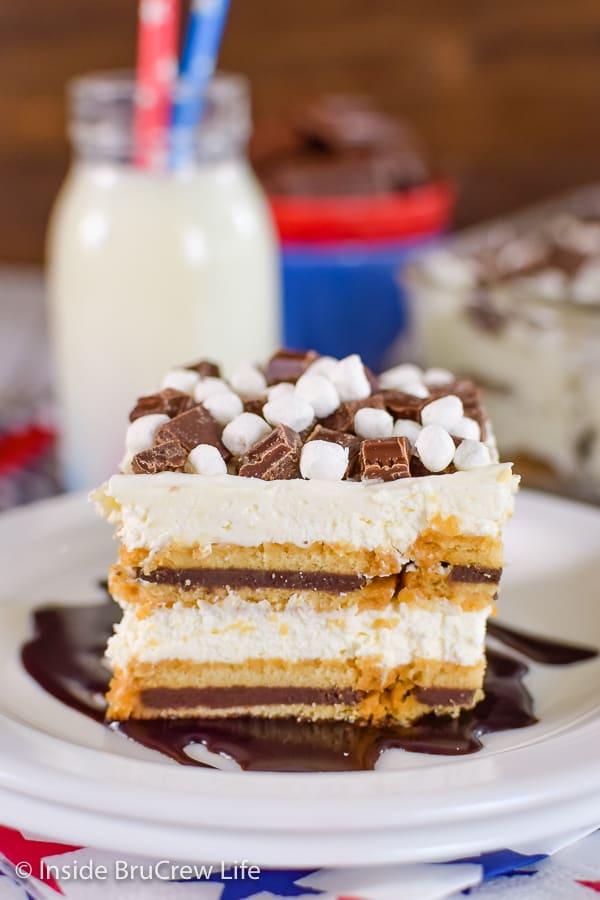 Other no bake desserts that you may like: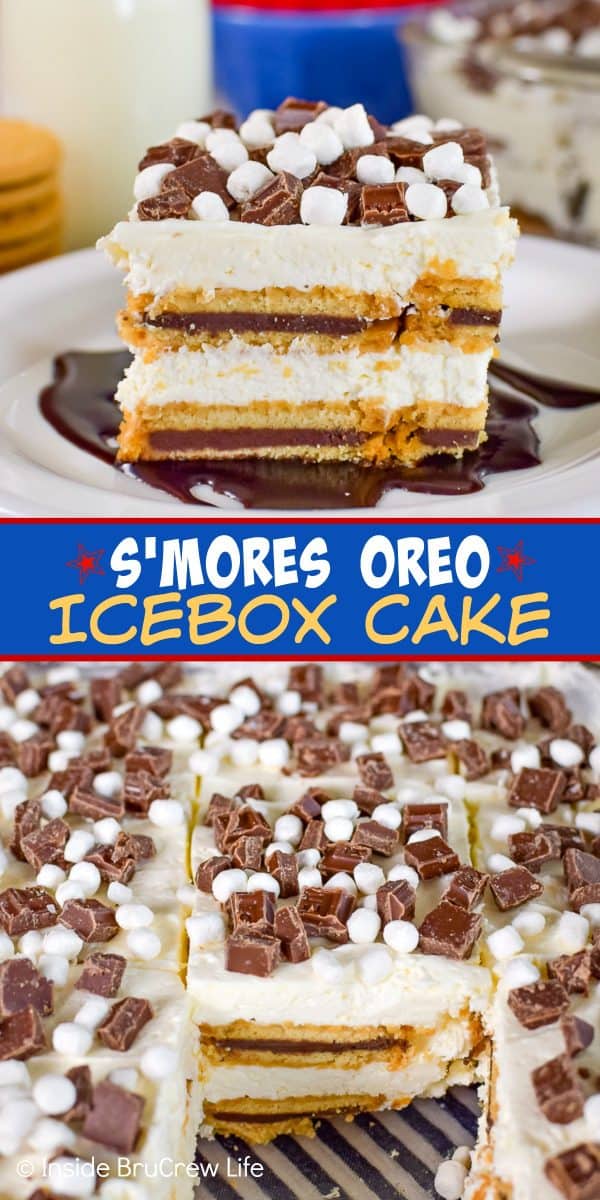 *The post for S'mores Oreo Icebox Cake was first published on May 21, 2015. The photos and post have been updated and republished on May 24, 2019.