These Banana Nutella Quesadillas are full of chocolate and banana goodness. The buttery cinnamon sugar crust on the outside of each tortilla adds a nice crunch to this easy dessert.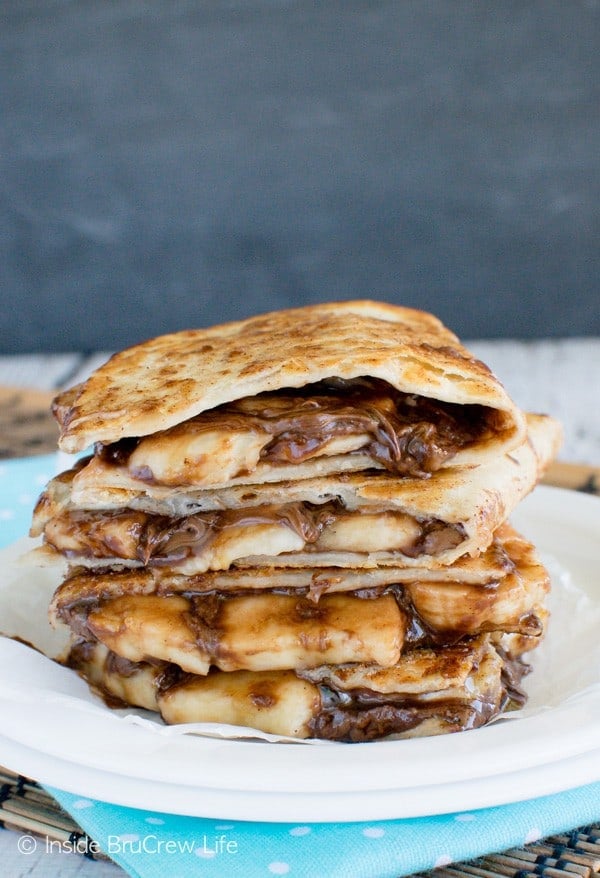 Dessert Quesadillas
Hhhmmmm. There is a half empty jar of Nutella sitting in our cupboard right now calling my name. What should I do with it? Well, other than just eat it by the spoonfuls. But who does that? Cough, cough.
Maybe I should make some more Cheesecake Nutella Twists or another pan of these Banana Nutella Blonde Brownies to celebrate World Nutella Day! Who knew that was even a thing?!?!?!
Or we could make dessert quesadillas! Warm, ooeeyyy, goooeeeyyy, dessert quesadillas filled with banana slices and Nutella. I mean, that's the only logical thing to do, right?
My husband and I took a trip to St. Maarten years ago, and I ate Nutella crepes every single morning. It was absolutely fabulous! I'm feeling the urge to visit there again. But until then these easy pan fried dessert tortillas will have to do.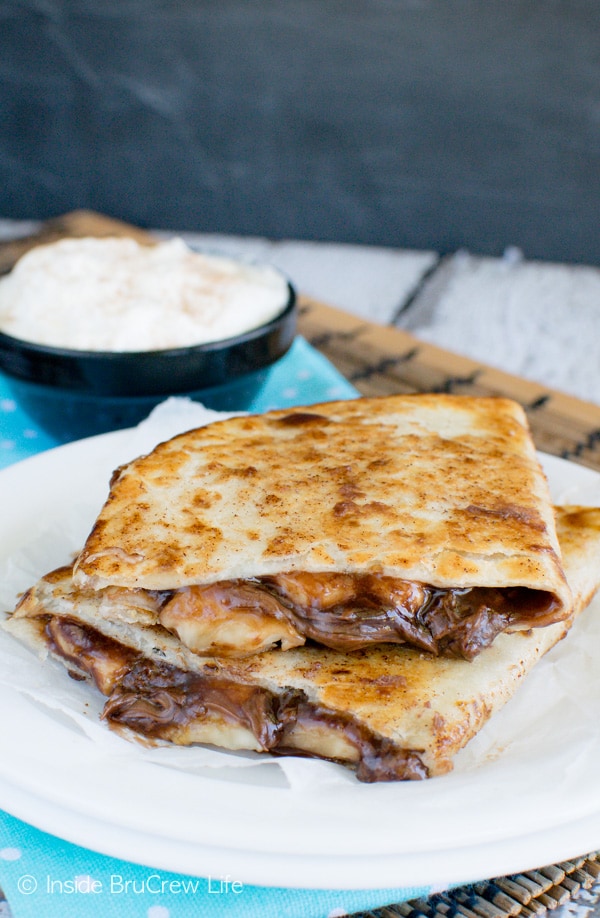 Somehow I have created full-blown snack monsters in our kids! They can eat a full plate of food at dinner, and then they turn around and say they are hungry for a snack an hour later.
Now don't get me wrong. We don't let them eat a snack every single night. Maybe just every other night. LOL! Most nights we just let them have a bowl of cereal and milk or a bag of popcorn before they head off to their beds.
But sometimes a delicious, gooey treat is fun to do! This is such a quick and easy dessert that tastes amazing!
Plus, your kids will think you are the coolest mom ever if you let them have bananas and Nutella before bed. True story!
How to make Banana Nutella Quesadillas
Heat a large skillet on medium heat.
Butter one side of the tortillas and sprinkle them with cinnamon sugar.
Spread Nutella on the other side of the tortillas and place banana slices on half.
Fold the tortillas in half and place in the warm skillet. Fry each side until golden brown.
Cut each tortilla in half and serve right away. A little scoop of Cool Whip adds a fun touch to the dessert plate. Just saying.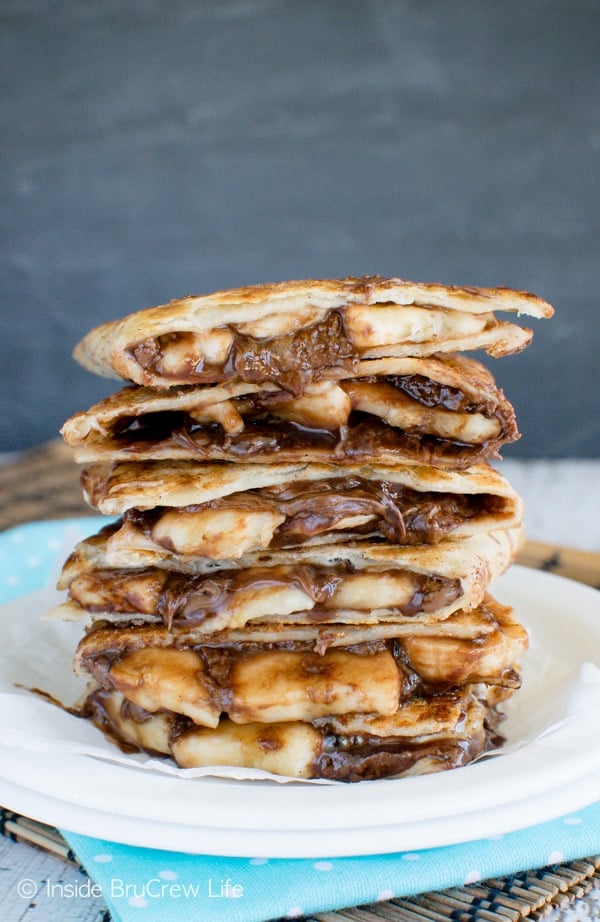 Other Nutella Desserts
The hidden chocolate center in these Coconut Nutella Cookies is a delicious surprise when you bite into the soft cookie.
A chocolate and marshmallow center gives these Nutella Marshmallow Bars a gooey flair that everyone loves.
This Nutella Popcorn is the perfect movie night snack. You won't be able to resist eating this sweet and salty treat loaded with colorful candies.
Fill your freezer with a batch of these easy Nutella Cool Whip Popsicles! Perfect snack any time of day!
A thick layer of frosting topped with shredded coconut will make these Coconut Nutella Brownies your new favorite dessert. Trust me.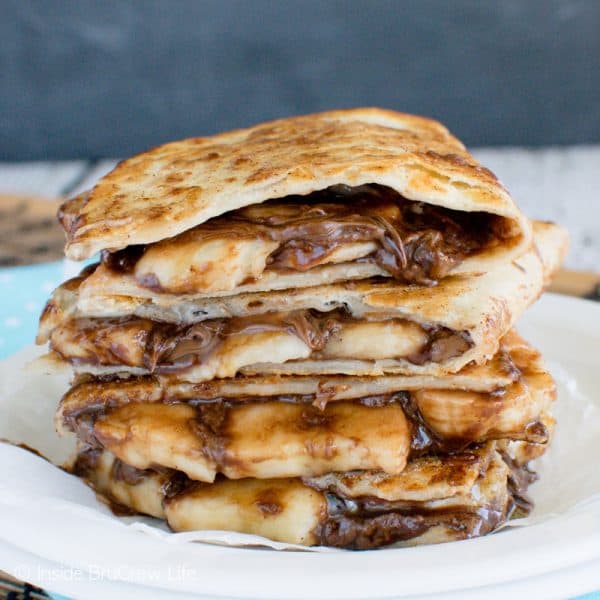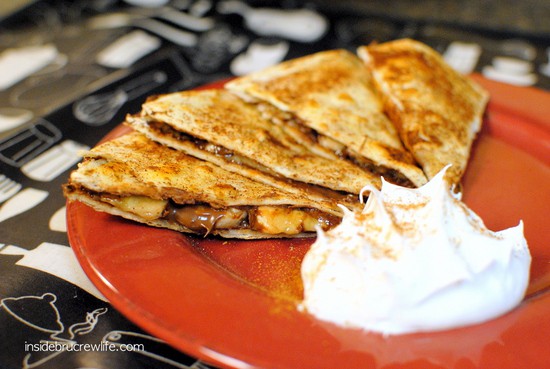 (original picture from 2011)
*The post and recipe for these Banana Nutella Quesadillas was first published on January 5, 2011. The pictures and post have been updated and republished February 5, 2019.