This Banana Pizza is a fun dessert to surprise your family with on pizza night. Oreo cookies, banana slices, and pudding take this dessert pizza to a whole new level.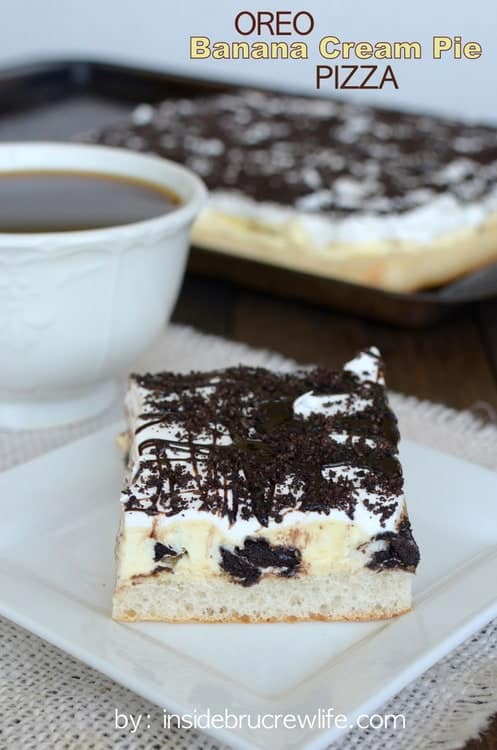 Friday nights are almost always pizza and movie night in our house. My husband and his brothers used to own a pizza place years ago. And they grew up eating homemade pizza from their parents. So most of our pizza nights start with us making homemade pizzas too. It is such a fun tradition to continue with our kids.
We aren't complete pizza snobs though...there are those buy days where it is just easier to pick up a hot one from a pizza place in town.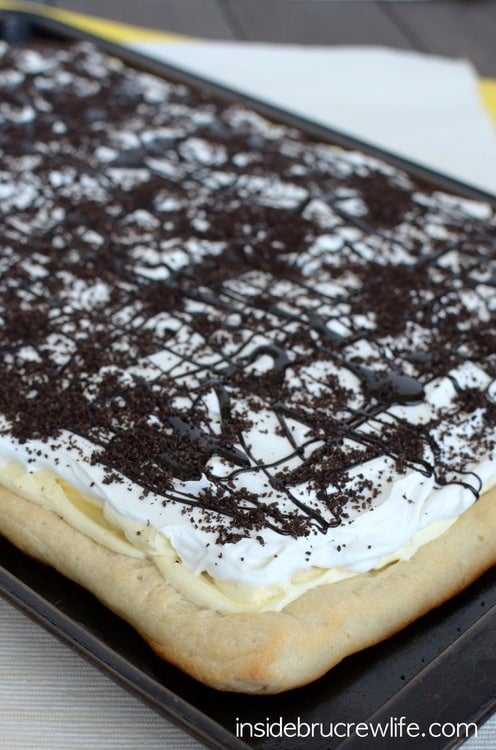 I also tend to always have ready to go pizza crusts in my refrigerator. Thank you Pillsbury for all the easy ready to made doughs that make my life a little easier.
Homemade pizza dough really isn't that hard at all. Which reminds me...I still need to share my hubby's pizza dough recipe here. It's so easy, even I have made it without fail.
But a pizza crust in a can is perfect for busy days or when you want dinner in a hurry. One of my favorite quick pizzas is this chicken bacon club pizza. Everyone can put their own toppings on if they like.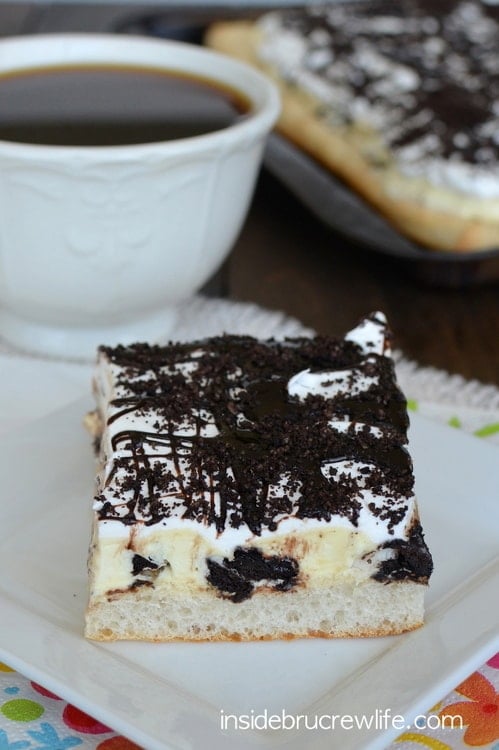 But the biggest way I use those pizza crusts in a can is for dessert. This apple crumble pizza never lasts long when I make it here. The ripe bananas on the counter were challenging me to find a new way to use them this time.
There are only so many bread and muffins and cakes one can think of. Ok, that was a total and complete lie. I have so many lists of things to make...maybe I'll get through them all in 10 years 🙂
Somehow a package of Oreo's made it through without one of the kids finding them. Hot fudge and cookie crumbs added to the top makes this an impressive looking dessert pizza. It kind of resembles a banana cream pie, but not really.
Bake and cool the crust first. Whisk together the pudding while it cools. You can keep this layer in the refrigerator until the crust cools completely. Do not put the pudding on a hot crust! Unless you like melty pudding messes!
Then all you do is layer everything onto the crust. Spread half the pudding and cover it with sliced bananas and cookie chunks. Spread the rest of the pudding on top. Add a small layer of Cool Whip to even it all out. Drizzle the hot fudge and sprinkle some cookie crumbs to finish it off. Easy peasy, right?
Dessert pizza needs to become part of our pizza night tradition for sure...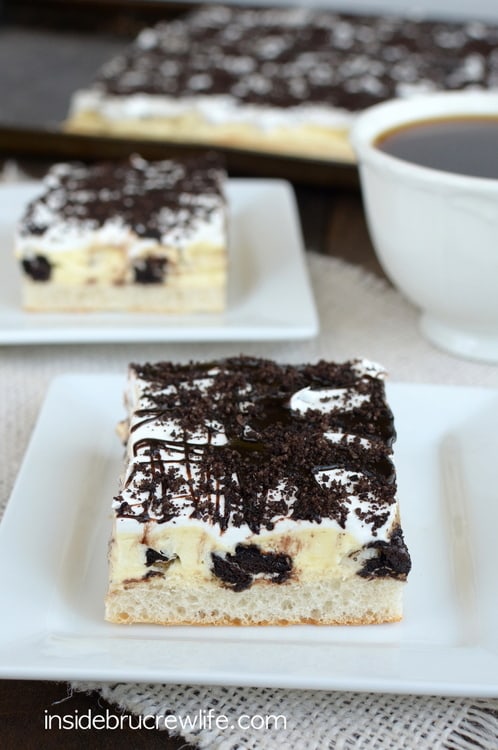 A few more fun dessert ideas for pizza night: