Need a fun snack for your next movie night? Try a batch of this Peanut Butter Oreo Popcorn and watch it all disappear.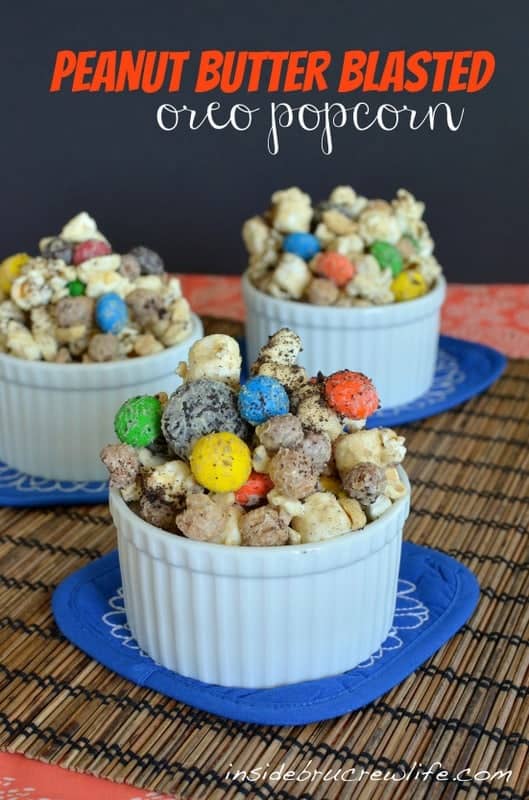 Happy Halloween! The one day a year we let our kids take candy from strangers...in fact, we even let them knock on the strangers doors begging for the candy. Does anyone else find the irony in this holiday? That being said...my kids are going out with us right behind them, watching every move everyone makes. This year we attempted to create their costumes using only what we had on hand. For some reason they are obsessed with the show "My Babysitter is a Vampire", so vampires all around. I'm just glad my son gave up the werewolf costume...I couldn't find anything here in the house to recreate that. Vampires are so much easier to come up with.
We had a few black plastic capes from previous years. There were also some fake eyelashes and nails in the Halloween box...my daughter is so excited about those. I bet they won't stick though, because I don't know how long they have been in there. The only money out of pocket that I have spent so far, was $1.59 for a pair of vampire teeth and some face makeup. Gotta love those clearance racks!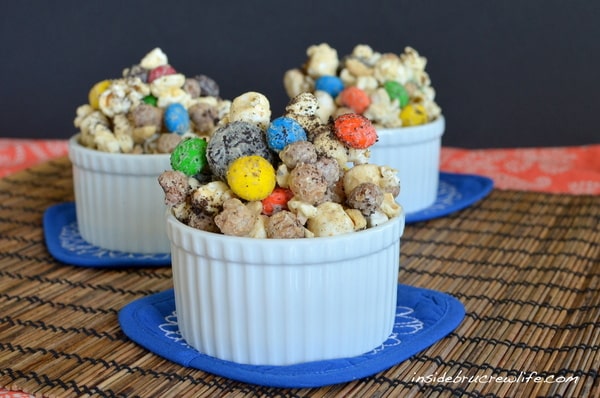 Do you have a plan for all that delicious candy that is going to be making its way back to your house tonight? One of my favorite things to make around here is popcorn munch! I bet that doesn't surprise any of you:-) Pop a bowl full of popcorn, throw in the fun candy mix ins, and coat it all in chocolate. It is so easy to do and makes an awesome gift. Just a thought with the holidays coming up so quickly. Last year I bought cute tins from Hobby Lobby, filled them with a fun popcorn munch, and topped it with a bow. I have a few more varieties floating around in my brain to try out before Christmas gets here.
So confiscate all your favorite candies from the kids tonight. Tell them you have to inspect it all to make sure it's safe. Wink, wink 🙂 Then toss it into some popcorn & chocolate and settle in for a movie night with the hubs. The kids will never miss the candy. But to be safe, go ahead and set aside a few bags of popcorn...just in case they do give you the 3rd degree on the missing candy.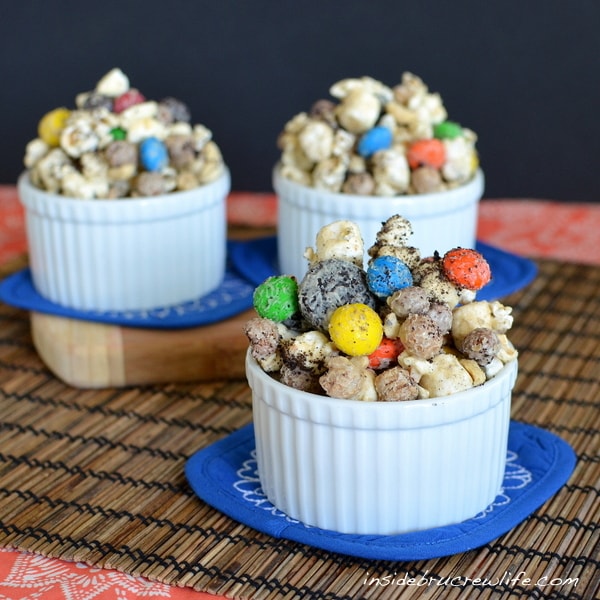 Want a different kind of popcorn munch? Check out a few of these...
Monster Cookie Dough Popcorn Munch