A bowl of this sweet and salty S'mores Popcorn is a great snack to munch on while you watch tv with your family. Candy bars, marshmallows, and Golden Grahams make this chocolate covered popcorn so irresistible.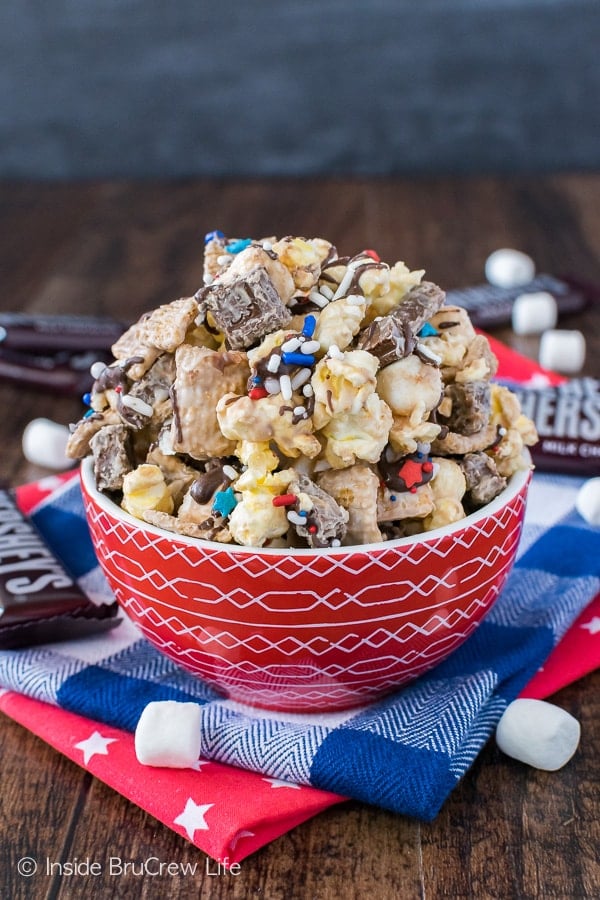 We have a rower in our garage gym that I have been reluctantly using. I say reluctantly because with all the sweets that keep pouring out of my kitchen, I need the exercise more than ever now.
I work out, then I eat Salted Caramel Chocolate Chip Cookies for lunch. The next day I work out, then I eat Blueberry Jelly Donut Holes for snack. See how vicious the cycle is?
I'm thinking the extra snacks are my downfall because the numbers on the scale are not moving. All this working out is only keeping me at the same weight.
My dang sweet tooth is sabotaging all my efforts to fit back into last summers shorts.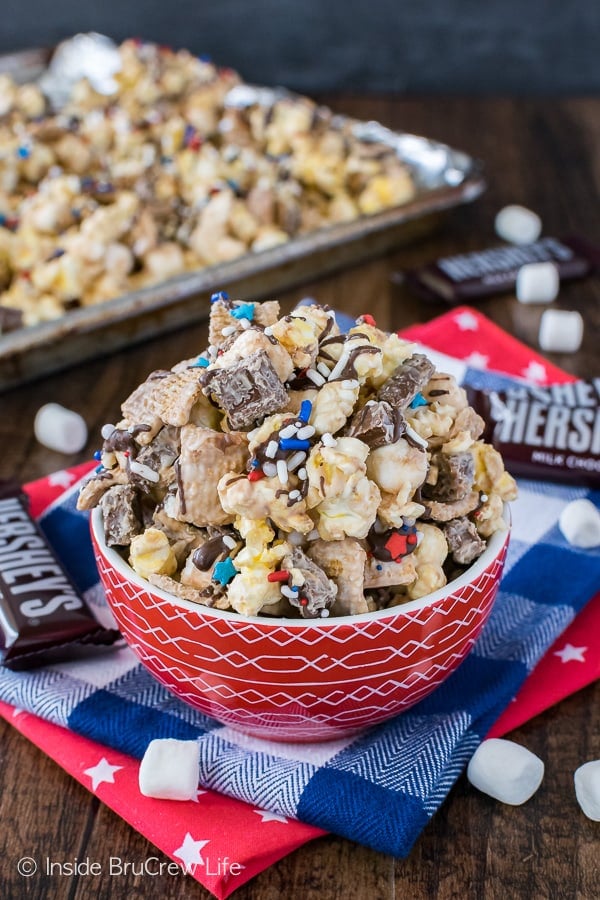 Maybe I should be making and photographing more things like this Strawberry Orange Spinach Salad or Low Carb Fish Taco Bowls instead of more chocolate covered popcorn. That's always the plan...
But then I walk into the pantry and see all the bags of candies and bottles of sprinkles and I get inspired to make more dessert instead.
The box of Golden Grahams and the leftover candy bars from making a batch of these S'mores Cookie Cups were what inspired this fun candy bar popcorn.
How to make S'mores Popcorn:
Stir together popcorn, marshmallows, cereal, and candy bar chunks in a large bowl. (full recipe at bottom of post)
Melt white chocolate according to package directions. Let cool a few minutes.
Pour over popcorn mixture and stir until everything is coated.
Dump the chocolate covered popcorn onto a tray linked with parchment and let set.
Break apart into chunks when cool.
Drizzle with melted chocolate. Add sprinkles and let set.
PRO TIP: Freeze the candy bar chunks before adding them to the popcorn. This will keep the candy bars from melting when the warm white chocolate touches them.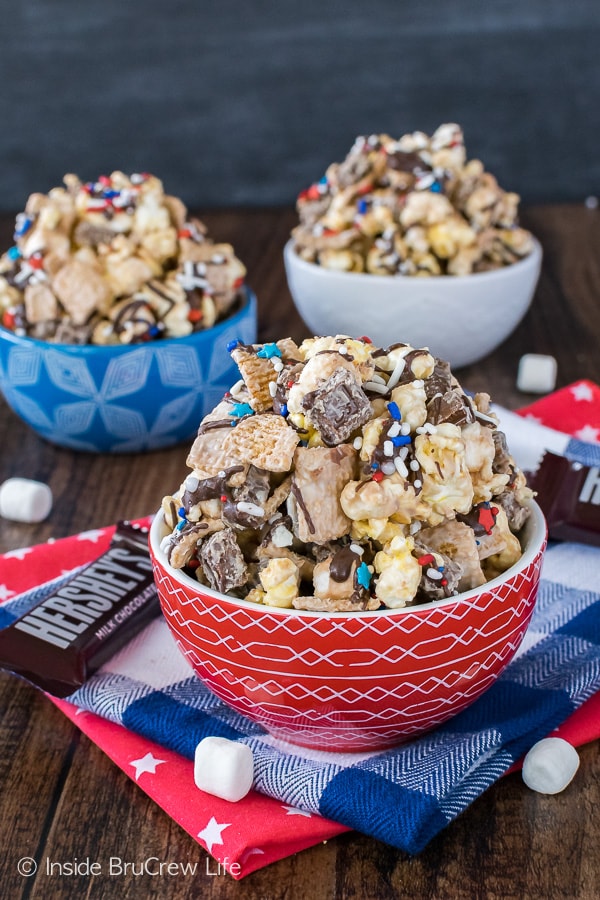 Other s'mores desserts you may like: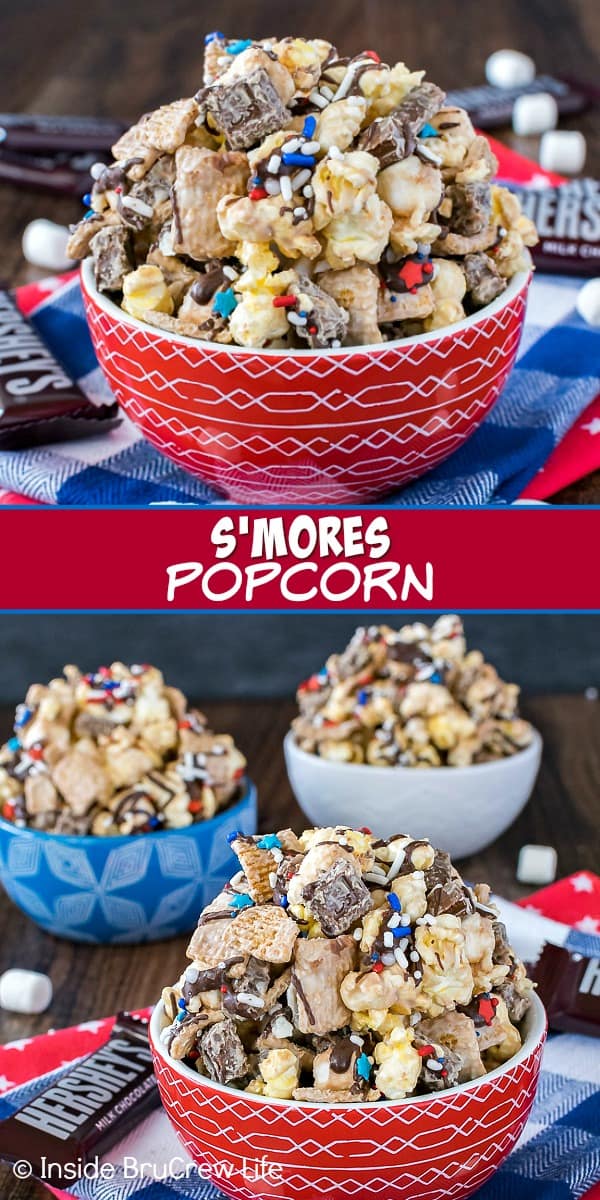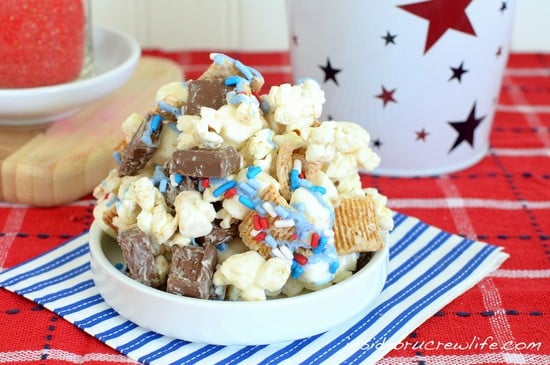 (original photo from June 2012)
*The post for S'mores Popcorn was first published June 22, 2012. The photos were updated August 2017, and the post was updated and republished May 19, 2020.