A batch of this sweet and salty S'mores Popcorn is a great snack to munch on while you watch tv with your family.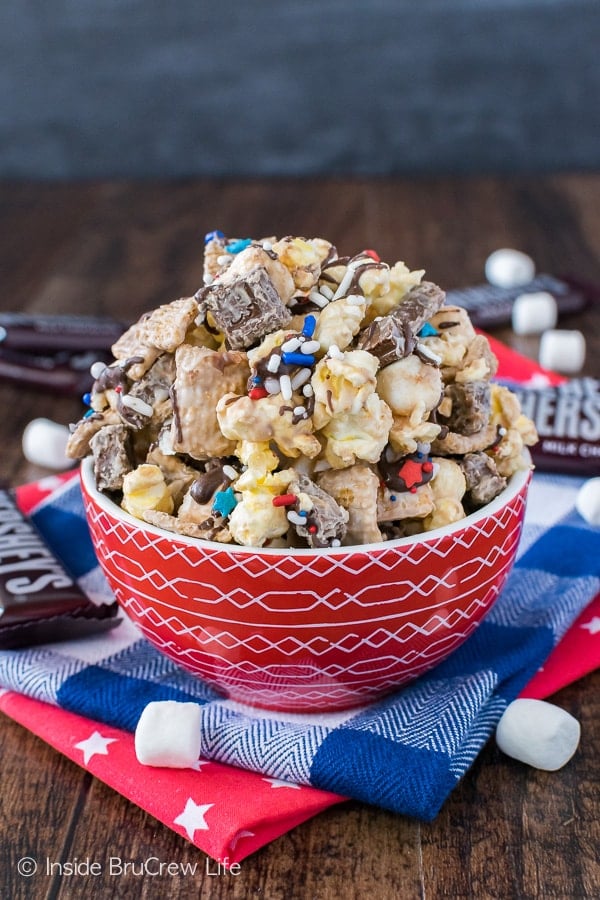 (photos updated August 2017)
CLICK HERE TO PIN THIS RECIPE FOR LATER!
We have a YMCA membership that I reluctantly use. I say reluctantly because with all the sweets that keep pouring out of my kitchen, I need the gym more than ever now.
I work out, then I eat salted caramel chocolate chip cookies for lunch. The next day I work out, then I eat blueberry jelly donut holes for snack. See how vicious the cycle is?  I'm thinking this isn't the best plan because my scale isn't moving.
All this working out is only keeping me at the same weight. Believe me, there is no weight loss going on over here because my dang sweet tooth is sabotaging all my efforts to get skinny.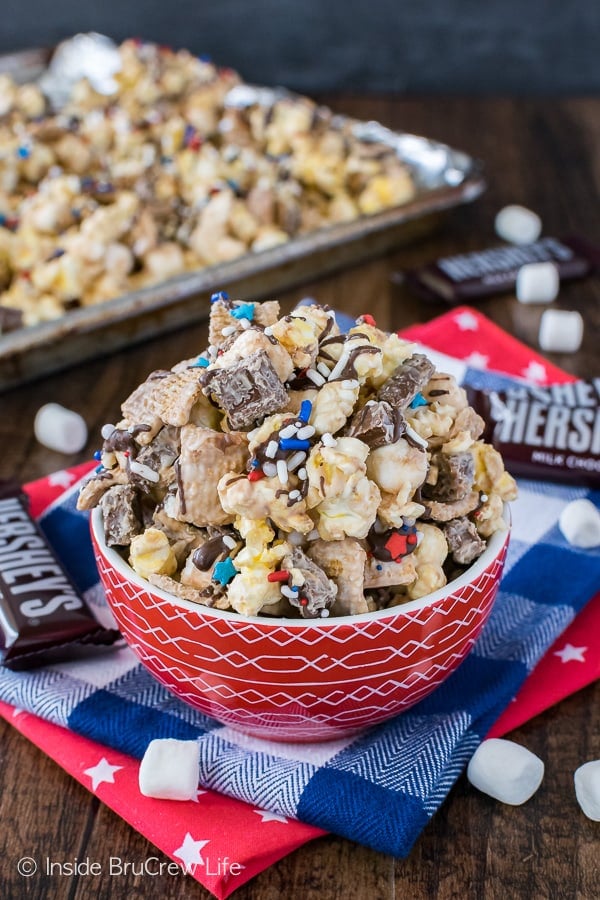 I have a confession to make. When I go to the gym, I kind of sort of people watch, while I run on the treadmill. I can't help it. Want to know some of the stuff that goes on at my gym?
*There are your die hard work out girls who are in sweatbands and no smiles.  All work.  These are the serious ones. They are probably putting a good dent in their new year's resolution.  I'm going to say it is safe to say they don't blog about desserts and just maintaining their weight because they look a little too "muscle-y"!
*One lady comes to the gym with a cute flower headband around her head. Yeah, I don't see her working very hard.  The flower in her hair makes me giggle every single time I see her though.
*Next there are a few ladies who come in cute matching gym outfits…and make up.  They are very color coordinated.  I really don't think they plan on sweating much either.  Don't get me wrong…I am all for cute gym clothes, but that much coordination shouldn't happen if you are really just planning on sweating.
*One day I saw a man walking down the hall in bare feet…eeeewwww on so many levels.  It was seriously disgusting!!!  You will never see me walking without shoes in a fitness place or in any public place because that's so gross!
*How about the mom who was texting her son?  Turns out he wanted to know if I was married or single. I'm not sure which is funnier…sort of being asked out by a teenager at the gym through his mom or being asked out by some old dude who still goes to the gym with his mom.  I'm really kind of glad I never saw him because that could have creeped me out more!  *shiver*
*Then we have the high school/college couple that make out in the fitness room.  Really?  Are the weight machines really the place for this?  I think not.  Step away from the machines, so I can attempt to lift something other than cookies and cakes.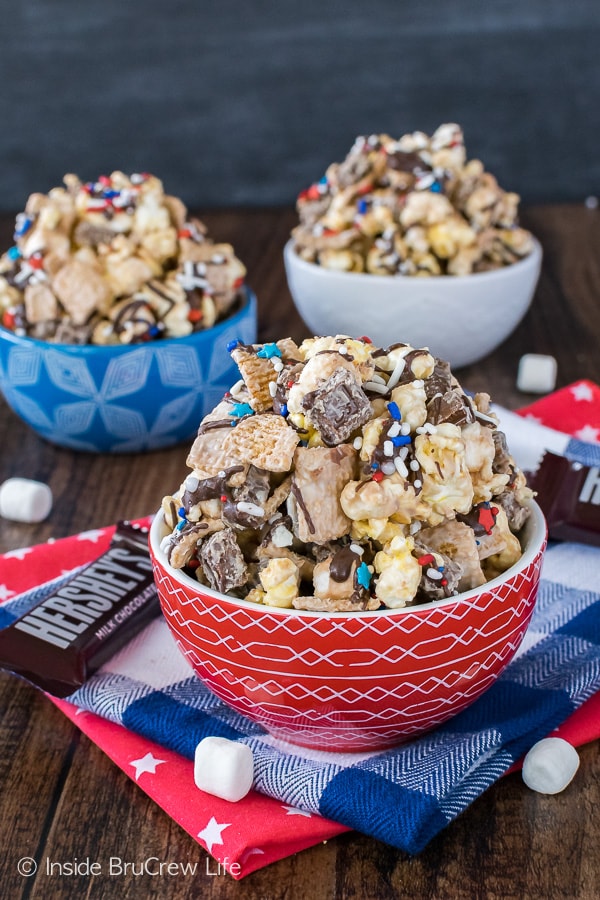 The only thing that would make this people watching show better would be having a big ole bag of this yummy s'mores popcorn on the front of my treadmill.
The problem with that is that I become the one people look and laugh at and probably blog about!!!
I better keep the popcorn home where I can fully enjoy all the chocolate covered goodness!
Running becomes so much better when you know you can go home and eat marshmallows, chocolate bars, and golden grahams! Plus, then I am not distracted by all the gym people!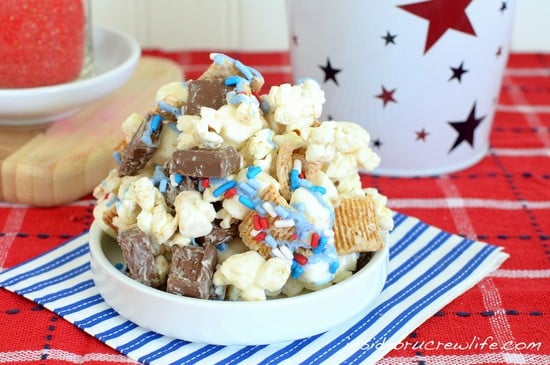 (original photo from June 2012)
Yield: 12 cups
S'mores Popcorn Munch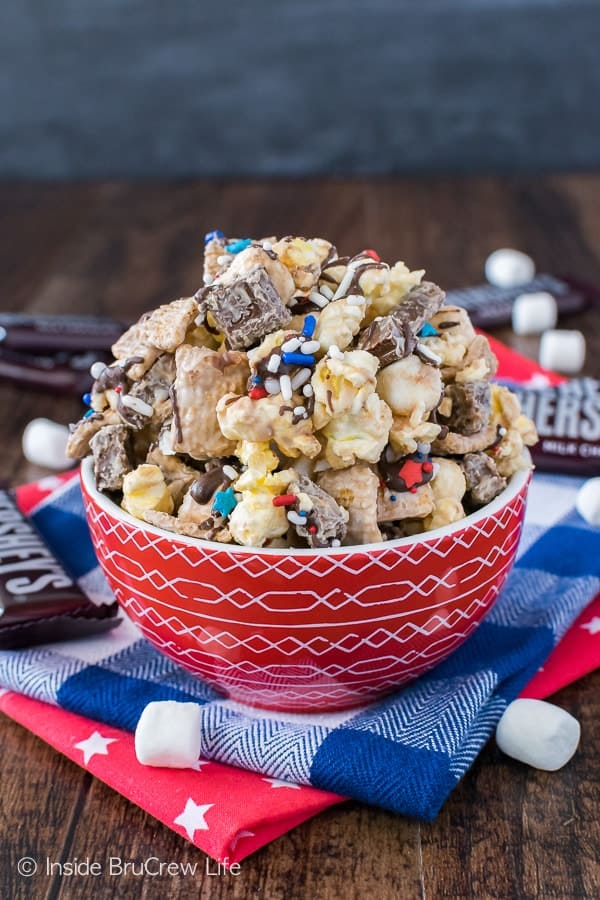 This sweet and salty S'mores Popcorn is loaded with Golden Grahams, marshmallows, and chocolate chunks. Easy snack mix to munch on during movies!

Prep Time 15 minutes

Total Time 15 minutes
Ingredients
8 cups popped butter popcorn
2 cups miniature marshmallows
1 1/2 cups chocolate candy bar chunks (16 snack size Hershey bars)
2 cups Golden Grahams cereal
1 - 10 ounce bag white chocolate melts
2 Tablespoons chocolate melts
colored sprinkles
Instructions
In a large bowl, combine the popcorn, marshmallows, candy bar chunks, and cereal.
In a microwave safe bowl, place the white melting chocolate. Heat and stir every 30 seconds until melted. Pour it over the popcorn. Toss until everything is coated.
Pour out onto a wax paper lined baking sheet. Refrigerate about 5 minutes. Break into chunks.
Place the chocolate melts in a microwave safe bowl. Heat for 15 seconds. Stir until melted and creamy. Heat again for 15 seconds if needed.
Drizzle over the popcorn and top with colored sprinkles. Store in a tightly sealed container.
Nutrition Information:
Yield:
12
Serving Size:
1
Amount Per Serving: Calories: 325Total Fat: 16gSaturated Fat: 10gTrans Fat: 0gUnsaturated Fat: 5gCholesterol: 10mgSodium: 126mgCarbohydrates: 42gFiber: 2gSugar: 32gProtein: 4g


Want more S'MORES goodness? Check out these other recipes!