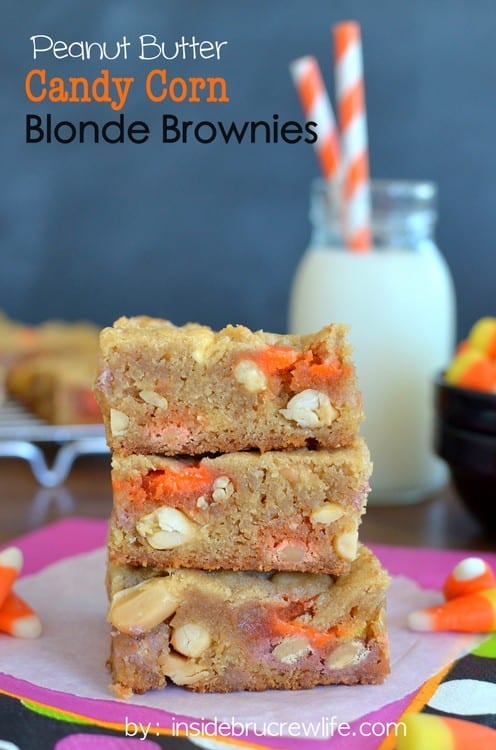 Dear Bowl of Fall Goodness,
Why must you be so stinking good together? I thought I could resist the temptation of mixing candy corn, peanuts, and Reese's pieces. That was just silly. Now that the bowl is empty, all I can think about is going to the store for more ingredients for this life changing snack mix. I'll definitely never stop craving this. I guess that means I need to stock up on bags of candy corn while it's still available.
Love, the Girl in the Stretch Pants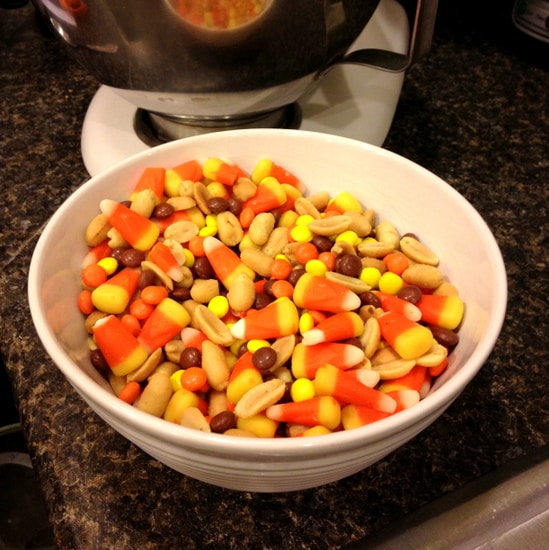 Dear Lunch Box,
Can you please remind my children to empty you each and every day? I'm sure you don't like being full of smelly containers all weekend long. I know my nose would appreciate the extra help. Soup containers that have been sitting for three days do not smell good at all.
Love, The Main Dish Washer in the House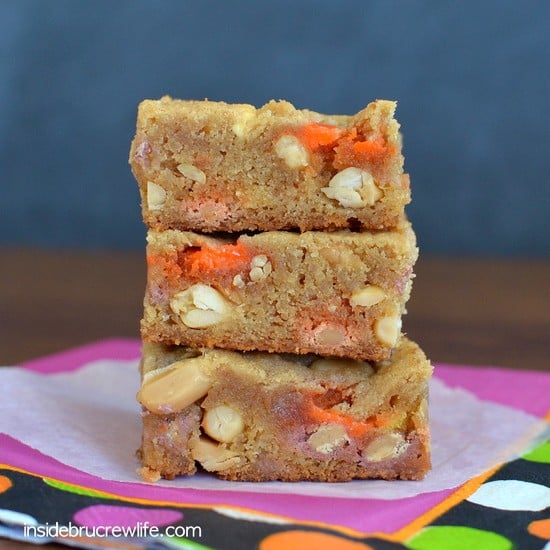 Dear Teenage Driver,
I know you are so cool now that you can drive, but can I offer one small piece of advice? If you leave the mall and get into your vehicle, please leave the parking spot, especially if you see a black mini van waiting for your up close parking spot. Do not sit there texting and laughing. And please do not wait until the said black van gives up and drives to the back of the parking lot. The right thing to do is leave asap so others can utilize those close spots.
Love, The Mom Driver who really wanted your close parking spot (yes, I'm lazy)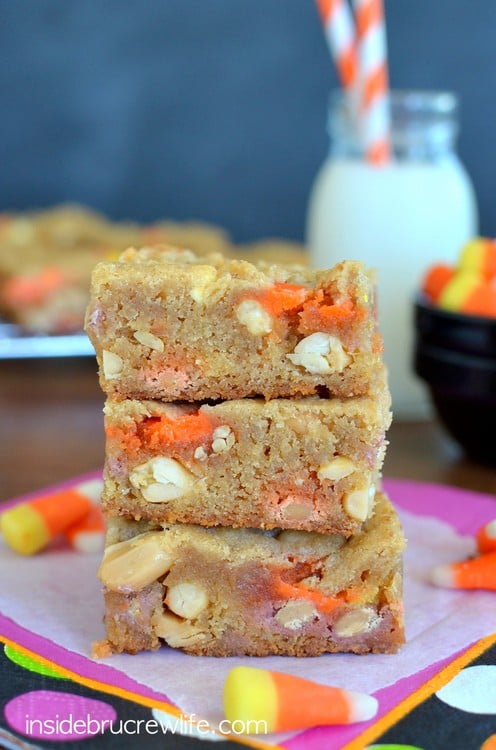 Dear BruCrew Readers,
Please, please, please do yourself a favor and buy some candy corn, peanuts, and Reese's pieces today. I know my first letter said this was a dangerous mix and that is was addicting. Go ahead and forget about that...you will definitely thank me after you try it. Your pants might hate me, but I can live with that. To help you out a little, I have a blonde brownie recipe that uses up the rest of the snack mix. Yes, it is just as dangerous to eat, but let's live on the edge a little. These peanut butter blonde brownies have so much texture from the snack mix and have such a delicious peanut butter flavor, that you just can't stop munching. The candy corn gives the perfect amount of chew in each bite too. You are going to love them...promise.
Love, The Baker Chick who just realized how long its been since posting a Blonde Brownie.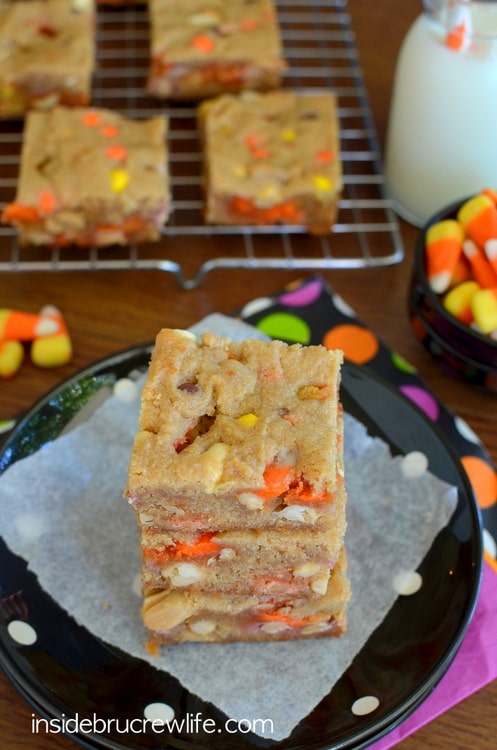 Stay up to date on all the BruCrew baking here:
FACEBOOK | PINTEREST | GOOGLE+ | TWITTER | INSTAGRAM | BLOGLOVIN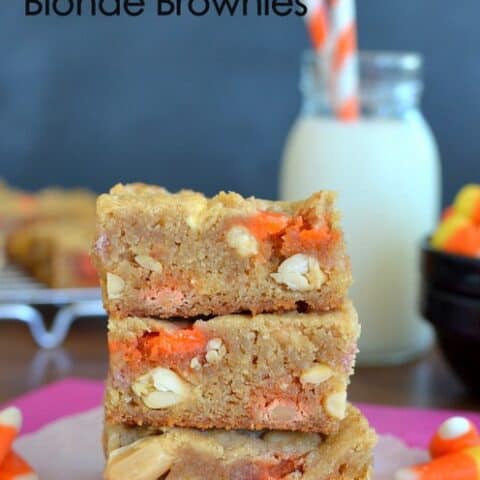 Peanut Butter Candy Corn Blonde Brownies
Yield:
24 blonde brownies
Peanut butter blonde brownies with peanuts, Reese's pieces, and candy corn.
Ingredients
½ cup butter, softened
1 cup brown sugar
½ cup peanut butter
2 eggs
1 teaspoon vanilla
2 teaspoons baking powder
½ teaspoon salt
1 ½ cups flour
2 cups mini Reese's pieces
1 cup peanuts
1 cup candy corn
Instructions
Preheat oven to 350 degrees. Spray a 9x13 pan with nonstick spray.
In a large mixing bowl, cream the butter, sugar, and peanut butter.
Add the eggs and vanilla and beat until creamy.
Stir together the baking powder, salt, and flour. Slowly add to the creamed mixture. Stir in the Reese's pieces, peanuts, and candy corn by hand.
Spread the mixture in the prepared baking dish. Bake for 25-27 minutes. Let cool completely before cutting into squares.
Nutrition Information:
Yield:

24
Serving Size:

1
Amount Per Serving:
Calories:

274
Total Fat:

14g
Saturated Fat:

6g
Trans Fat:

0g
Unsaturated Fat:

6g
Cholesterol:

26mg
Sodium:

205mg
Carbohydrates:

33g
Fiber:

2g
Sugar:

24g
Protein:

6g
Other blonde brownies that you should try: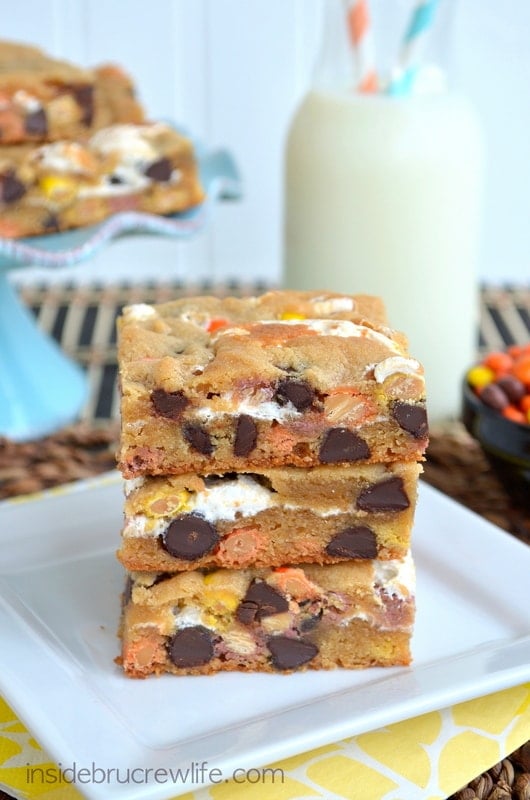 Marshmallow Reese's Blonde Brownies