This giant Peanut Butter Candy Corn Pizza is layered with melted marshmallows, peanuts, candy corn, and Reese's Pieces. It is one crazy awesome fall dessert you need to experience.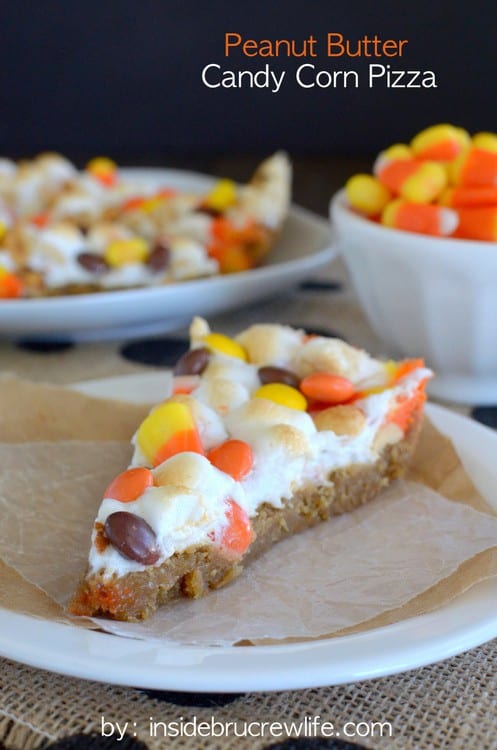 Why are fall treats so much fun to make and eat?
I mean pumpkin, apple, and candy corn seem to be all over the blog and Pinterest world. I'm so glad there are so many more crazy bakers out there.
Is anyone else here a candy corn lover? I have to admit that I really do like those orange, yellow, and white candies. What can I say? It's made out of sugar, and I love it.
Last year I made these Peanut Butter Candy Corn Blonde Brownies with my leftovers. It was such a delicious way to enjoy a little more candy corn love!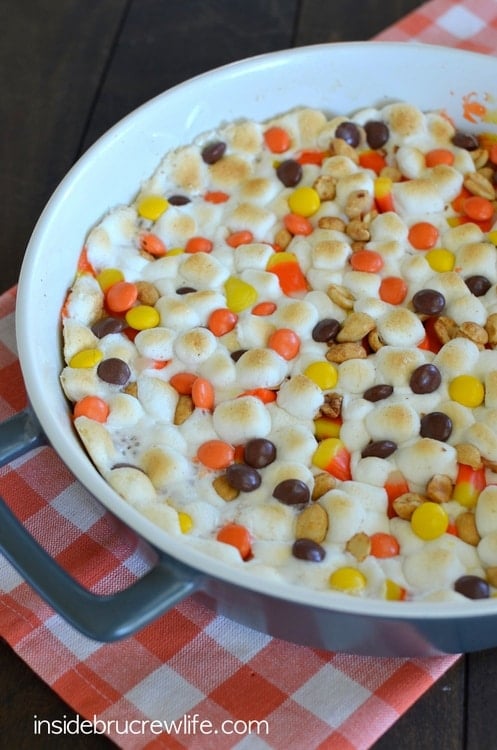 The Best Way to Eat Candy Corn
If you are team candy corn, I have another question for you. Have you ever eaten it with peanuts?
It is seriously the best!!! Something magical happens, and the combo tastes like a payday candy bar. It is the only way I eat candy corn now!
Ok, that's totally not true because I ate some plain when I was making this Peanut Butter Cookie Pizza.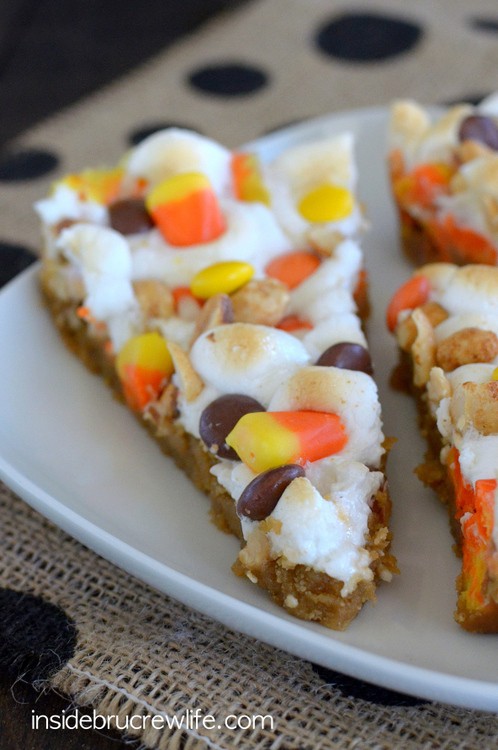 When I bought the peanut butter cookie dough the other week, I really had no idea what I was going to do with it. It just seemed like a good idea at the time, so I went with it.
Then it sat in our fridge for a few days until I had the awesome idea to top it with gooey melted marshmallows and that fabulous candy corn mixture. My inspiration was these Caramel Marshmallow M&M Brownies.
I also had Reese's Pieces sitting in the cupboard, so those went on top too. Best cookie pizza right here!!!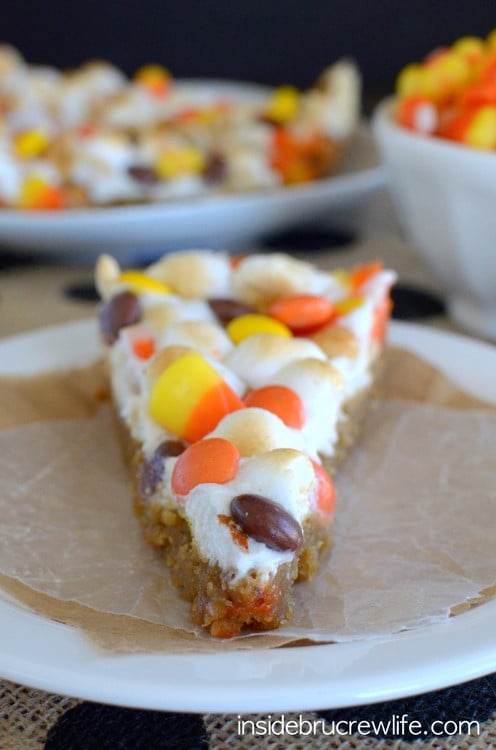 Tips for making a Peanut Butter Candy Corn Pizza:
Now for some strange reason my pizza pan that I use for cookies has gone MIA. I kinda, sorta looked for it the day I wanted to bake the cookie pizza, but I saw my new 10 inch casserole dish and decided to use that instead.
As long as you press the cookie dough into an even 10 inch circle, you can use any kind of pan or dish. Just be sure to spray the pan with a nonstick baking spray like Pam or Baker's Joy.

As the cookie is baking, stir together the marshmallows, peanuts, and candy corn.
Warning!!! Danger, danger! Do not reach your hand into the bowl and snack on this mixture! Why you ask? Because once you start munching, it is so hard to stop.
I actually made two bowls of this fall snack mix while I was making this dessert pizza. One bowl for the pizza topping and one bowl for me to munch on! Win, win all around!
When the giant peanut butter cookie comes out of the oven, sprinkle the candy corn and marshmallow mixture on top, and place it back in the oven for a few more minutes to melt the marshmallows.
Then turn the broiler on for another minute to toast the tops of the marshmallows a little bit! Keep an eye on the marshmallows here! They can go from toasted to burnt in mere seconds!
Let the cookie pizza cool completely before cutting any slices. Use a wet knife to cut through everything because the water on the knife keeps it from sticking to the marshmallows.
What are you waiting for? Get in the car and go to the store like now! You need this sweet pizza in your life ASAP!!!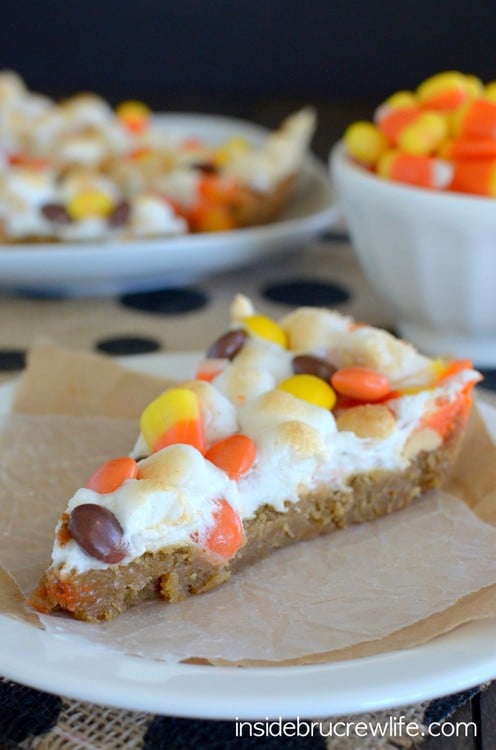 More fun fall treats you may like:
Candy Corn Gooey Cake Bars
Peanut Butter Candy Corn Pizza recipe: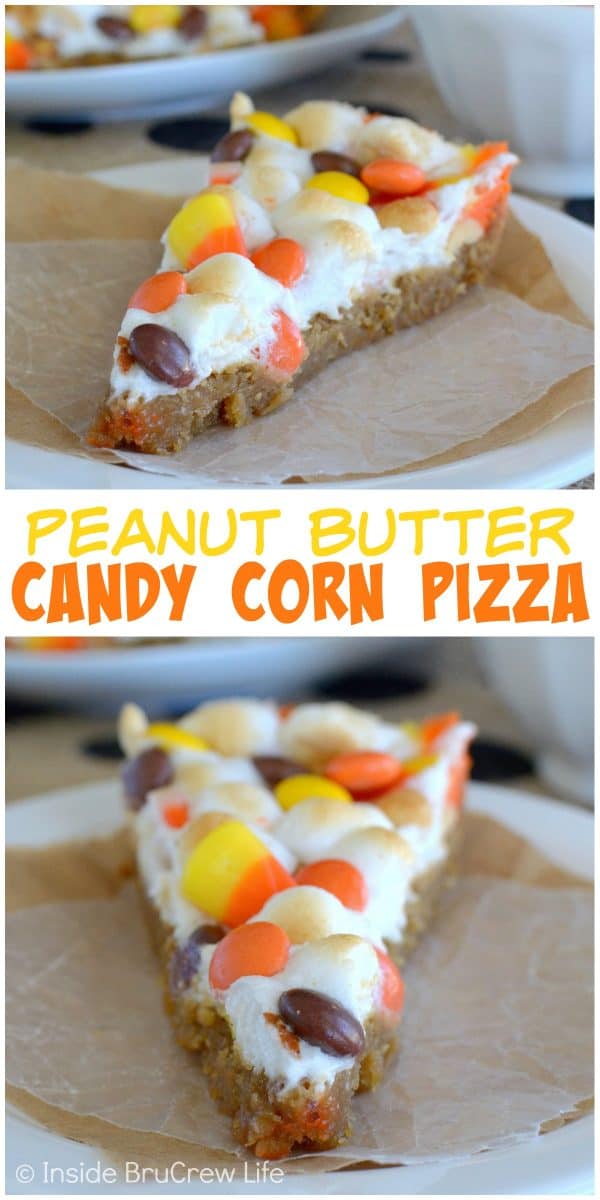 *This post and recipe for Peanut Butter Candy Corn Pizza was originally published on September 24, 2014. The post has been updated and republished on September 20, 2018.