Get ready for smiles and giggles when you add these Peanut Butter Reindeer to your Christmas cookie tray. Sweet little peanut butter balls dressed up like holiday reindeer always make everyone smile.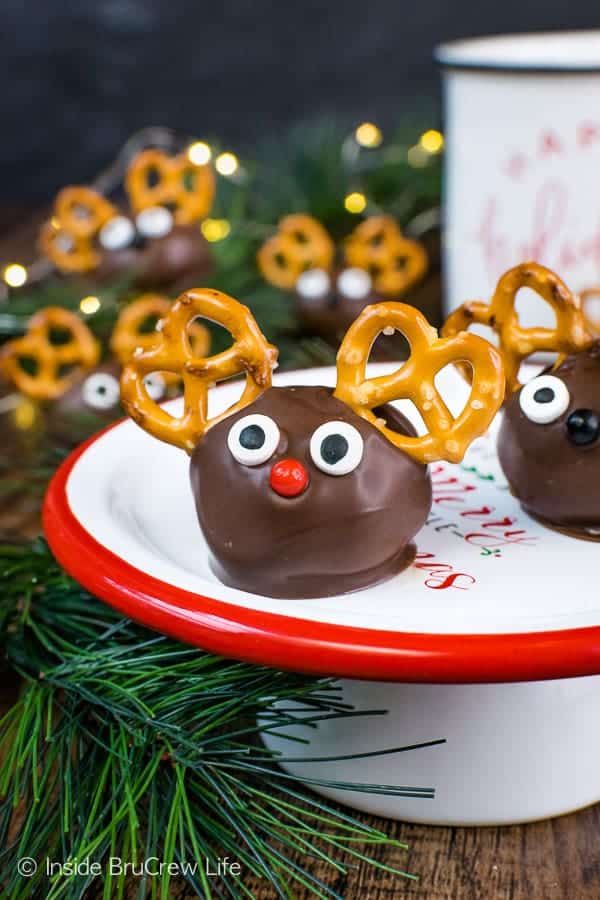 Do you have one particular treat or dessert that you make for every single holiday? For us, that treat would be these easy Peanut Butter Balls. Our boys ask for them all the time.
Over the years, I have started to get creative with each season and give them a new look. I've done bunnies and chicks for Easter, zombie eyeballs and monsters for Halloween, and Reese's trees for Christmas
Since Rudolph the Red Nosed Reindeer is one of my favorite childhood movies, I went with a cute little reindeer version this week.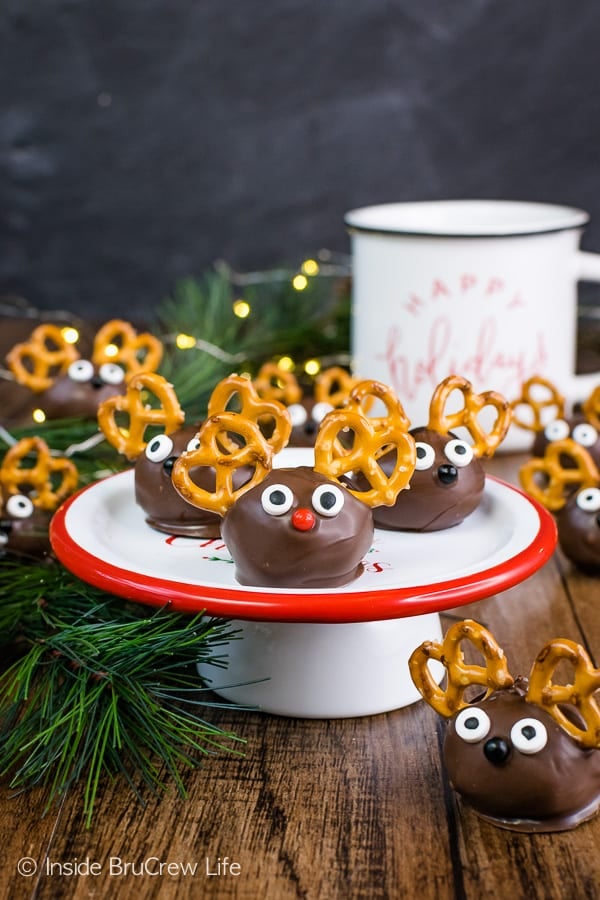 I thought everyone was familiar with peanut butter balls or buckeyes. But the other week when I was getting my hair cut, my stylist and I were talking about holiday treats.
Can you believe that that she had never heard of them before???
Trust me, I had to pull out my phone and share this recipe with her right away. It's a classic candy treat that everyone needs to experience.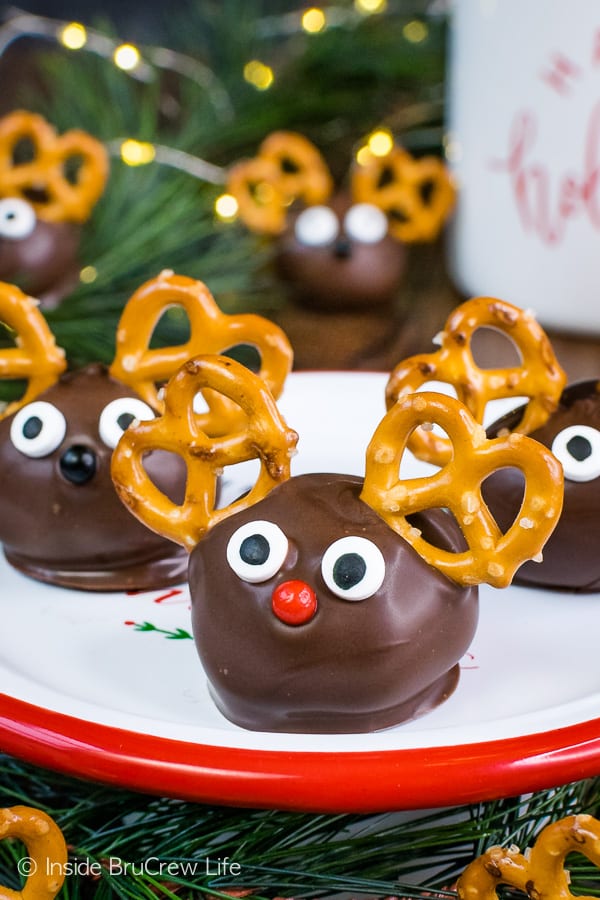 What is a peanut butter ball or buckeye?
It's a candy truffle made with butter, peanut butter, powdered sugar, vanilla, salt, and my secret ingredient, marshmallow fluff.
This mixture is rolled into balls, refrigerated, and dipped into melted chocolate.
To add some fun to these no bake candies, you can top them with sprinkles, drizzles of more chocolate, or candies. It's always fun to come up with new ideas for each holiday.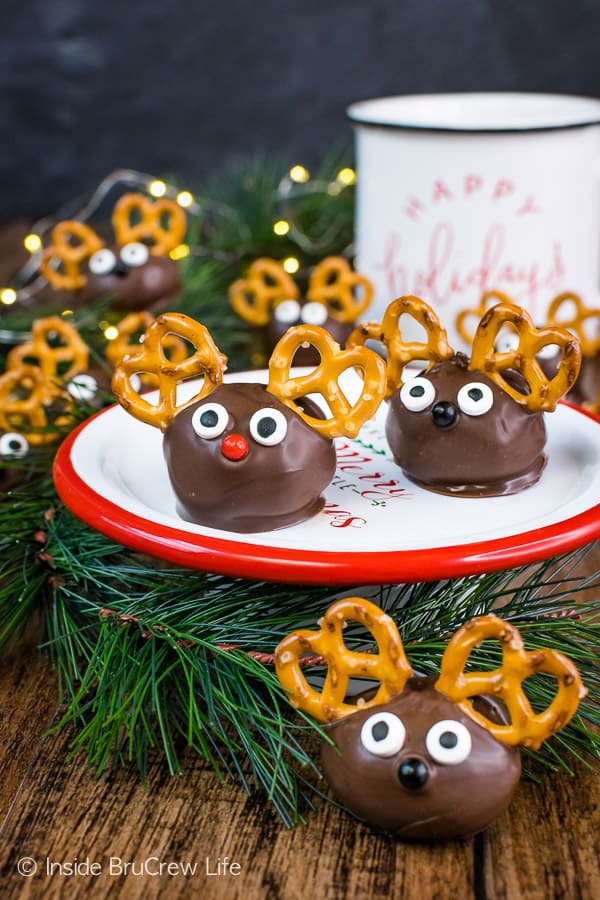 How to make Peanut Butter Reindeer
Make sure your butter is softened. Just slightly, not melted or room temperature. Mix this with the peanut butter, vanilla, and salt until it is creamy.
Slowly add in the powdered sugar until it forms a soft dough. Roll this into 30 even balls.
Refrigerate the peanut butter balls for about 30-40 minutes.
Melt your chocolate according to the package directions. I like to use a good quality chocolate like Ghirardelli because it will melt creamy and smooth and candies dip easily in it.
Use a toothpick to dip one ball at a time in the chocolate. You can use a spoon to cover the tops, if needed.
Place on a sheet of parchment or wax paper, and twist the toothpick out. Cover the hole with a little bit of chocolate.
Press two itty bitty pretzels into the top of the truffle. Make sure you do this right away while the chocolate is still wet, so you can get the antlers to stick.
Add a nose and two eyes before the chocolate sets up. If the chocolate hardens before you get these added, just put a tiny dab of chocolate on the back with your toothpick and attach them.
As the peanut butter balls sit out, they will warm up and it will be harder to keep them on the toothpick. Refrigerate them, if needed and continue to dip later.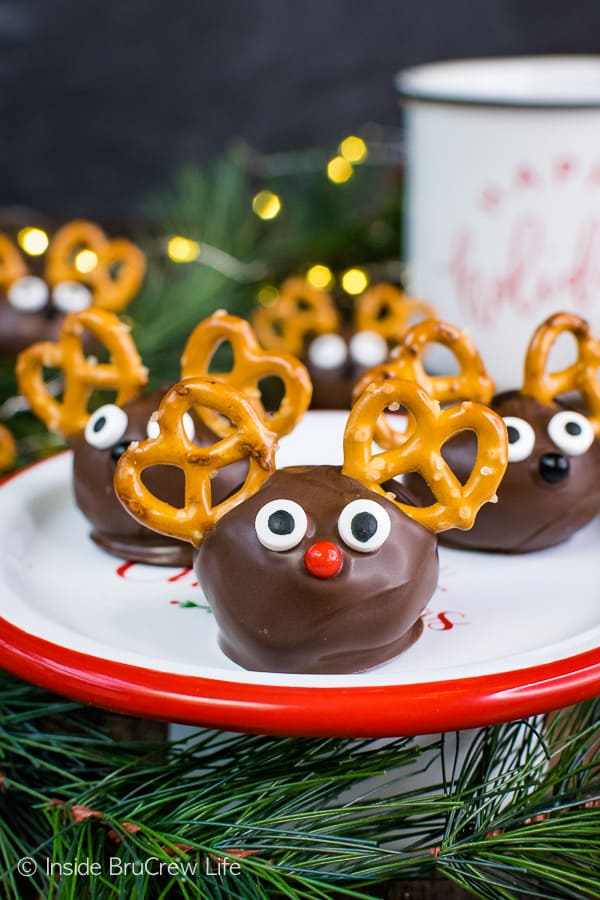 Fun no bake holiday treats
More Christmas desserts you may like
CLICK HERE TO PIN THIS RECIPE FOR LATER!