These gooey Oreo Brownie Cupcakes are such a fun way to enjoy s'mores all year long without the mess of a campfire.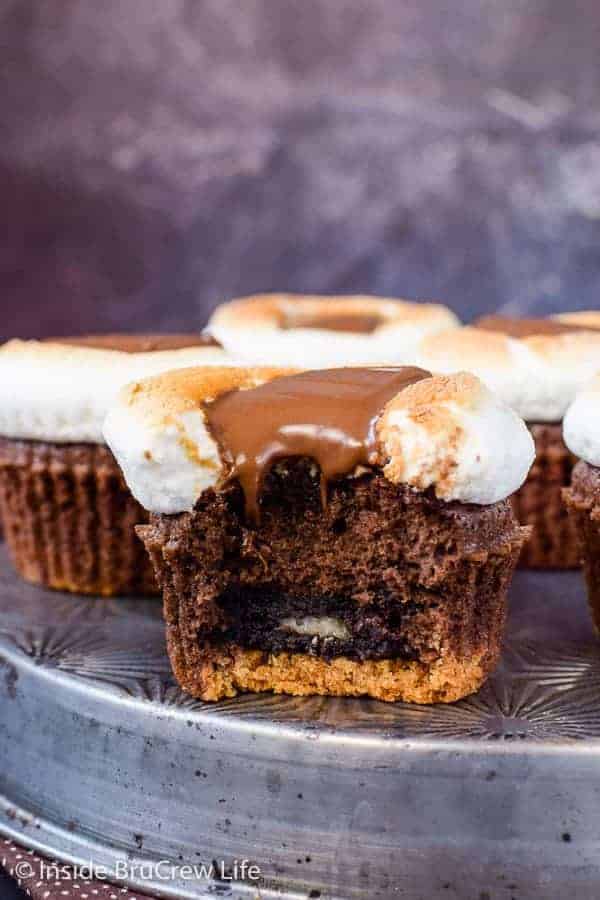 A few years ago my daughter needed a treat for her end of the year school party, so we came up with these s'mores brownies. But since it was a school party, we decided to turn them into small brownie cupcakes to make them easier to pass out.
The graham cracker crust and the toasted marshmallow were a must in the brownie cups. But then my daughter had the great idea to add an Oreo cookie in them too.
Oreos were a fun and delicious addition to these Peanut Butter Oreo Cupcakes and these Mint Cheesecake Brownies, so I knew they would be awesome in these brownies too.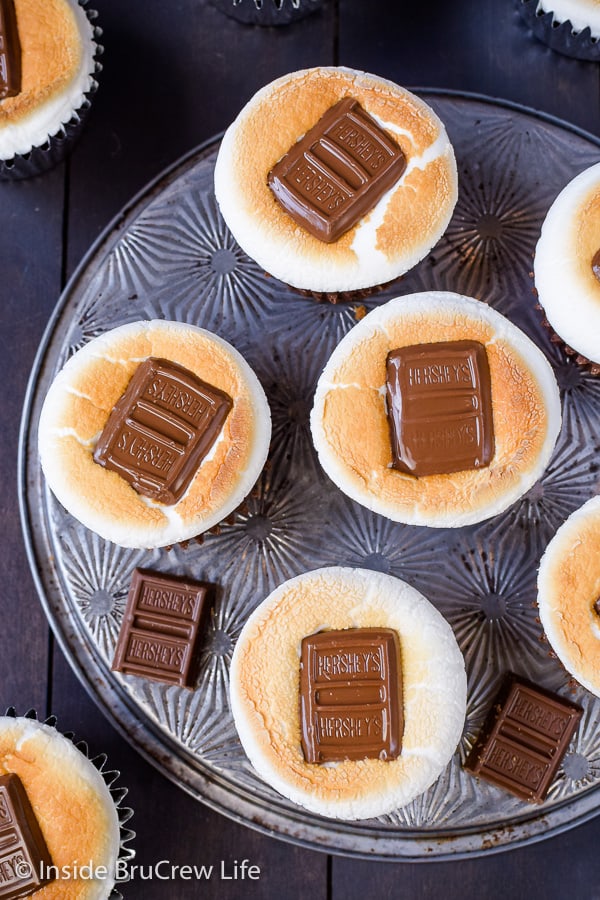 Fast forward to this summer and I needed to make a treat for an event that our church was doing at a local elementary school a few weeks ago. They needed desserts to use for a cake walk that they were going to have the kids participate in.
These amazing brownies were in desperate need of some new pictures, so I knew right away that I was going to make a few (or four) batches to take over to the event.
Coming up with fun recipes, taking pictures, and then sending the desserts out the door is my favorite way to bake. If the desserts stay in the house, my sweet tooth takes over and it isn't pretty.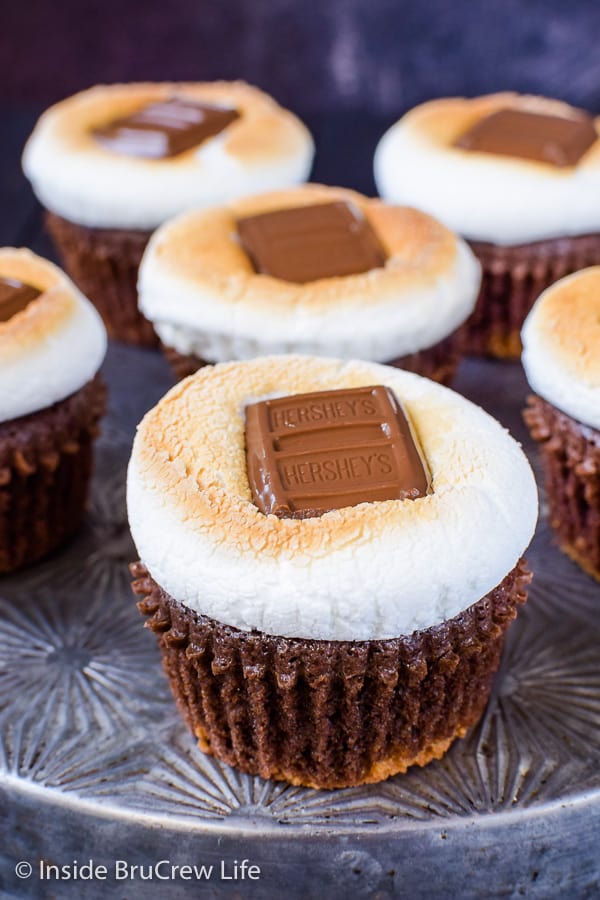 Did you also know that today is National S'mores Day? I'm all for celebrating a sweet holiday that involves chocolate and marshmallows. Of course, if I'm being honest, I'm all for celebrating any day that involves good food. Who's with me?
I'm also a fan of celebrating s'mores that are made with out the dangers of flaming torches and sticky marshmallows everywhere. Kids and roasting marshmallows are two things that should never go together.
Don't get me wrong. Our kids have done their fair share of marshmallow roasting over the years, but I would always cringe when they would start making torches from the marshmallows. And don't get me started on the sticky marshmallow goo that we always found on the chairs and the deck the next morning.
At least it has gotten a little bit better now that they are older. Although, they still love tossing marshmallows into the fire and watching them burn. Somethings never change.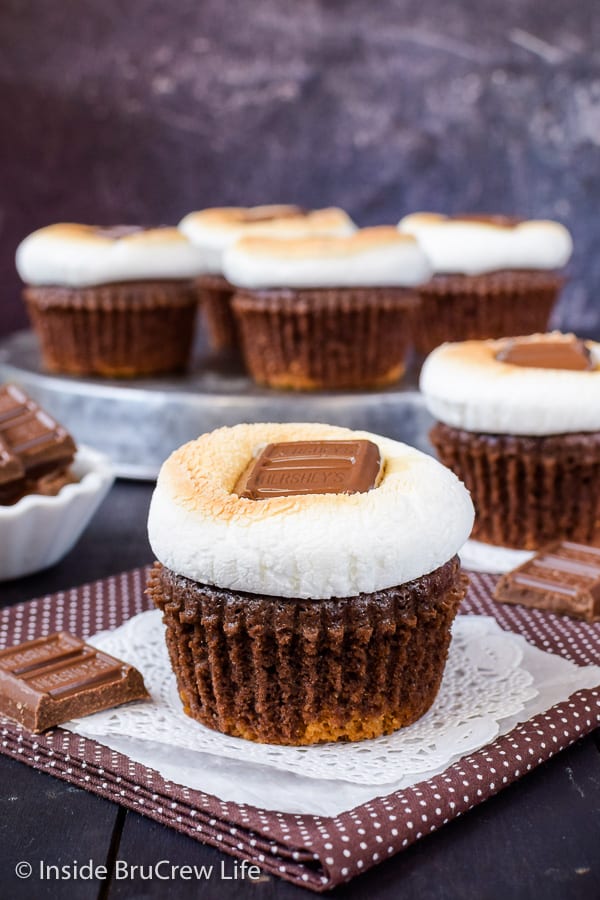 How to make Oreo Brownie Cupcakes
These little s'mores brownies are the perfect treat to make for bake sales, summer picnics, school events, and birthday parties. Basically they are amazing for everything!
Stir together the graham cracker crumbs and butter. Spoon the mixture into 18 jumbo foil liners. You can use regular foil liners, but if you use the jumbo foil liners, everything is contained in the liner making it easier to travel with.
Press the crumbs down firmly, and then press an Oreo cookie onto each crust.
Mix the brownie batter together in a bowl and spoon it evenly onto the cookie and crust. Feel free to use homemade brownies or a box mix for this step. I usually use a box mix to save some time. Bake the brownies for 20 minutes.
While the brownies are baking cut the jumbo marshmallows in half. The jumbo marshmallow is the perfect size to add to the top of a cupcake. If you can't find them, use a few regular marshmallows or a bunch of mini marshmallows.
Remove the brownies from the oven and turn the oven to broil. Press the sticky side of the marshmallows on top of the brownie cups. Place the pan back in the oven and broil for 2 minutes. Make sure you watch them closely. Marshmallows go from toasted too burnt in a matter of seconds.
Take the pan out of the oven. Allow the brownies cool in the pan for a few minutes, then gently remove the brownies from the pan and place on a wire rack.
Once they have cooled for a few more minutes, press a candy bar into the marshmallows. Cool the cupcakes completely before storing in a sealed container.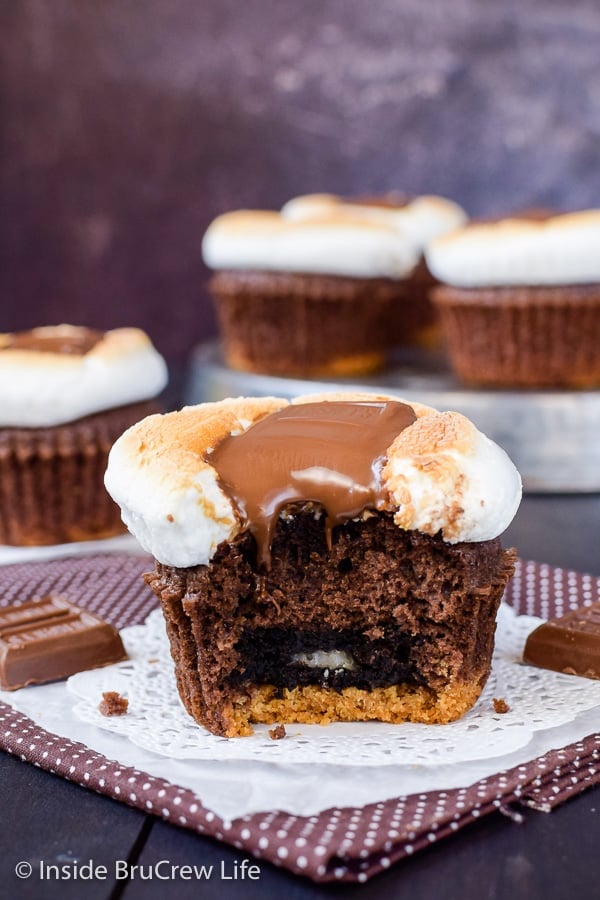 More s'mores dessert recipes
A graham cracker crust, chocolate pudding, and a marshmallow topping make this Chocolate S'mores Pudding Cake the perfect dessert.
Chocolate, marshmallow, and graham cracker goodness make this S'mores Cheesecake Fluff Salad disappear in a hurry.
The marshmallow frosting and a graham cracker crust makes these S'mores Frappuccino Cupcakes an amazing treat.
These Peanut Butter S'mores Bars are an easy treat that can be made year round. Gooey no bake bars always gets smiles.
Enjoy these easy No Bake Cookie Dough S'mores when it is too hot for baking or fires. Great summer candy recipe!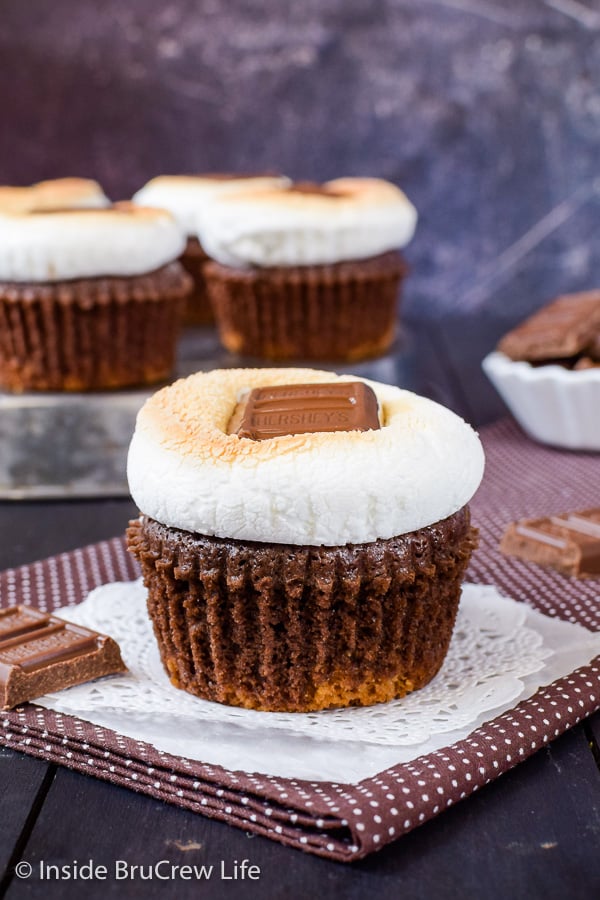 Love a recipe you tried from Inside BruCrew Life?
Please leave a 5 star ⭐️ rating and/or a review in the comments section further below.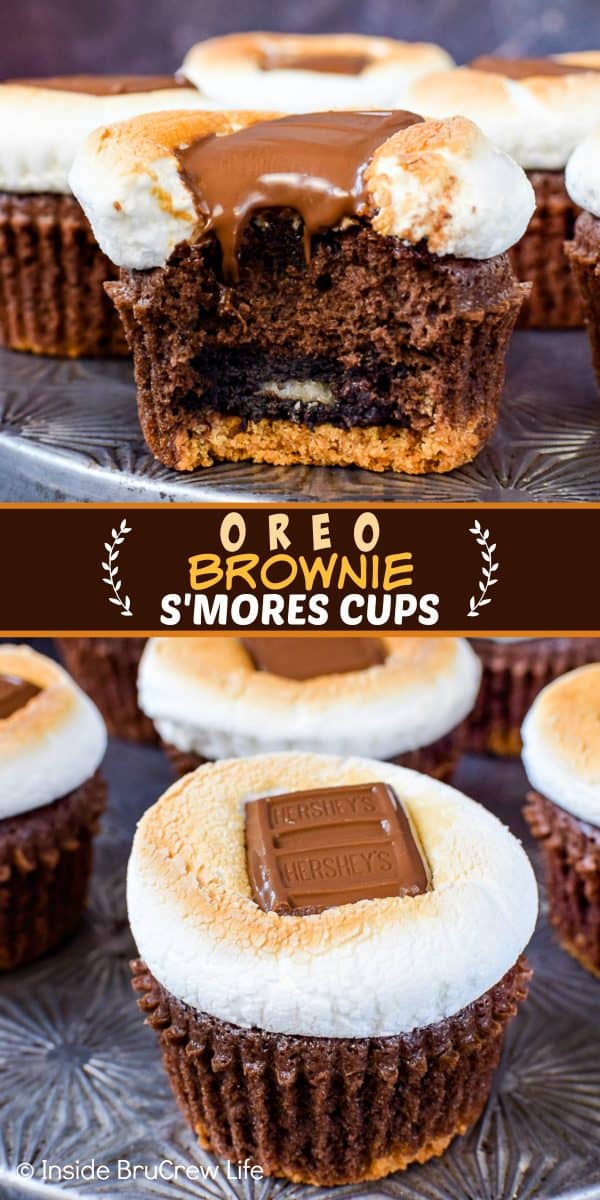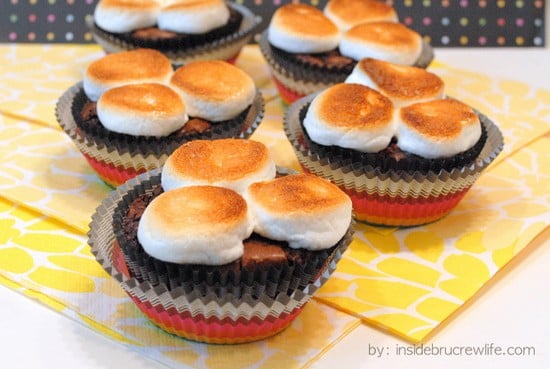 (original photo from June 2011)
*The post for Oreo Brownie S'mores Cups was first published on June 14, 2011. The pictures have been updated, and it was republished on August 10, 2019.