Looking for a fun way to keep eating s'mores even after summer is gone? This S'mores Toffee Bark has layers of Golden Graham cereal coated in an easy toffee mixture and topped with chocolate and mini marshmallow bits. I dare you to try to only eat one piece!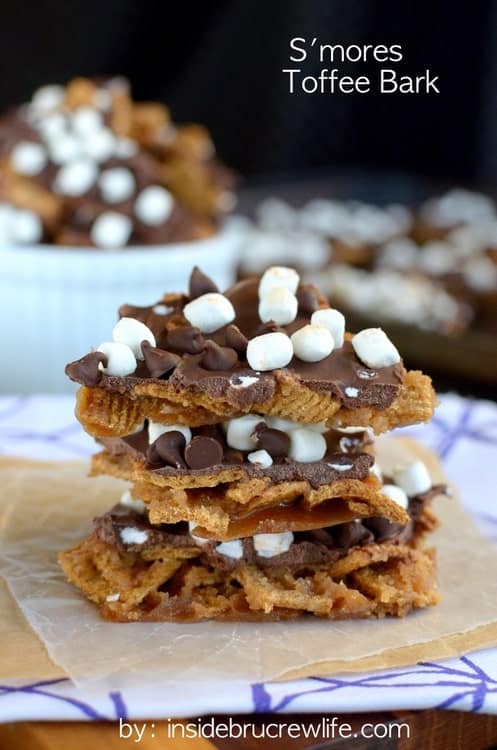 Yes, I know.
It's another s'mores dessert. I fully admit that I am totally and 100% crazy about s'mores this year. At least I know that I am a crazed s'mores person, right? I could be in denial about this current flavor trend that I can't seem to shake.
It all started with these Pumpkin S'mores Bars and has escalated into a full blown s'mores addiction. Seriously, it's bad peeps. Like I want to s'mores-itize everything.
Nothing is safe from me right now. Nothing...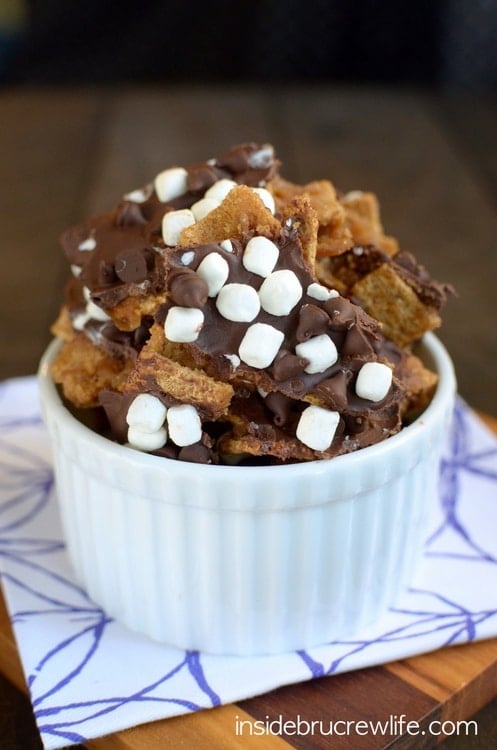 Want to know what else is not safe? Letting your two sons run all over Target while you sit with your daughter for her eye exam. They said they would just be looking at video games. They said they would stay together and behave.
Does riding skateboards up and down aisles, having Halloween mask face offs, and trying on full Gorilla costumes sound like trouble to you? Oh, and they documented it with selfies along the way.
Seriously those two...I have to get the pictures and videos from my son's phone. Those two crack me up. At least they only got "yelled" at once by an employee for the skateboarding part. Maybe at the next eye appointment they should stay within eye sight. I can't get banned from Target. That would be totally tragic...for me, not my wallet.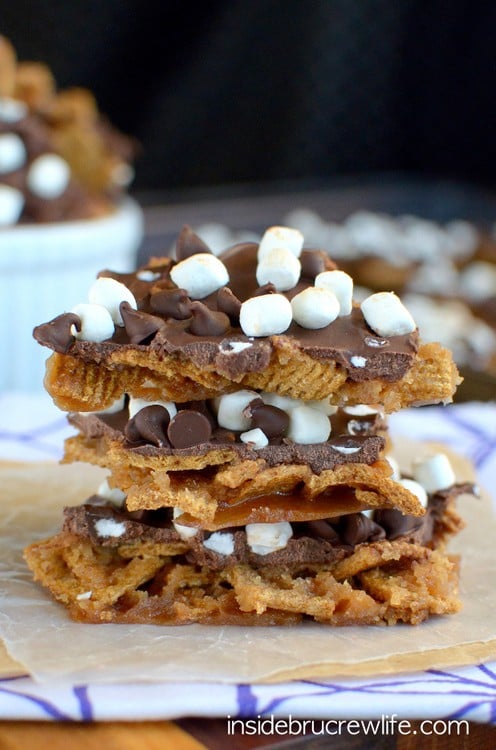 Speaking of tragic...this toffee bark is all gone. Again. I have made it twice in the last week and both times it disappeared in record time. I'm calling that dessert happiness! But then sadness takes over because I can't munch on more of it.
Although, this is seriously one of the easiest things ever to make, so I have no excuse to not make it for a third time. Well, except for the fact that someone also ate all the Golden Grahams cereal. LOL! I should make a Target run for more. I hear they have some great costumes and skateboards there. 😉
Ok, so let's talk about the recipe for a minute. I changed out the traditional crackers for cereal. Not really a big change at all. Then I googled lots of toffee brittles and barks. There were lots of ones that included water and vanilla, but I like to see how simple I can go, so I went with just butter and brown sugar. Melt the butter, then stir in the brown sugar. Bring that to a boil. Let it boil for 3 minutes without stirring. You want it to get all caramel-y and golden. Then pour it over the cereal and bake it for 7 minutes.
Sprinkle it with the chocolate chips and let it sit for about 5 minutes. The heat from the toffee bark will make the chocolate chips soft enough so you can spread it out with a spatula. Then sprinkle it with the mini marshmallow bits and mini chocolate chips. You will have to let it set up completely before breaking into chunks. I made that mistake on the second batch because I was a little impatient. It didn't hurt the bark, but I had chocolate all over my fingers. Not really a bad thing either.
Now what else can I add my beloved s'mores too? I'm getting that s'mores itch...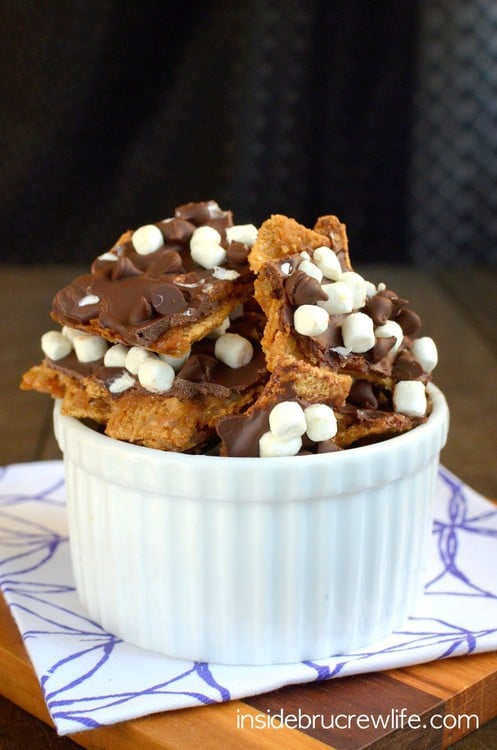 More fun ways to keep s'mores alive in your desserts all year long.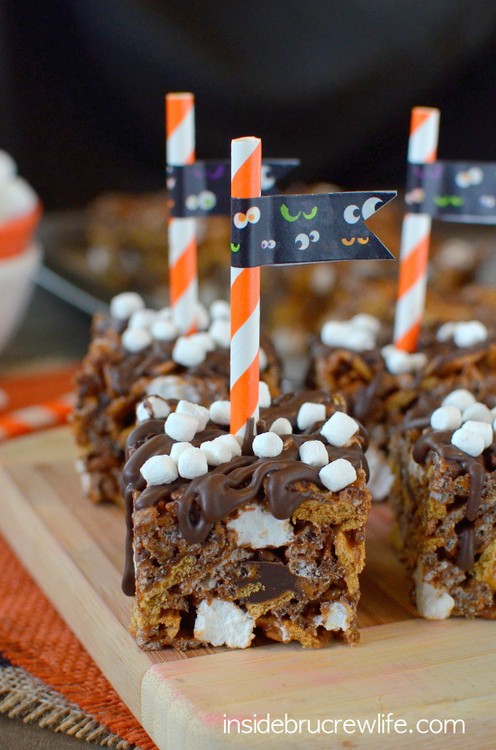 Pumpkin S'mores Rice Krispie Treats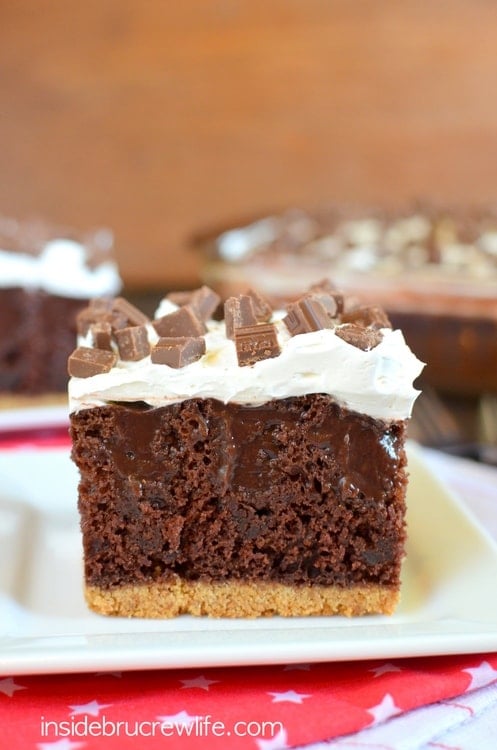 Chocolate S'mores Pudding Cake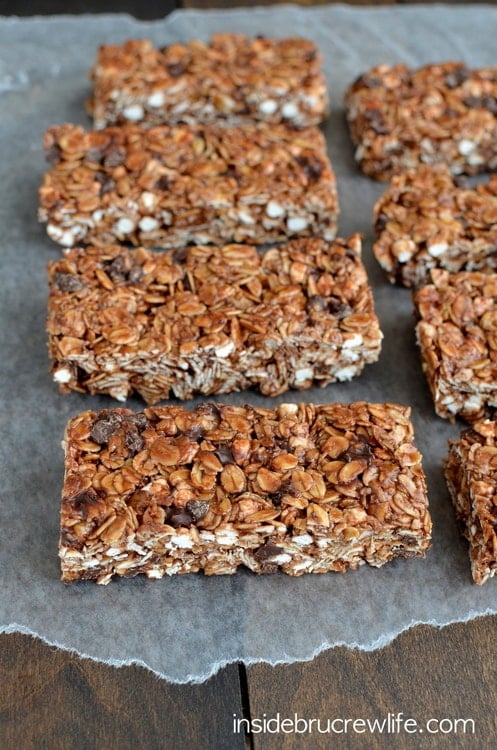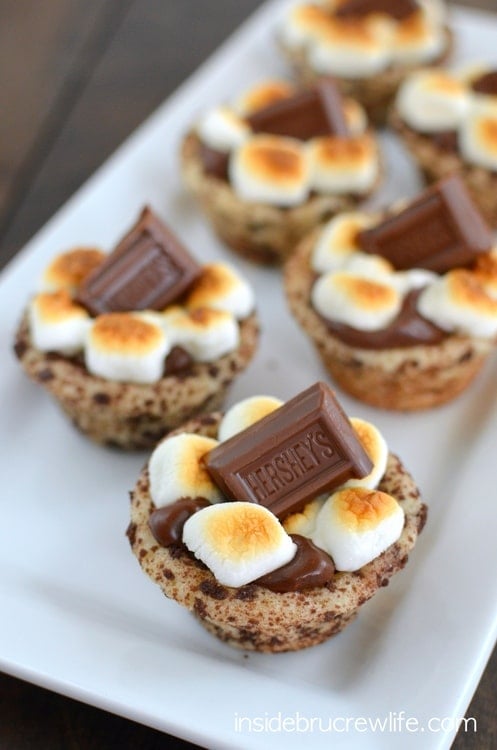 *I was provided product and coupons for this post from Challenge Butter, no other compensation was given. All opinions in this post are 100% my own.