Try these deliciously different s'mores recipes! We've taken the classic dessert and added a creative twist. From creamy s'mores pie to gooey cupcakes, bars, and more - there's something for everyone to enjoy.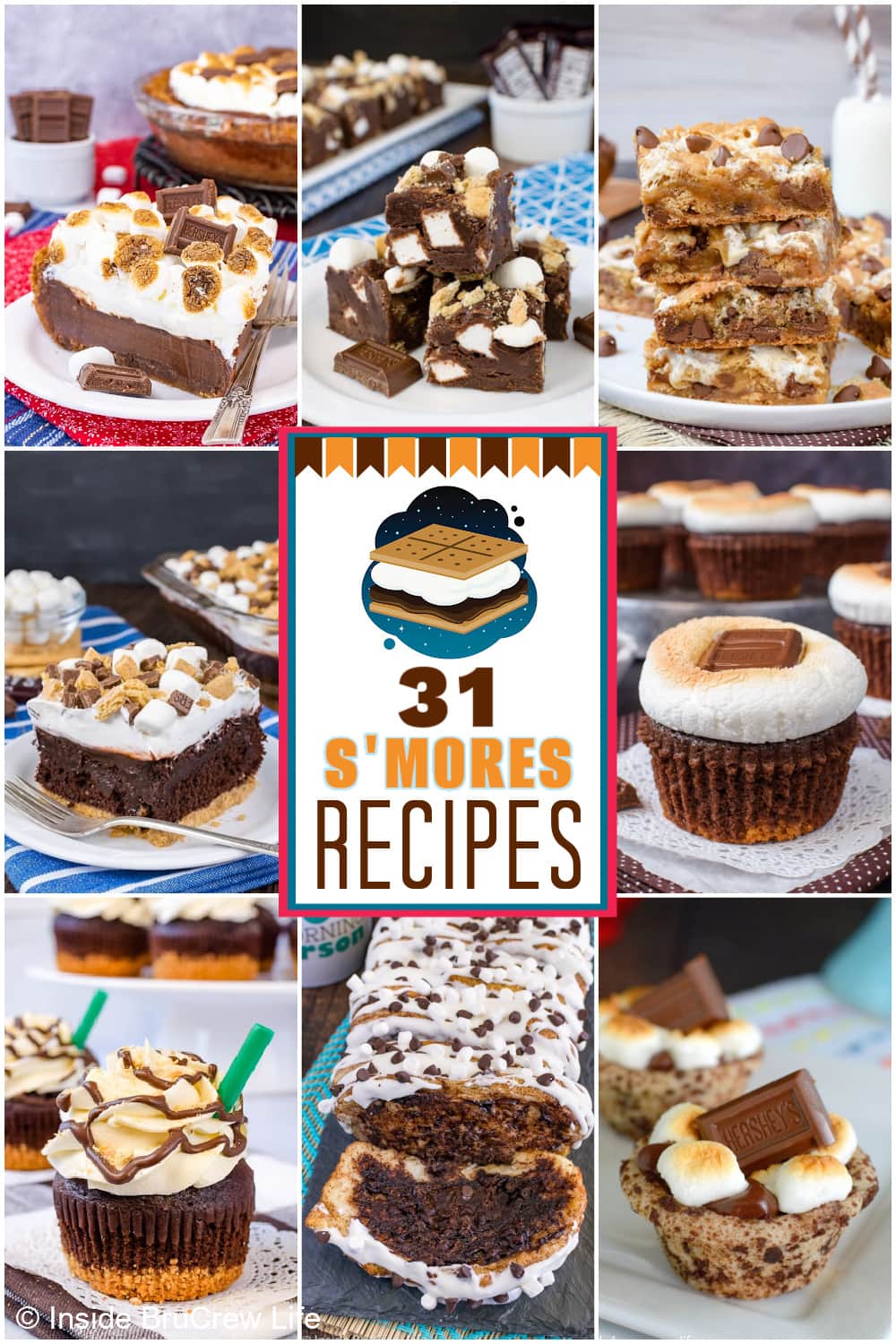 Jump to:
Who doesn't love s'mores? There is something magical about sitting around a campfire while enjoying the combination of toasted marshmallows, melty chocolate, and crunchy crackers.
Enjoy our delicious s'mores recipes, inspired by the timeless campfire treat. Indulge in the same irresistible flavors, but with a tasty twist! These recipes are indoor-friendly and easy to make, so now you can enjoy them any time of year.
Plus, with creative flavor combinations like s'mores monkey bread, cookie dough s'mores, and marshmallow fluff dessert, you'll never get tired of these gooey treats.
Why Make S'mores Desserts
Get ready to fall in love with s'mores all over again. With our s'mores recipes, you can have the classic summertime favorite anytime you want without having to wait until camping season.
No campfire needed. Enjoy these these gooey desserts year-round because there is no need for an open flame. You can use an oven or microwave to enjoy the flavors in fun treats.
Many different forms. From cupcakes and cookies to coffee and tarts, the possibilities are endless.
Rich and decadent. Many of these desserts combine elements like marshmallow buttercream, homemade brownies, or graham cracker crust along with the other classic s'mores ingredients.
Fun toppings. S'mores recipes are all about the presentation. Gooey marshmallows and chocolate drizzles will make everyone excited to dig into these creative treats.
FAQs
What is the best chocolate to use in s'mores?
The classic chocolate used in a s'mores is milk chocolate. The best chocolate to use is whatever you enjoy eating. Try dark chocolate, white chocolate, or even Reese's peanut butter cups for a fun change.
How do you cut a s'mores dessert cleanly?
The best way to make clean cuts is to run a knife under very hot water and wipe it clean after each cut.
What special tools do I need to make indoor s'mores?
A microwave or oven is all you need to make most of these s'mores desserts.
*This post was first published August 2016. It was updated and republished August 2023.