These Toasted Marshmallow Cheesecake Brownies are a fun way to enjoy the flavor of a toasted marshmallow without the work of getting a campfire ready. It is easy to make all the layers and would make an excellent addition to the next picnic or dinner party you attend.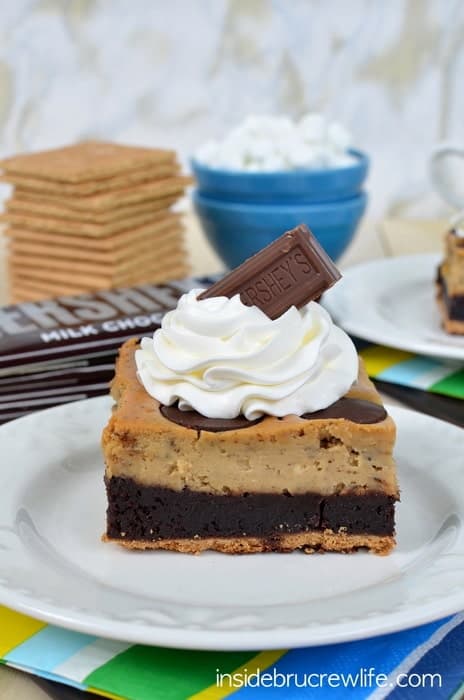 I love s'mores this time of the year. Not that I don't enjoy them year round, but there is something about summer that just makes you want to have a campfire each week and enjoy those toasty marshmallows each time.
The only thing is that campfires are not quite as fun when it is super hot outside. But I still want to enjoy those toasted marshmallows and melty chocolate. This year hasn't been super hot until just the past few weeks, so now I am looking for fun ways to incorporate the taste of s'mores into my baking.
Of course, I had to try cheesecake first with this flavor. Cheesecake brownies are one of my top favorite things to make. It all started with these Reese's Cheesecake Brownies, and I haven't stopped since.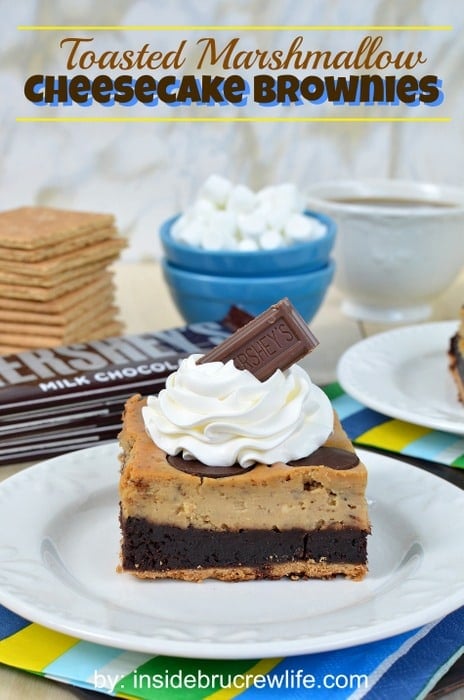 I have two options for the crust in these cheesecake brownies.
You can either lay the graham crackers in a layer on the bottom of the pan before adding the brownies, or you can crush the crackers and make a crust with butter. I laid the graham crackers in the bottom because I was feeling kind of lazy that day. It worked great, but be prepared for some floating crackers in your brownies when you cut them to serve.
If I made it again, I would go with the crushed crackers because the crust would stay put better. But if you are pressed for time or just feeling lazy like me, the full graham crackers work just fine.
The best part of these brownies is the toasted marshmallow cheesecake.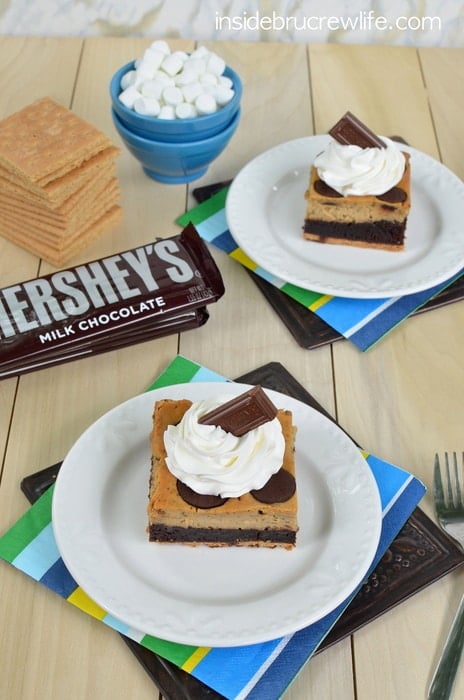 You are going to toast the marshmallows using your broiler. But be very careful doing this. I left mine under the broiler for about 1 minute and 15 seconds, and they were on the verge of being burnt. BUT I added them to my cheesecake anyway, and I loved the flavor it gave the marshmallow cheesecake. I could taste the toasted marshmallow flavor in the batter. Yes, I taste the uncooked cheesecake batter even though there are raw eggs in there. I haven't died yet, so I probably won't stop any time soon.
The hardest part about these brownies is of course the wait time. It takes some patience to make all three layers, then more patience to bake it at least 45 minutes. But your patience will be tested even more because you have to wait for these brownies to chill completely before digging into them. I have mentioned it before...I like to bake at night. Then everything goes in the refrigerator to chill while I am sleeping. These are one of those things you will want to make the night before, so that is ready to serve any time the next day. Breakfast anyone?
These are the perfect picnic brownies...or maybe just brownies to eat in the comfort of your home with your air conditioner blasting away. I wouldn't know about that though...wink, wink!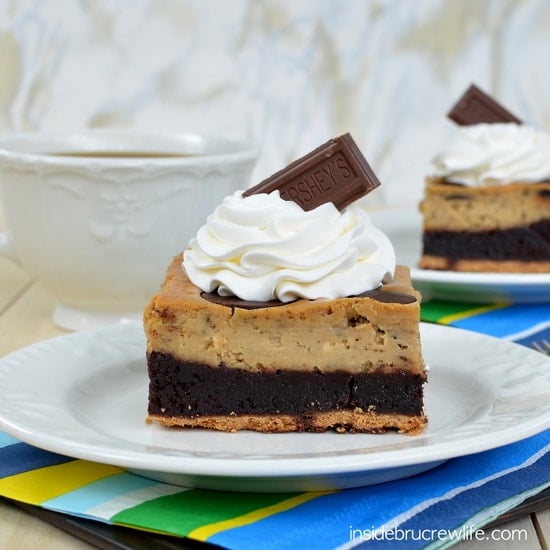 Stay up to date on all the BruCrew baking:
FACEBOOK | PINTEREST | GOOGLE+ | TWITTER | INSTAGRAM | BLOGLOVIN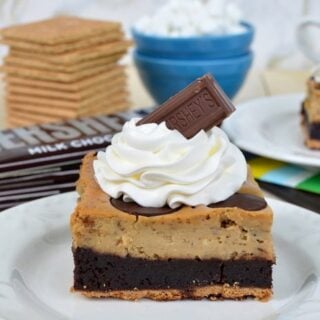 Toasted Marshmallow Cheesecake Brownies
Yield:
24 cheesecake brownies
Total Time:
1 hour
15 minutes
Toasted marshmallow cheesecake with a brownie and graham cracker crust is a fun way to enjoy s'mores for dessert.
Ingredients
4 cups graham cracker crumbs
10 Tablespoons butter, melted
1 - 9x13 brownie mix
2 - 8ounce packages cream cheese, softened
½ cup sugar
¼ cup sour cream
2 eggs
1 cup marshmallow cream
3 cups mini marshmallows, toasted
1 cup chocolate chips or baking melts
Cool Whip
Hershey candy bars
Instructions
Preheat oven to broil. Line a baking sheet with parchment paper. Place the mini marshmallows on the parchment paper. Place the pan in the oven for 1 minute. Watch carefully because the marshmallows will burn very easily. You want them to be dark and toasty.
Spray a 9x13 pan with nonstick spray.
Combine the graham cracker crumbs and butter. Press firmly into the bottom of prepared.
Make the brownie mix according to the back of the box. Gently pour onto the graham cracker crust.
Place the cream cheese and sugar in a mixing bowl. Beat until creamy. Add the sour cream, eggs, and marshmallow cream and beat again until creamy.
Use a spatula and scrape the toasted marshmallows into the cheesecake batter. Beat again until thoroughly mixed.
Gently spoon the cheesecake onto the brownie batter. Sprinkle with chocolate chips. Bake at 45-50 minutes. Let cool on a wire rack for 1 hour, then refrigerate until chilled completely. Top squares with Cool Whip and Hershey bars when serving.
Notes
*You can also just lay whole graham crackers on the bottom of your pan instead of making a crust, but they may move when you pour the brownie mix on top.
Nutrition Information:
Yield:

24
Serving Size:

1
Amount Per Serving:
Calories:

280
Total Fat:

17g
Saturated Fat:

9g
Trans Fat:

0g
Unsaturated Fat:

6g
Cholesterol:

49mg
Sodium:

186mg
Carbohydrates:

32g
Fiber:

1g
Sugar:

20g
Protein:

3g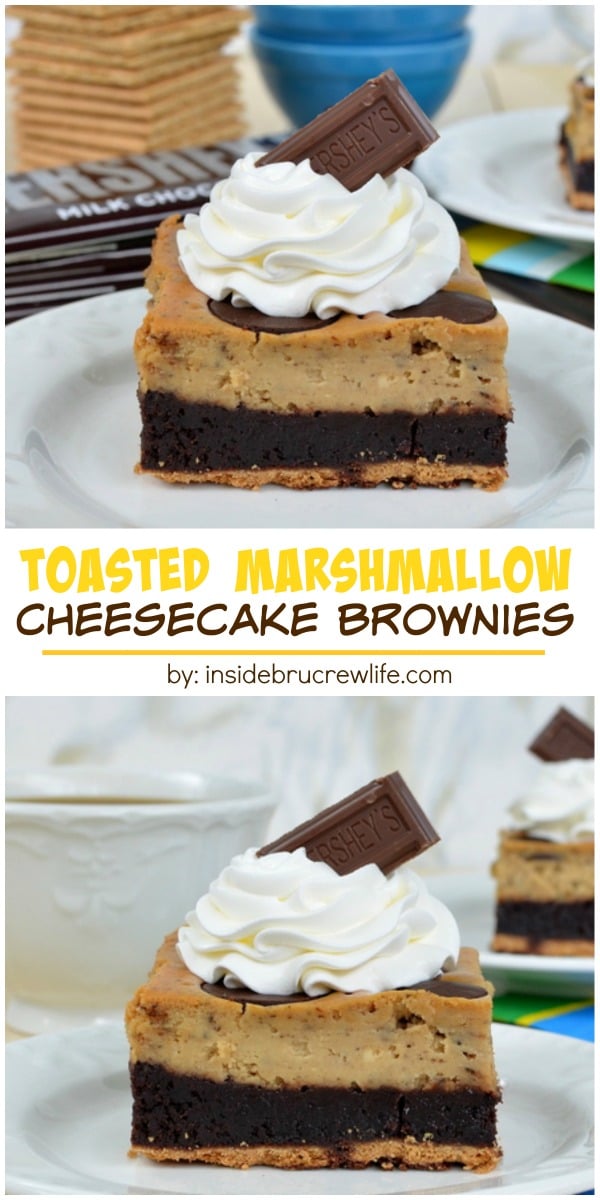 Other fun S'mores recipes: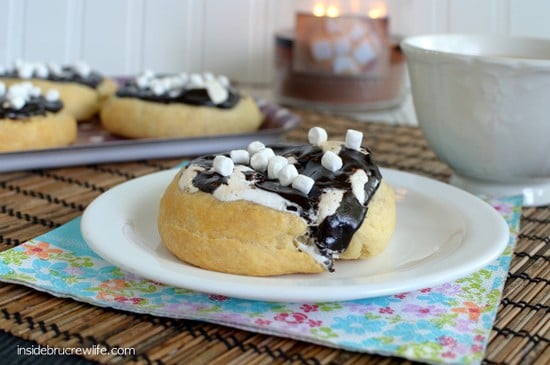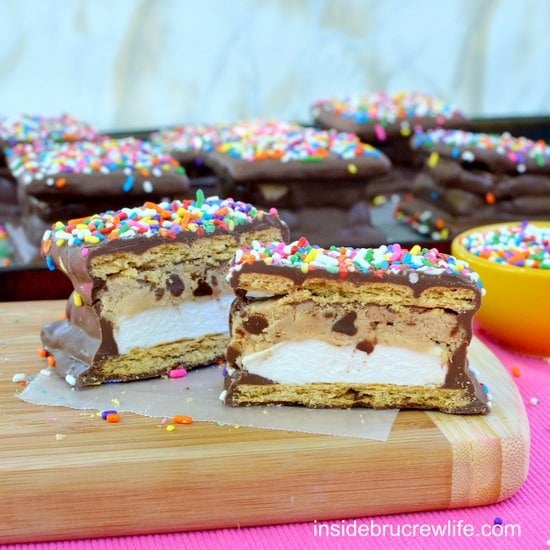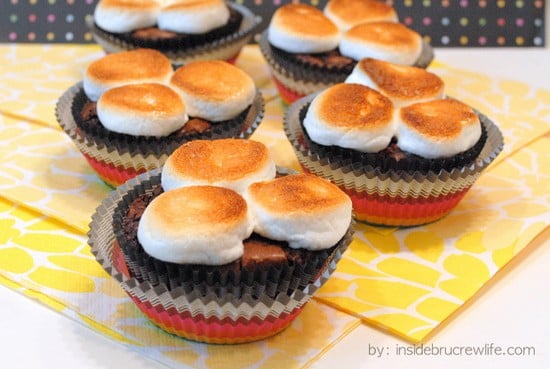 Mores S'mores from around the web:
Pretzel S'mores from Love From The Oven
Peanut Butter S'mores Cookie Cups from Buns in my Oven
S'mores Ice Cream from Life Made Simple