Layers of homemade brownies and a no bake peppermint cheesecake make this Peppermint Brownie Trifle an impressive dessert to bring to holiday parties.
*Like these recipes? Sign up for the BruCrew email and have them delivered to your inbox.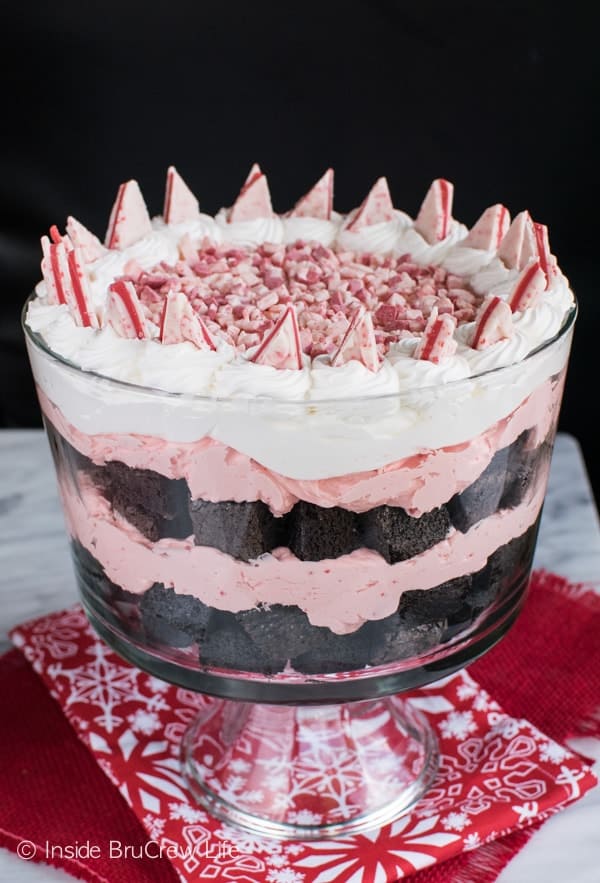 CLICK HERE TO PIN THIS RECIPE FOR LATER!
A few years ago we visited my family over Thanksgiving. We were able to stay at my sister's house while we were there, and it was fun to catch up with her over those few days. And of course seeing our little niece and nephew was a treat because they are getting so big, so fast.
While we were there, we made a batch of Chocolate Cherry Chunk Cookies and talked dessert. Surprise, surprise. I still like to make and talk dessert even when I'm not home.
While we were talking she asked me about making a no bake cheesecake. Apparently, she had been craving one and tried to put one together using the ingredients in her fridge instead of what the recipe called for.
She thought she could use milk in place of whipping cream. Silly girl! I had quite a laugh at her expense. It's ok. She was totally laughing too!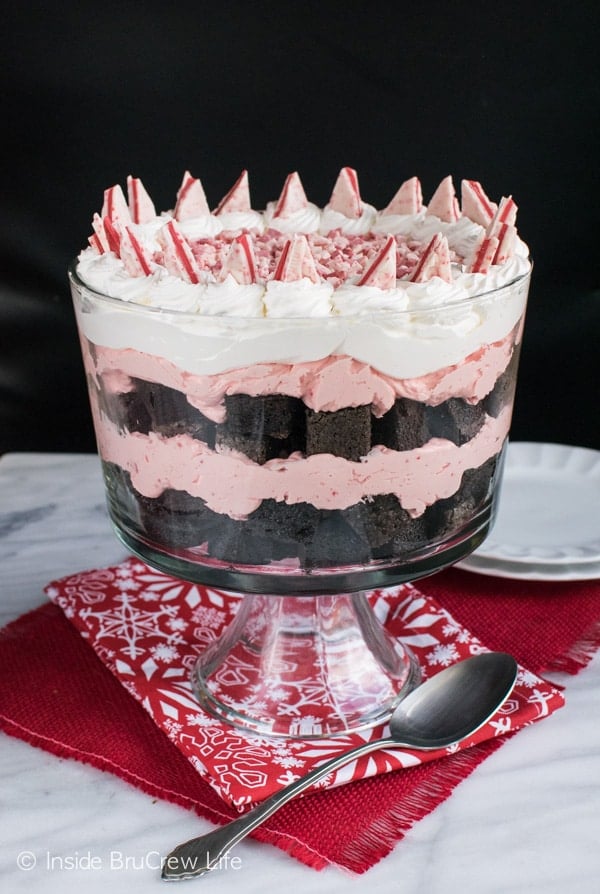 Just so you know, milk cannot be used in place of whipping cream for a no bake cheesecake! My sister found that out when she went back hours later to see if her cheesecake had set up.
However, I gave her props for improvising and freezing the runny mixture. She said it was kind of like an icy frozen cheesecake and got her past her craving.
I usually have tubs of Cool Whip in my refrigerator for cheesecake instead of whipping cream. Yes, I know. The white stuff that some people find so controversial is always in our house.
Hey, I like the creamy stuff and have been known to eat it by the spoonfuls. #justkeepingitreal If you want to make a homemade, stabalized whipped cream to use in place of the Cool Whip, that will work too.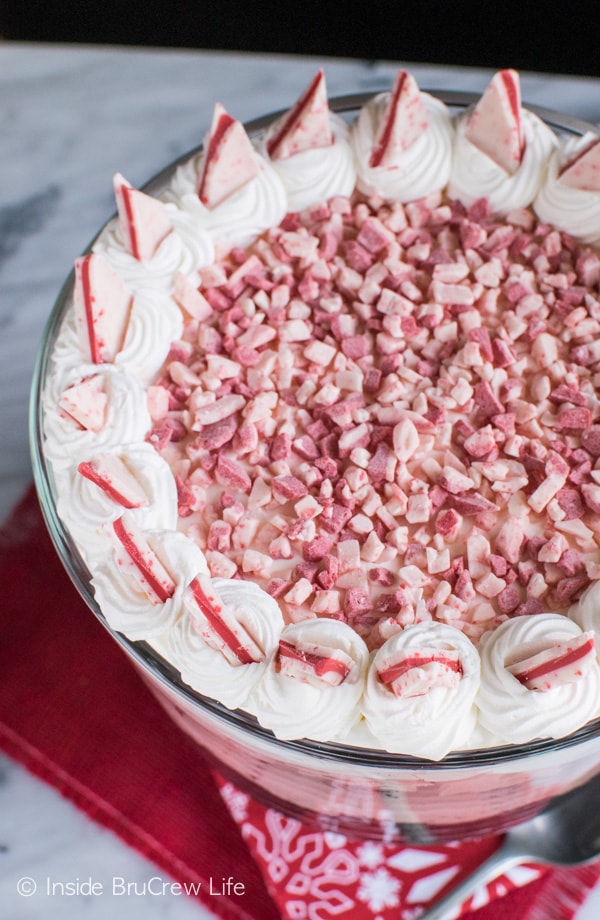 I came home from visiting my sister and whipped up a creamy no bake peppermint cheesecake because apparently my love for peppermint has no end.
Then I made these Homemade Chocolate Chip Brownies, minus the chocolate chips and layered the two together in a bowl. A store bought brownie mix works just as well too, if you were wondering.
This Peppermint Brownie Trifle looks so impressive all layered together in a clear trifle bowl
.
No wonder all that working out early in the morning isn't doing anything. My sweet tooth is sabotaging my squats…one bite at a time!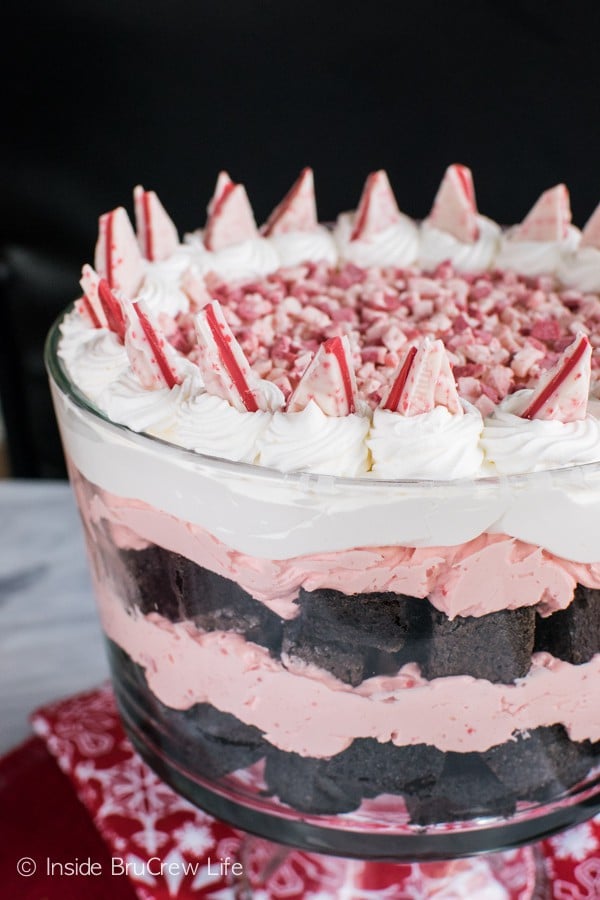 What you will need to make this Peppermint Brownie Trifle:
butter
dark cocoa powder
eggs
sugar
vanilla extract
baking powder
flour
salt
cream cheese
peppermint extract
Andes Peppermint Crunch Chips (I'm seriously obsessed with them and always have a few bags in the pantry)
Cool Whip
Andes Peppermint Crunch Candy Bars
How to make a Peppermint Brownie Trifle:
Mix together the melted butter and cocoa powder.
Beat the eggs, sugar, and vanilla until light and fluffy.
Stir in the flour, salt, baking powder, and butter mixture.
Pour the mixture into a greased 9×13 pan and bake for 30 minutes. Let the brownie cool completely before cutting it into 1-inch squares.
Beat the cream cheese, sugar, and extracts until creamy.
Place the peppermint crunch chips and some shortening in the microwave and heat for 30 seconds. Stir until melted and creamy. You may need to heat again for 15-20 seconds.
Mix the melted peppermint into the cream cheese mixture.
Fold in Cool Whip and more peppermint crunch chips.
Layer the brownie cubes and no bake peppermint cheesecake in a large clear bowl.
Top with more Cool Whip, peppermint crunch chips, and candy bars.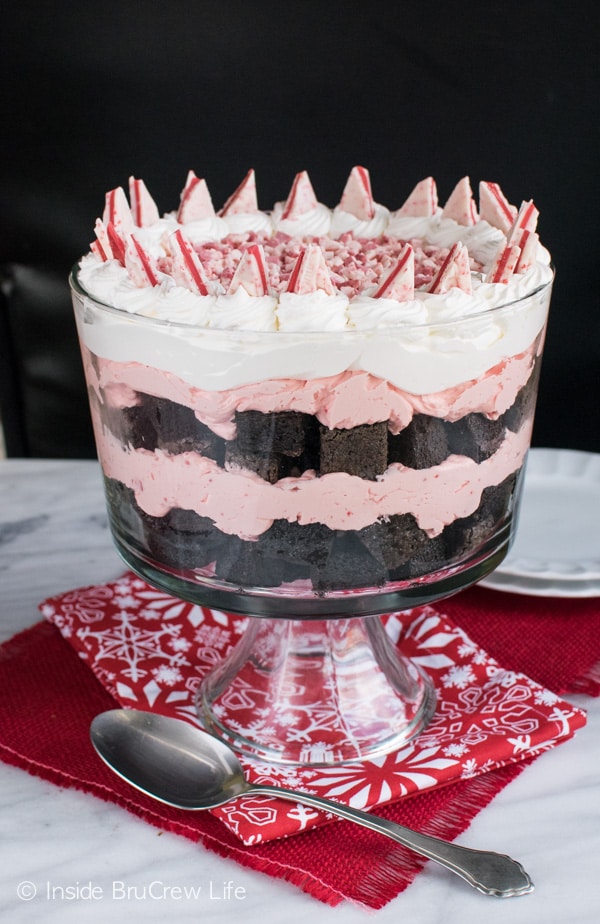 More peppermint desserts you may enjoy for the holidays:
Connect with Inside BruCrew Life! Follow us on social media, so you never miss a post.
Email Subscription | Facebook | Pinterest | Twitter | Bloglovin
I also created a fun new Facebook group, and I would love for you to join. It's a group where you can share your favorite recipes, ask questions, share photos, and see what's new with the BruCrew. If you would like to check it out, you can request to join HERE.
Be sure to follow me on Instagram and tag #brucrewlifebaking, so I can see all the Inside BruCrew Life recipes you are making.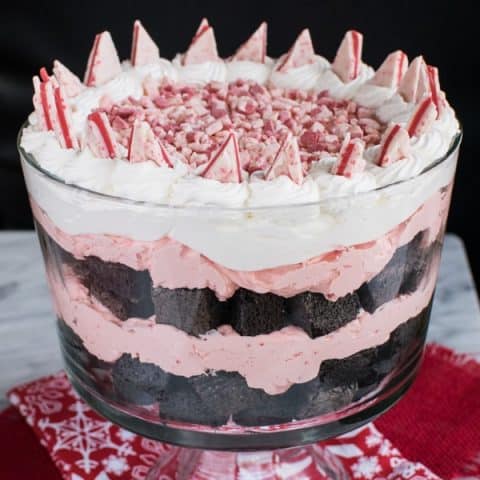 Peppermint Brownie Trifle
Total Time:
1 hour
15 minutes
Layers of homemade brownies and a no bake peppermint cheesecake makes this Peppermint Brownie Trifle an impressive dessert to serve at holiday parties.
Ingredients
For the Brownie Layer
1 cup butter
1/2 cup dark cocoa powder
4 eggs
2 cups sugar
2 teaspoons vanilla
1 teaspoon salt
1 1/2 cups flour
1/2 teaspoon baking powder
For the Cheesecake Layer
2 - 8 ounce packages cream cheese, softened
1/4 cup sugar
1 teaspoon vanilla extract
1/2 teaspoon peppermint extract
2 1/3 cups Andes Peppermint Crunch Chips, divided
2 teaspoons shortening
16 ounces Cool Whip, thawed and divided
Andes Peppermint Crunch candy bars, cut into triangles
Instructions
Preheat oven to 350 degrees. Spray a 9x13 pan with nonstick spray.
Melt the butter in a small saucepan. Whisk in the cocoa powder. Let cool slightly.
Beat the eggs until light colored. Add the sugar and extracts and beat again.
Stir in 1/4 cup of butter/cocoa mixture quickly. Add the rest of the butter mixture and beat again.
Sift together the flour, salt, and baking powder. Slowly beat into the wet mixture in the bowl.
Pour into prepared pan. Bake for 30 minutes. Do not over bake. Remove and let cool.
Beat the cream cheese, sugar, and extracts until light and creamy. Set aside.
Place 1 1/2 cups Andes peppermint chips and shortening in a microwave safe bowl. Heat for 30 seconds. Stir and heat again if needed until creamy. Pour into cream cheese mixture and beat until mixed in.
Fold in half of the Cool Whip and 1/2 cup Andes chips.
Cut the brownies into 1 inch squares. Place half the brownies in the bottom of a trifle bowl.
Top with half of the peppermint cheesecake. Repeat layers.
Cover the top with the 2 1/2 cups Cool Whip and Andes chips.
Swirl the last 1/2 cup Cool Whip around the edges with a piping bag and icing tip 21.
Top each swirl with candy bar triangles. Keep refrigerated and covered until serving.
Recommended Products
As an Amazon Associate and member of other affiliate programs, I earn from qualifying purchases.
Nutrition Information:
Yield:

16
Serving Size:

1
Amount Per Serving:
Calories:

684
Total Fat:

42g
Saturated Fat:

26g
Trans Fat:

0g
Unsaturated Fat:

12g
Cholesterol:

114mg
Sodium:

397mg
Carbohydrates:

70g
Fiber:

2g
Sugar:

55g
Protein:

8g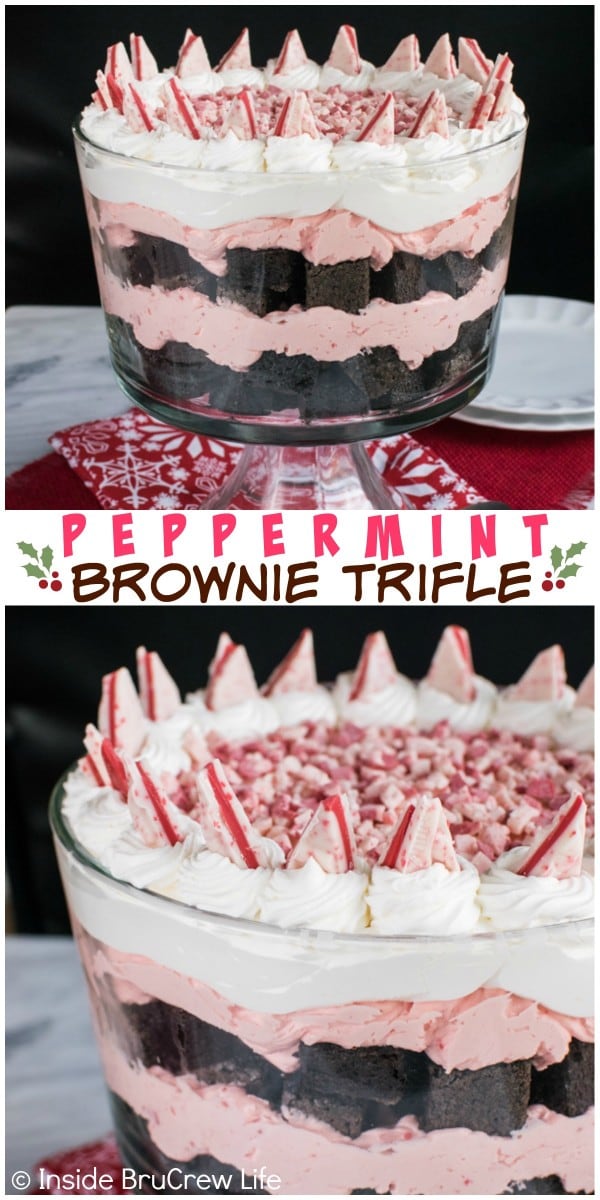 *The post and recipe for this Peppermint Brownie Trifle was originally published on December 14, 2015. The post has been updated and republished on November 29, 2018.
**Inside BruCrew Life is a participant in the Amazon Services LLC Associate Program. We may receive a small percentage from sales made through these links with no added cost to you. Thank you for helping to support us and for letting us continue to provide free recipes for you.