One bite of this Peppermint Mocha Fudge Tart will send you to your holiday happy place. Chocolate and peppermint layers make this easy dessert an impressive dessert to share at Christmas parties.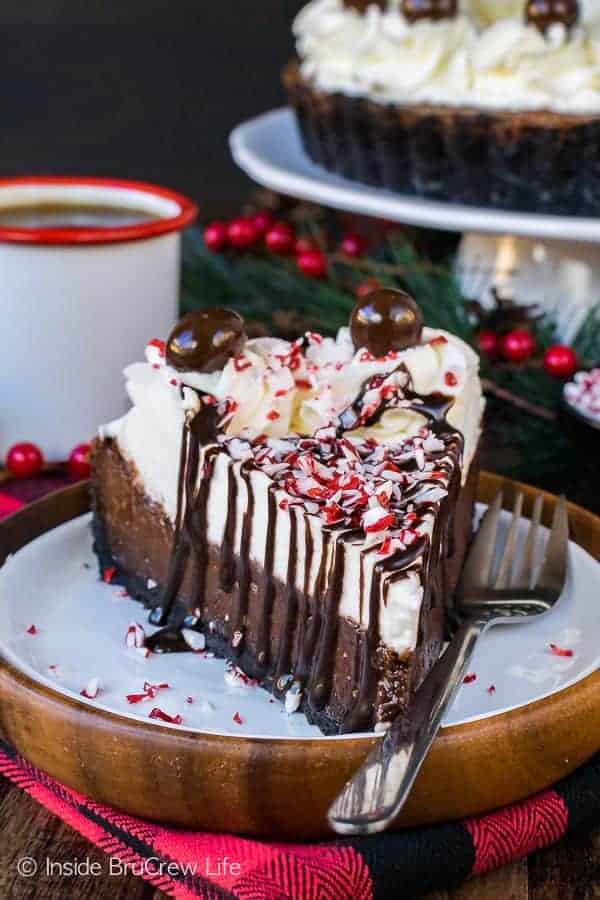 Oh, the weather outside is frightful...nah not here. We live in Florida where it's been sunny and 80 degrees all week. In fact, I needed a break after a long week, so the kids and I headed over to the beach for an hour. Yup, it's December, and we went to the beach. I love my life!
It was so relaxing to just sit in the sun without a care in the world. The weather app is showing sunny skies for the next three days. So, I'm very temped to take a break in the middle of the day from all things baking and blogging to sit in the sun for an hour.
I also looked ahead for the rest of the week and the app said it would be in the 60's by Friday. Brrr! That's chilly! I have a feeling I should pull out a few sweatshirts and jeans!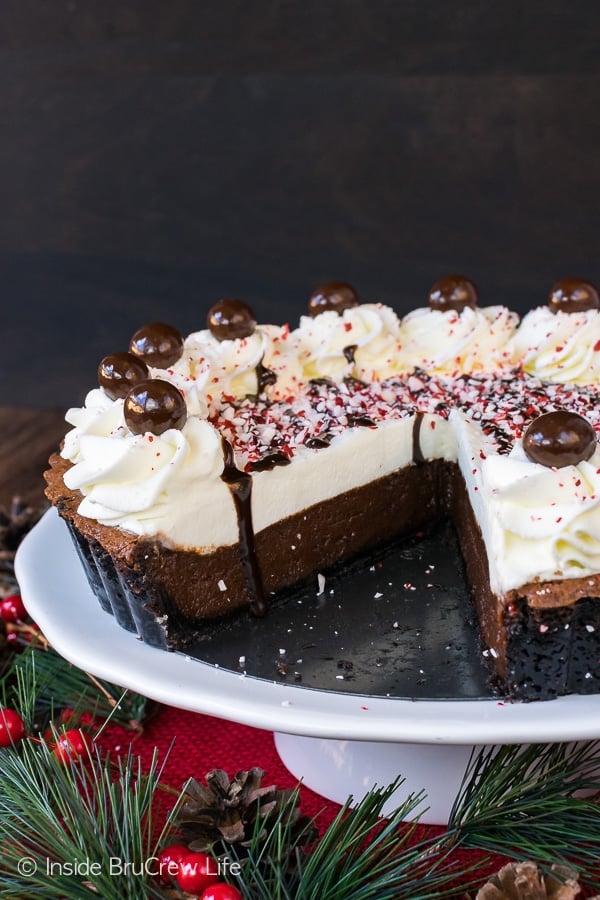 The sunny warm weather is affecting my holiday spirit a little bit though. It just doesn't seem like Christmas when you are sitting on a beach. But that is probably because I grew up in the north where it was cold from October to April. Cold equals holidays in my mind. I guess it takes time to adjust your thinking to lights wrapped around palm trees.
Maybe I just need to sit and stare at our decorated Christmas tree a little more. There is something so magical about staring at it when all the lights are out. A few more peppermint desserts in the fridge would probably help with my holiday cheer too. Just don't tell my jeans about that plan. They like being skinny and want to keep it that way.
A few weeks ago I did a video for this chocolate cherry mousse tart. As I was putting it together, I wondered how I could make it work for Christmas. I mean, chocolate and cherry works just fine, but I had peppermint visions dancing in my head. Yup, still obsessed with all things peppermint.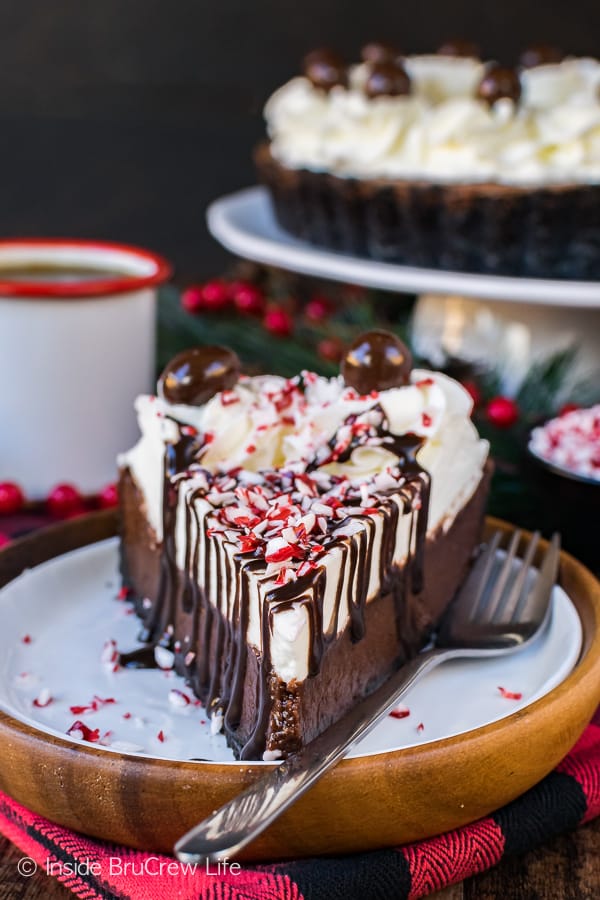 Trust me when I say THIS is the best holiday dessert you will make this season! In fact, I'm kind of thinking it might be the best one I have ever made in 8 years of blogging. That's saying a lot because have you seen this candy cane chocolate cheesecake cake or this chocolate peppermint cheesecake cake?
Both of those were pretty dang impressive, but I still say this one tops everything hands down!!!
I know that right now you are probably thinking this looks way to fancy and to hard to attempt in your kitchen. Let me calm your baking fears. This is seriously so easy to make. If you can crush cookies and run a mixer, you can make this peppermint mocha fudge tart. Honest.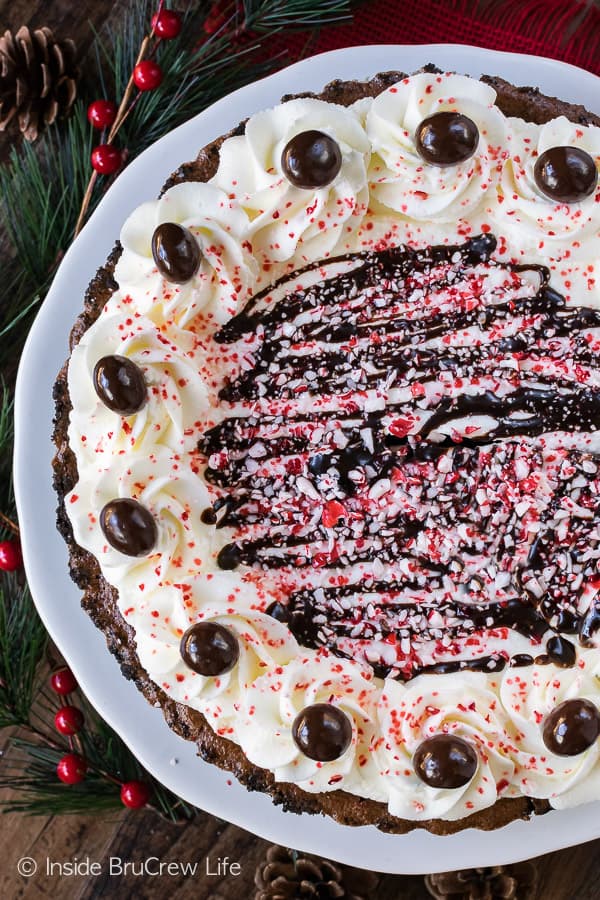 How to make this peppermint mocha fudge tart
Crush your Oreo cookies in a food processor. Go ahead and leave the cream center because then we can use less butter that way.
Mix the crumbs with some melted butter and press it in a tart pan. Bake and cool the crust.
Melt the butter and chocolate chips in the microwave. Be careful not to heat it too long. Small time segments are best. Stir it until it is nice and creamy.
Beat the eggs, sugar, creamer, and extract until frothy. Add the chocolate and beat again.
Pour this chocolate mixture into the cooled crust and bake.
Do not over bake your tart. It will look jiggly and underdone when you pull it out. That's totally normal. Let it cool and it will set up.
Add a batch of peppermint whipped cream to the top.
Right before serving, drizzle it with chocolate syrup and peppermint bits.
Watch everyone eye's go wide with amazement when you bring this to dinner parties! It's definitely a show stopper!!!
CLICK HERE TO PIN THIS RECIPE FOR LATER!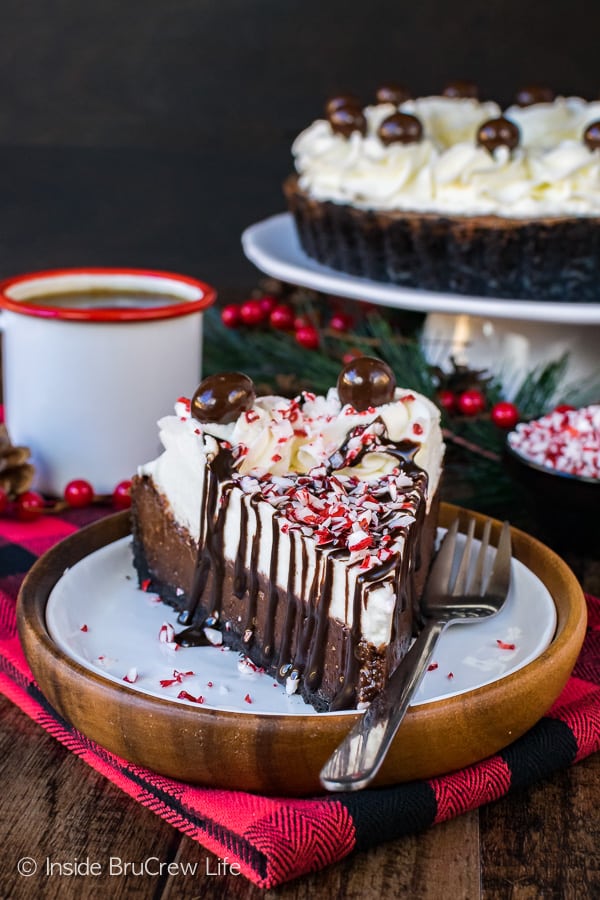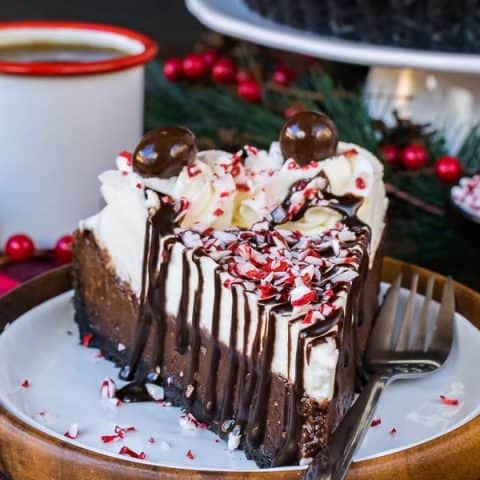 Peppermint Mocha Fudge Tart
One bite of this Peppermint Mocha Fudge Tart will send you to your holiday happy place. Chocolate and peppermint layers make this easy dessert an impressive dessert to share at Christmas parties.
Ingredients
For the Crust
20 Oreo cookies
4 Tablespoons butter, melted
For the Fudge Tart
8 Tablespoons butter
1 ⅔ cups chocolate chips
2 eggs
1 cup peppermint mocha creamer
¼ cup sugar
1 teaspoon coffee extract
¼ teaspoon salt
1 batch peppermint whipped cream
chocolate covered coffee beans
chocolate syrup
peppermint bits
Instructions
Preheat the oven to 350 degrees.
Pulse the cookies in a food processor until you have crumbs. Mix the crumbs with the melted butter.
Press the mixture evenly into the bottom and sides of a 9 inch tart pan with removable bottom. Make sure your crumbs go to the top of the pan. Place on a baking sheet and bake for 8 minutes. Remove and cool.
Place the butter and chocolate chips in a microwave safe bowl. Heat for 30 seconds. Stir. Heat again for 15-20 seconds. Stir until melted and creamy. Set aside to cool slightly.
Beat the eggs, sugar, creamer, extract, and salt until frothy. Add the chocolate mixture and beat again until creamy. Pour into the cooled crust.
Place the tart on a baking sheet. Bake for 28-30 minutes. Remove and let cool on the counter for 1 hour, then refrigerate for 4-6 hours until chilled all the way.
Remove the tart from the refrigerator and sit for 10 minutes before gently pressing the bottom of the pan up and out of the sides.
Spread 1 ½ cups of peppermint whipped cream on top. Use the rest to pipe around the edges of the tart. Top the swirls with the chocolate covered coffee beans. Right before serving, drizzle with chocolate syrup and sprinkle with peppermint bits.
Recommended Products
As an Amazon Associate and member of other affiliate programs, I earn from qualifying purchases.
Nutrition Information:
Yield:

14
Serving Size:

1
Amount Per Serving:
Calories:

355
Total Fat:

23g
Saturated Fat:

12g
Trans Fat:

0g
Unsaturated Fat:

9g
Cholesterol:

53mg
Sodium:

209mg
Carbohydrates:

38g
Fiber:

2g
Sugar:

30g
Protein:

3g
Here are some more fun holiday desserts that will stand out on your Christmas dinner tables:

*This post does contain affiliate links. Inside BruCrew Life may receive a small percentage from purchases made through these free links. As always, these do not cost you any extra. Thank you for letting us share products we use and love this way.