This Raspberry Nutella Brownie Cake has layers of brownie, fudge frosting, Nutella mousse, and fresh berries. It is an impressive dessert to share after any meal.
*This post was sponsored by The J.M. Smucker Company. I am partnering with them as a brand ambassador creating recipes from products that they send me.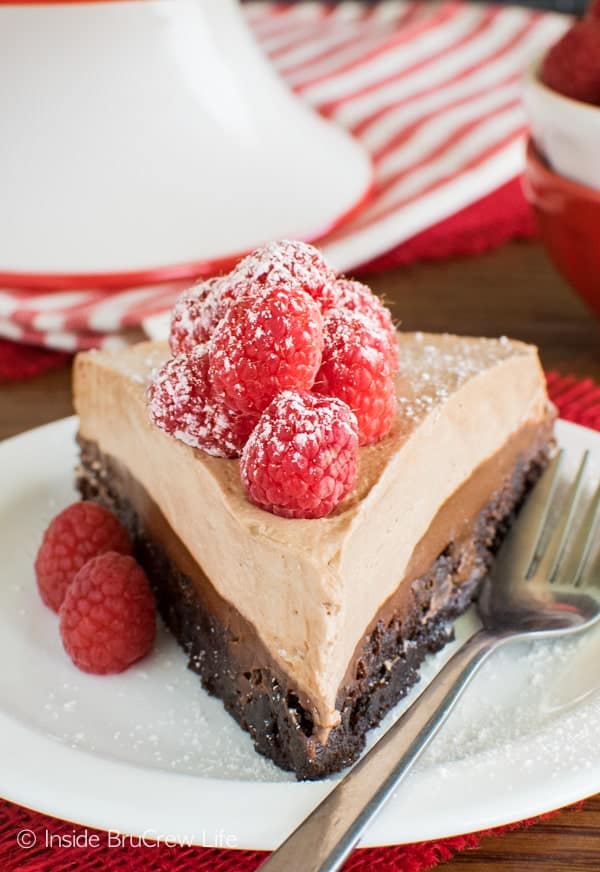 It's desserts like these that make me keep going out into our garage gym! The past few months I have been slacking a bit in the early morning work outs. Staying up late at night working on projects has me too beat to do the 6 am thing most days.
But because I like to savor delicious treats...ok, fine, shove my face full of warm triple chocolate cookies...I still make sure I get out and do a work out some time in the morning. Ok, ok, I'm out there by noon most days. Doing some cardio is a nice way to break up the baking.
The other day I decided I really needed to get going in the morning, so I got up and joined my hubby for an early work out. You guys? I think he was punishing me for not getting up early every day! That workout was killer!!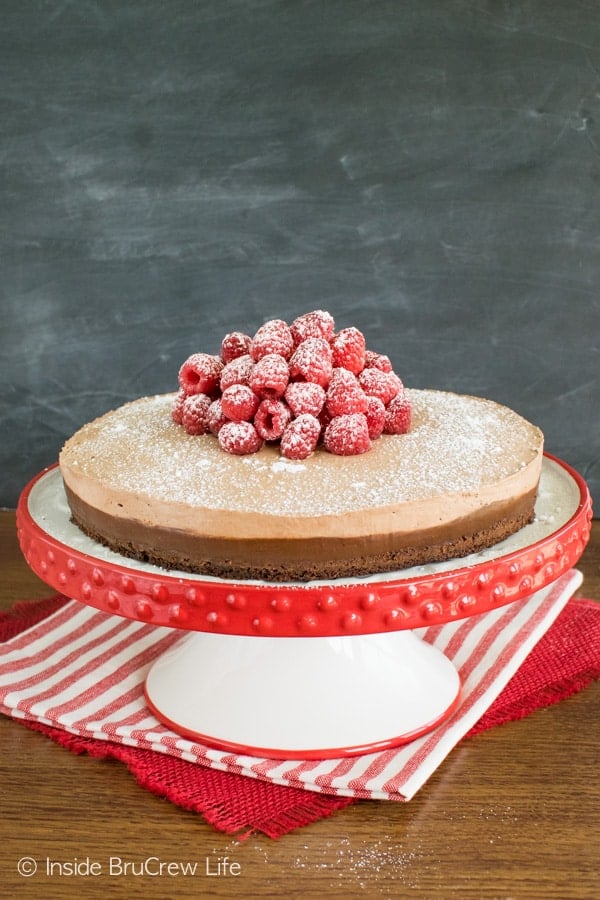 He started out by saying that it would only be a 20 minute workout. That sounded good to me....
Then he said we were doing 5 burpees and 10 kettle bells swings every single minute!!!! My first thought was ok, that's not going to be bad. Until we were 5 minutes in...and I was wheezing like an old lady!
I thought I was going to die! And trust me, death by burpees is not how I want to go! But the competitive side of me kept me going. I almost kept up with how fast my husband was going. There was only 1 minute that I just had to lie down and breathe.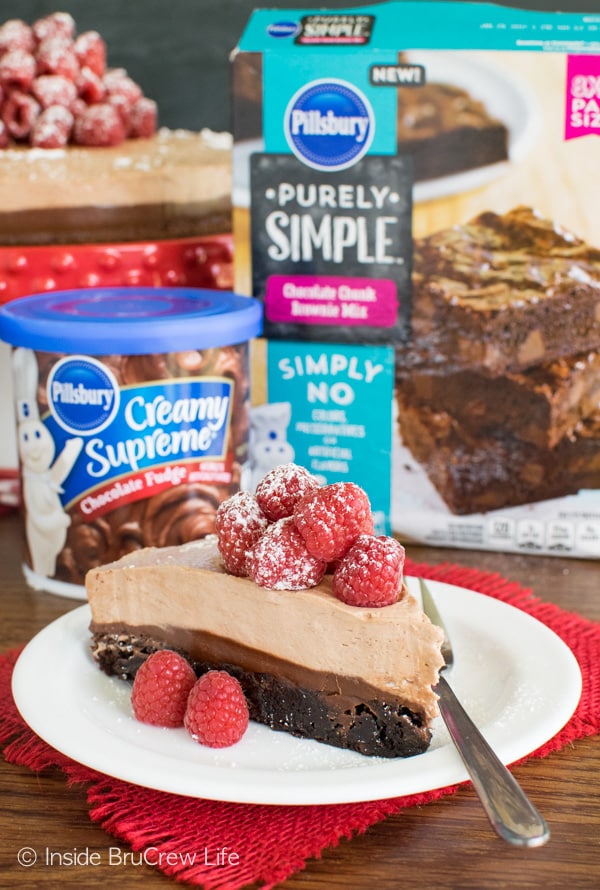 It's a good thing I had a hidden slice of this raspberry nutella brownie cake hidden in my fridge. It was the only thing that kept me from giving up completely. I like to eat sweets, therefore I must do killer workouts!
This past few months I have been partnering with Pillsbury to make fun treats from products they send me. This month I got a box in the mail that included brownies and fudge frosting!
Right away I knew I wanted to do some sort of brownie cake with my springform pan. And because my brain is all about the cheesecake things right now, I also knew a no-bake cheesecake mousse would be the perfect compliment.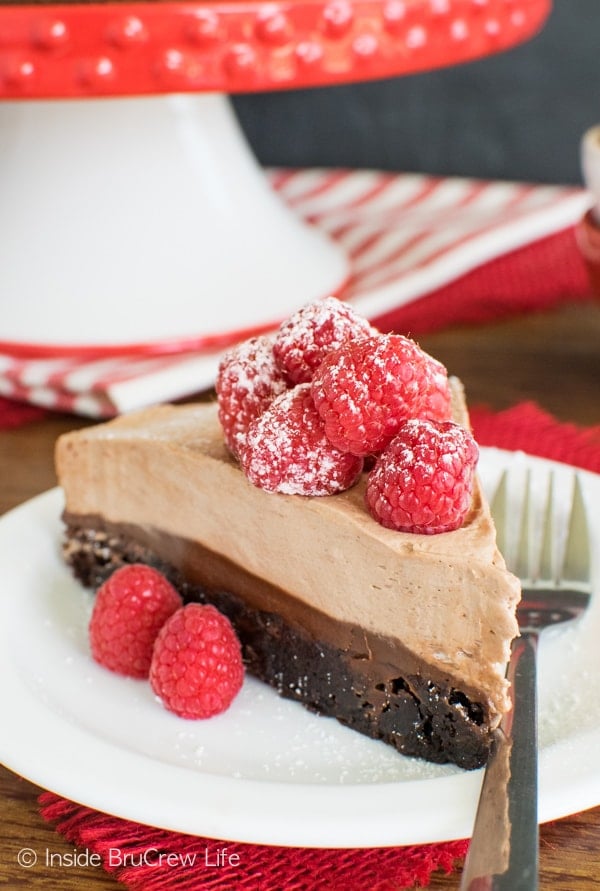 But what flavor was the big question? I thought about white chocolate and strawberry, but when I walked into the pantry I saw the jar of Nutella first. It was definitely dessert fate!
The three layers of chocolate goodness with the pop of fresh raspberry will make your tastebuds sing! I definitely think it was a well-deserved calorie intake after busting it out at the gym.
Just don't tell my hubby I ate a big slice...I have a feeling a million burpees would be the punishment for dessert enjoyment!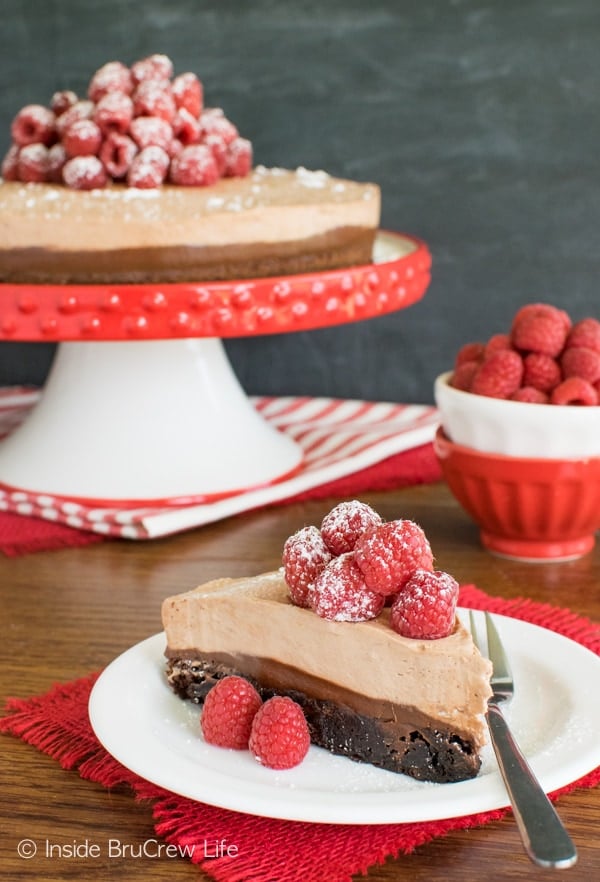 * I was compensated for my time creating this post as a brand ambassador for Pillsbury. All opinions expressed in this post are 100% my own.