Can't decide if you want cheesecake or brownies for dessert? These Red Velvet Cheesecake Brownies are two desserts in one. Fudgy brownies swirled with red velvet cheesecake will have everyone reaching for another square when you serve them for dessert.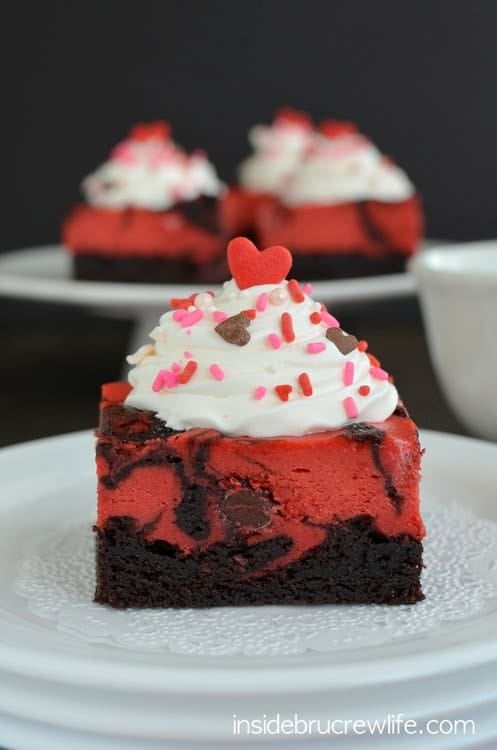 You knew one more crazy dessert had to be coming before Valentine's Day right?
And what is crazier than cheesecake brownies? Not too much! In the spirit of love week, I added some red velvet cake mix to the cheesecake. So if you think about it, this is really three desserts all rolled into one amazing treat! Brownies, cheesecake, AND cake batter? Hold me back!!!
The only way this day could get better is if I had a batch of these Chocolate Chip Cherry Cookies...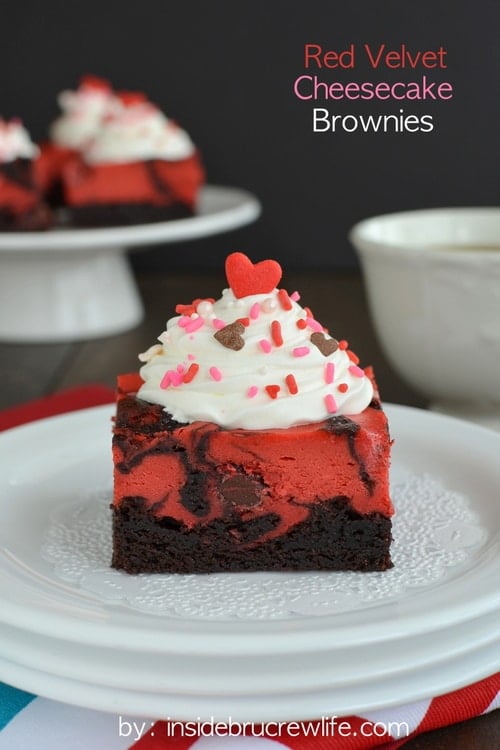 This week I am going to focus on some happy things. My family, the sunshine, reading my Bible, and eating chocolate. Those are just a few of the things that bring me joy each day.
It is good to look at the bright spots in your life and realize that no matter what happens in life, we have so much to be thankful for. I am thankful for a loving husband who takes care of us, and who loves to do what he can to make me happy. He is the love of my life, and I know I don't tell him that enough.
I am thankful for sunshine even on cold snow filled days. There are days that I complain about the amount of snow we have, but I am truly thankful to be able to see and enjoy the seasons that God has created.
I am thankful for the ability to read. This year I have been trying to read and do my devotions every day. Honestly, I have failed that goal so many different days, but I am thankful for a Heavenly Father that gives grace and keeps encouraging me to slow down and refocus. It is easy to get distracted by other things. Things that aren't even that important in the big picture. It is my prayer that I learn how to handle those distractions better.

And the last thing that I am thankful for is chocolate. Yes, chocolate is always in the top 5 of any list.
Today's chocolate happens to be in the form of brownies. Feel free to make a double batch of these Homemade Brownies or use a box mix for this recipe. I like to simplify from time to time, so a box mix is what I went with today.
How to make Red Velvet Cheesecake Brownies
The cheesecake on top is easy to mix up. Just make sure you remember to set out your cream cheese ahead of time. Cold cream cheese does not cream very well, and lumpy cheesecake just doesn't look or sound as appealing.
A dry cake mix gives these easy cheesecake brownies their bright red color. I just happened to have an extra cake mix sitting in my cupboard and figured this was an easy way to use it up. I absolutely love how bright red these turned out.
Thank goodness I still have part of that cake mix left. I think another pan of these red velvet cheesecake brownies is just what we need this week.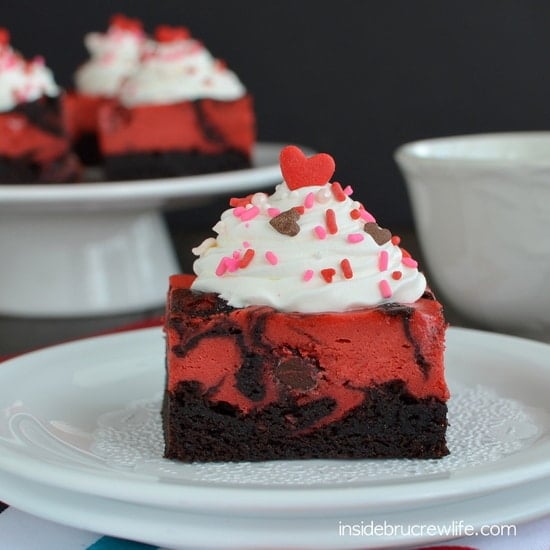 Do you love a recipe you tried from Inside BruCrew Life?
Please leave a 5-star ⭐️ rating and a review in the comments section below.
More delicious and pretty ways to use Red Velvet: