These easy Chocolate Chip Cherry Cookies are a delicious treat to add to your holiday cookie trays this year. The hidden cherry under the chocolate is a sweet surprise!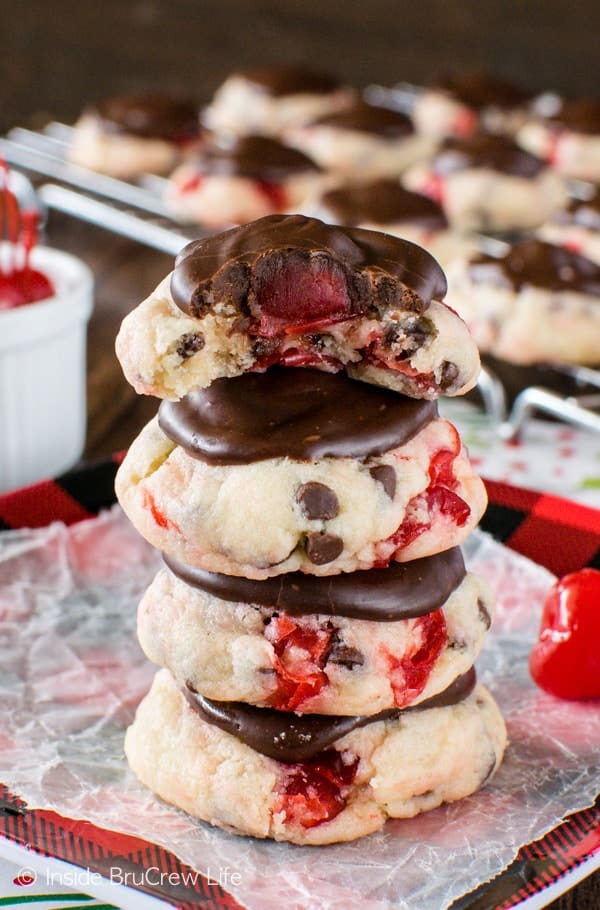 *This post was sponsored by the J.M. Smucker Company. I am partnering with them this fall as a brand ambassador creating recipes from products they send me.
We pulled our tree out of storage this past weekend. Since we moved last December, that poor tree has been in the box for two years now. Some of the branches were a little bit flat and resisted my fluffing efforts. Hopefully after a few days it will puff back up. If not, at least all the ornaments, lights, and beads should hide those flat branches.
I had every intention of getting the rest of the decorations out too, but before I knew it the weekend was over. The motivation to get it all done just never showed up. I think I was still tired out from going Black Friday shopping with our daughter. She was determined to experience the craziness of shopping on the day after Thanksgiving.
At first I tried to talk some sense into her. But then I realized that we didn't have any particular item we were searching for, so we headed out to just see what things we could find.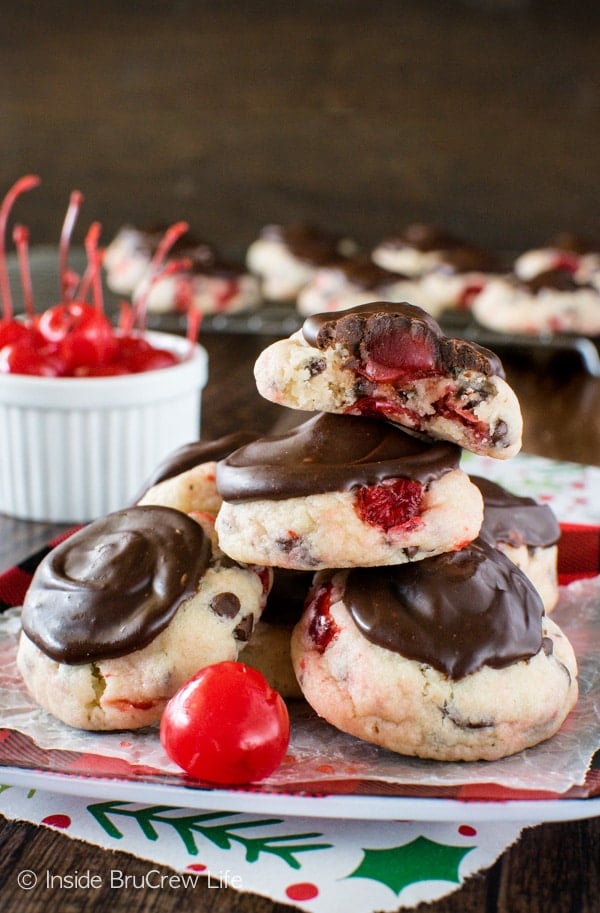 After grabbing some coffee and a muffin, we arrived at the store. The parking lot wasn't that full. As we walked through the store, it wasn't that busy either. I think most people have decided that crowds are not worth it, and they are taking advantage of online shopping.
My daughter kept looking around for the crazy people that I had warned her about. As we were leaving she said it just felt like a normal day at the stores. We optimistically headed to the mall because we thought for sure it wouldn't be crowded either.
Turns out that everyone else must have had that idea because there were a few stores that we walked into and we turned right around and left because of the lines. Even my daughter took one look and decided she didn't even want to look around the stores because there were too many people there.
At least she got to see some of what I was trying to explain to her. I like shopping, but it just isn't as much fun when there are big crowds of people all around. I would much rather be in our kitchen baking homemade brownies or cherry chocolate chip waffles.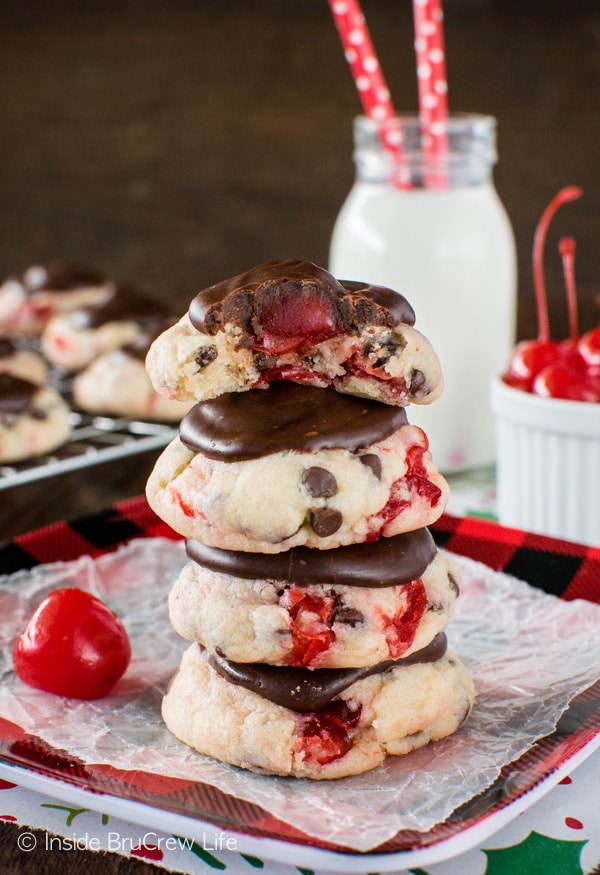 Now that the holidays are approaching at the speed of light, it's time to finalize our cookie baking list. Every year we usually have a list of about 10 different cookies, fudge, and popcorn that we try to make and share. Ok, so I say we...but really this list is my doing. My family would be fine with passing out Oreos and chocolate covered cherries in boxes to everyone.
Most of the recipes that make my holiday treat list are tried and true favorites, but lately I have been trying to create one new cookie each year for some variety. This year I was inspired by those chocolate covered cherries. I wanted to include them in a fun holiday cookie...without actually using the boxed cherries.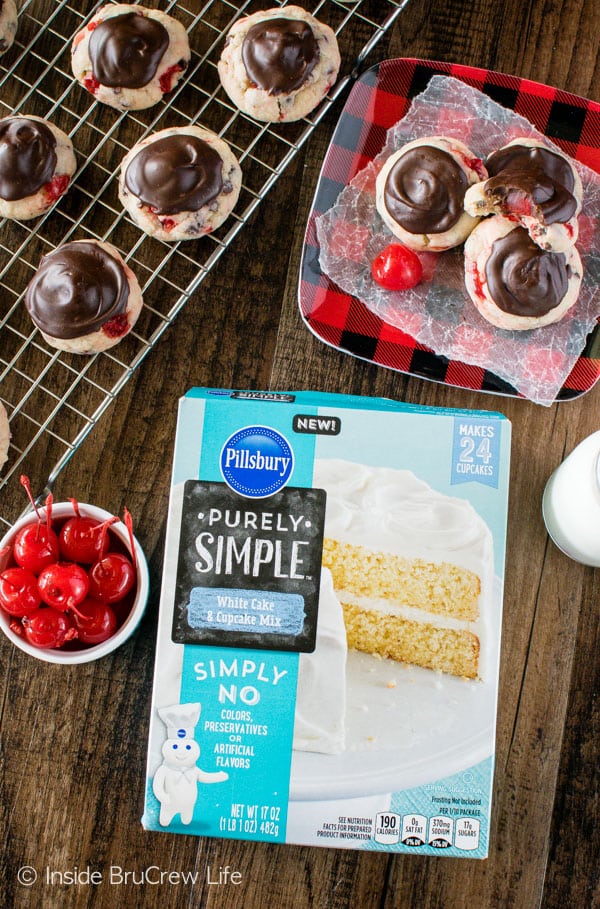 This fall I am partnering with Pillsbury to show you easy and fun recipes using their products! If you have been reading for very long at all, you know that my favorite way to make cookies is from a cake mix. They seriously produce the softest, puffiest cookies around!
My family absolutely loves when I bake cake mix cookies. It's a good thing they do because over the years I have made quite a few different flavors. Some of my favorites are these Oreo peppermint crunch cookies and these cinnamon caramel cookies.
After one bite of these chocolate chip cherry cookies, this treat went straight to the top of my baking list for this year because they were so good.
If you love cherries, this is the cookie for you. I suggest heading to the store ASAP to buy the ingredients for a fun baking day! Just make sure you have friends to share them with because you might eat the entire batch.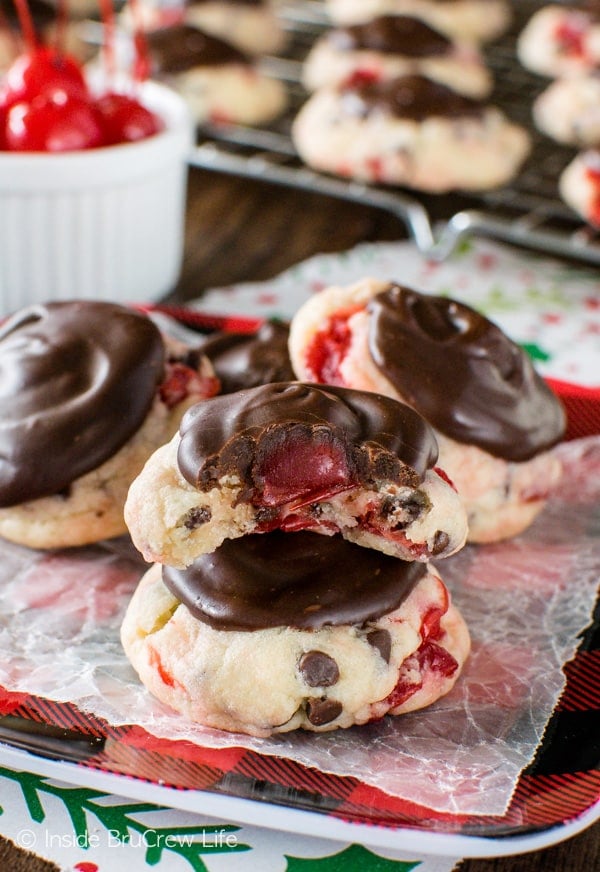 Looking for more fun cookies to make for holiday cookie exchanges:

* I was compensated for my time creating this post as a brand ambassador for Pillsbury. All opinions expressed in this post are 100% my own.