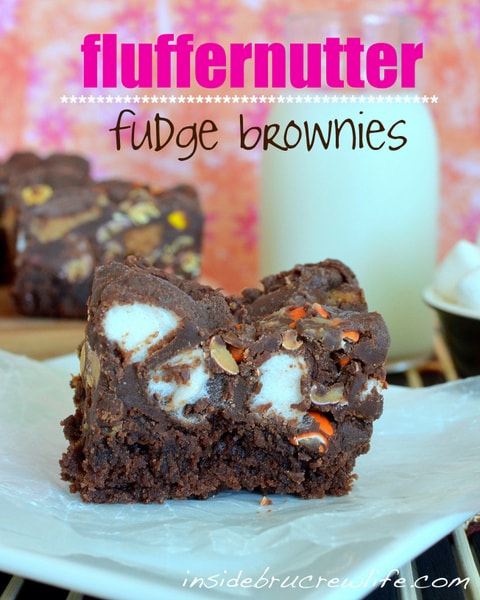 I recently learned something new about my desserts. They can be used just like money in certain situations.
Our oldest son has been using desserts in trades to get more/better lunches at school. At lunch time, he gives anyone who wants a "taste" of the sweets, then whoever will trade him the best lunch item, gets the goodies.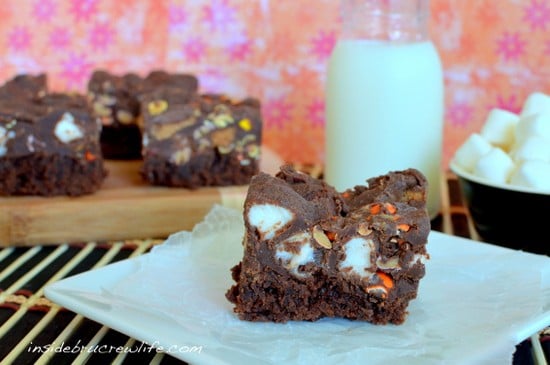 So far he has gotten pizza, garlic bread, and a plate of french fries. I haven't decided whether to be upset that he is trading away his lunch that I lovingly made,
or happy because so many of his friends are wanting my sweets…
For now I am going with happy because everyone likes good reviews of the things they make.
It is just like getting comments on this blog from someone who made your recipe and loved it. Which by the way, I LOVE to hear from you guys when that happens.
Totally makes my day…just sayin.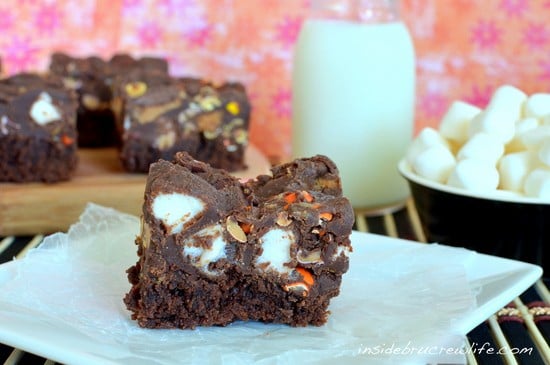 How to make Fluffernutter Fudge Brownies:
If you are looking for a fast and easy brownie to take to any picnics or family gatherings, these Fluffernutter Fudge Brownies have your name written all over them.
Chocolate brownies made from a box. Or get jiggy and make one from scratch if you like. Whatevs. I'm kind of a box mix girl for now.  But only because of convenience.
Then whip up an easy fudge from chocolate chips and sweetened condensed milk and fill it with whatever candy floats your boat.
My boat is always floating with marshmallows and Reese's candies.
You never know when you need to make up a batch of Banana Reese's Cookies or a pan of Oreo Reese's Brownie Bars, so I keep bags and bags of candy in our pantry. Something about that peanut butter and marshmallow fluff that just gets me every single time.
Last week I made a pan of these Fluffernutter Fudge Brownies for our church picnic, and the only thing that came home from the picnic was a plate of crumbs.
Love it when that happens.
Of course, my son wasn't too happy because then he didn't have anything to barter with on Monday. He actually had to eat his own lunch that day.
I guess he forgot about the Reese's Peanut Butter Pudding Cookies in the freezer.  Ooops!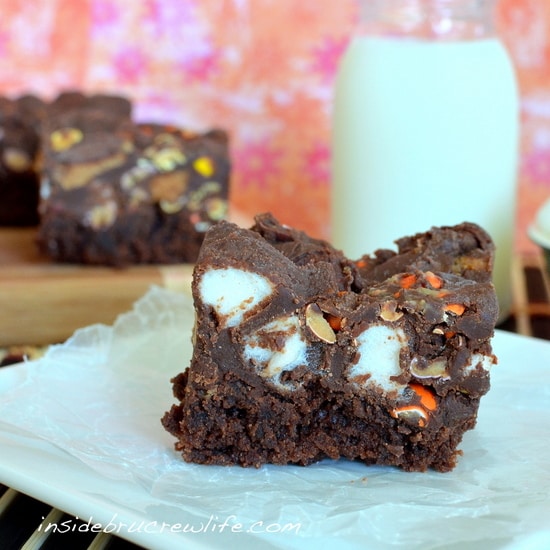 Fluffernutter Fudge Brownies recipe:
Yield: 24 brownies
Fluffernutter Fudge Brownies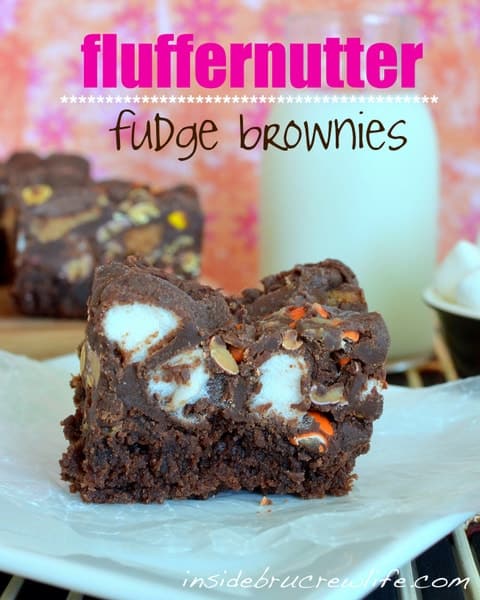 Chocolate brownies topped with a marshmallow, peanut butter cup fudge...grab a cup of milk because you are going to need it.
Ingredients
1 - 9x13 box brownie mix
1 cup snack sized Reese's Peanut Butter Cups, chopped (about 12)
1 cup miniature Reese's Pieces
2 cups marshmallows
2 cups chocolate chips
1 - 14 oz.) can sweetened condensed milk
Instructions
Preheat oven to 350 degrees. Spray a 9x13 pan with nonstick spray.
Prepare brownies according to the directions on the back of the box. Bake 25 minutes or until done. Cool completely.
In a saucepan combine the chocolate chips and sweetened condensed milk. Heat until melted and smooth. Remove from heat and let cool 5 minutes.
Stir the marshmallows, peanut butter cups, and Reese's Pieces in by hand gently. Spoon on top of the brownies and spread out. Work quickly with the fudge because it will set up very quickly.
Let cool until set. Cut into 24 squares. Store in a tightly sealed container.
Nutrition Information:
Yield:
24
Serving Size:
1
Amount Per Serving:
Calories:

247
Total Fat:

11g
Saturated Fat:

6g
Trans Fat:

0g
Unsaturated Fat:

5g
Cholesterol:

8mg
Sodium:

85mg
Carbohydrates:

36g
Fiber:

1g
Sugar:

31g
Protein:

4g