Enjoy a pan of these Reese's Fluffernutter Fudge Brownies and a glass of milk for dessert tonight. This easy homemade brownie recipe topped with Reese's fudge is sure to satisfy every sweet tooth in your family.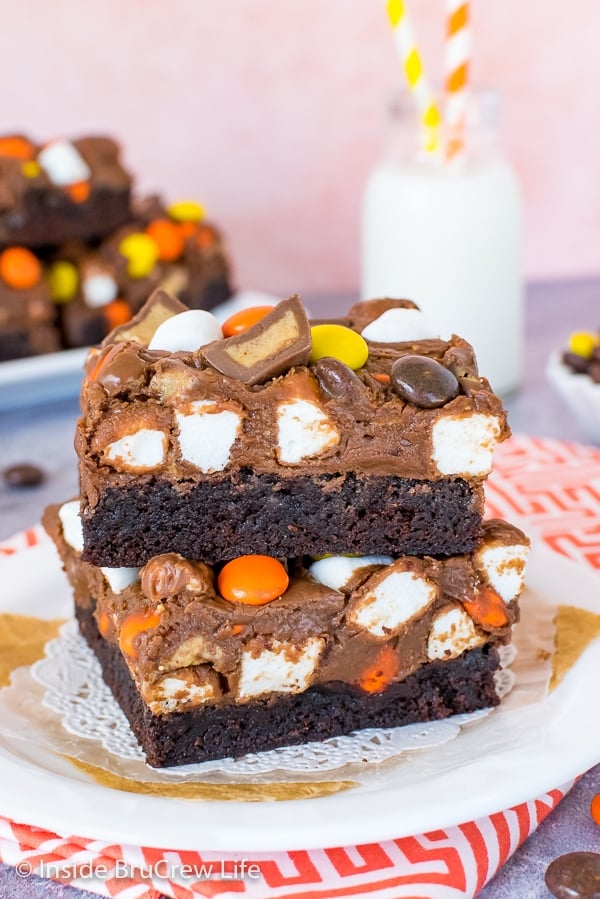 Our pantry is stocked with all kinds of Reese's candies, cake mixes, and sprinkles. It's true. I'm quite the hoarder when it comes to candy and baking supplies.
You just never know when there might be a shortage on chocolate or when you may need to make Reese's Peanut Butter Pudding Cookies, Chocolate Reese's Cheesecakes, or Oreo Reese's Brownies. I figure if I keep bags and bags of candy in our pantry, I will be ready for just about anything.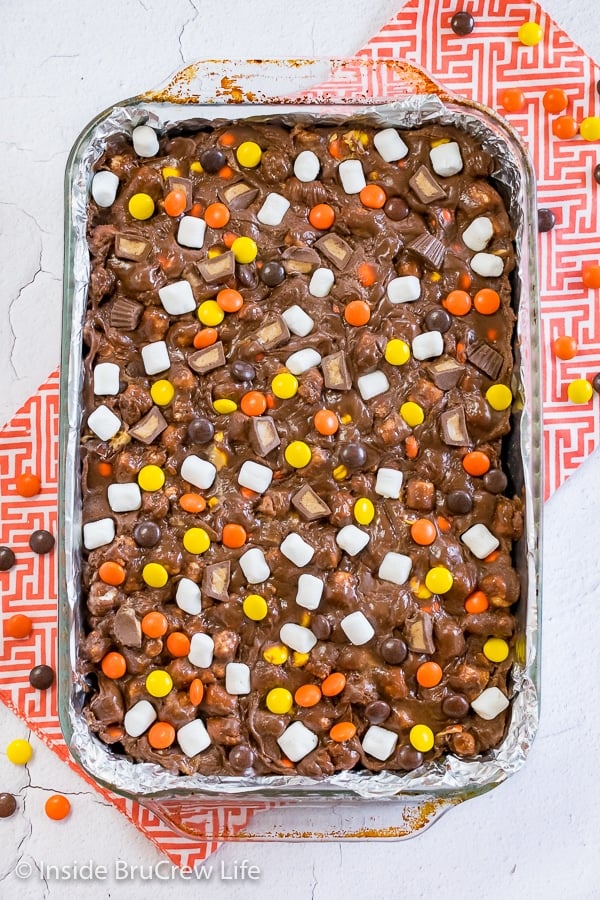 Most of the candy in our pantry are different kinds of Reese's. Something about that peanut butter and chocolate gets me every single time. Occasionally, I pick up bags of M&M's or Butterfinger bars, but my first love are the Reese's.
I recently learned something new about my desserts. Apparently, they can be used just like money in certain situations. Our son told me that he likes to trade desserts for different lunch items from his friends at school.
These candy bar brownies were ones that got rave reviews from all his friends and from everyone in our church life group. I mean, you can see why, right???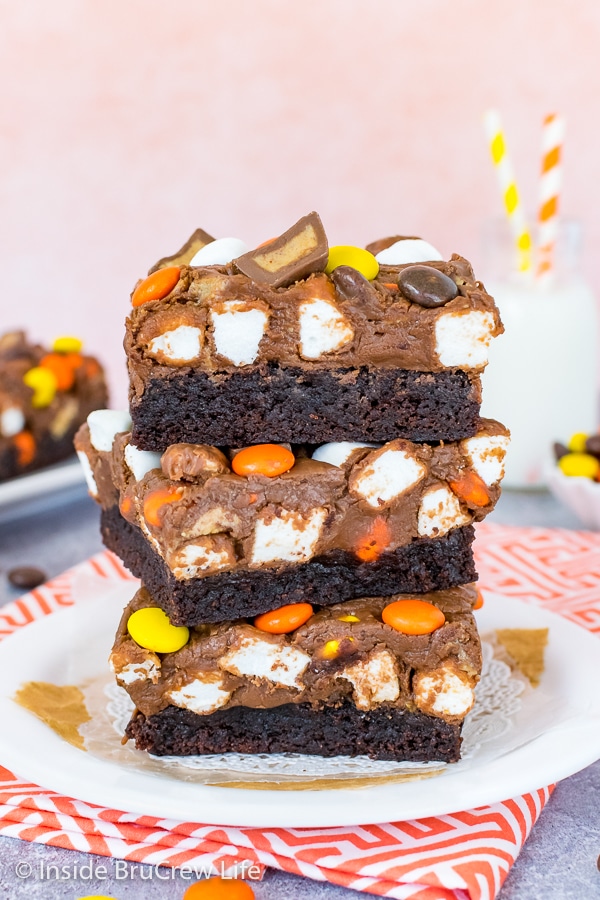 I love using these Homemade Chocolate Chip Brownies as the base for just about every brownie creation you can think of. Just double that recipe and skip the chocolate chips if you are going to add other candies or mix-ins. They just always bake up perfect and delicious.
The two ingredient fudge layer on top of these fluffernutter brownies totally takes them over the top. In a decadent and amazing kind of way.
What is two ingredient fudge?
It is seriously the easiest and fail proof way to make a batch of fudge. All you need are two cups of chocolate chips and a can of sweetened condensed milk.
Melt those two ingredients together and pour it in a pan, and it will set up into the creamiest and sweetest fudge you will ever make.
Of course, I usually add all kinds of things to this easy fudge recipe. You can add in any kind of candies, cookies, nuts, or sprinkles to make it different every time.
What is a fluffernutter?
I used to eat fluffernutter sandwiches all the time when I was a kid, but recently I learned that not everyone knows what they are.
A fluffernutter is a sandwich that is made with white bread, peanut butter, and marshmallow fluff (or cream). It is a popular treat in the northeast part of the United States.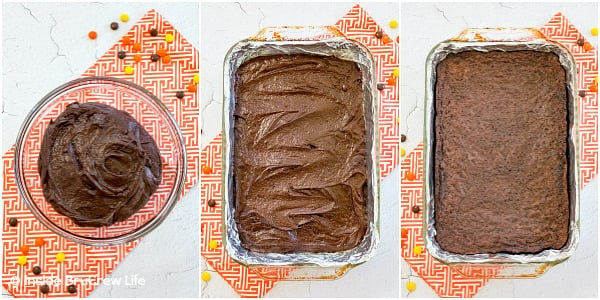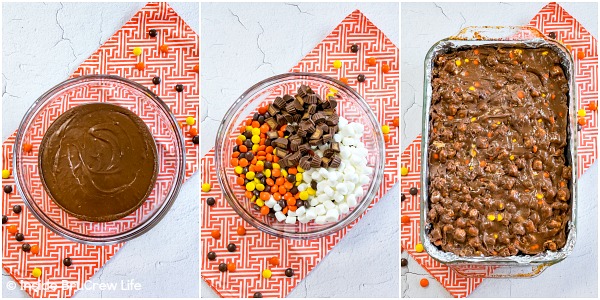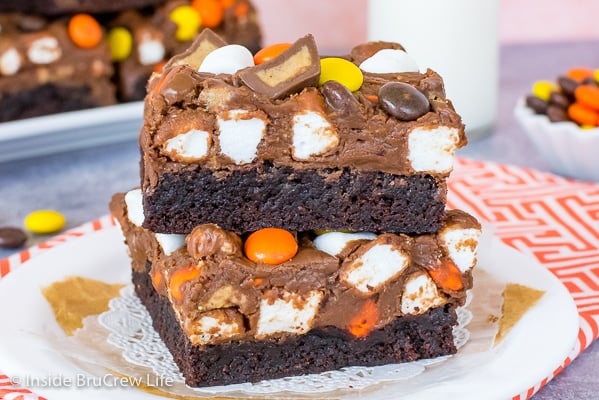 If you are looking for a decadent and easy brownie to make for picnics or family gatherings, these homemade fudge brownies have your name written all over them.
Two kinds of Reese's candies and marshmallows add a great fluffernutter taste and texture to the fudge frosting.
How to make Reese's Fluffernutter Fudge Brownies:
Mix up your favorite brownie recipe. Bake and cool it. It can be homemade or box mix. Either one works and tastes great. (full recipe below)
Stir together chocolate chips and sweetened condensed milk over low-medium heat until melted and creamy. Let cool 5 minutes.
Add marshmallows, peanut butter cups, and Reese's Pieces to the milk chocolate fudge and stir until everything is mixed. Do this quickly as the candies will start to melt.
Spoon the fudge mixture on top of the cooled brownies and spread out evenly.
Add more marshmallows and candy into the top of the fudge and let it cool completely before cutting and serving.
Pro Tip: Make sure to press the extra candies and marshmallows down into the fudge so they stick.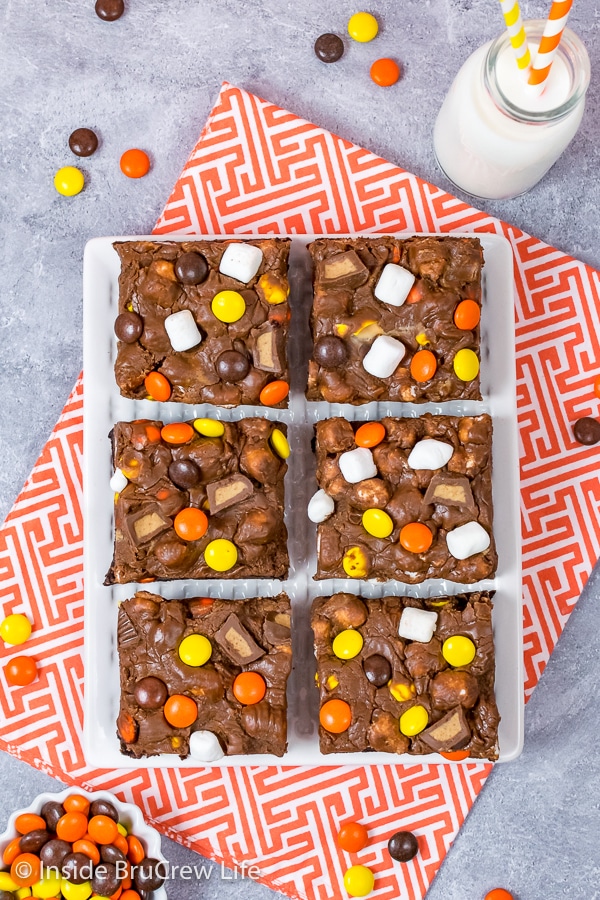 More amazing Reese's desserts you may like: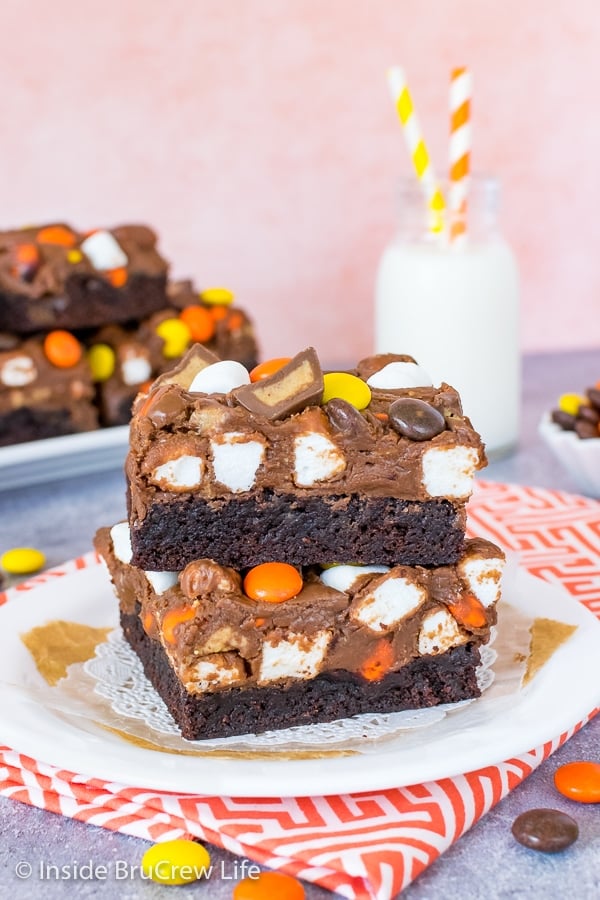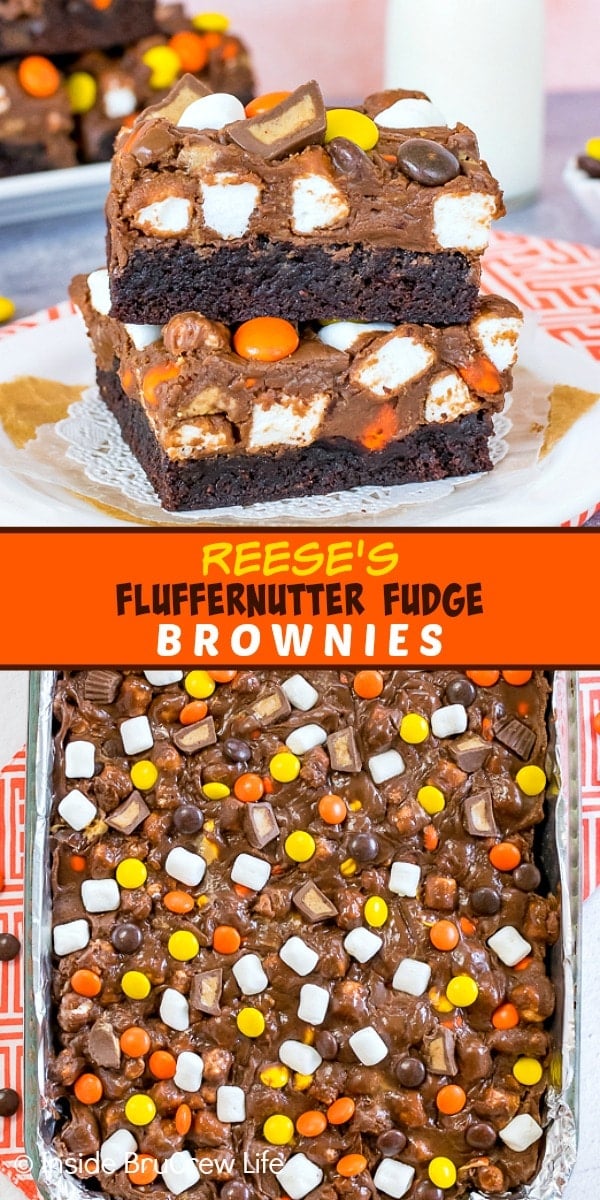 *The post for Reese's Fluffernutter Fudge Brownies was first published September 2, 2012. The photos and post were updated and republished August 18, 2020.