This Rocky Road Fluff Salad is a great no bake recipe for summer picnics and potlucks. The easy chocolate mousse is loaded with nuts, chocolate, and marshmallow goodness. If you love Rocky Road ice cream, you will love this pudding dessert.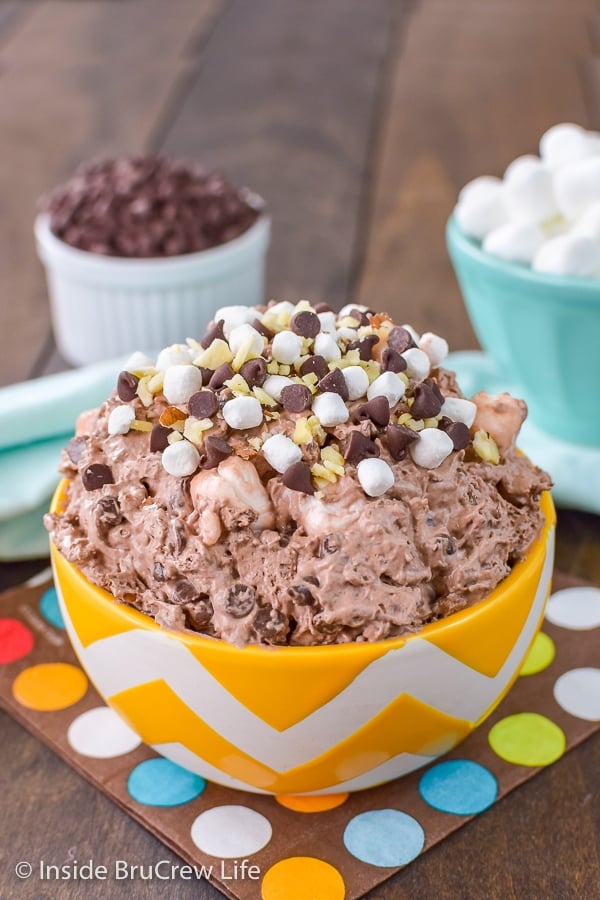 Dessert Salad
Let's talk about salad for a minute. When you first hear the word salad, I am sure you think green leaves, vegetables, and dressing, right?
But did you know that a salad is actually a dish consisting of small pieces of food mixed with a sauce? So, this chocolate pudding dessert could be called a salad! It has small pieces of nuts and chocolate mixed together with a fluffy chocolate pudding "dressing". Sounds like a salad to me. Wink, wink!
One of our most popular fluff salads is this Banana Split Fluff Salad. It is an easy no bake dessert that is perfect for summer picnics.
Since that dessert salad was such a hit online, I started thinking about other fun variations. Rocky road ice cream is one of my favorites. I love soft marshmallow mixed with chocolate and nuts, so I added those flavors to this chocolate delight recipe.
This chocolate fluff salad with rocky road toppings turned out to be the best idea of the summer so far!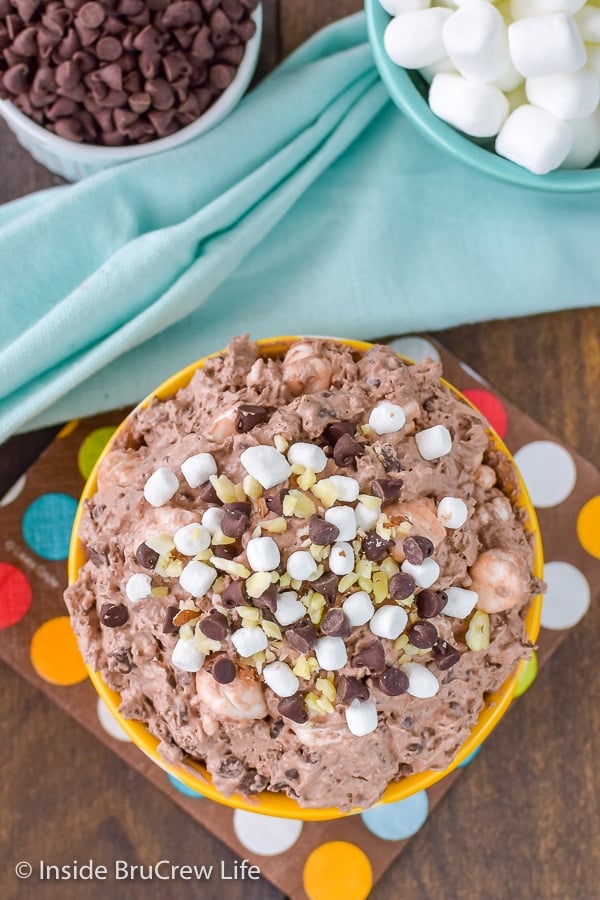 Ingredients for Easy Chocolate Mousse
This chocolate salad is really just a 3 ingredient chocolate mousse that you stir all kinds of toppings into.
Instant Chocolate Pudding Mix - make sure you buy instant Jello pudding so it sets up right. If you get a cook and serve, this recipe will not work for you.
Milk - whole, 2%, or 1% is fine
Cool Whip - gives it the light fluffy texture
Mix-Ins - mini chocolate chips, miniature marshmallows, and chopped almonds give the dessert salad the rocky road taste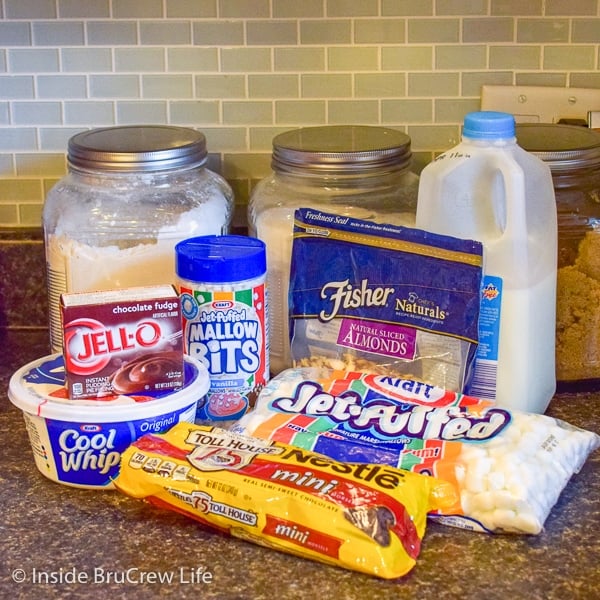 How to make Rocky Road Fluff Salad
This chocolate fluff comes together in 5 minutes. Make sure all your ingredients are chopped and measured out before starting the chocolate salad.
Whisk together the milk and instant pudding mix.
Once it thickens fold in the Cool Whip.
Stir in the chocolate chips, marshmallows, and almonds.
Refrigerate 1 hour before serving.
Frequently Asked Questions
Can this fluff salad be made ahead of time?
It's actually best if you make it a little bit early, so the flavors can meld together and the marshmallows can soften. I don't recommend making it any earlier than 24 hours though, or it will start to be too soft.
Can you freeze Rocky Road chocolate pudding?
This chocolate fluff dessert freezes great. In fact, it tastes like a fluffy ice cream.
How do you eat a fluff salad?
With a spoon of course. LOL! It's also really great if you eat it like a dip with graham crackers or chocolate wafers.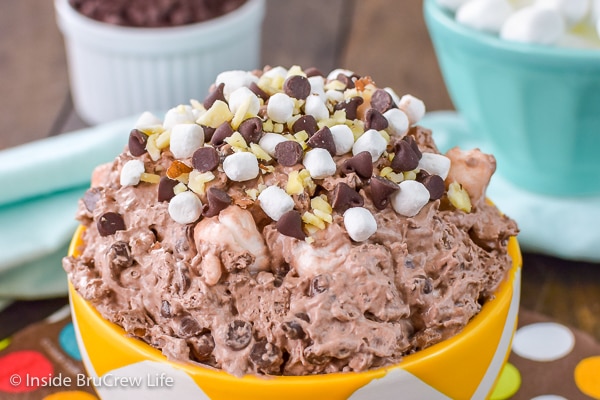 Other Fluff Recipes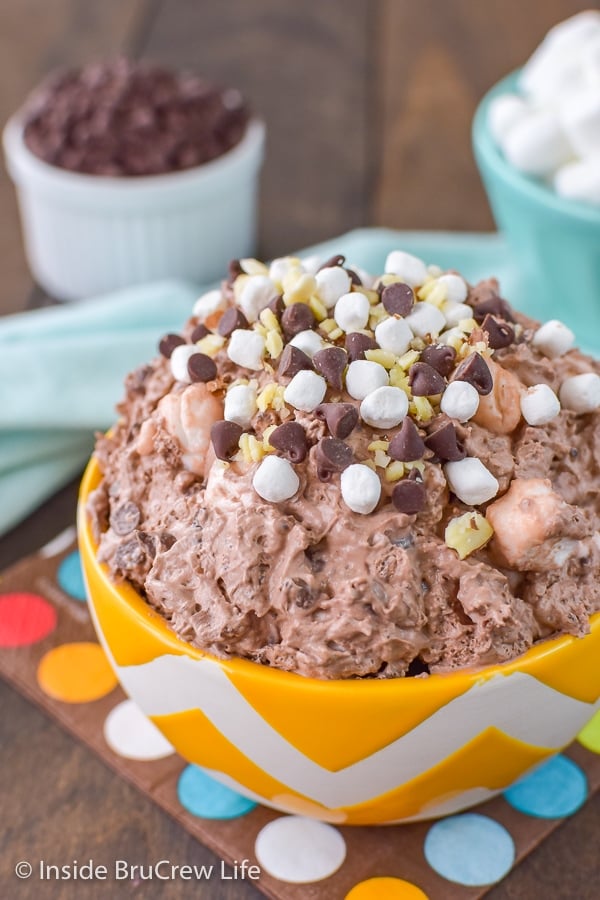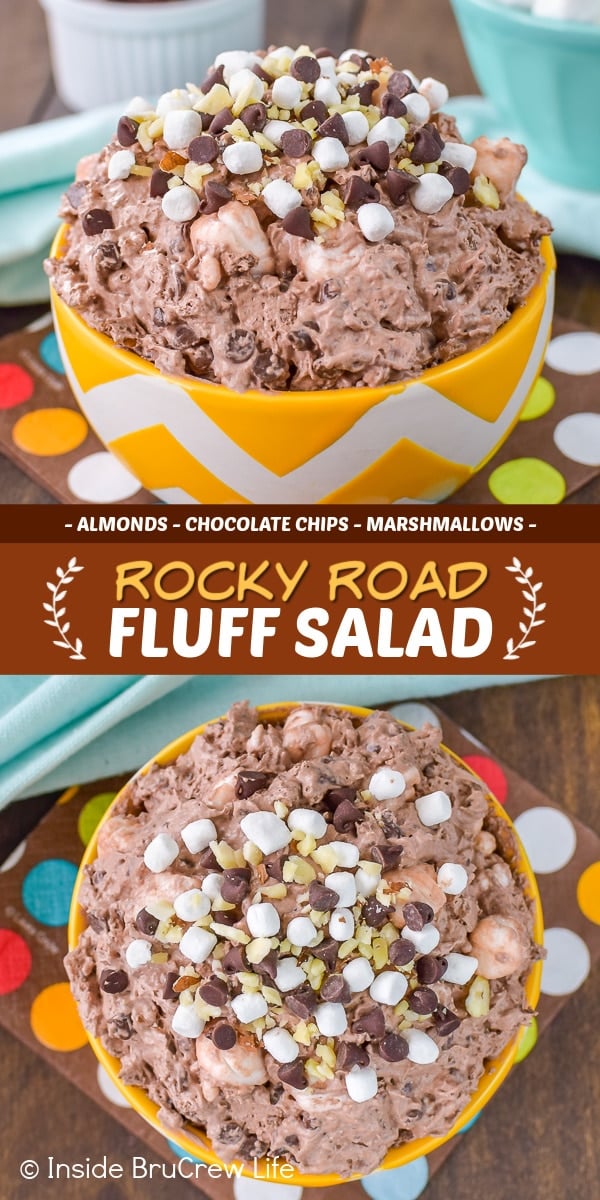 *The post for Rocky Road Fluff Salad was first published on April 10, 2015. The pictures and post were updated and republished May 12, 2021.