This easy Pumpkin Fluff Salad is a delicious side dish to add to your holiday table this year. The dessert salad recipe is full of pumpkin, pecans, and donut chunks, and it always disappears in a hurry!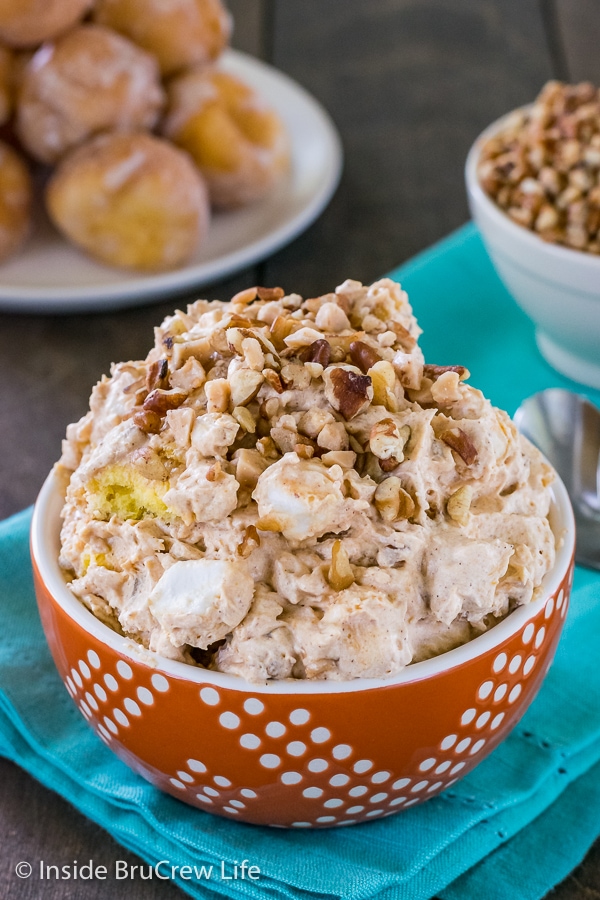 I think it can officially be said that I am bonkers for salads that aren't really salads. You know the kind, right? Fluffy, no bake salads that are full of fun mix-ins.
My mother-in-law always makes a pistachio fluff salad for holiday dinners. So, a few summers ago I used that fluff salad recipe to create this Banana Split Fluff Salad. Best idea ever right there!
Of course, I have changed it up a few more times since then, so it was only a matter of time before a fall version happened. Say hello to pumpkin fluff!
A big bowl of this dessert salad would be the perfect addition to your Thanksgiving meal this year. It is so light and fluffy and delicious. Plus, it can be served as a side dish or dessert!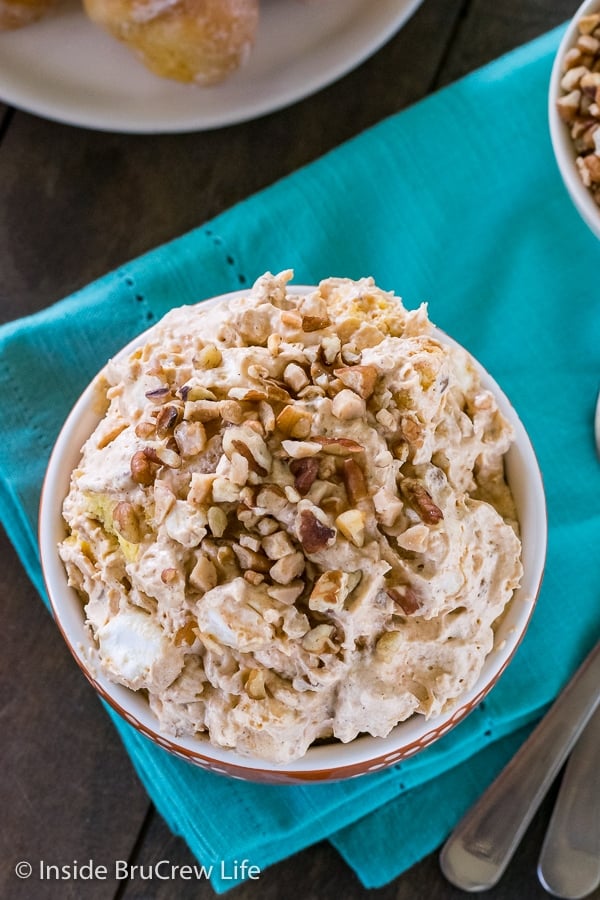 What is a fluff salad?
If you have ever been to a church potluck in the midwest or south, you have probably had a version of this salad.
Fluff salad is a mixture of pudding, Cool Whip, and different mix-ins. Some dessert salads use crushed pineapple, nuts, marshmallows, cherries, or chocolate chips.
The result is a light, fluffy pudding dessert that is great as a side dish or dessert.
I used angel food cake in this Strawberry Shortcake Fluff Salad, so I started thinking about what other cakes could hold up in a pudding mixture.
As we walked through the produce/bakery section at the grocery store, I saw a box of glazed donut holes and had a good feeling that they would work in the pumpkin fluff.
At home, I pulled out bags of toffee bits and pecan chips from the pantry. I really need to bake from the cupboard more often because it's starting to look like a convenience store in there.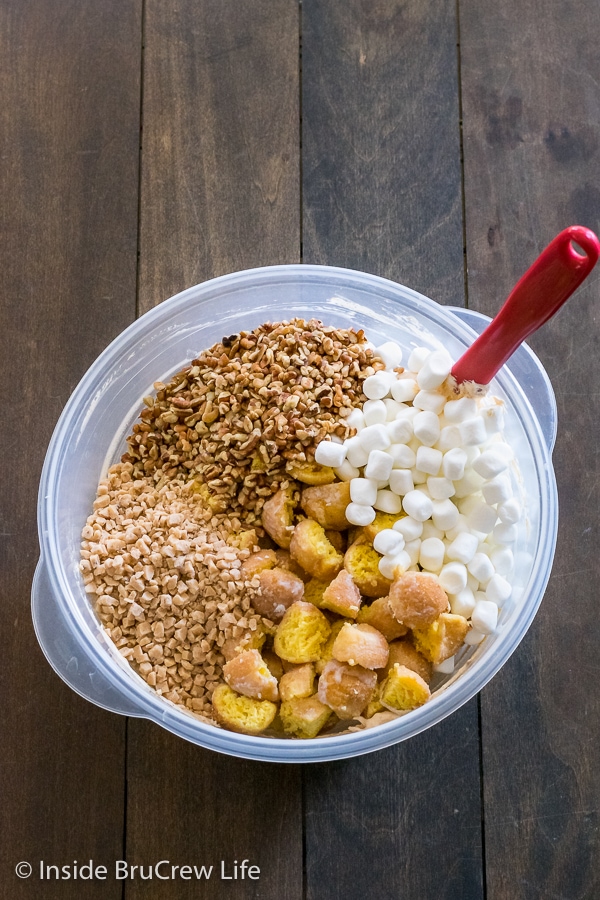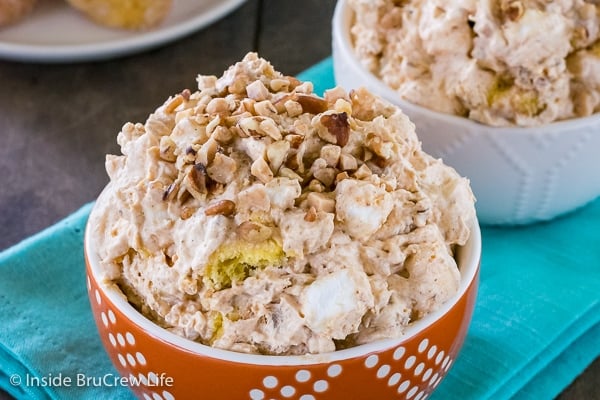 This fluff salad is great because it is ready in minutes. Seriously. All you do is whisk, dump, stir, and serve.
Although, if you let it sit for about an hour in the refrigerator, the marshmallows will get soft and delicious. I actually prefer them that way in pudding fluff desserts.
This is a great dish to make the night before too. One less dish to spend time on when family is headed your way.
How to make Pumpkin Fluff Salad:
Whisk together a box of instant vanilla pudding, pumpkin pie spice, and milk. (full recipe below)
Stir in the pumpkin puree until everything is mixed together.
Fold in a container of thawed Cool Whip.
Add donut holes, pecan chips, toffee bits, and mini marshmallows and gently stir it all together.
Serve immediately or refrigerate for 1 hour to let the flavors come together.
Tips for making Pumpkin Fluff:
Make sure you use an INSTANT pudding mix.
Do not use pumpkin pie mix because that has added sugars and spices to it.
If you don't like using Cool Whip, you can also use 3 cups of this Homemade Whipped Cream instead.
Use pumpkin donut holes to add a bigger pumpkin flavor to this easy fluff salad.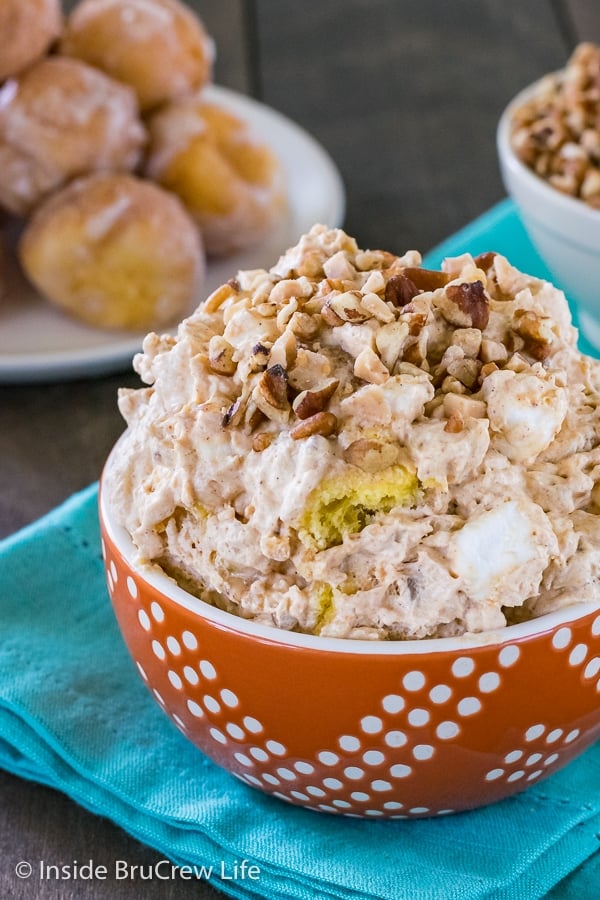 What to serve pumpkin fluff salad with:
Other fluff salads: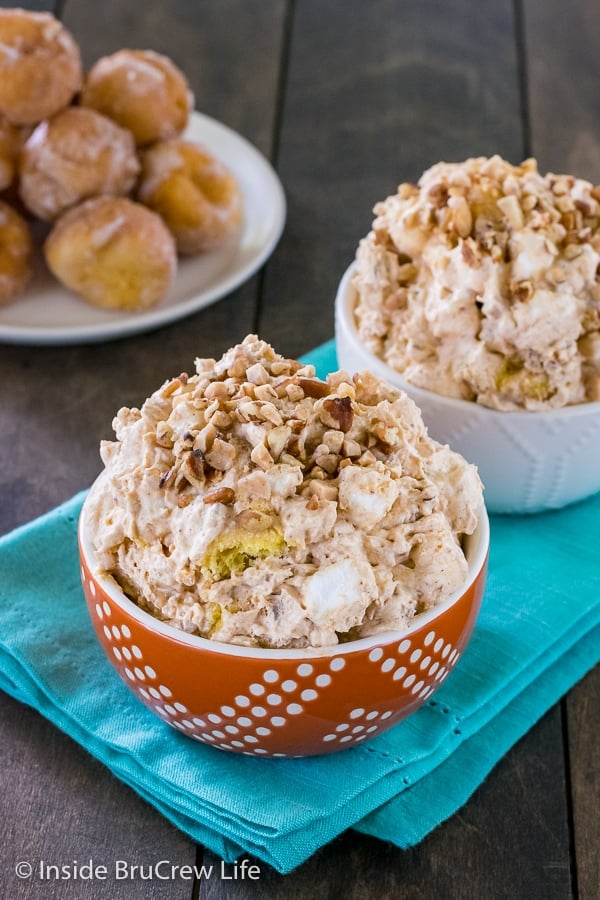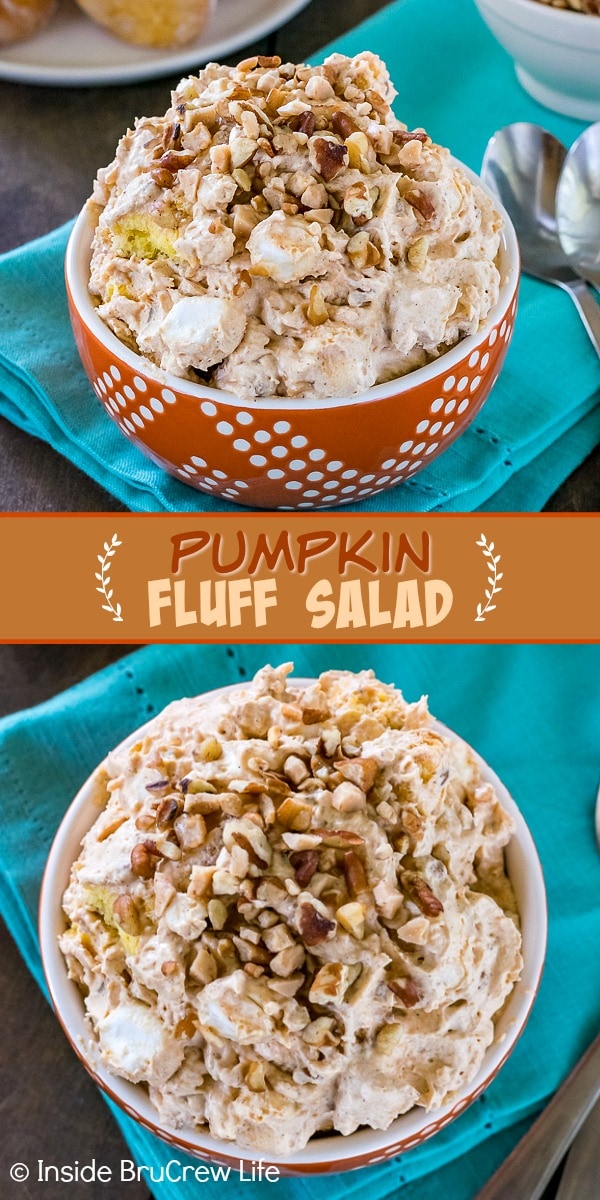 *The post for Pumpkin Fluff Salad was first published November 11, 2015. The post and photos were updated and republished November 19, 2020.