This Strawberry Lemon Cheesecake Salad is full of fresh strawberries and lemon flavor. The creamy lemon fluff is an easy side dish that can be made in minutes and is perfect for summer picnics and parties.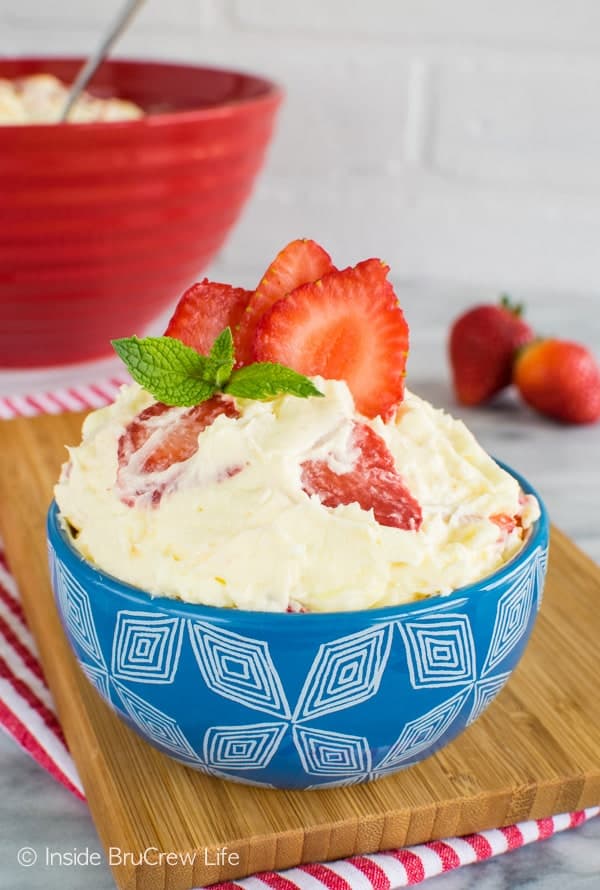 Cheesecake Salad
I wish I could be one of those people that loves to eat salad all the time. Plates full of green leaves and veggies are ok for a while, but then I start to get tired of them. Just pass me the plate of brownies and some ice cream, please!
I think this means I just need to rethink my salad strategy. Time to add some new veggies, dressings, and proteins into the mix. Any ideas for me? Our old stand by salad's are not cutting it anymore.
Last year I made this banana split fluff salad, and I realized that cheesecake dessert salads are my favorite way to eat salad! Creamy, fluffy goodness loaded with lots of fruit is definitely my favorite way to eat "salad".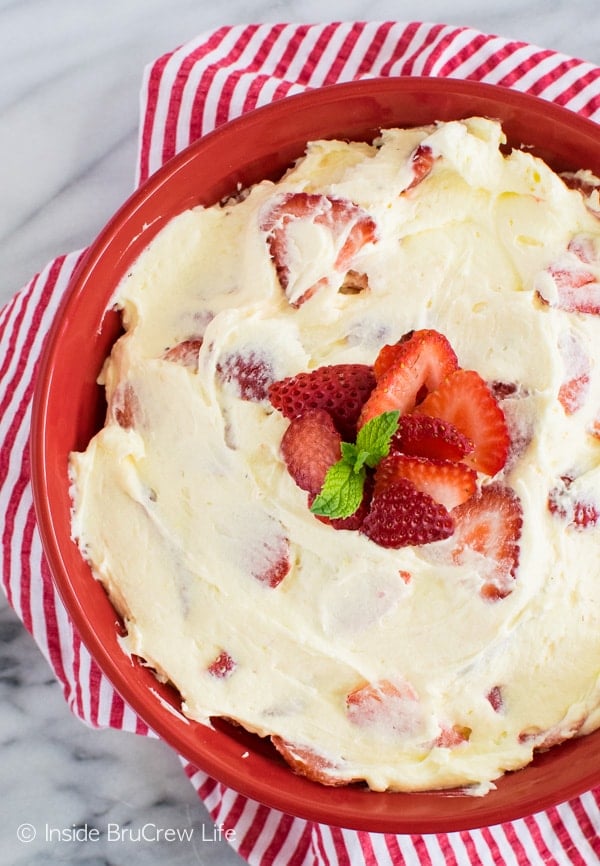 The last few dessert salads I have made use pudding for the base, so for this one I wanted to change it up slightly and use cream cheese and a can of pie filling in place of the milk and pudding mix.
Any pie filling will work in this cheesecake salad, but ever since making and eating an entire batch of the easy lemon bars ever, I am all about the lemon goodness.
What You'll Need
Cream Cheese - softened before using
Lemon Pie Filling - 1 can of pie filling or 1 ½ cups of this easy lemon curd recipe.
Cool Whip - one container thawed or 3 cups of Homemade Whipped Cream.
Fresh Strawberries - sliced or diced
The red berry slices make this lemon fluff salad look so pretty and festive. Add blueberries to make this the perfect 4th of July side dish! The lemon isn't too bright, so it really does look like red, white, and blue!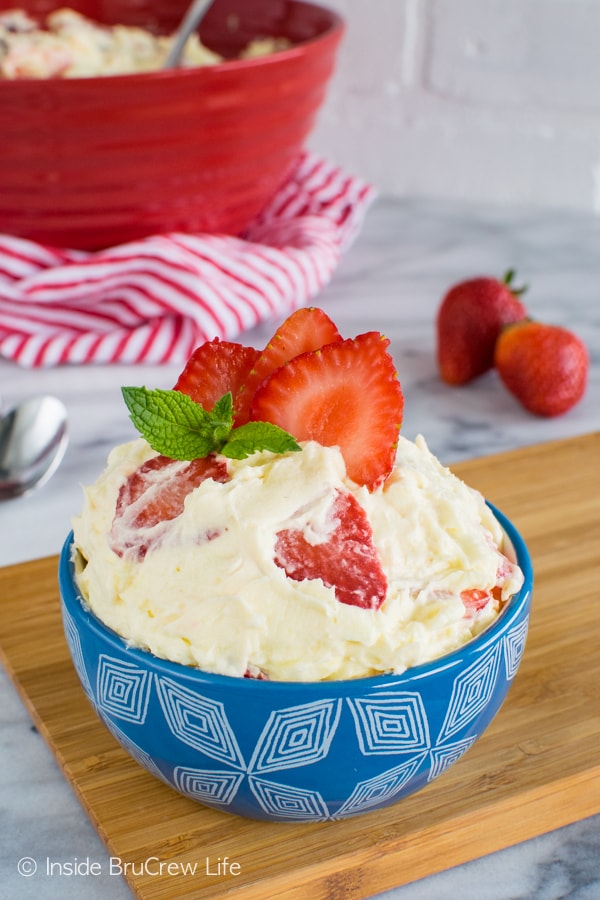 How to make Lemon Fluff
This easy lemon fluff dessert comes together in minutes. The four ingredient cheesecake salad recipe can be made ahead of time for parties or picnics. It makes a delicious side dish or dessert.
Beat the softened cream cheese until light and fluffy.
Add the canned pie filling and mix again.
Fold in the thawed Cool Whip gently.
Add the strawberries and stir gently again.
Refrigerate until ready to serve.
Recipe Tips
Make sure your cream cheese is soft before you start mixing it. I like to get it out of the refrigerator at least an hour ahead of time. If you forget, go ahead and unwrap it and microwave it for about 20 seconds to warm it up.
After the cream cheese is very creamy, add the pie filling and beat again until creamy again.
Do not beat the Cool Whip because it will release all the air from the mixture. You want it to stay light and fluffy.
Stir the strawberries in carefully too. Mixing too hard can make the fruit break apart and add too much moisture into the mixture.
Add blueberries if you want a pretty red and blue dessert for the picnic tables.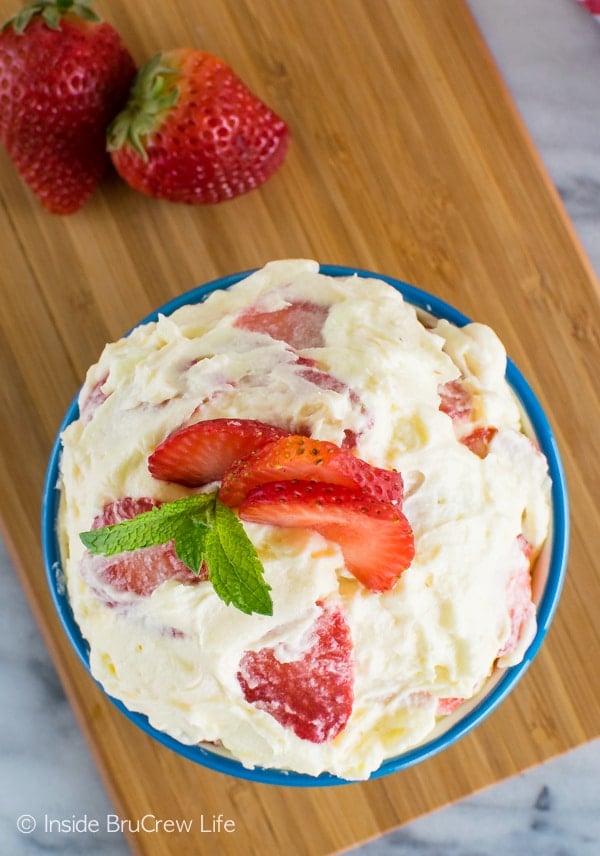 Other lemon desserts