These Salted Butterscotch Bars are a fun and delicious way to change up your normal brownies.  These bars are loaded with plenty of butterscotch chips and topped with sea salt to satisfy that sweet and salty lover in you.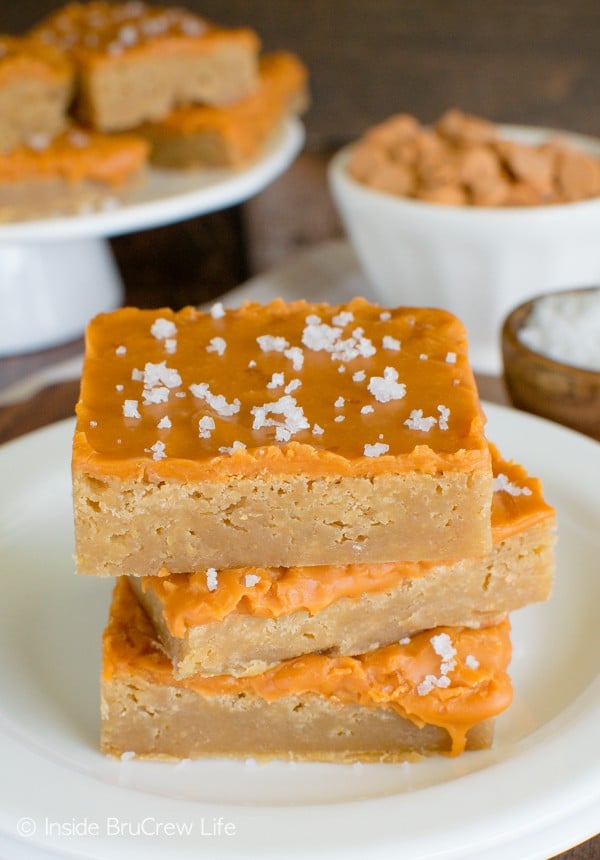 PIN IT NOW TO SAVE THE RECIPE FOR LATER!
The past few weeks I have been really trying to watch what I am eating.  And no, not watch it go from my plate to my mouth, like normal.  I mean, eating more salads, drinking more protein drinks, and adding more meats to my meals.
And I have been trying to workout a little bit more often.  Last week I doubled up on a few days.  Let me tell you, two workouts a day will make you tired…and hungry…and kind of crabby!
It also makes you want to eat all the sweets in the house!  And after two workouts you deserve the best lemon bars or handfuls of peanut butter s'mores muddy buddies, right?  My jeans and shorts say that's the wrong answer.  Thanks for trying to help a girl out, though.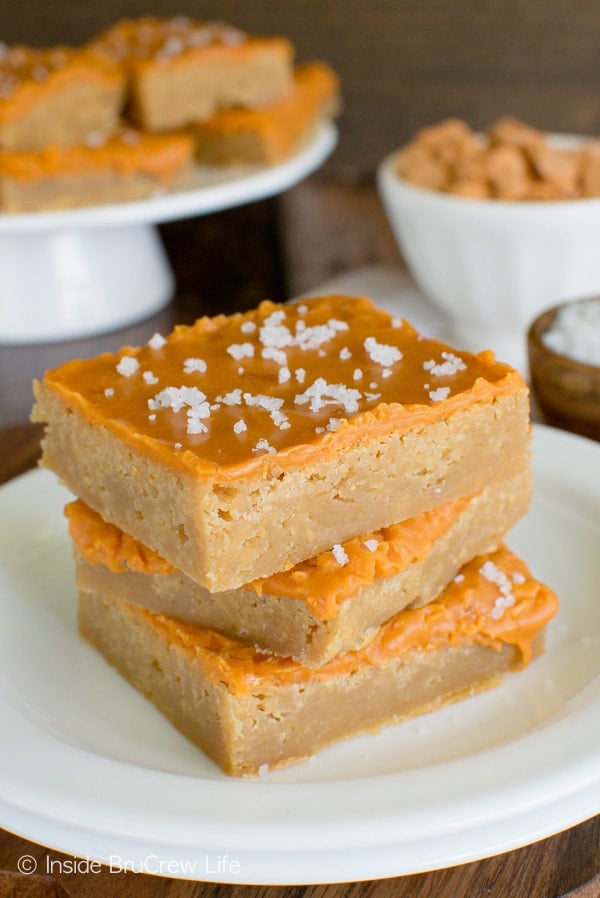 In an effort to keep the shorts from being too snug this summer, I have really been attempting to say no to desserts as much as possible.  There have been a few taste tests because, well, because work still has to happen.
One day last week I had done really good at not eating sweets and had done a great workout that morning.  My husband came home from work and told me he had eaten Chinese for lunch…all while stuffing his face with these salted butterscotch bars!!!  Woah!  Wait a minute?  What's going on here?
Any Fringe watchers out there?  All of a sudden I realized we must have teleported over to an alternate universe just like Olivia and Peter.  A universe where alternate Jocelyn eats right and exercises all the time and alternate Jeremy is a slacker and eats bad food every day…because that's definitely not how it normally goes down around here.
It was such a strange day for sure!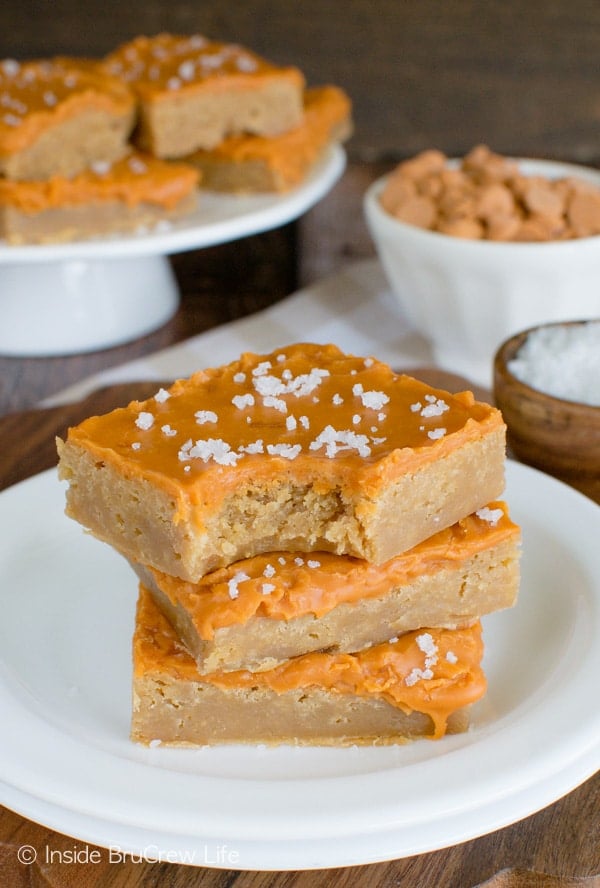 Let's talk about these bars for a minute.  They are a pretty much a brownie, but instead of melted chocolate, I used melted butterscotch chips instead.  Just an FYI, the mixture looks pretty strange when you melt and mix everything together.  Don't worry, though. That's just how it looks until you mix in some flour.
For the frosting, I used a bag of salted caramel baking chips I had found at the grocery store before we moved, but you can totally use more butterscotch chips.  That's what I was planning on doing until I found the other ones in the pantry.
A sprinkle of sea salt on top will help cut the sweetness of the butterscotch chips.  Just make sure you use a course ground sea salt!!!  You should be able to see chunks of salt on top.  Most grinders allow you to change how course or fine it comes out.
Believe me, if your salt is too fine, your salted butterscotch bars will taste like they are from the ocean.  Please grind the salt responsibly!!!!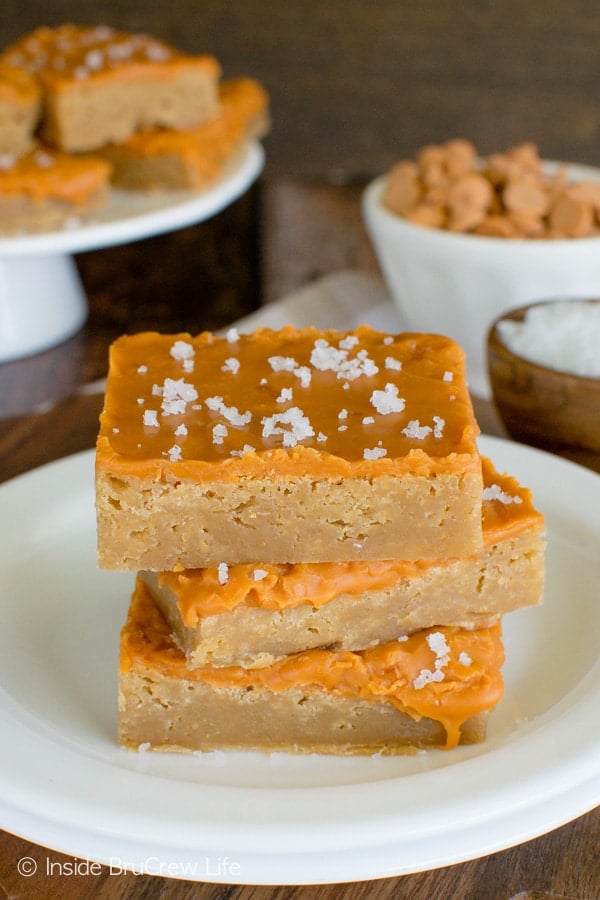 Stay up to date on all the BruCrew baking here:
FACEBOOK | PINTEREST | GOOGLE+ | TWITTER | INSTAGRAM | BLOGLOVIN
 Sign up to receive an email in your inbox for each new recipe:
EMAIL SUBSCRIPTION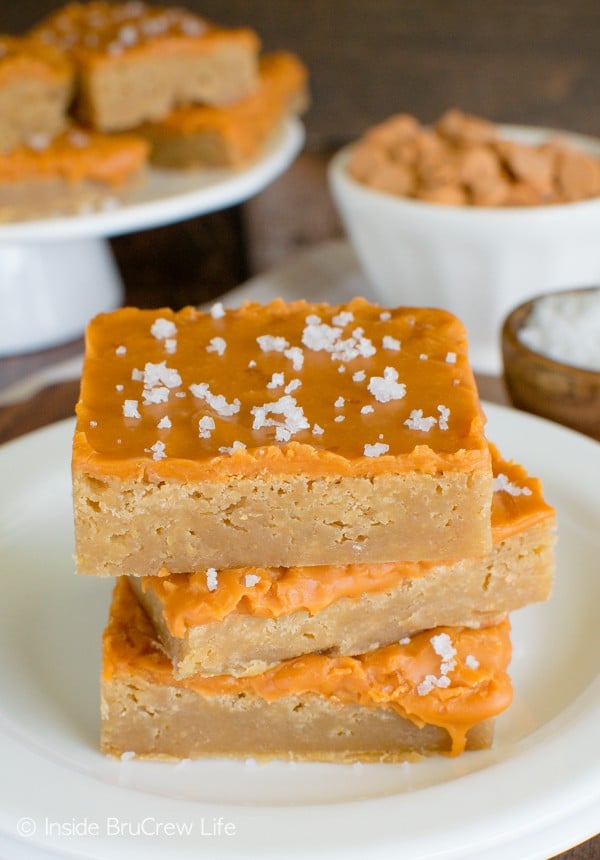 These Salted Butterscotch Bars are an easy and fun way to change up your regular brownies.
Ingredients
For the Bars

1/2 cup butter
2 cups butterscotch chips
3/4 cup brown sugar
1 teaspoon vanilla
3 eggs
1 1/4 cup flour
1 teaspoon salt
For the Frosting

1 cup salted caramel or butterscotch chips
1/3 cup heavy whipping cream
coarse ground sea salt, for garnish
Instructions
Preheat the oven to 350 degrees. Line a 9x13 pan with foil and spray with non-stick baking spray.
Place the butter and butterscotch chips in a saucepan and heat over medium heat until melted.
Whisk in the brown sugar and vanilla.
Beat the eggs for 2-3 minutes. Slowly add a little bit of the hot butter mixture at a time and beat until everything is mixed together.
Add the flour and salt and mix again until a batter forms. Spread the mixture in the prepared pan and bake for 25 minutes. Remove and let cool completely.
Place the chips and heavy cream in a microwave-safe bowl. Heat for 30 seconds. Stir until melted and creamy. Heat again for 15 seconds at a time, if needed. Spread over the top of the cooled bars. Let set slightly before sprinkling with the sea salt.
Remove the foil and bars from the pan and cut into 24 squares. Store in a sealed container.
Notes
*I used salted caramel chips for the frosting. If you cannot find those, use more butterscotch chips.
https://insidebrucrewlife.com/salted-butterscotch-bars/
Copyright Inside BruCrew Life