Covering Chex cereal and marshmallows in peanut butter chocolate and coating them in graham crackers makes an absolutely delicious snack mix that you will not be able to resist. I suggest making a double batch of Peanut Butter S'mores Muddy Buddies because it will disappear right before your eyes.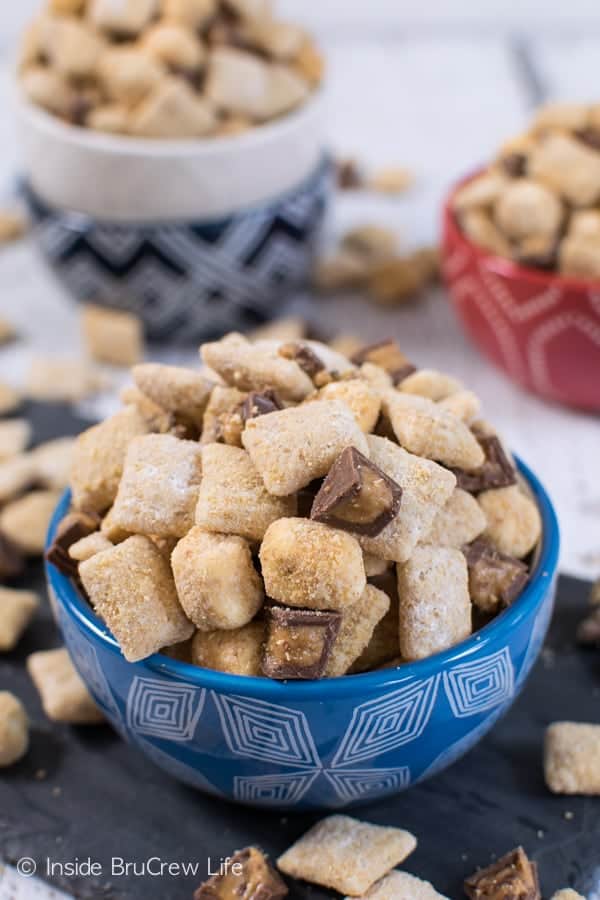 Recently our oldest started driving. Talk about making you feel old. 16 years of preparation does not get you ready to see your baby behind the wheel of a vehicle.
I always wondered how I would do driving with our kids. Would I be calm and collected or would I freak out and tell them to slow down while clutching the door? Turns out I am actually mostly calm...yeah, that surprised me too. I really thought I would be a little more stressed out while having a young driver in control of our lives.
Maybe all the cookies and muddy buddies are keeping me mellowed out. And I thought all those sweets were just out to sabotage my jeans...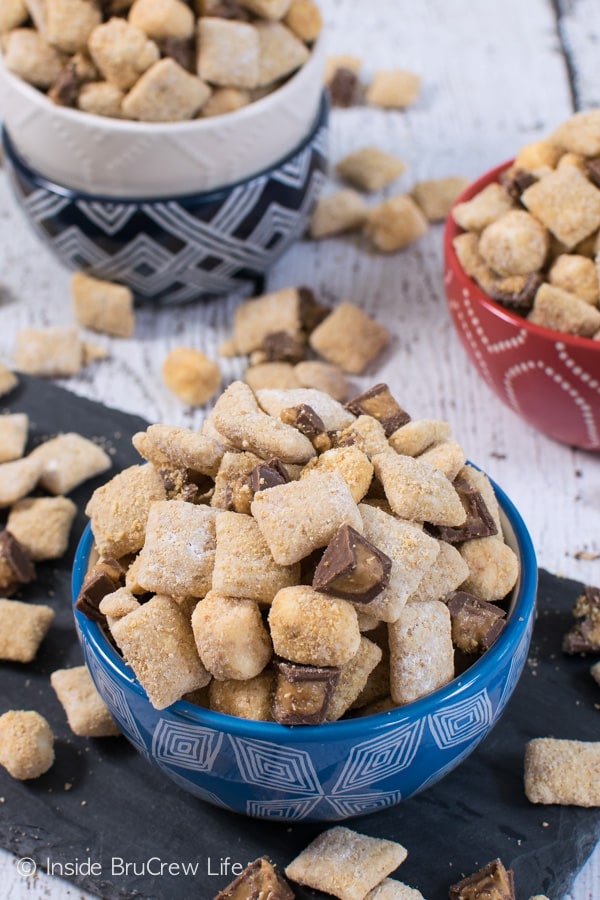 The other day we had to go to the orthodontist to get my son's retainer fixed. Of course he wanted to do the driving for his log book. I agreed that he could drive most of the roads...as long as I did the interstate driving. He hadn't been above 45 mph, so I thought that was a reasonable compromise. 30 minute of me driving and 30 minutes of him driving is what it should have taken to get there.
Little did we know that because of all the cool weather and rain that the midwest has had recently, there were some closed roads due to flooding. One of the main roads we needed had a sign across it saying road closed...or at least we thought it was.
An hour of winding around back roads and finding more closed roads finally brought us to the office. During that hour of trying to have Siri find us an alternate route brought out the stress in me. I may have clutched the side door a few times and raised my voice slightly to tell my son to get over. He likes to hug the white line and make me feel like I'm going in the ditch. All in all he did a good job at getting us to the office though. I seriously think I need a big bag of these peanut butter s'mores muddy buddies to recover with though...
Turns out that if I had read the road closed sign better, we would have seen that the road that was closed was past the Dr.'s office. So, we were only 10 minutes away, but drove an extra hour for no reason at all. Fabulous!
Let's just not talk about it anymore and focus on the deliciousness that is in front of you.
A while ago I made these chocolate chip cookie muddy buddies by crushing the cookies and coating all the cereal in chocolate and cookie crumbs. When I started thinking that I wanted to make a s'mores version using graham cracker crumbs, I knew it was going to be good. Although now I'm totally thinking Golden Grahams would have been a better choice...guess what I'll be doing next time!
To give the s'mores version a different twist though, I added peanut butter to the melted white chocolate. Coat the cereal and marshmallows, then spoon that mixture into two large Ziplock bags and shake the crumbs over all of it. If you have a big enough bowl with a lid, that will work too. After the crumbs are on, shake the powdered sugar onto the cereal.
When I think peanut butter my mind goes right to peanut butter cups, so of course I was glad to see that I had one bag of the unwrapped minis still in my cupboard. Feel free to leave them whole or cut them up like I did, so you can see the peanut butter goodness inside. Then get ready to go to town!
Seriously...this stuff is awesome! Trust me and make a double batch...one bowl just won't be enough. You will find yourself staring at an empty bowl when everyone in the house starts grabbing at it.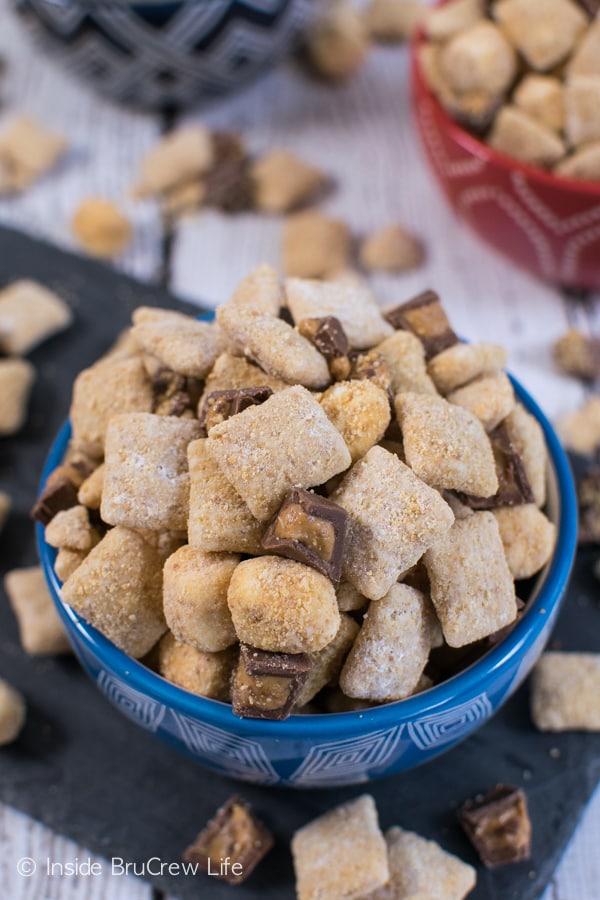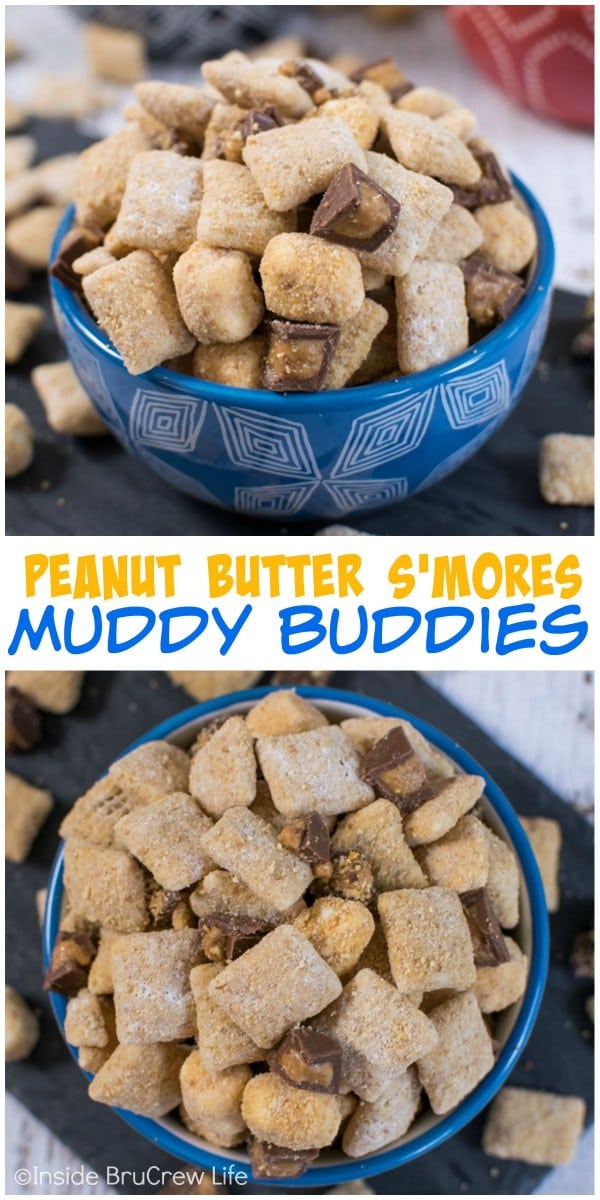 More snack mixes that the family will enjoy munching on: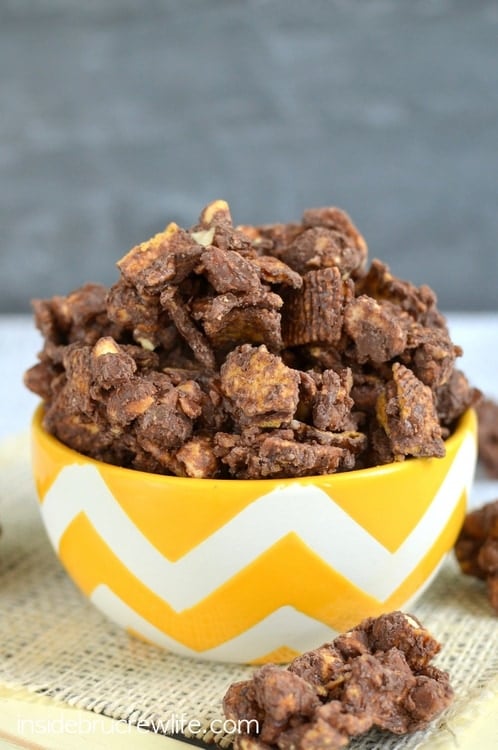 Chocolate Toffee Graham Clusters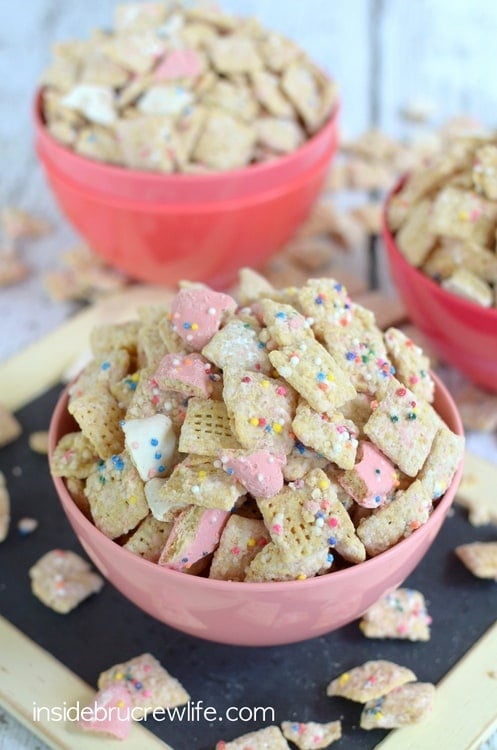 Frosted Animal Cookie Muddy Buddies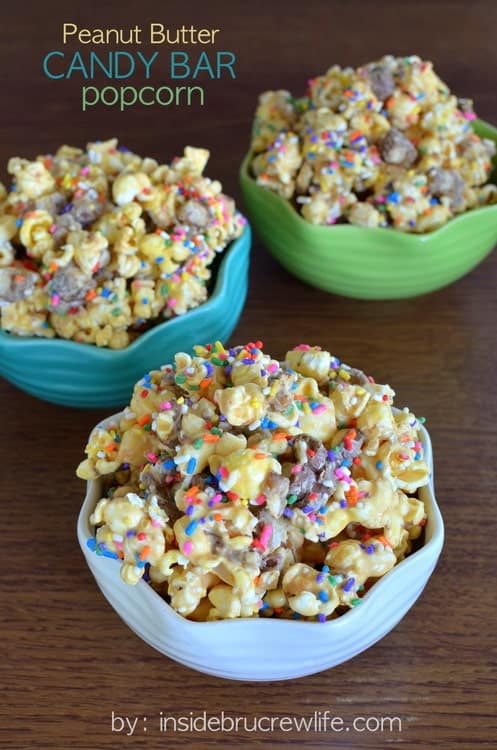 Peanut Butter Candy Bar Popcorn
Snack mix ideas from friends: