S'mores are a classic summer time dessert. Enjoy these rich, chewy S'mores Blondies loaded with gooey marshmallow, chocolate, and graham crackers without the work of a campfire. Each bite of the s'mores bars are buttery, soft, and so delicious.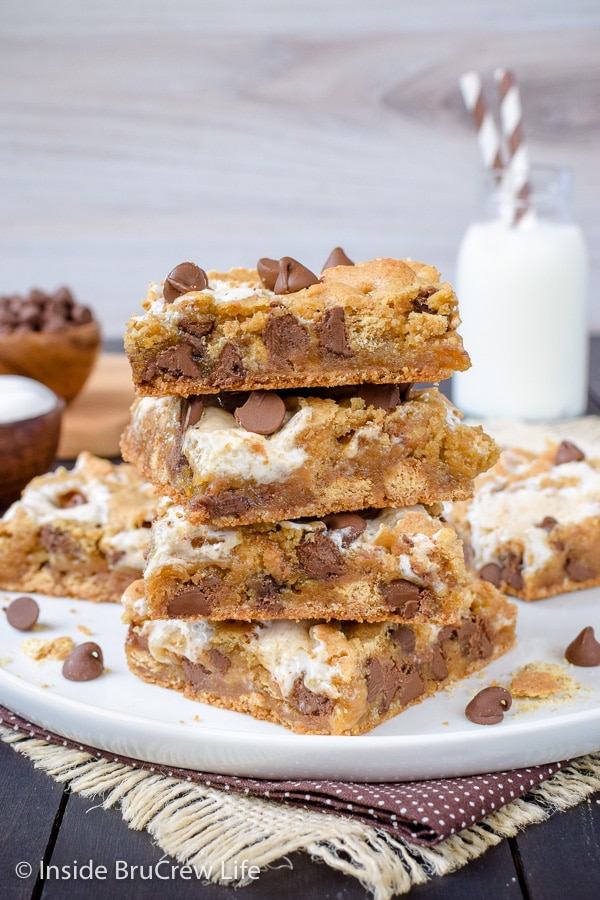 S'mores Bars
We live in Florida, and when it is 90 degrees outside in the evening, you really do not want to sit around a campfire making s'mores. But during the summer, I crave chocolate and marshmallow treats, so I am always looking for ways to enjoy indoor s'mores
Blonde brownies are one of my favorite desserts, so I decided to turn them into a pan of s'mores bars. I changed up these blonde brownies by adding lots of chocolate chips and marshmallow cream.
Holy cow! That was a terribly, no good, awesome, incredible idea! Awesome because they tasted amazing! No good because I couldn't stop snacking on them. These swirled s'mores blonde brownies had to leave our house right away because I couldn't be trusted around them.
All your favorite summertime flavors inside a cookie bar that can be enjoyed all year long! S'mores treats are always a good idea!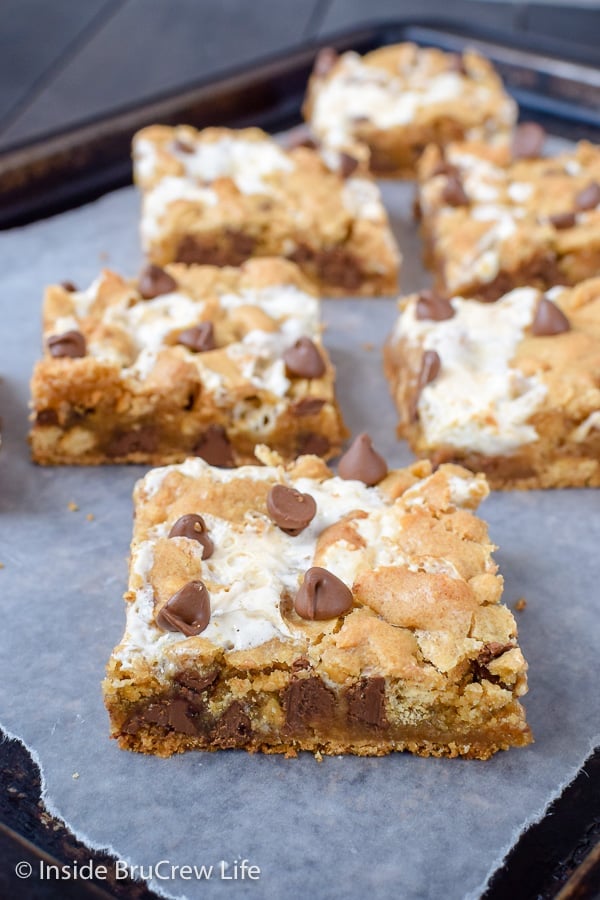 What is the difference between blondies and brownies?
Blondies and brownies do have a few things in common. Both are made with flour, eggs, sugar, and butter. And they are both cut into bar shapes.
The major difference is in the color and a few different ingredients.
Brownies are made with cocoa powder and are chocolate based. They are more of a cross between a cake and a cookie.
Blondies are made with brown sugar and are vanilla based. They are chewy and have a sweet butterscotch flavor.
Which one would you choose if a plate of brownies and blondies were sitting in front of you? Honestly, I would probably choose both. I have equal love for a decadent fudgy brownie and chewy rich blondie.
Ingredients Needed
These s'mores bars are made with just a few basic ingredients from your pantry. The addition of marshmallow fluff and graham crackers give these blonde brownies that classic s'mores taste.
Brown Sugar - gives the cookie bars a rich flavor and keeps the blonde brownies soft for days.
Butter - softened ahead of time
Eggs - adds moisture and binds the ingredients
Salt & Vanilla - adds flavor
Flour - make sure to measure correctly using the spoon and sweep method
Baking Powder - allows the s'mores bars to rise correctly
Graham Crackers - broken into bite sized chunks
Marshmallow Cream - adds a great gooey texture to the blonde brownies
Chocolate Chips - milk chocolate chips give it the classic s'mores flavor. You can also use semi-sweet or dark chips.
How to make S'mores Blondies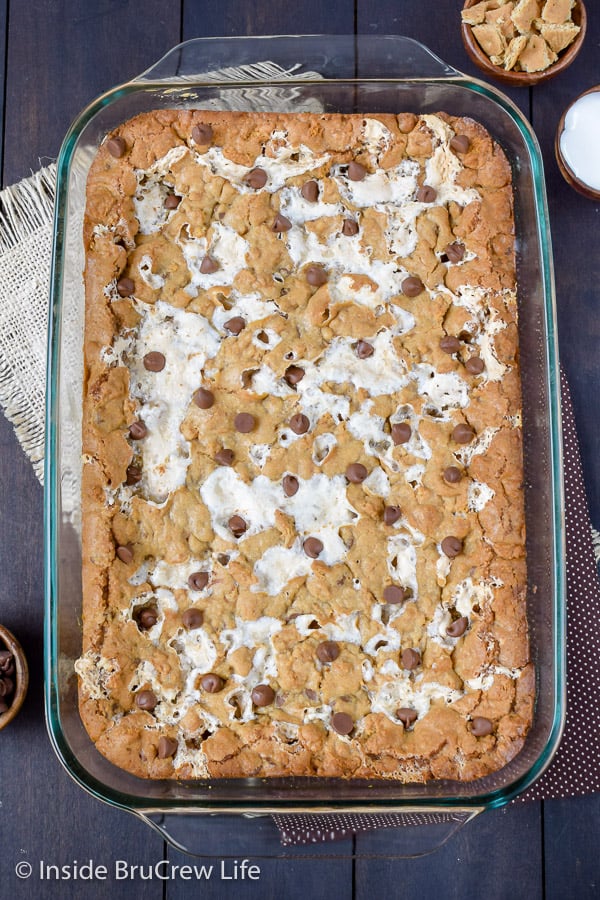 Mix up a pan of these s'mores blonde brownies in minutes. If you love s'mores and s'mores desserts, you are going to love these easy cookie bars.
Beat the butter and sugar just until creamy. Add the eggs and vanilla and mix again.
Add the flour, salt, and baking powder and mix until a soft batter forms.
Stir graham cracker chunks and chocolate chips gently into the batter.
Spread half the cookie batter in a greased 9x13 pan.
Drop spoonfuls of the marshmallow cream on top of the batter. Spread it out with a spatula.
Drop the rest of the batter by spoonfuls on top of the marshmallow. Try to spread it out as much as you can and bake the blondies.
When the swirled blondies come out of the oven, sprinkle the top with a few more chocolate chips. It's optional, but I think it makes them look better.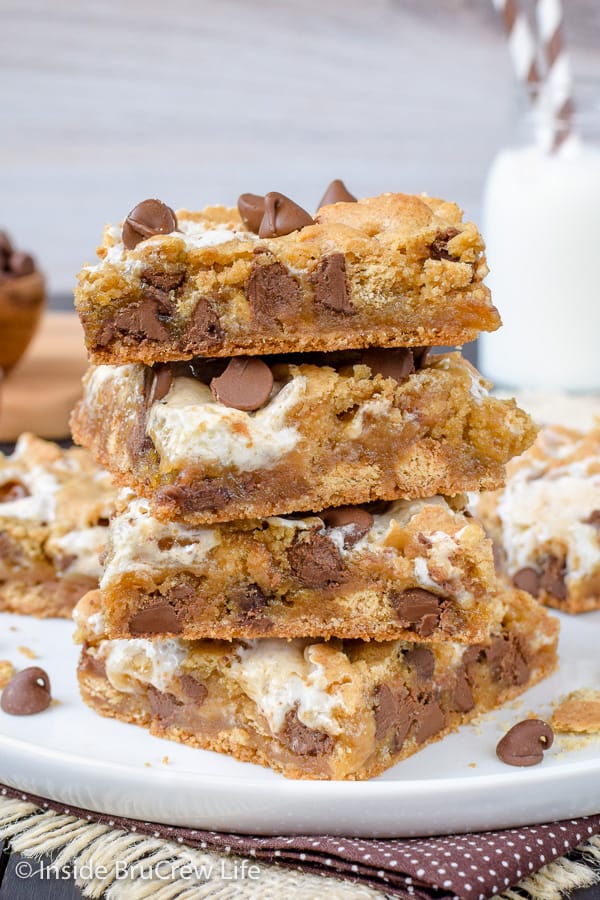 More S'mores Recipes
Other Easy Cookie Bars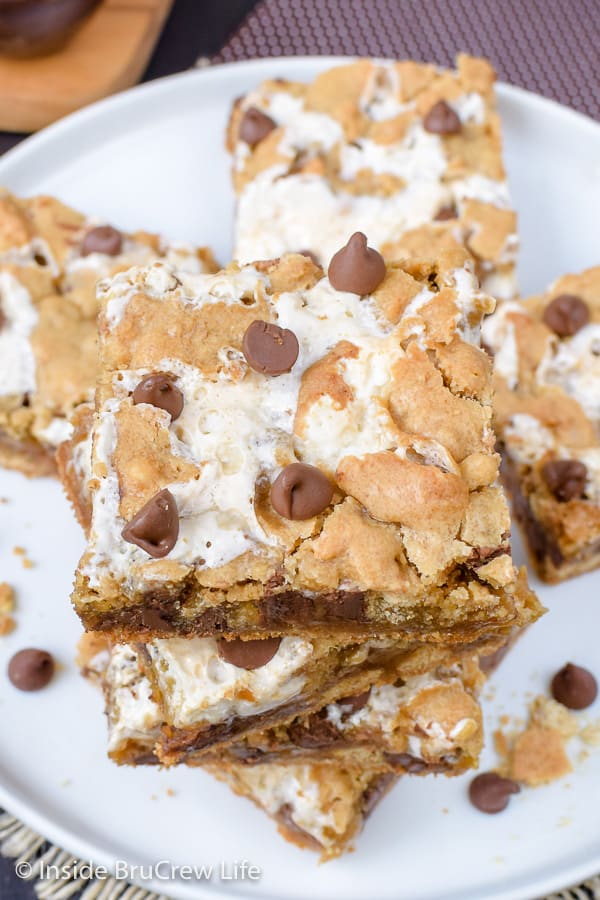 Do you love a recipe you tried from Inside BruCrew Life?
Please leave a 5-star ⭐️ rating and a review in the comments section below.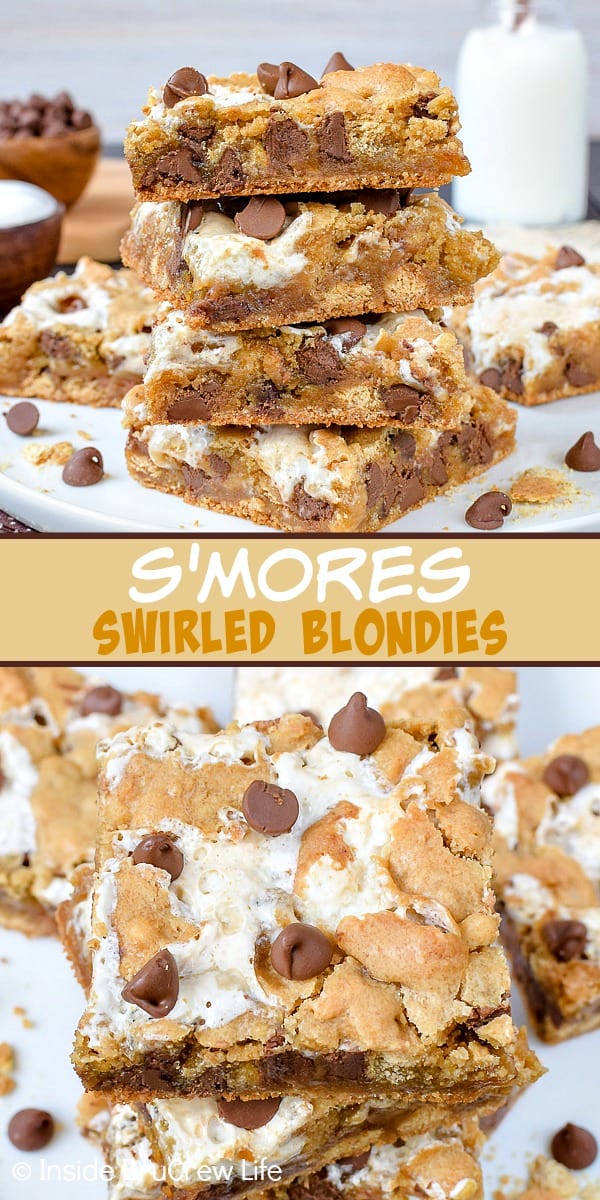 *The post for S'mores Blondies was first published August 30, 2019. It has been updated and republished June 30, 2020.