These Frosted Rainbow Chip Brownies are rich and decadent.  They make a fun homemade treat that is perfect for an afternoon snack, a lunch box treat, or a sweet treat after dinner.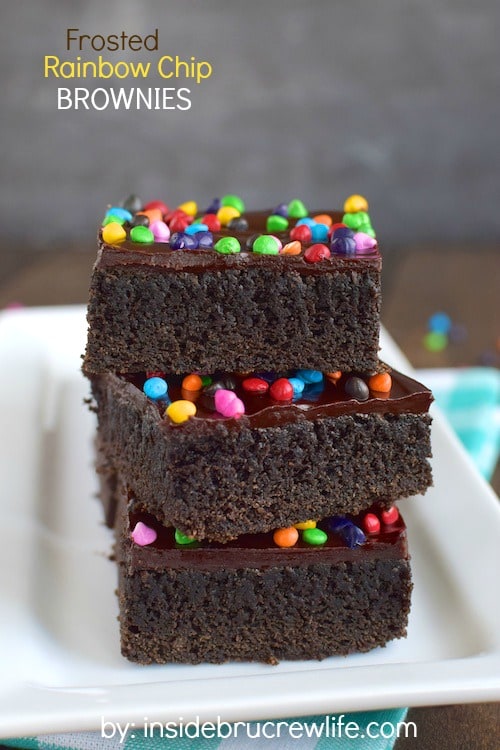 Rules for a random Monday should always include the following:
1.  Be lazy.
2.  Drink coffee.
3. Wear yoga pants.
4. Eat brownies.
Of course, that's me just dreaming.  In reality I was up and at the gym at 6 am, and I drank a mango strawberry spark to get me amped up for the work out of the day.  Those stretchy work out pants will probably stay on at least half of the day before I change into jeans, so that counts toward the yoga pants, right?
That just leaves the brownies.  I do think another pan of rich, decadent homemade brownies should be part of Monday's plan.  That's why I work out and wear stretchy pants after all.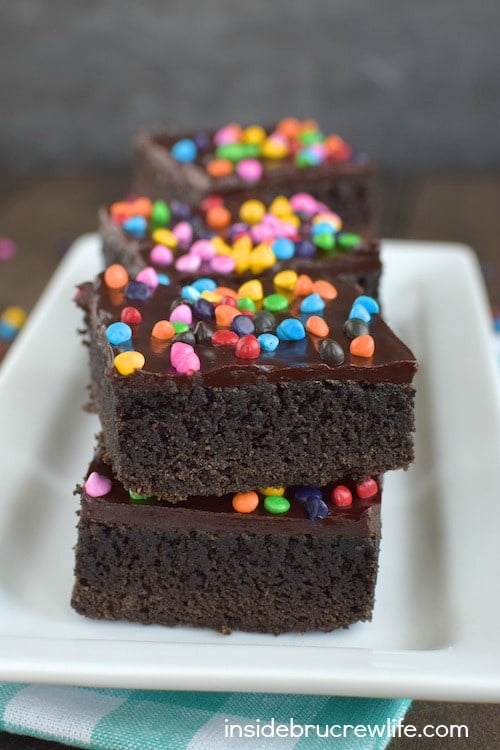 Our youngest little guy loves brownies and always wants to help me make them.  The other night he got a box out of the cupboard and made them all by himself with just a little supervision from me.  Then he proceeded to eat quite a few before they were even cooled all the way.  Brownies are definitely his favorite.  The next day on the way to school, he told my husband that now that he knows how to make brownies, he is going to get up in the middle of the night and make his own pan.  Sneaky little monster!
I admit that most of the time I like to reach for a box mix too.  But ever since I made these Homemade Chocolate Chip Brownies, I have been converted to homemade brownie making…most of the time that is.  There are still box brownie mixes in my cupboards that I will be using from time to time.  Let's not get too crazy excited about homemade all the time. After all my baking motto is semi-homemade with flair!
These frosted brownies are definitely a favorite around my house.  Although my hubby took one look at them and wanted to know why I added rainbow chips to the entire pan of brownies.  He must be an alien or something because he hates any sort of sprinkles.  That alien gene has been passed down to our kids because the boys always pick them off too.
I made these frosted rainbow chip brownies for one of our life groups and for a blog retreat this past weekend.  The running joke from both groups was that I just unwrapped a package of Little Debbie's and put them on a plate because they were so perfect looking.  Man!  They figured me out!  Haha!  Sorry guys, but these brownies are the real deal.  Homemade and absolutely delicious!!!  Even with the sprinkles!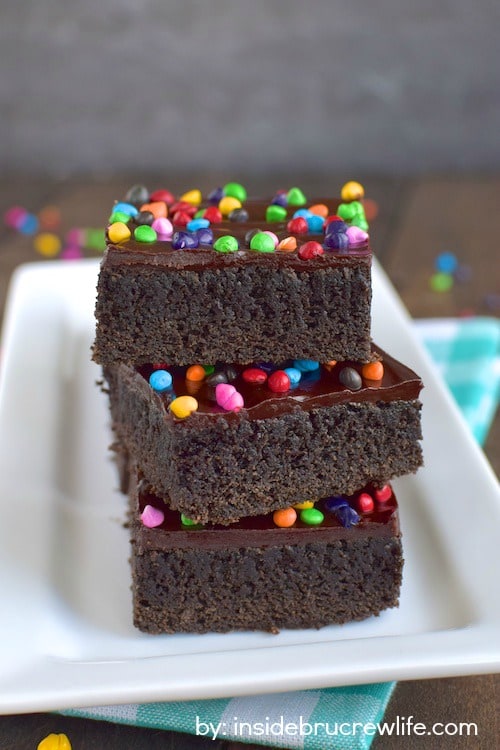 Stay up to date on all the BruCrew baking here:
FACEBOOK | PINTEREST | GOOGLE+ | TWITTER | INSTAGRAM | BLOGLOVIN
 Sign up to receive an email in your inbox for each new recipe:
EMAIL SUBSCRIPTION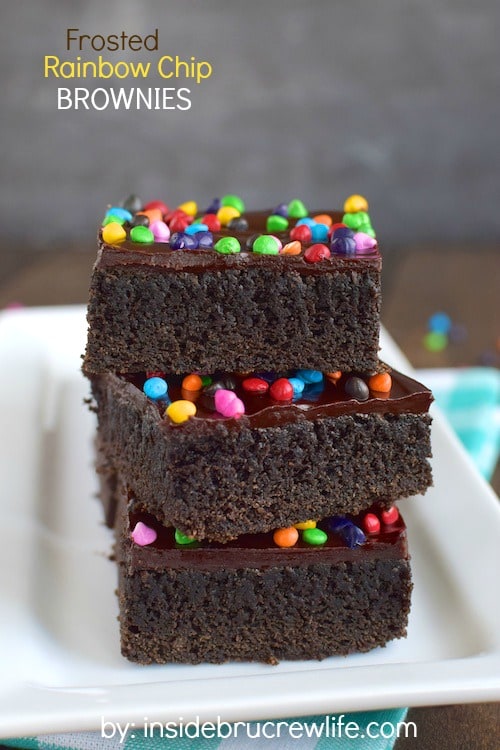 Rich and dark homemade brownies topped with a fudge frosting and rainbow chip sprinkles are a fun treat any time of day.
Ingredients
1 cup butter
1/2 cup dark cocoa powder
4 eggs
2 cups sugar
2 teaspoons vanilla
1 teaspoon salt
1 1/2 cups flour
1/2 teaspoon baking powder
1 cup dark chocolate chips
1/2 cup heavy whipping cream
1/4 cup rainbow chip sprinkles
Instructions
Melt the butter in a small saucepan over medium heat. Remove from the heat and whisk in the cocoa powder.
Beat the eggs until light in color. Add the sugar and vanilla and beat again. Stir in 1/4 cup of the hot butter mixture quickly. Add the rest of the butter mixture and beat again.
Stir together the salt, flour, and baking powder. Slowly add to the butter and egg mixture until completely incorporated. Spread in a greased 9x13 baking dish. Bake at 350 degrees for 25-30 minutes or until a toothpick comes out with just a few crumbs on it. Let cool completely.
Bring the heavy whipping cream to a boil and remove from the heat immediately. Stir in the chocolate chips until melted and creamy. Spread over the top of the cooled brownies. Top with the rainbow chips and let set. Cut into 24 squares.
https://insidebrucrewlife.com/frosted-rainbow-chip-brownies/
Copyright Inside BruCrew Life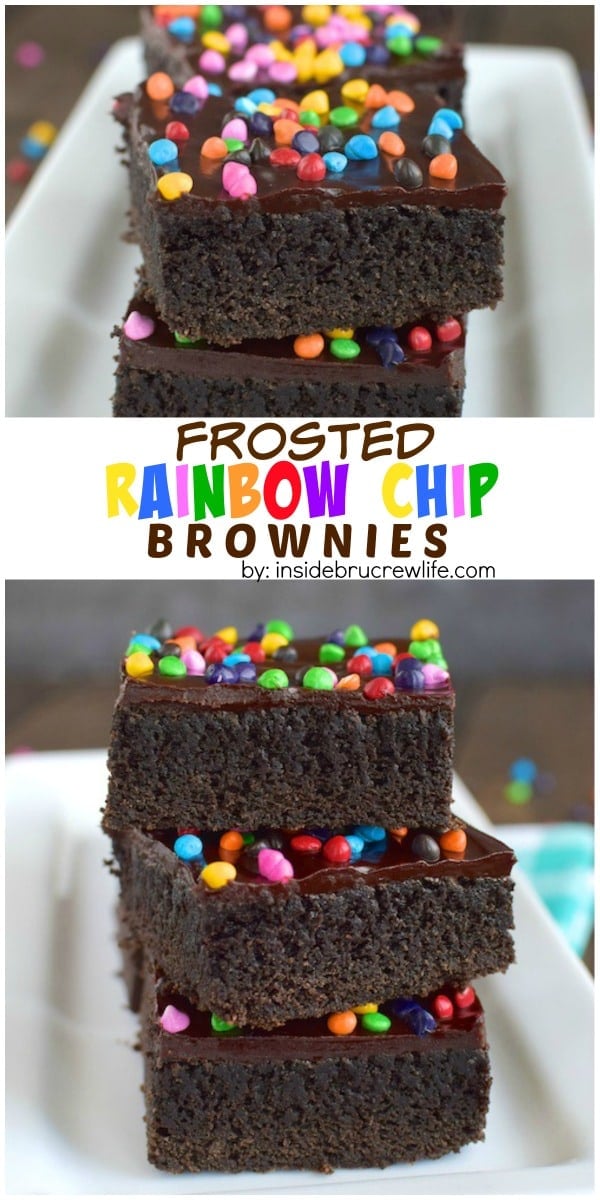 *This post does contain affiliate links. Inside BruCrew Life may receive a small percentage from sales made through these links. As always, these do not cost you any extra. Thank you for letting us share products we use and love this way.