This Salted Caramel Brownie Brittle Ice Cream Cake has layers of ice cream and a crunchy crust making it perfect for enjoying on a hot summer day.
*I am partnering with Brownie Brittle™ to bring you a delicious dessert recipe using the sweet brittle crunch.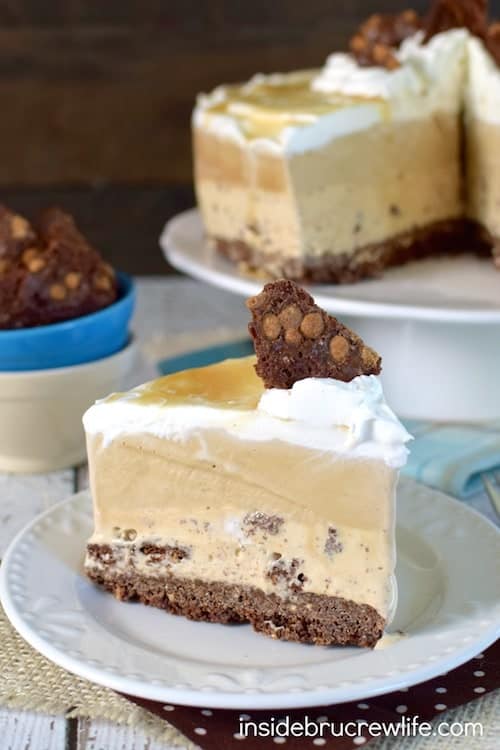 Summer is officially here. The hot weather definitely found us this week. We went from 70 degrees to 90 degrees in the blink of an eye. Oh, I'm not complaining. I do enjoy a good hot day...as long as the air conditioner works and there is ice cream in the freezer.
Most of the time the ice cream in the freezer is fair game. Well, until I have a crazy treat idea running around in my head that involves ice cream. Then I try to hide the boxes of ice cream behind the green beans and broccoli. Most of the time that works.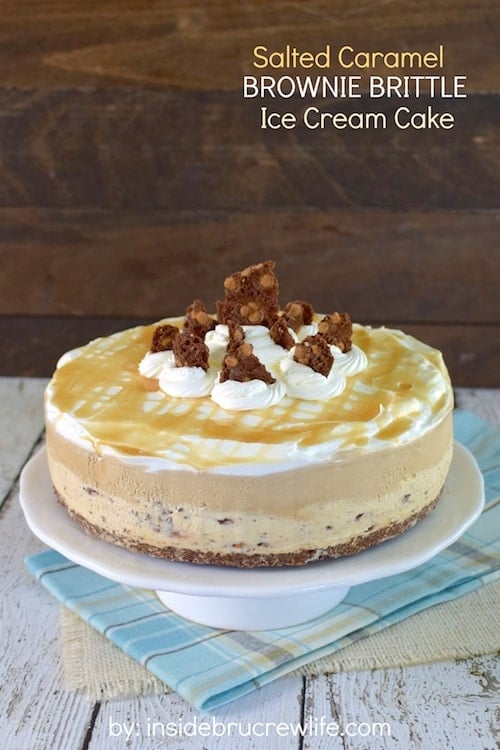 I mean who is going to look behind veggies for ice cream, right? Says the lady who has cookies and candy hidden in every cabinet of our kitchen. I think my family might be on to my little "hiding all the sweets" game. The last time I had a box of ice cream that was "hiding" in the freezer they kept asking me about it every day until I gave in.
But this time I was smarter. You see I bought the ice cream I needed for this cake, AND I bought an extra ice cream container. Then I put all the ice cream in the freezer in plain sight. The last thing I did was make sure I told each and every person in the family that two of these three were off limits, but that they could eat all of the third box.
No one kept hounding me about the extra ice cream because they knew it had a purpose. Of course it might have helped that I made this ice cream cake the very next day. I don't trust the ice cream monsters that live with me!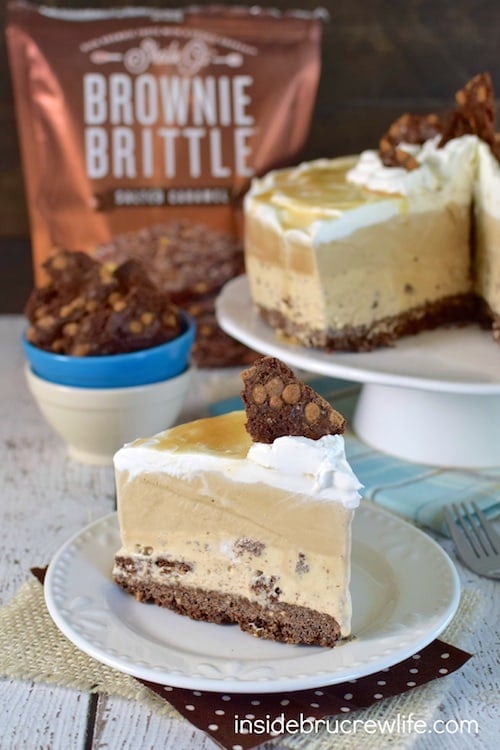 For this ice cream cake, I made a Brownie Brittle™ crust. Have you tried this awesome snack yet? Seriously it is so good. The crunchy, chocolate pieces are studded with so much flavor. My favorite is probably the salted caramel. But then again, sweet and salty is my jam!
Ice cream cakes are so easy to do. There is no baking involved, but it does take a little bit of time because you have to freeze each layer one at a time. That is if you want a perfect visible line for each flavor of ice cream. If you don't care about that line, feel free to layer away without waiting.
Make your crust and place the pan in the refrigerator. Remove the first box of ice cream from the freezer and place it on the counter for about 25 minutes. Use this time to dust or do dishes. Then stir it until it is creamy, but still frozen. Spoon it onto the crust and smooth it out. Put the pan in the freezer and remove the second box of ice cream. Repeat the process, only this time do laundry or clean the windows. Or catch up on your favorite show...it's totally your call what to do during this time.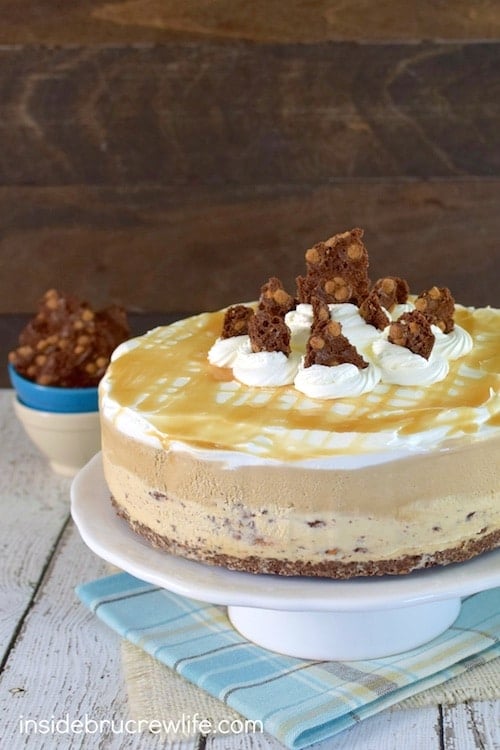 When the time is up, stir the ice cream and spoon it onto the frozen layer. Add Cool Whip, caramel drizzles, and extra Brittle pieces for decoration, then back into the freezer it goes for a few hours.
A deep freeze is recommended because they freeze things a little bit more solid than a freezer in the refrigerator. But don't stress out if you do not have one. If that is all you have, just make sure to freeze your cake a little bit longer. That way it is completely hardened before cutting into it.
The ice cream monsters were completely hovering around me as I tried to snap a few photos of this cake. Believe me, monsters and an air conditioner that isn't quite working is not a good combo when you are trying to work with ice cream. I should take pictures of ice cream more often...I think this was one of the fastest photo shoots I have done yet.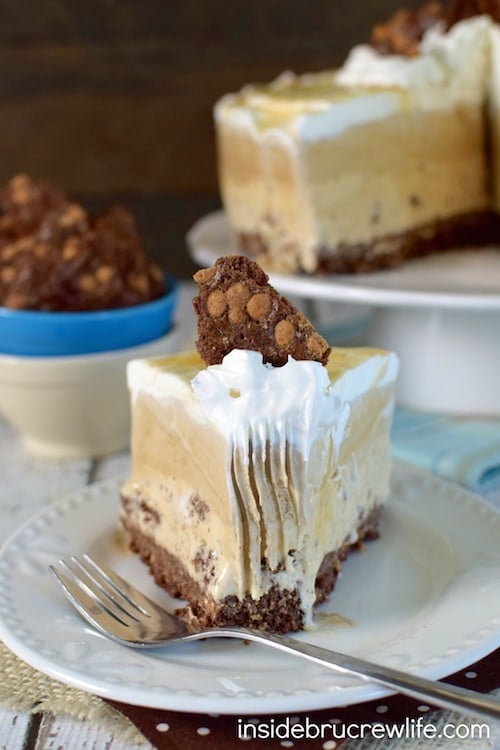 Connect more with Brownie Brittle™: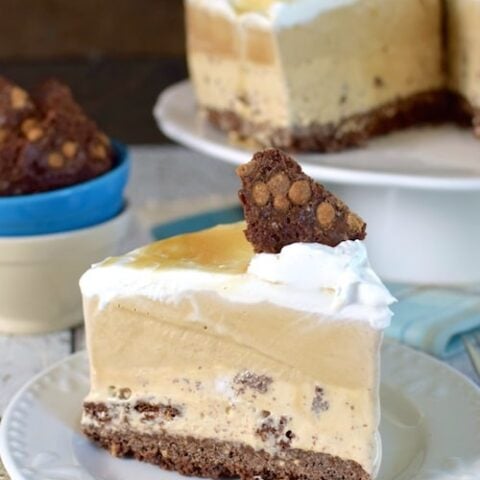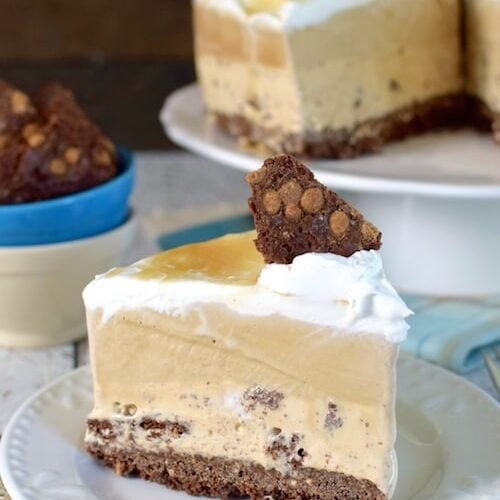 Salted Caramel Brownie Brittle Ice Cream Cake
Layers of ice cream on top of a Brownie Brittle crust makes a fun and refreshing treat on a hot summer day.
Ingredients
3 - 5 ounce bags Salted Caramel Brownie Brittle™
6 tablespoons unsalted butter, melted
1 - 1.5 quart container salted caramel ice cream
1 - 1.5 quart container coffee ice cream
1 - 8 ounce container Cool Whip
caramel ice cream topping
Instructions
Crush 2 bags of Brownie Brittle into 2 cups fine crumbs. Mix with the melted butter. Press into a 9 inch springform pan that has been lined with wax paper. Refrigerate.
Open the third bag of Brownie Brittle and break up enough pieces to measure 1 cup. Set aside.
Remove the salted caramel ice cream from the freezer and set on the counter for 25 minutes. Spoon into a large bowl and stir until slightly creamy. Stir in the Brittle pieces. Spoon onto the top of the crust. Smooth out. Place in the freezer.
Remove the coffee ice cream and set on the counter for 25 minutes. Stir until creamy. Spoon onto the top of the ice cream in the pan and smooth out. Return to the freezer for a few hours. Run a hot knife around the edge of the pan to loosen the ice cream. Remove the sides of the pan and take off the wax paper. Place on a serving plate.
Spread half of the Cool Whip on top. Drizzle with caramel topping. Swirl on more Cool Whip in the center and top with extra Brownie Brittle pieces. Keep in the freezer until ready to serve. Serves 12.
Notes
*Freezing in a deep freeze is recommended, but not necessary. The deep freeze will freeze it harder than the freezer in your refrigerator. If you do not have a deep freeze, let it freeze overnight for better results.
Nutrition Information:
Yield:

12
Serving Size:

1
Amount Per Serving:
Calories:

624
Total Fat:

38g
Saturated Fat:

25g
Trans Fat:

0g
Unsaturated Fat:

11g
Cholesterol:

147mg
Sodium:

247mg
Carbohydrates:

66g
Fiber:

1g
Sugar:

61g
Protein:

8g
Nutrition facts are an estimate and are not guaranteed to be accurate. If you need special diet advice, please see a registered dietician.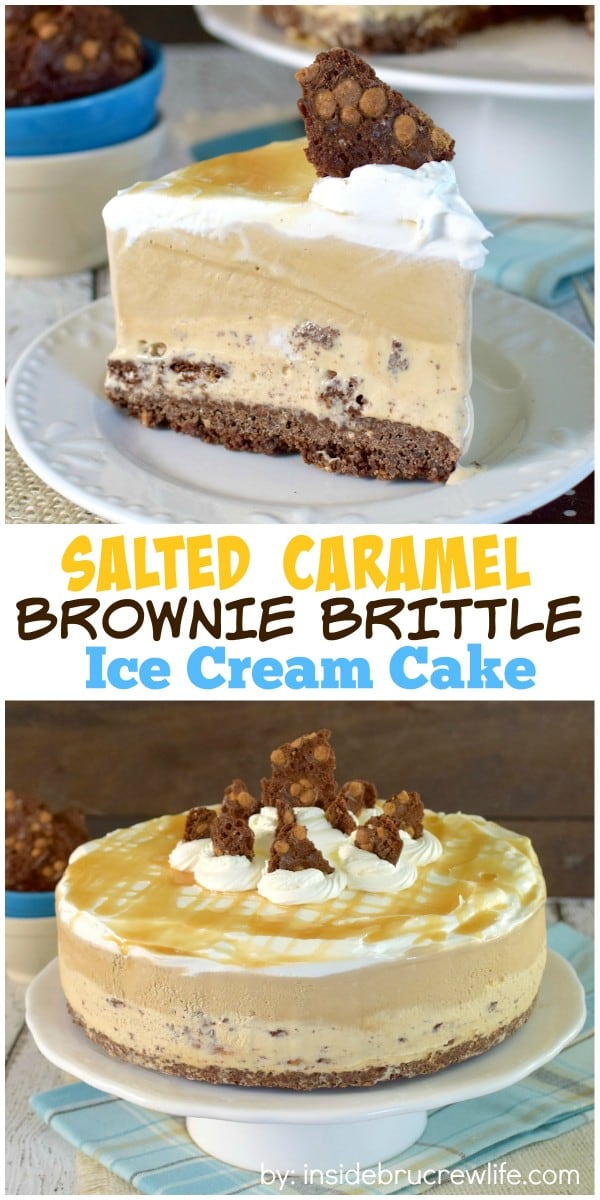 More ways to enjoy Brownie Brittle in your desserts: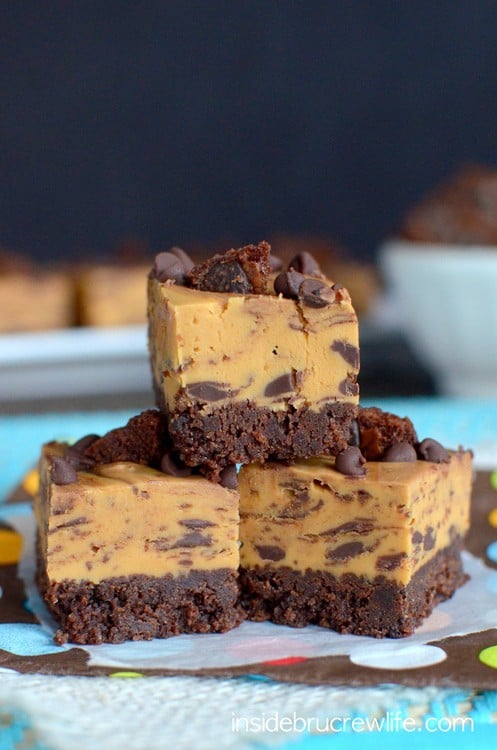 Caramel Chocolate Chip Brownie Brittle Fudge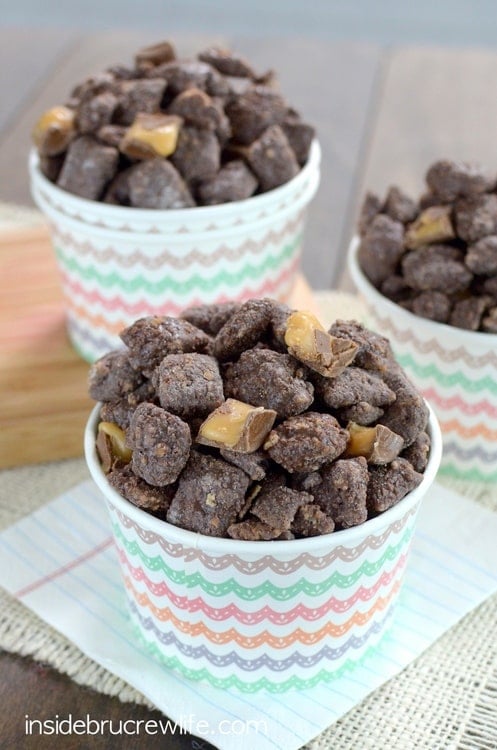 Salted Caramel Brownie Brittle Muddy Buddies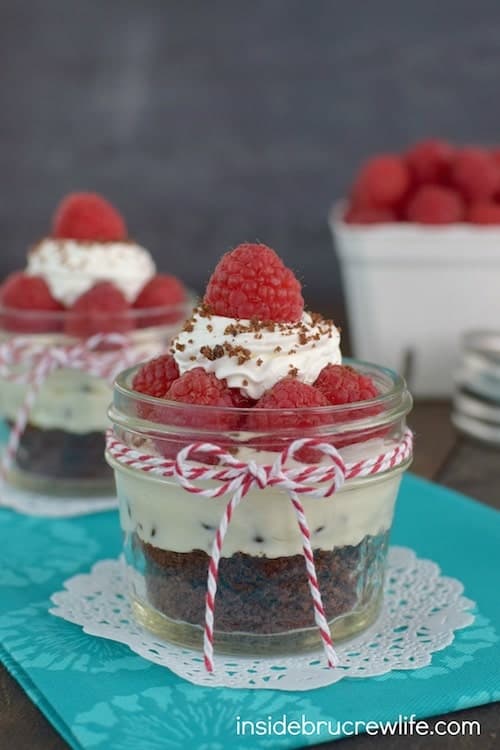 Raspberry Chocolate Chip Brownie Brittle Parfaits
More Brownie Brittle fun from Friends:
Brownie Brittle Toffee from Chocolate, Chocolate, & More
Brownie Brittle Toffee Bars from Shugary Sweets
Brownie Brittle Grasshopper Pie from Beyond Frosting
Brownie Brittle Birthday Cake Icebox Cupcakes from Life, Love, & Sugar
*This post and recipe has been sponsored by Brownie Brittle™. As always, all opinions expressed in this post are 100% my own. Thank you for letting me share products and brands that we use and love.