These Salted Caramel Mocha Brownie Cups are a delicious and easy dessert that everyone will come back for. The sweet and salty caramel frosting and the hidden candy center make these cupcakes a hit at any party.
If you like salted desserts, you need to try these Salted Caramel Brownie Bites too. They are absolutely delicious!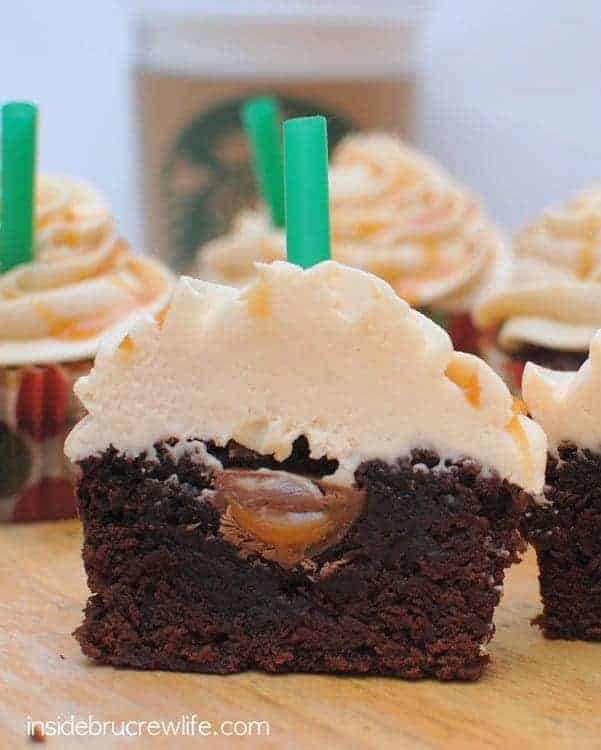 CLICK HERE TO PIN THIS RECIPE FOR LATER!
I have a huge confession to make today. Believe me, my head is hung in complete shame! I just did something that always bugs me when I see it in the store!
I was driving the kids to school this morning, and I remembered that I had to stop at Walmart afterwards. Now this is not normally a problem. EXCEPT that I get up in just enough time to throw on a hat and head out the door.
Yup you guess it. I drop my kids off while wearing my pajamas! It is the only place that I will actually go out while wearing them. My logic is that no one actually sees them because I don't get out of my van.
I really thought long and hard about why I needed to stop. Unfortunately, it was a stop that had to be made right then. It couldn't wait until later.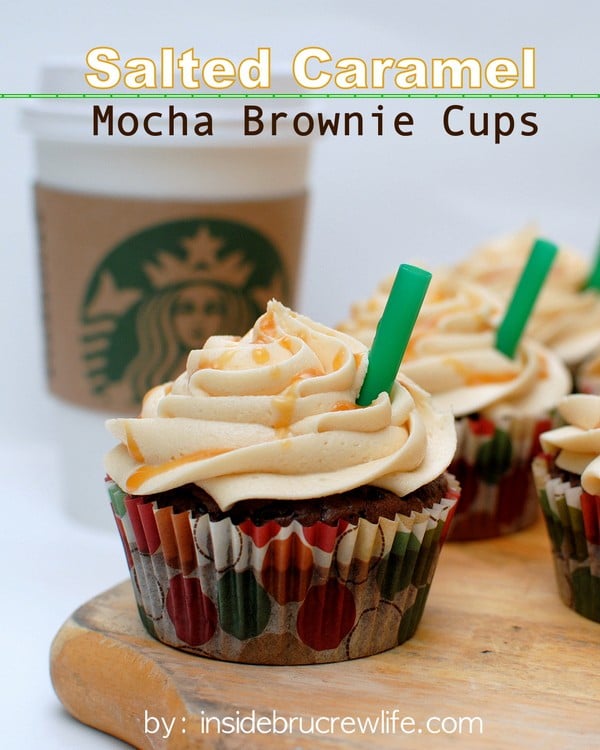 Why oh why did I wear the green and blue plaid pj's? This would not have been so bad if I had on the black sweats I normally wear.
I pulled my hat down really low and ran in. This was probably the only time in history that I have been in and out of Wally World in UNDER 10 minutes.
Thank goodness I didn't run into anyone that I know. There is one girl that works there that I do know, and yes, she was working. BUT, I was able to sneak past. I even walked the long way back to my car just to avoid any kind of eye contact.
Let's all think happy thoughts right now. I am blocking this trip from my memory by focusing on eating spoonfuls of the extra Salted Caramel Frosting in my fridge.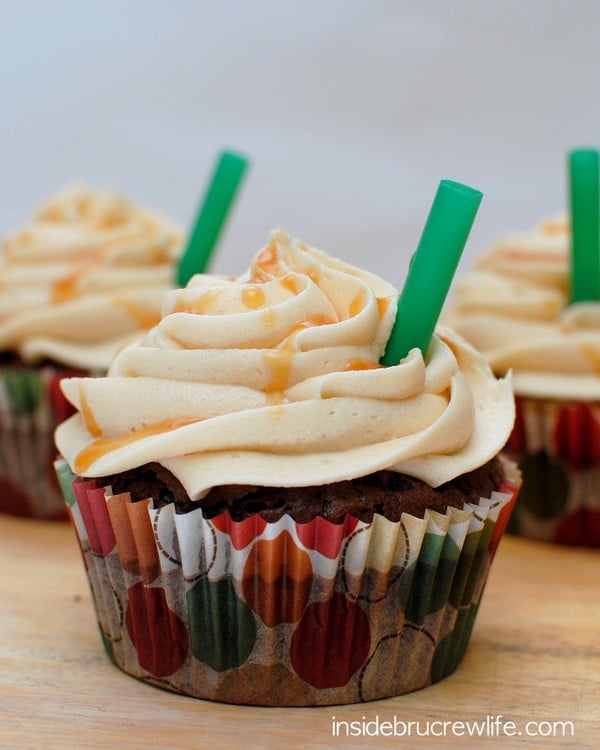 Better yet how about some Salted Caramel Mocha Brownie Cups? Caramel, coffee, chocolate, and sea salt all in one glorious bit sounds good, doesn't it?
Yup, I'm definitely in a much happier place now. One bite from these and all will be made right in your world. Even if you did just run into Walmart with your pj's on.
Tips for making these Salted Caramel Mocha Brownie Cups:
Use a box brownie mix and jazz it up with some instant coffee. You will not taste the coffee at all. Coffee just enhances the chocolate flavor even more.
Spoon the brownie batter into cupcake liners and bake. Remove the pan from the oven and let the cupcakes cool for 2-3 minutes, then press the Hershey kisses into the centers. Pushing them in point first works the best. Gently lift them out of the pan and let them cool completely before frosting the cupcakes.
Use a piping bag and icing tip 1M to swirl the salted caramel frosting on in a pretty bakery style. More caramel drizzles and sea salt take these easy cupcakes to another level. And of course, a green straw just completes the look.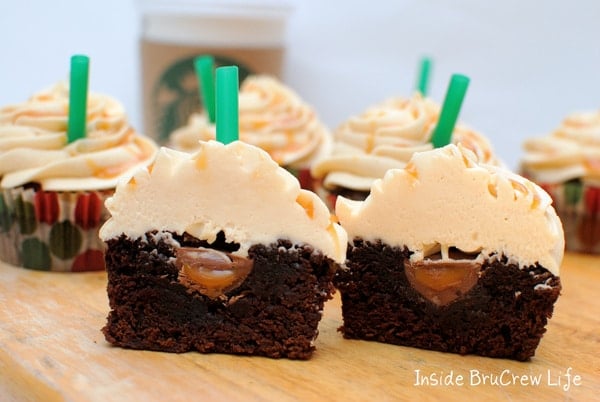 More delicious salted caramel recipes you may enjoy:
Connect with Inside BruCrew Life! Follow us on social media, so you never miss a post.
Facebook | Pinterest | Twitter | Instagram | Bloglovin
I also created a fun new Facebook group, and I would love for you to join. It's a group where you can share your favorite recipes, ask questions, share photos, and see what's new with the BruCrew. If you would like to check it out, you can request to join HERE.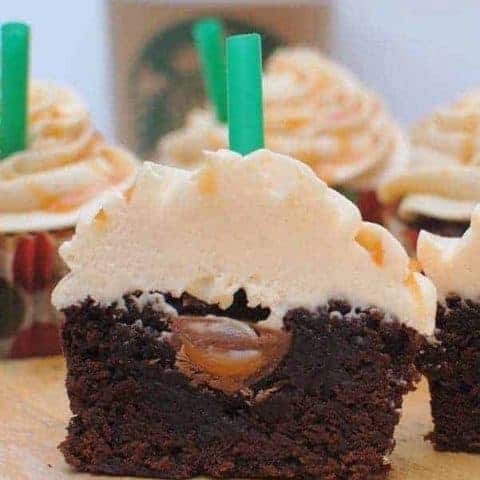 Salted Caramel Mocha Brownie Cups
These Salted Caramel Mocha Brownie Cups are a delicious and easy dessert that everyone will come back for. The sweet and salty frosting and the hidden candy center make these cupcakes a hit at any party.
Ingredients
1 9x13 box brownie mix
2 Tablespoons instant coffee
1/4 cup hot water
1/2 cup oil
3 eggs
15 caramel filled Hershey kisses
1/4 cup caramel topping
coarse sea salt
Instructions
Preheat the oven to 350 degrees. Line muffin tins with 15 cupcake liners.
Mix the brownie mix, coffee, water, oil and eggs until just moistened.
Fill the cupcake liners with the brownie batter. Bake 20-22 minutes or until a knife inserted in the center comes out with a few crumbs on it.
Cool the cupcakes in the pan for 3 minutes, then press a caramel kiss into the center point first. Cool 5 more minutes in the pan, then carefully remove them and place on a wire rack to cool completely.
Use a decorating bag and icing tip 1M to swirl the tops with the Salted Caramel Frosting. Drizzle with extra caramel and sprinkle with more salt, if desired.
Recommended Products
As an Amazon Associate and member of other affiliate programs, I earn from qualifying purchases.
SaveSave
SaveSave
SaveSave
SaveSave
SaveSave
SaveSave
SaveSaveSaveSave
SaveSave