This Salted Caramel Chocolate Cake has layers of two kinds of frosting and a soft homemade cake. Great cake for any party!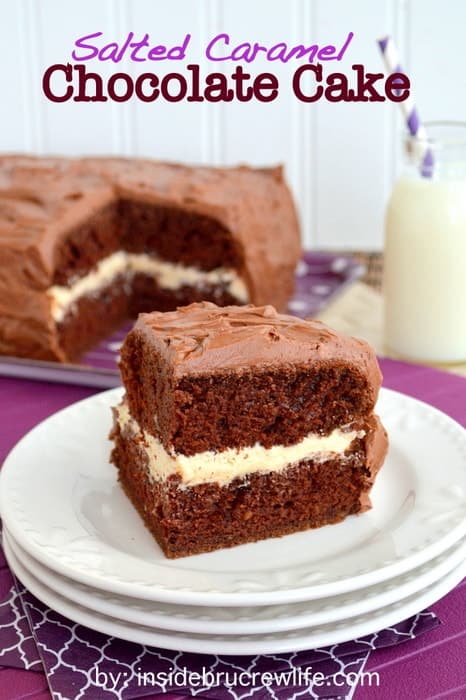 CLICK HERE TO PIN THIS RECIPE FOR LATER!
I have some exciting news today!!!
Today is my first contributor's post for Somewhat Simple. Have you ever been to Stephanie's blog? She has recipes, crafts, and computer tips over there. There is truly something for everyone to see. I am excited to share a decadent dessert on her site for the next three months.
Usually, I am a big fan of using boxed cake mixes to create fun cakes and cupcakes, but today I am sharing a homemade cake recipe with you. I love using coffee as the liquid in this cake to boost the chocolate flavor a little more. You will not taste the coffee at all. This salted caramel mocha bundt cake is another one of my favorite cakes that uses coffee!
This cake is baked in a 9x13 pan and then cut in half to create the layers in the cake. A salted caramel frosting holds the two cake layers together, and a chocolate frosting covers the entire thing. It's so good!!!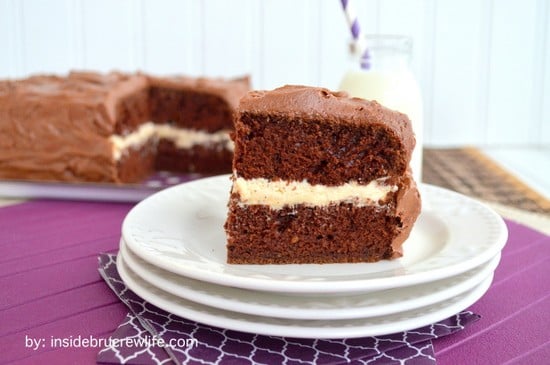 This Salted Caramel Chocolate Cake recipe is over at Somewhat Simple today. I hope you make it and enjoy it!